Crispy Chicken Croquettes
Crispy chicken croquettes or coxinhas de frango are delicious treats from Brazil. Coxinhas are also super affordable and filling, making them the perfect budget meal. You probably already have all the ingredients in your pantry!
Coxinha de frango in English means little chicken thigh. So, I decided to find out what's the origin of this name. Like many things coming from Brazil, the exact origin is unknown, but I did stumble upon a humorous urban legend.
The legend says that princess Isabel's son, a count of Brazil, was a very picky eater. He only ever wanted to eat the chicken legs, no other part of the chicken. But one day, the cook saw that there were no chicken legs left. So, she had to be creative.
The cook gathered all the other pieces of chicken and sautéed them with onion, garlic, and spices. Then she made a dough using chicken broth and flour. She put it all together and formed the shape of a drumstick, then deep-fried them. Essentially, she made them look like chicken legs. Needless to say, the count loved them and soon they gained popularity throughout Brazil.
Now, whether that story is true or not, is not for me to say. But one true thing is that these crispy Brazilian-style chicken croquettes are one of the best creations of all time. Make a big batch and freeze them uncooked to have fresh coxinha de frango anytime!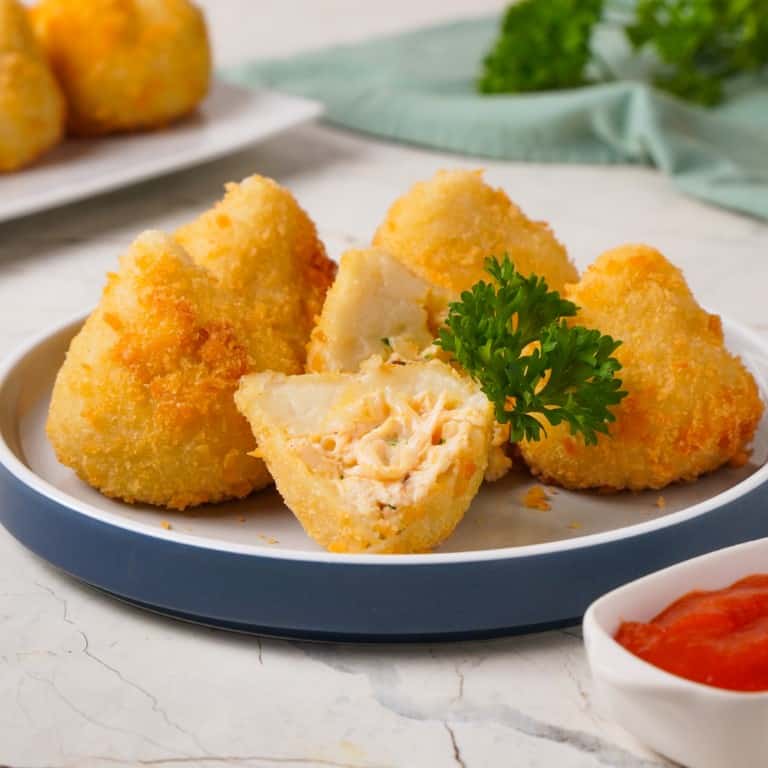 Ingredients
For the dough:
4

cups

of water

1

chicken bouillon cube

3

Tbsp.

butter

1

tsp.

salt

3

cups

all-purpose flour
For the chicken filling:
1

lb.

chicken breast

2

garlic cloves

finely minced

2

Tbsp.

vegetable oil

1

small onion

finely minced

1

sprig fresh parsley

finely chopped

Salt and pepper to taste

1

tsp.

paprika powder

½

cup

water from boiled chicken

7

oz.

cream cheese

room temperature
For frying:
1

cup

of milk

1

egg

250

gr

breadcrumbs

About 1 liter of frying oil
Instructions
All ingredients ready? Let's begin!
For the dough:
Heat water in a medium saucepan. Dissolve chicken bouillon cube, then salt.

Add butter and bring water to a boil.

Mix half of the flour into the broth once it's boiling. Then mix the other half in and knead the dough with a wooden spoon until it peels off of the pan. Poke it with your finger to see if it's still sticky. If so, cook it while stirring a little longer.

Transfer it to a buttered/oiled cutting board and let it cool. Once cooled, cover it with plastic wrap.
For the chicken filling:
Place chicken breast in a pot, add water about 3 fingers above the chicken, and a pinch of salt. Boil for 12-15 minutes. Remove from water (save the water) and shred chicken using a hand mixer or two forks.

Heat the oil in a medium saucepan on medium heat. Add minced onion and garlic, and sauté until fragrant. Add paprika powder, mix and sauté for 1-2 minutes.

Toss shredded chicken in the pan and mix until coated with fragrant oil.

Add chopped parsley and mix.

The chicken will be a bit dry. Now it's time to add the chicken water and salt and pepper to taste. Mix well and reduce until any excess water has evaporated.

Remove from heat and place in a bowl to cool down.

While you wait for it to cool down, knead the dough a bit. It should be a smooth and silky plasticine-like mass. Now you can add cream cheese to the filling and stir until combined. Let it cool before assembling.
For frying:
Place the milk and egg in a bowl, and beat them together. Place the breadcrumbs in a separate bowl.

Take some dough in your hands and roll it into a ball. It should be about the size of a golf ball.

Flatten the dough out, making the edges higher (like a flat bowl plate). Place a tablespoon of filling in the center and close it in with your hands, making the dough pointy at the top (teardrop shaped).

Shape the ball by placing it in one hand and then smoothing out the sides with the palm of your other hand. Go in a circle until the sides are smooth. Make the bottom flat. There's usually a little extra dough at the tip that should be removed. Don't worry if they're not perfect.

Roll the uncooked croquette in the milk and egg mixture, then in the bread crumbs, and place it on a plate lined with bread crumbs.

Repeat steps 2-6 until you finish the dough, but leave a little bit for testing the frying oil. There may be some filling left, don't worry, it's delicious as a chicken salad too!
Frying the coxinha:
Place oil in a medium-sized pot and turn the stove up to medium-high heat.

Test the oil with a little ball of dough. You don't want it to be too hot or too cold. Bubbles should come out from the bottom of the dough ball, but it shouldn't brown too quickly. Fry coxinhas in small batches. Each batch should take 3-4 minutes.

Once golden-brown and crisp, remove from oil and place on a plate lined with paper towels to remove excess oil.

Finish cooking and let cool for 10 minutes before serving. You don't want to burn your mouth.

Serve warm with your favorite dipping sauce. Bom apetite!
Nutrition
Calories:
262
kcal
|
Carbohydrates:
30
g
|
Protein:
12
g
|
Fat:
11
g
|
Saturated Fat:
4
g
|
Polyunsaturated Fat:
3
g
|
Monounsaturated Fat:
3
g
|
Trans Fat:
0.03
g
|
Cholesterol:
43
mg
|
Sodium:
384
mg
|
Potassium:
198
mg
|
Fiber:
3
g
|
Sugar:
3
g
|
Vitamin A:
376
IU
|
Vitamin C:
1
mg
|
Calcium:
86
mg
|
Iron:
2
mg
Notes & Tips
I know this is probably the weirdest dough you've ever made, but trust me, these crispy chicken croquettes are love at first bite.
The dough shouldn't be sticky. To achieve this, you'll have to cook the dough for a bit after adding the flour to the boiling water. It'll be hard to stir and seem like mission impossible. But roll up your sleeves and get your sweat on! You've got this!
But, if the dough turns out sticky, don't worry. Just make sure to oil your hands before shaping the coxinha.
This is a pretty time-consuming recipe, but it's so worth the effort. Most Brazilians like to make coxinhas in big batches and freeze a large part in airtight containers for up to 3 months.
You don't even need to unthaw them before frying, simply fry for a minute longer. They'll be a bit darker than golden brown, but still exquisite. Or, let them thaw before for at least 1 hour and keep that beautiful golden-brown crust.
When frying these crispy chicken croquettes, make sure you heat the vegetable oil on high for 4-5 minutes before. Do a test fry with a piece of batter for the best results. The ideal temperature for frying is between 325 °F to 350 °F.
Can You Cook Chicken Croquettes In An Air Fryer?
Yes, you can! Using an air fryer is a great healthier alternative. As for the how-to fry chicken croquettes in an air fryer, it's pretty straightforward:
Fry them at 392 °F for 10 minutes or until golden brown. Each air fryer is different, so the cooking time may vary. They'll still turn out crispy and delicious, using the air-fryer method.
---
Recent Recipes