Homemade Chicken Piccata Meatballs
A traditional Italian piccata is made with veal, but chicken piccata is also a favorite, especially in the States. "Piccata" is an Italian word for "pounded flat" because that's usually what happens to the veal or chicken before being dredged in flour and sautéed.
Veal or chicken piccata is more than just the meat, though – the sauce is what makes the dish delicious. A basic piccata sauce is just wine and lemon juice swirled together in the warm pan that cooked the meat to catch the cooking juices. But the classic piccata sauce now includes capers as well, those deliciously salty tiny flower buds.
This delicious variation of chicken piccata replaces the flattened chicken escalope with tender, juicy meatballs. Meatballs always go down really with youngsters, and it's much easier to roll a meatball than to flatten, dredge, and fry lots of chicken cutlets.
What makes this version still a piccata is the sauce – to top the meatballs, you make a gorgeous buttery sauce with bright lemon and capers. But there's also a spin on the traditional piccata sauce because we've added lashings of cream to make it extra decadent.
This recipe gives you all the flavors of chicken piccata, but with a lovely weeknight twist. It's comfort food at its best.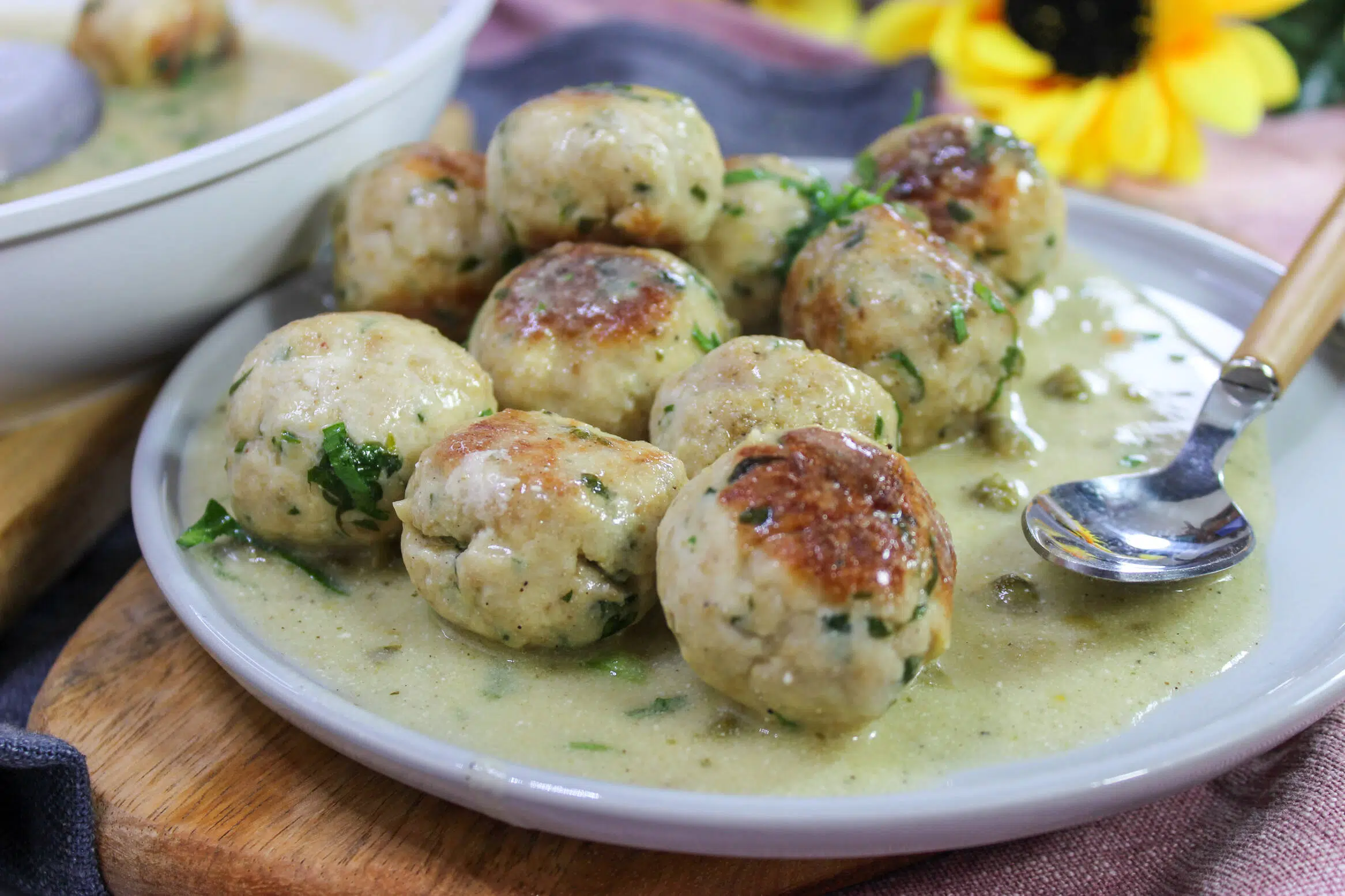 Ingredients
Meatballs
1

pound

ground chicken

1

large egg

3/4

cup

breadcrumbs

3

garlic cloves

¼

cup

fresh parsley

Zest of 1 lemon

½

cup

Parmesan cheese

Salt and pepper to taste

1

TBS

oil for frying
Piccata Sauce
3

TBS

butter

1

TBS

all-purpose flour

1

cup

chicken broth

1

cup

heavy cream

¼

cup

lemon juice

or juice of 1 lemon

¼

cup

drained capers

Fresh parsley to garnish

Salt and pepper to taste
Instructions
Prepare the ingredients for the meatballs by mincing the garlic cloves, finely chopping the parsley, grating the Parmesan, and beating the egg.

Chop the parsley and capers for the sauce and set aside.

Gently combine the ground chicken, egg, breadcrumbs, garlic, parsley, lemon zest, and Parmesan cheese in a large mixing bowl. It's easiest to do this by hand, so some thin rubber gloves are helpful.

Season the meatball mixture.

Dampen your hands or use gloves. Carefully roll the mixture into meatballs. Around two tablespoons of the mixture will make a suitably sized meatball.

Set the meatballs aside on a wooden board or baking tray lined with wax or parchment paper as you make them.

Heat your oil in a non-stick pan to medium-high heat. Cook the meatballs in batches for 4 minutes, browning them all over. Note that the meatballs may not be thoroughly cooked through yet – you are searing them now, and they will cook longer in the sauce. Set the meatballs aside on a plate.

Now begin with the sauce. Melt the butter over medium heat using a clean skillet (or wiping out the pan you've just used).

Add the flour.

Stir the mixture with a wooden spoon or whisk until thick for a minute or so.

Gently add the chicken broth, lemon juice, and heavy cream, stirring.

Bring the sauce to a simmer.

Return the meatballs to the sauce.

Gently simmer the browned meatballs in the sauce for 5 minutes or until the meatballs are thoroughly cooked through.

Season with salt and pepper.

Remove the pan from the heat. Stir through the parsley and capers.

Serve immediately.
Video
Nutrition
Calories:
570
kcal
|
Carbohydrates:
21
g
|
Protein:
31
g
|
Fat:
41
g
|
Saturated Fat:
20
g
|
Polyunsaturated Fat:
4
g
|
Monounsaturated Fat:
14
g
|
Trans Fat:
1
g
|
Cholesterol:
235
mg
|
Sodium:
686
mg
|
Potassium:
815
mg
|
Fiber:
1
g
|
Sugar:
2
g
|
Vitamin A:
1377
IU
|
Vitamin C:
16
mg
|
Calcium:
264
mg
|
Iron:
3
mg
Serving suggestions
Serve these like traditional Italian meatballs with pasta, egg noodles, or over mashed potatoes, rice, or quinoa. Garlic bread is also a perfect accompaniment to soak up the luscious sauce.
Serve with cauliflower rice or a salad if you're carb-conscious.
Add a fresh green vegetable, like spinach, green beans, or peas, which goes well with the lemony flavors.
Substitutions
Substitute the ground chicken with an equal quantity of ground turkey or veal.
Use panko breadcrumbs if you have them – otherwise, ordinary breadcrumbs work just as well.
If you don't have any breadcrumbs, pop a couple of slices of bread in the food processor to create instant crumbs. Or just crumble the bread through your fingers.
If you're carb-conscious or gluten-intolerant, replace the breadcrumbs in the meatballs with an equal quantity of almond flour or gluten-free bread. Use arrowroot to thicken the sauce.
If you don't have any fresh parsley, you can use dried parsley, oregano, basil, or Italian seasoning spice.
The butter is essential to the flavor of the sauce, so do use it rather than shortening.
Substitute milk, wine, or additional chicken broth for a lower-fat option instead of the heavy cream. However, you'll need to add an extra tablespoon of flour to the butter to thicken the sauce.
If you're out of chicken broth, use a stock cube or stock powder with boiling water.
Notes & Tips
Take care not to overwork the meatball mixture. Too much handling of the mixture will make the meatballs dry and tough.
If you're eager to ensure that each meatball is precisely the same size, use a cookie scoop or melon-baller to get them consistent.
Always fry a test meatball first to check your seasoning – you can't add salt and pepper once the meatballs are already cooked.
Instead of frying the meatballs, you can bake them in the oven. While making the meatball mixture, preheat the oven to 350⁰. As you make the meatballs, place them on a lightly greased baking tray (or one lined with wax or parchment paper). Bake for about 10-20 minutes, depending on the size of your meatballs. You can then add them to the sauce as per the recipe.
These meatballs freeze very well. To freeze, arrange the cooked meatballs on a baking sheet and freeze until solid. Transfer the frozen meatballs to a freezer container or packet and freeze for up to three months. Thaw before heating.
You can serve these chicken meatballs with other sauces as well – consider a rich tomato sauce for a spin on spaghetti and meatballs, a spiky Asian chili sauce, a Malaysian satay sauce for peanut lovers, or even a creamy Korma curry.
---
Recent Recipes