A quesadilla is a fairly easy and extremely popular dish to prepare, especially for kids who seem to scarf them down. A quesadilla is like a mini crunchy pizza filled with melted cheesy goodness. It is believed that quesadillas originated in Mexico as corn tortillas filled with cheese and root vegetables or squash. They were fried on a comal (flat iron pan) over a fire until the cheese melts. The word "quesadilla" loosely translates to "small cheese packet".
Here in the US, we stuff our tortillas with lots of veggies, fruits (peppers and avocados), proteins, and cheese. There really is no limit to what can go inside a quesadilla. You can use shredded pork, skirt steak strips, ground meats, grilled peppers and onions, cheese, and lettuce, to name a few ingredients. My nieces and nephews are partial to cheddar cheese and shredded lettuce. They top the quesadillas with sour cream, slice them into wedges, and eat them like pizza slices.
I actually do own a comal that I use to make pancakes, flatbreads, and quesadillas. It belonged to my Irish grandmother and I really don't know where or why she acquired it. She definitely used it because it was perfectly seasoned when I inherited it. I think it is my favorite pan in my cast-iron collection. You don't need a comal to make this chicken quesadilla recipe. You can use any cast-iron or heavy-bottomed skillet, a griddle, or even bake them in an oven or toaster oven.
This chicken quesadilla recipe is pretty easy to assemble and cook once you have prepared the chicken and vegetables. We'll go through all the steps so you can have everything ready when you want to fry up a few batches of these. Some of the fillings you can pull together the day before your quesadilla party or weeknight dinner. I like to keep grilled chicken and sauteed veggies in sealed containers in the fridge to make quesadillas whenever I need a quick and nutritious meal.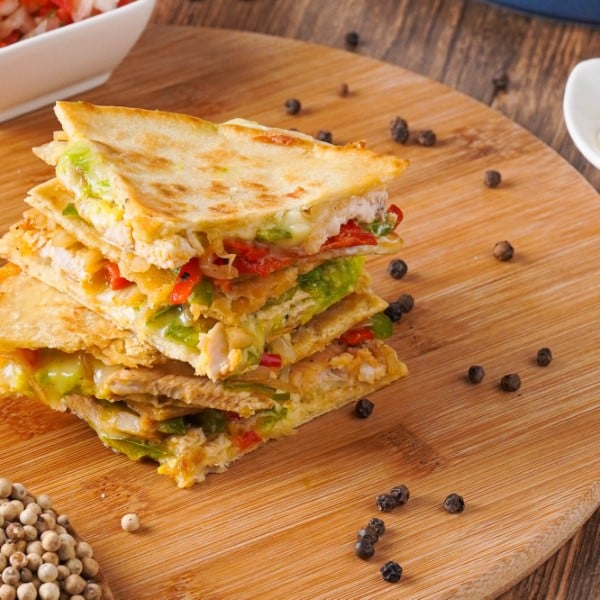 Ingredients
4

Tbsp

extra virgin olive oil

divided

1

tsp

fresh lime juice

½

tsp

chili powder

½

tsp

ground cumin

½

tsp

dried oregano

½

tsp

sea salt

½

tsp

freshly ground black pepper

2

skinless boneless chicken breasts

sliced into strips

1

green bell pepper

seeded and sliced into strips

1

red bell pepper

seeded and sliced into strips

1

small onion

peeled and sliced thinly

Salt and pepper to taste

8

6-inch flour tortillas

1 ½

cups

shredded cheddar cheese

1 ½

cups

shredded Monterey jack cheese

1

ripe avocado

diced (optional)

1

cup

sour cream mixed with 2 chopped scallions for serving

1

cup

tomato salsa for serving
Instructions
All ingredients ready? Let's begin!

In a glass baking dish or a resealable gallon baggie, place the chicken strips, 2 tablespoons of olive oil, lime juice, chili powder, cumin, oregano, salt, and pepper. Toss to coat well. Cover or seal and place the chicken in the refrigerator for 45 minutes.

Remove the chicken from the refrigerator and set it aside while you cook the peppers and onions.

In a large sauté pan over medium-high heat, warm 1 tablespoon of olive oil. Add the onions and peppers to the pan and cook until just wilted, approximately 5 minutes. Season with salt and pepper. Remove the peppers and onions to a platter or bowl.

Add the chicken to the pan and sauté until completely cooked through, stirring a few times, approximately 8 minutes. Transfer the chicken to a plate.

Reduce the heat to medium. Wipe the pan out with a paper towel. Add a small amount of the remaining olive oil to the pan.

Place a tortilla in the pan. Top it with 1/4 each of the onions and peppers, chicken, avocado, and cheese. Top with another tortilla. Cook until golden and the cheese has melted, approximately 3 minutes per side. Repeat until all the quesadillas are cooked. You can keep them in a warm oven until all are cooked and ready to serve.

Transfer the quesadillas to a clean cutting board and cut each into 4 wedges. Serve while warm with sour cream and salsa on the side.
Nutrition
Calories:
1025
kcal
|
Carbohydrates:
49
g
|
Protein:
54
g
|
Fat:
70
g
|
Saturated Fat:
28
g
|
Polyunsaturated Fat:
6
g
|
Monounsaturated Fat:
26
g
|
Trans Fat:
0.01
g
|
Cholesterol:
194
mg
|
Sodium:
1879
mg
|
Potassium:
1218
mg
|
Fiber:
8
g
|
Sugar:
10
g
|
Vitamin A:
2754
IU
|
Vitamin C:
72
mg
|
Calcium:
793
mg
|
Iron:
4
mg
Notes & Tips
Marinating the chicken strips will help to tenderize them and will impart more flavor. You can marinate for up to 4 hours if desired.
For quick weeknight dinners, cook the chicken and vegetables on a Sunday. Shred the cheese in advance as well. Everything will keep in well-sealed containers or baggies for a few days.
You can make 8 individual quesadillas with single tortillas that can be folded over the filling into half-moons. These are easy to eat with your hands wrapped in a napkin. They also can be wrapped up in foil and taken to a picnic. You can reheat these over the grill right inside the foil packets.
Substitutions & Additions
Chicken: There is no reason why you can't make quesadillas with sliced turkey cutlets, flank steak, shrimp, or lots of sautéed zucchini and yellow squash strips for a vegetarian version. This dish is also great with cooked pinto or black beans as the protein ingredient.
Fruits and Vegetables: You can swap out the peppers for spinach. Instead of avocados, try shredded iceberg or romaine lettuce for some added freshness and crisp texture. For some heat, add sliced jalapeño peppers.
Tortillas: You can make quesadillas with corn tortillas. For gluten-free quesadillas, try cassava or almond flour tortillas.
Fresh Herbs: Chopped fresh cilantro leaves make a great addition to quesadillas. If available, use culantro leaves.
Cheese: I like the combination of cheddar and Monterey jack cheeses because they melt so nicely. Some in my family like cheddar and mozzarella for a really gooey filling. In Mexico, you might find quesadillas made with queso fresco, which is a drier white cheese with a salty flavor. I have a cousin who swears by nacho cheese sauce in his quesadillas or on the side for dipping the wedges into. If you are going for a vegan take with veggies and beans, try any of these vegan cheese substitutes for quesadillas.
---
Recent Recipes