Dreamy Creamy Chicken Rasta Pasta
I love pasta, eating it and cooking it. Cooked pasta is like a blank canvas just waiting to be transformed into a masterpiece. It can be enjoyed in its simplest form, with butter and garlic or can be a mammoth feast full of flavor and texture. And it was love at first bite for me and the Rasta Pasta. I love pasta and I love spice and Rasta Pasta is the perfect marriage of both. Rasta Pasta is where Italy meets Jamaica. It is a creamy, pasta dish with rich Jamaican spices and an assortment of colorful peppers. While originally it was said to be made as a vegetarian pasta dish it is most popular with chicken or shrimp. Trust me, any way you make it, you're going to be tucking away bowlfuls of it, it is that dreamy and delicious.
Penne is the pasta of choice for my Dreamy Creamy Chicken Rasta Pasta, but it works just as beautifully with fettucine, linguini or any short or long pasta. This can also be made vegetarian, vegan and even gluten-free and the best bit of news, it takes less than 30 minutes to whip it up. It is one my favorite dishes to make, especially when you invite people over because it accommodates all kinds of allergies and food intolerances without losing any of its taste, flavor or Caribbean feel.
Let's dig into to my Dreamy Creamy Chicken Rasta Pasta.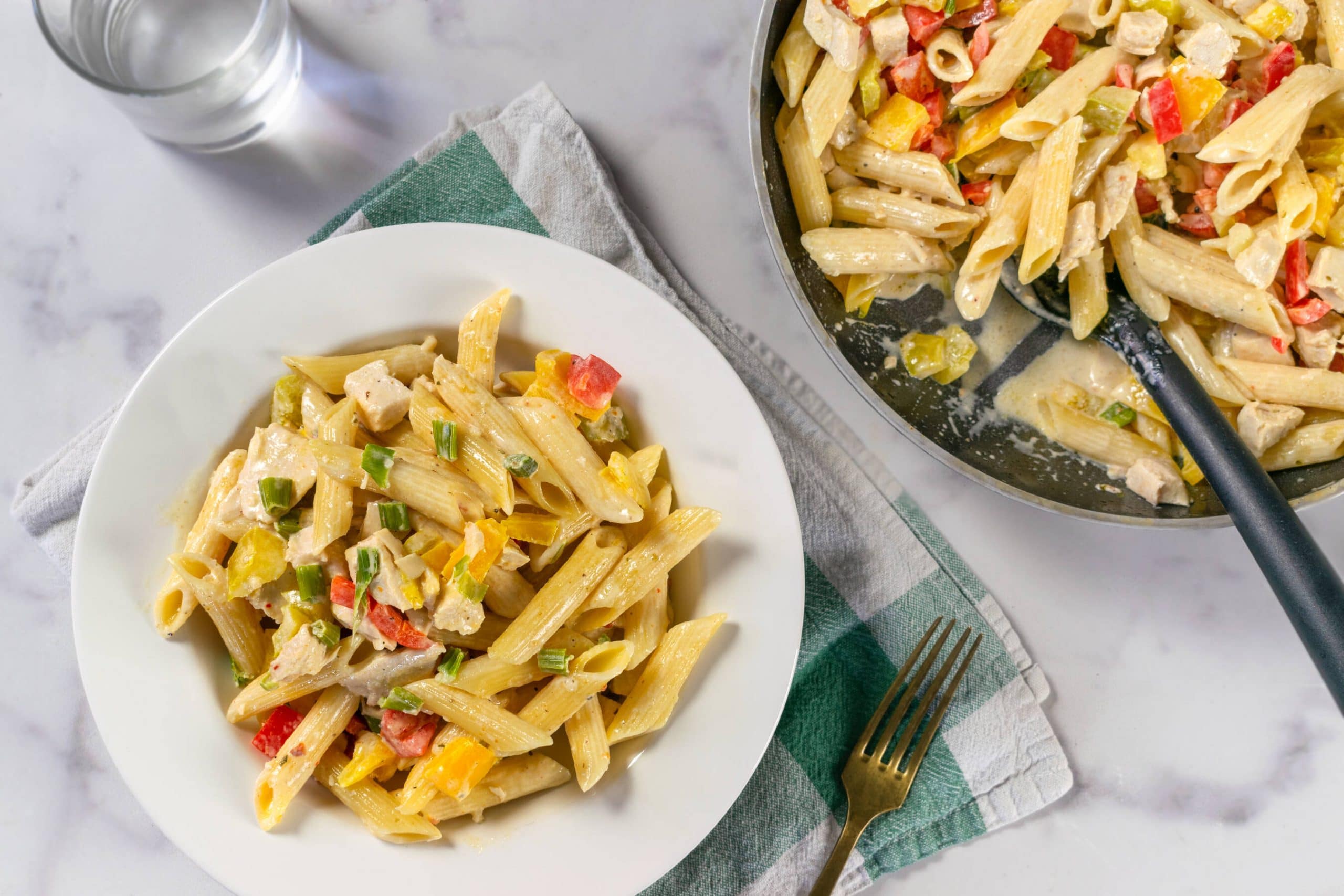 Ingredients
1

box penne pasta

4

tablespoons

olive oil

2

chicken breasts boneless

1

green pepper

1

red pepper

1

yellow pepper

½

cup

green onions

1

cup

heavy cream or coconut milk

¼

cup

vegetable stock or pasta water

2

tablespoons

jerk seasoning

3

cloves

garlic

½

cup

parmesan cheese

Salt and pepper
Instructions
Cook the pasta according to package instructions. Drain and set aside.

Heat two tablespoons of oil in a large pan or skillet. Add the chicken breasts and cook well. About 7-8 minutes each side.

Once the chicken is done, slice it into small pieces or strips and set aside.

In the same pot add the remaining olive oil and heat. Now add the peppers, the green onion and the garlic and sauté well.

Add the jerk seasoning and mix, making sure everything is coated with the seasoning

Now add the heavy cream and the vegetable stock or pasta water and stir. Let it simmer for about 5 minutes.

Now add the parmesan, salt and pepper and mix well. Let the parmesan melt completely.

Now add the chicken and cooked pasta.

Mix thoroughly and switch off the stove.
Video
Nutrition
Calories:
935
kcal
|
Carbohydrates:
95
g
|
Protein:
34
g
|
Fat:
47
g
|
Saturated Fat:
20
g
|
Polyunsaturated Fat:
4
g
|
Monounsaturated Fat:
20
g
|
Trans Fat:
1
g
|
Cholesterol:
126
mg
|
Sodium:
395
mg
|
Potassium:
731
mg
|
Fiber:
7
g
|
Sugar:
6
g
|
Vitamin A:
3462
IU
|
Vitamin C:
120
mg
|
Calcium:
251
mg
|
Iron:
3
mg
Notes & Tips
Cook the pasta al dente. You don't want it chewy or mushy, and for this al dente is perfect because it softens even more in the cream sauce.
You can let the chicken marinate in the jerk seasoning for about an hour before cooking. The chicken then packs quite a punch.
You can use rotisserie chicken, in which case, skip step 2.
It is best to use a variety of colorful peppers, but if unavailable, use what is in hand.
You can also add some green onions as garnish, gives a little zing to each mouthful.
You can increase or decrease the amount of jerk seasoning depending on your spice tolerance levels.
Storage:You can store it in the fridge for up to two days. When reheating it, in the microwave or stovetop, add a little bit of stock or milk to thin it out as it might get dry. I prefer eating it cold, right out of the fridge without any heating. I do not recommend freezing it.
Common Questions
Is there a vegetarian option for this pasta?
You can just completely eliminate the chicken and not replace it with any vegetarian substitute. You don't need a vegetarian protein for this, the peppers and cream will be more than satisfactory. Also, alternatives like tofu, soy or chickpeas don't lend themselves to this unique pasta flavor.
Do I have to use stock or pasta water?
Not at all. Adding stock or pasta water just cuts the richness of the cream and cheese. It thins the sauce out a bit, so it doesn't get too heavy. You can also just use water or not add anything at all. It is just a matter of taste.
Substitutions
Chicken: As mentioned earlier, you can use precooked rotisserie chicken, makes the process that much shorter.
Shrimp is another popular choice; it pairs well with the peppers and the sauce.
Heavy Cream: If you find heavy cream too rich or want a vegan option, go with coconut milk. Even if you are not vegan, coconut milk gives this pasta a lovely, light flavoring. It tastes just as amazing, just not as heavy.
Peppers: The peppers make the Rasta Pasta, Rasta Pasta. While there is no alternative for the peppers, you can be flexible on the colors and go with what you have.
Pasta: This works with almost any pasta. I love using penne, but that is a personal choice. Farfalle is another short pasta that works well. Because it is so creamy, both linguini and fettucine are great options as well.
If you want to make it gluten–free, chickpea or rice pastas are possible options. Just remember to follow package instructions, because overcooking the chickpea pasta can make it so mushy it practically liquifies.
Side Dishes and Accompaniments
This is a heavy dish. You want to keep all accompaniments extra light. Green salad is a good option. But if you want something a little more filling, garlic bread is a fantastic accompaniment as is sauteed zucchini or roasted Brussel sprouts. And you definitely don't want a decadent dessert, a light sponge cake or coffee is ideal.
If you like this, you might want a go at this Haitian Mac & Cheese. And if peppers are your things, be sure to try these Bulgarian Stuffed Peppers.
---
Recent Recipes