One of the most iconic Middle Eastern dishes is shawarma. Walking down the bustling city streets in Turkey and the surrounding regions, you will most certainly pass by a small shop or street vendor that has a rotating spit layered with thinly sliced and well-seasoned meat roasting next to a heating element or over hot coals. You may also encounter a vegetarian version of shawarma with layers of eggplant, potatoes, onions, and other vegetables.
The stack of meat or veggies is cone-shaped and cooks from the outside in. The meat is shaved off the spit and is served on flatbreads, such as pita bread. This will often be accompanied by a yogurt or tahini sauce, tomatoes, cucumbers, olives, and hummus. You roll the bread around the meat, accompaniments, and condiments and eat this like a wrap-style sandwich with paper or napkins.
It isn't very practical to make authentic shawarma at home unless you have a vertical rotisserie. I actually owned a vertical spit rotisserie. It was a countertop electric appliance with a heating element curved around one side of the rotating spit. It looked like something from an episode of The Jetsons. I have to say, it was the messiest way to cook proteins. The fat dripped everywhere and the kitchen was smoky. Cleaning the appliance was not easy. That gadget eventually made its way to a recycling center.
I highly recommend using your oven or grill to make shawarma. It is super easy to do and tastes pretty close to the authentic street food version. For this chicken shawarma recipe, we'll give instructions for roasting the chicken in your oven. What really makes shawarma good is the marinade that is loaded with Middle Eastern spices.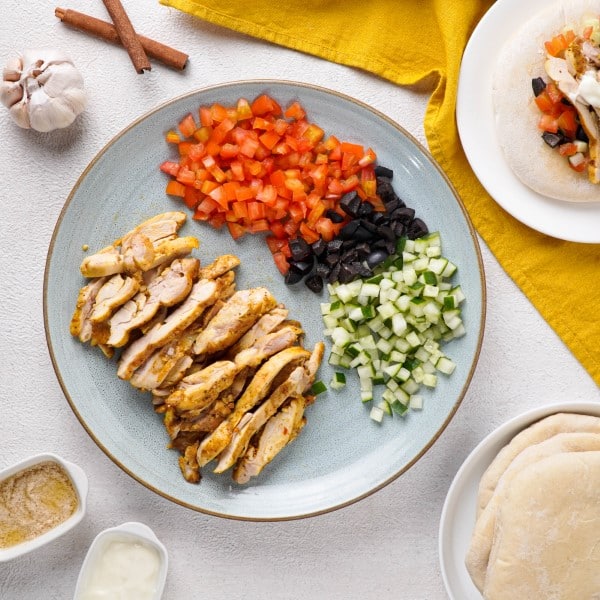 Ingredients
2

pounds

skinless boneless chicken thighs

trimmed of excess fat

⅓

cup

extra virgin olive oil

¼

cup

freshly squeezed lemon juice

1 medium lemon

6

garlic cloves

minced

1

tsp

coarse sea salt or kosher salt

1

tsp

freshly ground black pepper

1

tsp

ground cumin

1

tsp

paprika

½

tsp

turmeric

½

tsp

ground cardamom

¼

tsp

ground cinnamon

¼

tsp

cayenne pepper flakes
For Serving
6 to 8

pita breads for serving

Diced cucumbers

tomatoes, and black olives

Plain yogurt

Tahini thinned with lemon juice
Instructions
All ingredients ready? Let's begin!

In a large bowl, whisk together the olive oil, lemon juice, garlic, salt, pepper, cumin, paprika, turmeric, cardamom, cinnamon, and cayenne.

Add the chicken to the marinade in the bowl and toss to coat evenly.

Cover the bowl with plastic wrap. Place in the refrigerator for 10 to 12 hours or overnight.

Remove the chicken from the refrigerator 25 minutes prior to roasting it. Line 2 rimmed baking sheets with parchment paper.

Arrange the thighs in a single layer on the lined pans. Set aside.

Preheat your oven to 400°F.

Place the pans of chicken in the oven and roast until the internal temperature reaches 165°F when checked with a digital meat thermometer, approximately 20 minutes. Turn the chicken over at 10 minutes. Remove the chicken thighs to a clean cutting board and allow them to rest for at least 5 minutes so the juices are reabsorbed into the meat.

Slice the thighs thinly against the grain.

Load up a large serving platter with chicken, cucumbers, tomatoes, and olives. Have a basket or stack of pita bread for serving. Place yogurt and tahini sauces in bowls on the side with spoons.
Video
Nutrition
Calories:
537
kcal
|
Carbohydrates:
34
g
|
Protein:
32
g
|
Fat:
31
g
|
Saturated Fat:
5
g
|
Polyunsaturated Fat:
9
g
|
Monounsaturated Fat:
15
g
|
Trans Fat:
0.02
g
|
Cholesterol:
112
mg
|
Sodium:
643
mg
|
Potassium:
580
mg
|
Fiber:
3
g
|
Sugar:
2
g
|
Vitamin A:
146
IU
|
Vitamin C:
7
mg
|
Calcium:
139
mg
|
Iron:
3
mg
Notes & Tips
When preparing the marinade, be sure to use fresh lemon juice, not bottled juice. Bottled lemon juice is too concentrated and the flavor is off compared to that of fresh juice. Marinate the chicken for a minimum of 1 hour and up to 12 hours.
Resting the chicken prior to cooking it is a good idea so it can come to room temperature and cook evenly. Likewise, it is just as important to rest the chicken before slicing it so the juices don't run out of the meat, making it dry.
If you want to cook the marinated chicken on your grill, skewer the thighs and rotate them over a gas or coal fire. Just be sure to keep an eye on the skewered chicken, rotate them often, and check the temperature starting at 10 minutes. This method will result in slightly charred meat, which is a nice touch.
Substitutions & Additions
Shawarma can be prepared with lamb, beef, turkey, pork, or goat. Chicken is not the only option. As well, roasted and sliced portobello mushrooms are a popular vegetarian option. You could also make this with marinated and roasted tempeh or extra-firm tofu.
I am fond of shredded iceberg lettuce on my wrapped pita sandwiches. If iceberg isn't your thing, try shredded romaine or radicchio. You could also add pickles to the serving platter and fresh herbs, such as cilantro or parsley. This dish is also quite good with a heaping spoonful of hummus.
Pita bread is not a must. There are many different types of Middle Eastern flatbreads. These include lavash, khubz, laffa, manakish, and gozleme. If you are gluten-free, serve shawarma with steamy brown rice. If you are paleo or keto, skip the carbs altogether and load up on the cucumber, tomatoes, and olives.
Chicken shawarma is classically a street food that is easy to eat with your hands while walking around. In my family, we like to have this dish at the table for a weeknight meal. I will sometimes make the chicken and sauce a day ahead for convenience. We will finish the meal with a fun dessert of fresh strawberries that you can dip in bowls of honey and yogurt, fruit sorbet, or Turkish knafeh. Knafeh is a crunchy, cheese-filled, sweet phyllo dough pie topped with pistachios.
---
Recent Recipes