Easy Chicken with Prunes & Olives (Chicken Marbella)
In the 1980s there was a cooking duo who ran a gourmet food shop in Manhattan. Their names were Julee Rosso and Sheila Lukins. The shop was called The Silver Palate. This team wrote an award-winning cookbook that spoke to home cooks who wanted to elevate their meals and entertain skillfully. It didn't stop with one book. Many books were published over the years with all of their great recipes from the food they prepared and sold from their shop.
I was given a copy of their first book after I graduated from college and was ready to start cooking in my new home for real – no more dishes on a student's budget. The first recipe I made for friends from the book was Chicken Marbella. It was a huge hit. I have since tweaked the recipe for a slightly healthier spin and serve it often when I am having guests for dinner. It never disappoints.
Chicken Marbella has a list of ingredients that might have you wondering if this will actually work. In addition to the chicken, there is wine, olive oil, vinegar, honey, prunes, olives, and capers. The chicken is marinated in all of this for a long time and then roasted in the oven. The end result is a sweet and tangy deeply flavored chicken with delicious roasted skin. And yes, it does all work together. This dish is even good cold the next day.
Chicken Marbella is such a crowd-pleaser. Even kids like this because it is a little sweet. You can cut the recipe in half if you are only feeding 4 to 6 people. I like to serve it with brown rice pilaf or quinoa, a green salad, and a couple of bottles of a good dry rioja white wine.
Make sure you rest the chicken before serving it so the juices can be reabsorbed and it remains moist when slicing into it.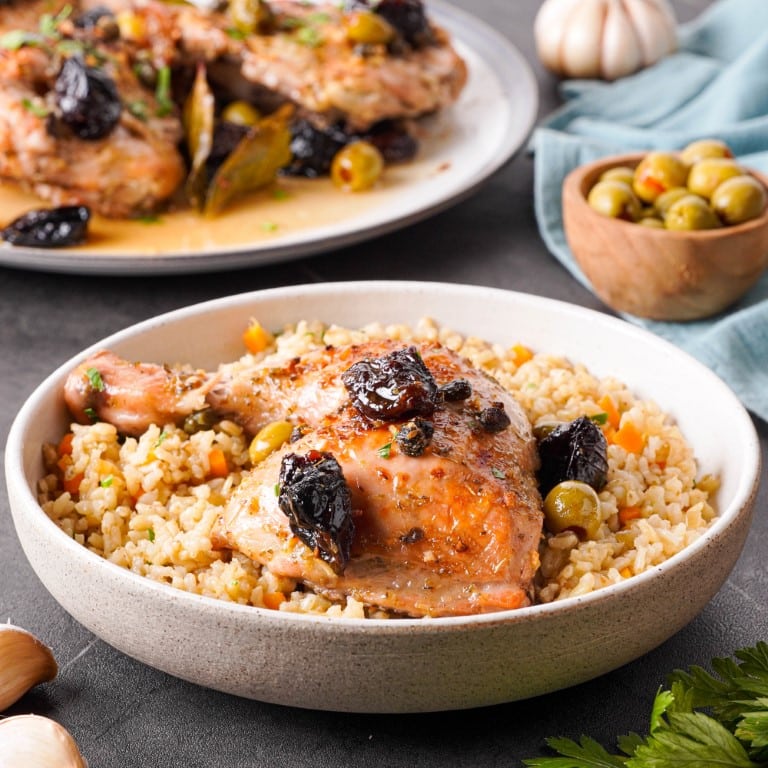 Ingredients
2

4 to 5 pounds whole organic chickens, quartered (4 legs and 4 breasts)

¾

cup

drinkable dry white wine

⅓

cup

extra virgin olive oil

⅓

cup

red wine vinegar or raw apple cider vinegar

½

cup

honey

2

Tbsp

blackstrap molasses

6

cloves

of garlic

minced

3

Tbsp

dried oregano

2

tsp

coarse sea salt

1

tsp

freshly ground pepper

4

bay leaves

¾

cup

pitted prunes

½

cup

pitted green olives

¼

cup

brined capers with some juice

3

Tbsp

chopped flat-leaf parsley for garnish
Instructions
Ask your butcher to quarter the chicken for you, or do it yourself using this tutorial video. Rinse the chicken quarter under cold water and pat dry with paper towels. Place the chicken quarters in a large bowl or 2 large plastic baggies that are sealable.

In a medium mixing bowl, whisk together the wine, olive oil, vinegar, honey, molasses, garlic, oregano, salt, and pepper. Add the bay leaves, prunes, olives, and capers to the bowl and stir to combine well.

Pour the marinade all over the chicken to coat all of it. Cover the bowl with plastic wrap or seal the baggies and place the chicken in the refrigerator for 8 to 12 hours.

Remove the chicken from the refrigerator at least 40 minutes before roasting it so it can come close to room temperature.

Preheat your oven to 350°F.

Place the chicken skin side facing up in one or two large shallow baking dishes. Spoon the marinade all over the chicken. Place the baking dish into the oven on the center rack. Roast for 50 minutes or until the internal temperature of the thighs reads 165°F when checked with a digital meat thermometer. Baste the chicken with the marinade every 15 minutes to keep it moist.

Remove the baking dish from the oven and transfer the chicken to serving platters. Spoon any juices in the pan over the chicken. Allow the birds to rest for 10 minutes before serving. You can tent them loosely with foil to keep them warm.

Sprinkle the parsley over the chicken and serve with your favorite side dishes.
Nutrition
Calories:
436
kcal
|
Carbohydrates:
35
g
|
Protein:
37
g
|
Fat:
15
g
|
Saturated Fat:
2
g
|
Polyunsaturated Fat:
2
g
|
Monounsaturated Fat:
9
g
|
Trans Fat:
0.02
g
|
Cholesterol:
109
mg
|
Sodium:
1069
mg
|
Potassium:
905
mg
|
Fiber:
3
g
|
Sugar:
28
g
|
Vitamin A:
410
IU
|
Vitamin C:
6
mg
|
Calcium:
78
mg
|
Iron:
2
mg
Substitutions
Honey and Molasses: The original recipe calls for a full cup of brown sugar, which I find to be too much. I prefer honey. I also like molasses because it darkens the skin and adds beneficial minerals to the dish. If you prefer to use brown sugar, I would keep it to 1/2 – 2/3 cup.
Oregano: You can use other herbs, such as rosemary and thyme, or a combination of dried herbs. I sometimes use herbes du Provence.
Prunes: The prunes work so well in this recipe. They almost melt while the chicken is cooking. I have seen versions of this recipe that call for dried apricots. I haven't tried this yet, but it sounds good.
Capers: Brined capers work best, rather than salted capers. If using salted capers, rinse them well and add some of the olive juice to the marinade. If you don't have capers, use a few extra olives and their juice.
---
Recent Recipes