Simple Chili's Mexican Black Beans Copycat
There was a Chili's restaurant near an office I used to work in that offered happy hour cocktails along with snacks and appetizers. Every once in a while, after work, some of us would head over there for affordable food and drinks on a Friday evening after a long week of work.
The center of the table always had a bowl of salsa and another bowl with warm tortilla chips. We would also order a bowl of guacamole and an order of Chili's black beans. We would keep the chips and dips coming and this would sometimes end up being dinner. And, it made the vegetarians very happy.
I especially liked dunking chips into the black beans. They were simple, tasty, filling, and a good source of protein. One of my friends makes those beans all the time to serve as an appetizer at gatherings and picnics. Her recipe is a little different than the one here, which I will explain in the substitutions section.
Chili's recipe is basically black beans, sugar, garlic powder, and chili powder. I have perked up the recipe a bit with the addition of onions and fresh cilantro.
This copycat recipe calls for canned black beans. You can definitely make it with dried black beans that have been soaked and boiled until soft. I encourage you to try that if you have the time. Just soak the beans overnight. Then, cover them with water and add a pinch of baking soda to help them cook faster. Bing to a boil, lower the heat to a simmer, cover the pot, and cook until the beans are just tender. This could take from 40 to 60 minutes. Drain and add the other recipe ingredients and continue to cook.
While this makes a great dip for chips, it is also perfect as an entrée or a side dish. I like to serve the beans over well-seasoned rice with a heaping spoonful of fresh salsa on top for a nice vegan lunch. You could also make cheesy nachos or turkey quesadillas with the beans. Or, serve them as an accompaniment to roasted pulled chicken or pulled pork with a piece of warm cornbread.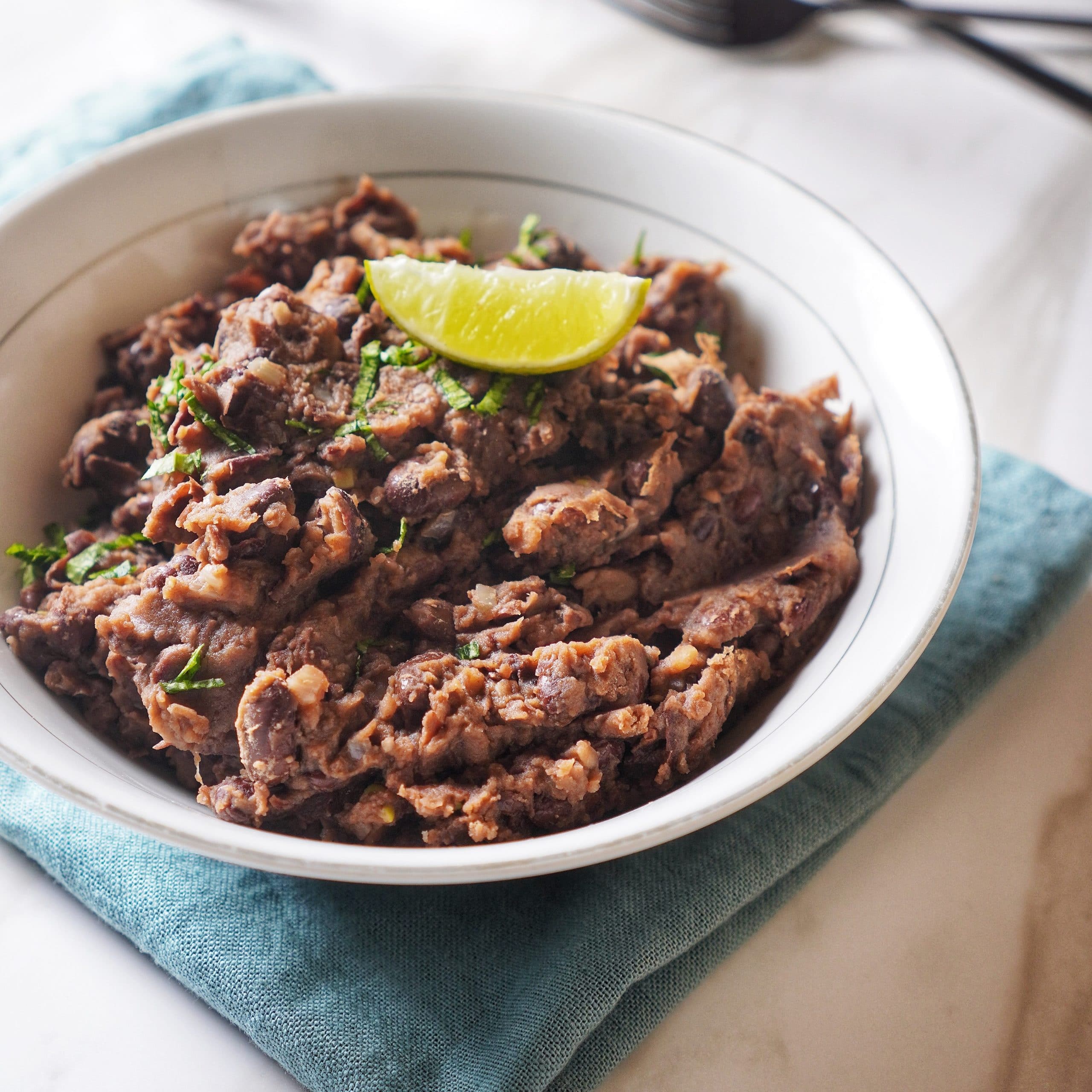 Ingredients
2

cans black beans

¼

cup

minced onion

½

tsp

sugar

½

tsp

chili powder

½

tsp

garlic powder

Sea salt and freshly cracked pepper to taste

1

Tbsp

fresh cilantro leaves

finely chopped
Instructions
Prepare all the ingredients.

Place the beans in a colander and rinse thoroughly in cold running water. Allow them to drain while you gather the other ingredients.

In a medium saucepot over high heat, stir together the beans, onions, sugar, chili powder, and garlic powder. Bring to a simmer and reduce the heat to medium-low and continue to simmer for 20 to 25 minutes. If needed, you can add a little water or vegetable broth if the beans start drying out too much.

Taste the beans and season with salt and pepper to your liking.

Stir in the cilantro and remove the pot from the heat.

Serve while warm with lime wedges or use as a dip at room temperature.
Video
Nutrition
Calories:
115
kcal
|
Carbohydrates:
21
g
|
Protein:
8
g
|
Fat:
1
g
|
Saturated Fat:
1
g
|
Polyunsaturated Fat:
1
g
|
Monounsaturated Fat:
1
g
|
Sodium:
4
mg
|
Potassium:
312
mg
|
Fiber:
7
g
|
Sugar:
1
g
|
Vitamin A:
59
IU
|
Vitamin C:
1
mg
|
Calcium:
25
mg
|
Iron:
2
mg
Toppings for Chili's Black Beans
These black beans are great just the way they are with a big bowl of restaurant-style tortilla chips. You can elevate this dish by adding some interesting toppings.
Here are some that I recommend:
Fresh salsa
Shredded Mexican cheese blend
Chili powder seasoned toasted pumpkin seeds
Diced avocado
Pico de gallo
Sliced jalapeno peppers
Sour cream
Cooked and diced chorizo
Fresh corn kernels
Pulled pork
Chopped green olives
Notes & Tips
There isn't anything difficult about this recipe. But you do need to keep an eye on the beans while they are cooking. If your heat is too high, they will dry out and scorch the pot. I always keep a carton of organic vegetable broth in my refrigerator that I can add to beans, one tablespoon at a time if they start to dry out.
Canned beans should be rinsed under cold water to remove the canning liquid. The liquid is very starchy and can make the beans gloppy, for lack of a better term. If you want, you can pour off the bean liquid and save it to use in vegan soups and stews to thicken them. Aquafaba is the name for bean liquid. Most recipes that call for aquafaba refer to the liquid that is in canned chickpeas.
Substitutions & Additions
If you have a packet of sazon in your pantry, you can use that in place of the garlic and chili powder. The taste is a little different, but it is still a good dish. Sazon is a blend of salt, achiote or annatto, and a variety of Mexican or Spanish dried herbs and spices.
If you don't care for cilantro, you can add fresh parsley or oregano leaves. If you only have dried herbs, use ½ teaspoon of dried oregano.
You can definitely make this recipe with different beans, such as pinto beans. They are easy to find.
I like to change up this recipe by adding different ingredients, depending on what is in my pantry and fridge. For a spicy version, add a few dashes of hot sauce or a pinch of cayenne pepper flakes. If I have fresh tomatoes on hand, I will chop them finely and add them to the beans while they are cooking. Minced bell peppers are another nice addition.
---
Recent Recipes