I like to think of chorizo as sausage taken to the next level. There is nothing subtle about it. The combined flavors of pork, pork fat, paprika, and garlic are unique in the world of sausage and ridiculously delicious. The pork is either ground or chopped. The additional fat gives the chorizo an unctuous and moist consistency. The paprika can be smoked or sweet, giving the meat an intense red color and a unique peppery flavor. The garlic is aromatic. In the states, we generally enjoy Mexican chorizo which often has the addition of native chili peppers making it a bit spicy.
While you can cook chorizo in its casing, this meat product is commonly removed from the casing and broken up in the pan while cooking so it is more like ground meat. Chorizo is added to a variety of dishes, such as chili, scrambled eggs, rice and beans, and tacos.
Chorizo tacos are intensely flavored without the addition of too many other ingredients. It is best to allow the chorizo be the star of the dish. You can make the tacos with either wheat flour, corn, or grain-free tortillas. You can add any toppings you like. I am partial to fresh herbs and a cooling citrus crema. Diced onions, tomatoes, and avocados are also popular choices.
For this chorizo taco recipe, I am recommending keeping it simple with a meat filling and lime crema sauce. Optional toppings can be served on the side to be spooned over the meat so everyone can customize their own tacos. I also like soft tortillas rather than those crunchy boxed taco shells that can break, allowing the chorizo to drop out of the shell. The paprika infused moisture in chorizo can be a bit messy.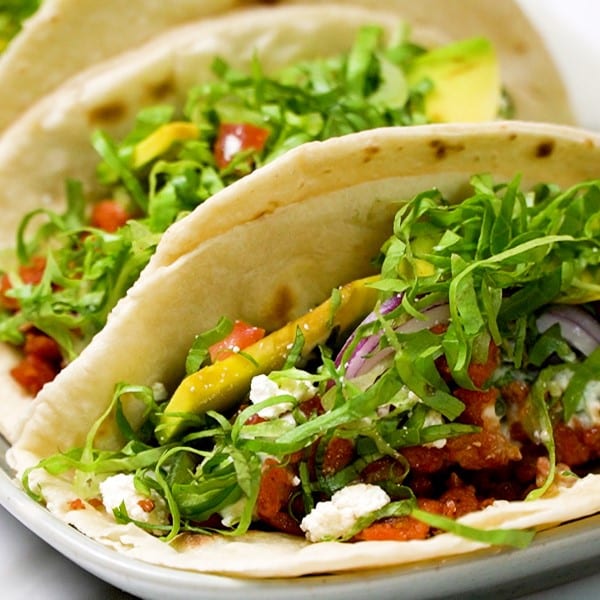 Ingredients
1

cup

sour cream

1

small lime

zest and juice

1

small garlic clove

finely minced

¾

cup

roughly chopped fresh cilantro leaves

¼

tsp

coarse sea salt

1

tsp

extra virgin olive oil

⅓

cup

minced yellow onion

1

pound

Mexican chorizo

removed from the casings

1

garlic clove

chopped

10

6-inch flour, corn, or grain-free soft tortillas

Suggested toppings: thinly sliced red onions

sliced jalapeno peppers, diced tomatoes, crumbled cotija cheese, fresh avocado slices, grilled corn kernels, shredded romaine lettuce
Instructions
All ingredients ready? Let's begin!

Start by preparing the crema. In a small mixing bowl, whisk together the sour cream, zest of the lime, juice of the lime, minced garlic, cilantro, and salt.

Cover and place in the refrigerator until ready to serve.

Prepare your preferred toppings and add them to small serving bowls with spoons. Set aside.

In a large skillet over medium-high heat, warm the olive oil. Add the onion and cook for about 1 minute. Crumble the chorizo into the pan. Add the garlic. Cook until the chorizo starts to become browned and crisp, approximately 9 minutes. You can continue to break up the chorizo with a wooden spoon while it is cooking.

Remove the chorizo filling to a brown paper-lined platter to drain some of the excess fat.

Add the tortillas to the warm skillet, one or two at a time, and warm until limp. Flip them halfway through.

As the tortillas come out of the skillet, fill them with the chorizo mixture. Drizzle the crema over the chorizo. Spoon your favorite toppings over the filling.

Fold the tortillas and serve with plenty of napkins.
Nutrition
Calories:
656
kcal
|
Carbohydrates:
51
g
|
Protein:
24
g
|
Fat:
38
g
|
Saturated Fat:
16
g
|
Polyunsaturated Fat:
3
g
|
Monounsaturated Fat:
4
g
|
Cholesterol:
84
mg
|
Sodium:
1910
mg
|
Potassium:
222
mg
|
Fiber:
4
g
|
Sugar:
6
g
|
Vitamin A:
780
IU
|
Vitamin C:
6
mg
|
Calcium:
194
mg
|
Iron:
5
mg
Notes & Tips
When shopping for chorizo, you have a couple of options. Spanish chorizo is cured and fully cooked. Mexican chorizo is generally raw and does need to be cooked prior to serving. If using Spanish chorizo, you can reduce the cooking time by cooking the onions and garlic first for 5 minutes and then adding the chorizo for the last 4 minutes just to warm it through.
Many soft taco recipes recommend using 2 tortillas per serving. This is a good idea for meat tacos where the filling can be very moist. This is especially a good idea when dealing with dripping red paprika seasoning from the chorizo. Simply double the tortillas in this recipe from 10 to 20.
Substitutions
If you can't find chorizo, you can make this recipe with well-seasoned Italian pork sausage with some paprika added to the meat during the cooking.
For a vegan version of chorizo tacos, substitute plant-based sausage for the filling and vegan sour cream for the crema. You could also make this recipe with extra-firm tofu cubes that have been marinated in olive oil with smoked paprika, garlic powder, and sea salt. Grill, pan sear, or bake the tofu until almost crisp.
If chorizo tacos don't float your boat, you might like these taco recipes that don't include pork:
What To Serve With Chorizo Tacos?
I could eat 3 of these tacos and be perfectly satisfied. Though, I do like to round out a meal with plenty of healthy options to choose from. You can start this meal with Mexican cabbage soup or a Caesar salad, which is a Mexican chef's invention. Accompany the tacos with Mexican black beans, herb-infused rice, and grilled corn on the cob with cotija cheese. Finish the meal with flan. I also recommend icy margaritas or cerveza (beer) with a wedge of lime with chorizo tacos.
---
Recent Recipes