All The Cold Stone Vegan Menu Options
Vegans love ice cream, too! But there's a problem: most ice cream is made with dairy products by definition. Vegan or dairy-free ice cream is something of a rarity in most places.
But more and more frequently, ice cream shops are starting to offer vegan friendly dessert options, including Cold Stone Creamery.
Cold Stone Creamery has vegan sorbet and vegan almondmilk based ice cream that you can use in your own creation. In addition, there are many vegan toppings you can choose from.
In fact, Cold Stone has more vegan options than you might be aware of at this time. That's partially because they don't advertise their non-dairy desserts all that often. No worries; today, we'll break down all the vegan friendly options at Cold Stone in detail. Here is a quick overview:
| Menu item | Dish | Notes |
| --- | --- | --- |
| Silk Chocolate Almondmilk Frozen Dessert | Dessert | – |
| Countrytime Pink Lemonade Sorbet | Sorbet | – |
| Lemon Sorbet | Sorbet | – |
| Mojito Sorbet | Sorbet | – |
| Orange Sorbet | Sorbet | – |
| Peach Mango Sorbet | Sorbet | – |
| Pineapple Sorbet | Sorbet | – |
| Pineapple Orange Banana Sorbet | Sorbet | – |
| Raspberry Sorbet | Sorbet | – |
| Strawberry Sorbet | Sorbet | – |
| Strawberry Lemonade Sorbet | Sorbet | – |
| Strawberry Mango Banana Sorbet | Sorbet | – |
| Watermelon Sorbet | Sorbet | – |
| Coconut | Mix-in | NOT toasted coconut. Toasted coconut contains milk |
| Gold Glitter | Mix-in | – |
| Golden Oreo Cookies | Mix-in | – |
| Graham Cracker Pie Crust | Mix-in | – |
| Oreo Cookies | Mix-in | – |
| Oreo Pie Crust | Mix-in | – |
| Peanut Butter | Mix-in | – |
| Rainbow Sprinkles | Mix-in | – |
| Pretzels | Mix-in | – |
| Sugar Crystals | Mix-in | – |
| Apple Pie Filling | Fruit | – |
| Bananas | Fruit | – |
| Blackberries | Fruit | – |
| Black Cherries | Fruit | – |
| Blueberries | Fruit | – |
| Cherry Pie Filling | Fruit | – |
| Maraschino Cherries | Fruit | – |
| Peach Pie Filling | Fruit | – |
| Pineapple Tidbits | Fruit | – |
| Raisins | Fruit | – |
| Raspberries | Fruit | – |
| Strawberries | Fruit | – |
| Cashews | Nuts | – |
| Macadamia | Nuts | – |
| Peanuts | Nuts | – |
| Pecans | Nuts | – |
| Pistachios | Nuts | – |
| Roasted Almonds | Nuts | – |
| Sliced Almonds | Nuts | – |
| Walnuts | Nuts | – |
| Cinnamon | Topping | – |
| Reese's Peanut Butter Sauce | Topping | – |
| Cake Cone | Cone | – |
| Sugar Cone | Cone | – |
Note: Menu items as of 1/9/2023 as menu items may have changed.
Sorbets for Vegans at Cold Stone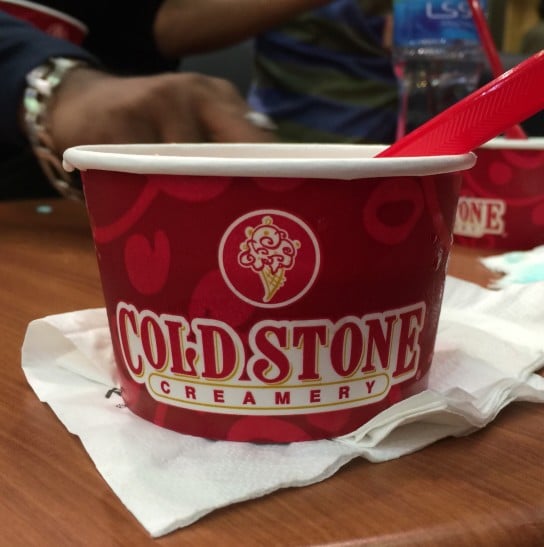 Technically, plain sorbet is always vegan friendly. As opposed to regular ice cream, sorbet is a frozen treat made from sugar-sweetened water. Then the sorbet maker can add fruit juice, wine, liquor, honey, or anything else they like. Sorbet is different from sherbet in that sorbet almost never has dairy ingredients.
Luckily, Cold Stone offers a variety of sorbet flavors for vegan dessert lovers at any one time. The below flavors are not always available 24/7, however – some stores only have a few flavors available at a time and some flavors are available on a seasonal basis. Still, rest assured that all the below sorbet flavors at Cold Stone are made with vegan friendly ingredients, including vegan friendly sugar, dyes, cornstarch, and more.
Peach mango
Pink lemonade
Strawberry
Orange
Pineapple
Pineapple orange banana
Watermelon
Strawberry lemonade
Strawberry Mango banana
Lemon
Mojito
That's a pretty good collection of dessert flavors for vegans to choose from! We are a bit disappointed that there aren't any chocolatey flavors of sorbet at Cold Stone, but that's not too surprising given that most chocolate flavors or products are made with dairy products early in their manufacturing process.
If you want to know which sorbet flavors are available at your local Cold Stone Creamery, call ahead of time and I'll be happy to tell you which vegan friendly sorbets they have on hand.
If driving to Cold Stone seems like too much trouble, you can also make your own dessert at home. For instance, we have a variety of at-home vegan recipes, including easy Avocado Chocolate Mousse! Don't hesitate to check out these recipes if you want something to satisfy your sweet tooth without compromising your diet.
Silk Chocolate Dairy-Free Ice Cream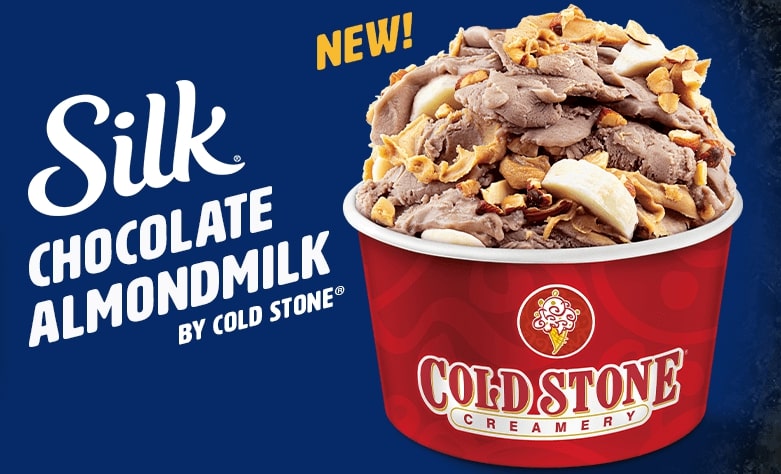 In addition to the vast sorbet flavors, Cold Stone Creamery partnered with Silk to launch a dairy-free chocolate ice cream for all stores nationwide as of January 2022. The vegan ice cream is made of almondmilk and organic coconut oil. These ingredients make for a dairy-free, lactose-free and vegan friendly ice cream base for customers.
To celebrate the launch of the new vegan ice cream, Cold Stone suggests their creation called Don't Cry Over Spilled Silk which includes the vegan friendly Silk Chocolate Almondmilk Frozen Dessert, banana, peanut butter and roasted almonds.
This new vegan friendly ice cream on the menu brings up a slew of new vegan friendly opportunities at Cold Stone. For example, you can combine the Silk vegan ice cream with some of the many vegan toppings Cold Stone offers to make your own creation.
Vegan Toppings at Cold Stone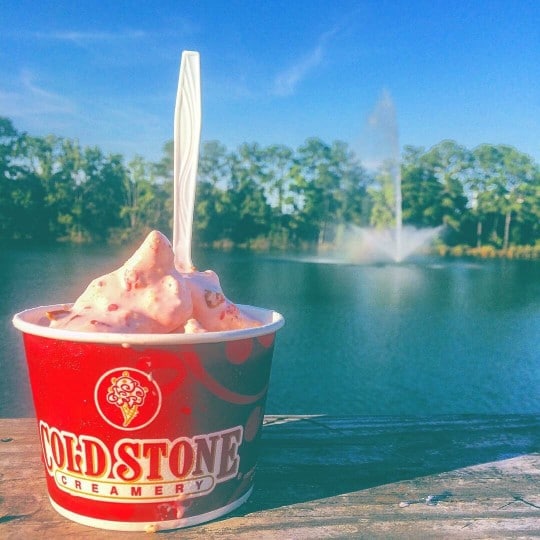 People love to go to Cold Stone for ice cream and other frozen desserts in part because they can customize their sweets with a variety of toppings. Luckily, vegans aren't excluded from this fun process since Cold Stone offers all kinds of vegan friendly toppings. These include:
Blackberries, blueberries, raspberries, and strawberries
Apple pie, cherry pie, and peach pie filling
Bananas
Black and maraschino cherries
Pineapple bits
Raisins
A variety of nuts including cashews, macadamia nuts, peanuts, pecans, pistachios, almonds, walnuts, and more
Coconut garnish
Cinnamon seasoning
Pretzels
Sprinkles
Oreo crumbles
Some Cold Stone locations also offer vegan friendly chocolate syrup, but these are few and far between. If you see chocolate syrup offered at your local Cold Stone, be sure to ask one of the employees if that particular syrup is made with dairy products.
Some locations also offer mango juice and/or syrup. Once again, this is available at all Cold Stone locations. So it may be wise to call ahead and see what they offer.
Still, this selection of sides and toppings should allow you to customize your sorbet treat without breaking your diet in the slightest. Plus, all of these toppings or additions are contained in their own buckets, so cross-contamination isn't as much of a factor here as it is at many other restaurants.
Cold Stone Vegan Options FAQs
Are the gummy bears at Cold Stone vegan friendly?
Unfortunately, no. That's because practically all gummy bears are made with gelatin. Therefore, these are not good for vegans. Gelatin is an animal byproduct.
What kind of cones can you order at Cold Stone for vegans?
Cold Stone only vegan-appropriate cone is the sugar cone. All the other cones contain milk and/or eggs. Furthermore, the waffle cones at Cold Stone contain dairy, so avoid them no matter how tempting they look.
Do you need to worry about cross-contamination as a vegan at Cold Stone?
Somewhat. As mentioned above, the toppings and sides are contained in separate buckets and are not usually mixed. However, the employees at Cold Stone usually use shared scoops and other handling tools when preparing ice cream and sorbet.

If this bothers you, they will be happy to get a fresh scoop or other handling tools to avoid cross-contamination. Luckily, you don't need to worry about cross-contamination during manufacturing. Sorbet and ice cream are made through completely different processes, so there's no chance for them to be mixed up before you see the treats at Cold Stone.
Does Cold Stone have vegan ice cream?
Yes. In early January 2022, Cold Stone Creamery launched an almond milk-based chocolate ice cream called which customers can choose as a base ice cream. The vegan friendly ice cream is from the brand Silk. The Silk Chocolate Almondmilk Frozen Dessert is vegan according to Cold Stone's website. Be advised, cross contamination is possible.
Is Cold Stone a Good Dessert Place for Vegans?
In the end, Cold Stone Creamery is an excellent place to grab dessert if you're a vegan. They recently added vegan friendly ice cream from Silk which shows that Cold Stone has vegans on their mind. If the vegan ice cream is popular, you can expect more vegan friendly options from the premier ice cream dessert place throughout America.
On top of the vegan Silk ice cream and sorbet options there are tons of different toppings and inclusions to customize your order to your liking. If you want to know where else you can order vegan friendly foods or which restaurants have vegan friendly menus, don't hesitate to check out our guides on Cook Gem!
---
Recent Recipes