Easy Cheesy Colombian Cheese Rolls
This is one of my favorite roll recipes. The reason for this is that I do a lot of gluten-free baking. Gluten-free baking is not for people without patience and self-forgiveness. It takes time to figure out what flours work best, what the timing should be, and how warm the oven needs to be. As well, the preparation of doughs, pastries, and batters is different than when you are using gluten flours. I have had some failures and some great successes. The failures were early on and very good lessons.
Certain cultures are proficient at baking without wheat flour, mainly because wheat is a crop that might not necessarily be cultivated locally and importation can be costly. In Colombia, there are breads and pastas that are made from root vegetable flours, such as cassava (yucca) and potato. Corn and plantain flours are also quite common.
Cheese rolls (pan de queso) are a staple in the Colombian diet and they are made with yucca root flour. Yucca is a starchy tuber that is actually milled worldwide into flour. The flour is also known as cassava or tapioca flour. Cassava flour is a bit more coarse than the very fine tapioca starch. They are often combined in a single recipe to achieve the perfect texture that is both chewy and airy.
Most of my gluten-free bread recipes include either cassava flour or tapioca starch. I will make unleavened crepes and flatbreads with cassava flour. I make yeast, egg, or baking powder risen pizza crusts, pancakes, and rolls with a combination of cassava, tapioca, chickpea, and almond flours. I am not exactly sure why, but yucca flour responds to yeast in a similar fashion to wheat. It doesn't rise as much, but it definitely expands with some air pockets.
Colombian cheese rolls are leavened with an egg and baking powder. These rolls do not disappoint. They are airy, gluten-free, vegetarian, and cheesy. They are also simple to make. I suggest eating them right out of the oven while they are hot and fluffy.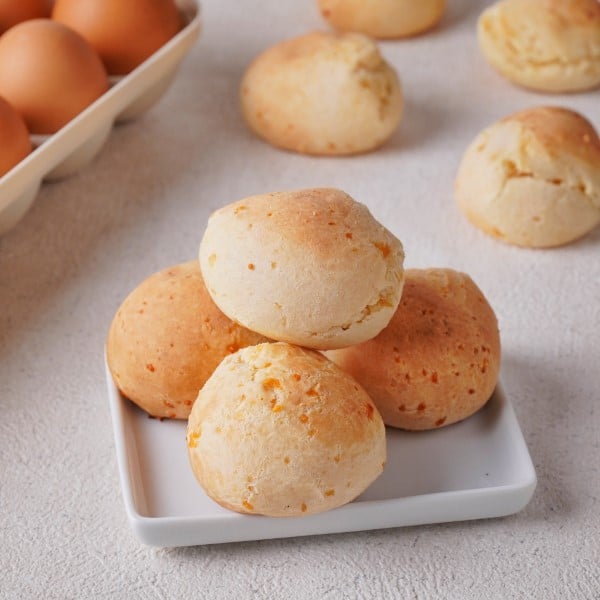 Ingredients
¾

cup

cassava flour

½

cup

tapioca starch

½

tsp

baking powder

¼

tsp

sea salt

1

large whole egg

1 ¼

cups

crumbled queso fresco

1

cup

grated or shredded mozzarella cheese

2

Tbs

butter

cubed

A little milk

if needed
Instructions
All ingredients ready? Let's begin!

In the bowl of a food processor, add the flour, starch, baking powder, and salt. Pulse briefly just to combine.

Add the egg, butter, queso fresco, and mozzarella. Process until smooth, approximately 2 minutes. The dough should come together in a ball. If it doesn't come together, add the milk one tablespoon at a time and pulse again.

Form the dough into golf ball-sized spheres. Place them on a parchment-lined sheet pan about 2-inches apart and refrigerate for 30 to 60 minutes.

Preheat the oven to 500°F.

Place the baking sheet with the balls of dough in the oven and bake for approximately 7 to 10 minutes until the rolls are lightly golden brown.

Allow the rolls to rest for a couple of minutes until cool enough to handle, then serve while still warm.
Nutrition
Calories:
154
kcal
|
Carbohydrates:
15
g
|
Protein:
7
g
|
Fat:
8
g
|
Saturated Fat:
4
g
|
Polyunsaturated Fat:
0.4
g
|
Monounsaturated Fat:
2
g
|
Trans Fat:
0.1
g
|
Cholesterol:
41
mg
|
Sodium:
284
mg
|
Potassium:
79
mg
|
Fiber:
0.2
g
|
Sugar:
2
g
|
Vitamin A:
270
IU
|
Vitamin C:
0.5
mg
|
Calcium:
204
mg
|
Iron:
1
mg
Notes & Tips
I mix cassava flour and tapioca starch for best results. Both are from the same yucca root but are processed very differently. The flour uses the entire root and is slightly coarse like wheat pastry flour. The starch has the skin removed and is ground very fine like powder or cornstarch.
Cheese rolls are best when using a food processor to incorporate the cheese and butter well. However, I have made rolls by hand. You will need to shred the cheese well and make sure the butter is very soft. Knead well for several minutes to combine until the dough feels soft and no longer sticks to your hands.
You might not need the milk. Only use it if the dough isn't coming together into a ball. Be sure not to make it too wet. It doesn't need to be a tight ball. Cassava flour is a bit crumbly.
In my experience, cassava flour bakes much faster than wheat flour. I do recommend keeping an eye on the rolls so they don't overcook and become rock hard.
Substitutions
Cassava flour isn't always easy to come by. In a pinch, I have used garbanzo bean flour, fine almond flour, coconut flour, or a combination of these mixed with tapioca starch or arrowroot starch. The rolls aren't as fluffy, but they are still good.
I think mozzarella is a key ingredient. It is creamy and stretchy, which adds a nice textural element and acts as a bit of a binder. The queso fresco can be swapped out for feta, cotija, or even a crumbly mild cheddar.
I am not 100% sure if vegetable or coconut oil would work in place of the butter, but I think solid margarine or even ghee might be an okay substitute.
How To Serve Colombian Cheese Rolls
You can eat these rolls right out of the oven just as they are alongside a meal or as a snack. This bread is also delicious with raspberry jam or apple butter and a cup of tea for breakfast.
You could also make mini sandwiches with pan de queso, such as beef sliders, ham and cheese, or tomatoes and avocados to stay with the vegetarian theme. These sandwiches are great for lunch on the go. For breakfast, try the rolls stuffed with scrambled eggs and sausage.
---
Recent Recipes