Comforting Butternut Squash Casserole
Autumn is right around the corner and that means seasonal vegetables and warm meals that complement the weather. What better way to combine those two things than this butternut squash casserole? It's seasonal, it's warm, it's filling, and it's way healthier than chicken sausage gumbo topped fries. You can serve it as a side or an entrée and it will be delicious either way. This recipe includes animal products, but read below for substitutions that will make it vegan friendly. Enjoy!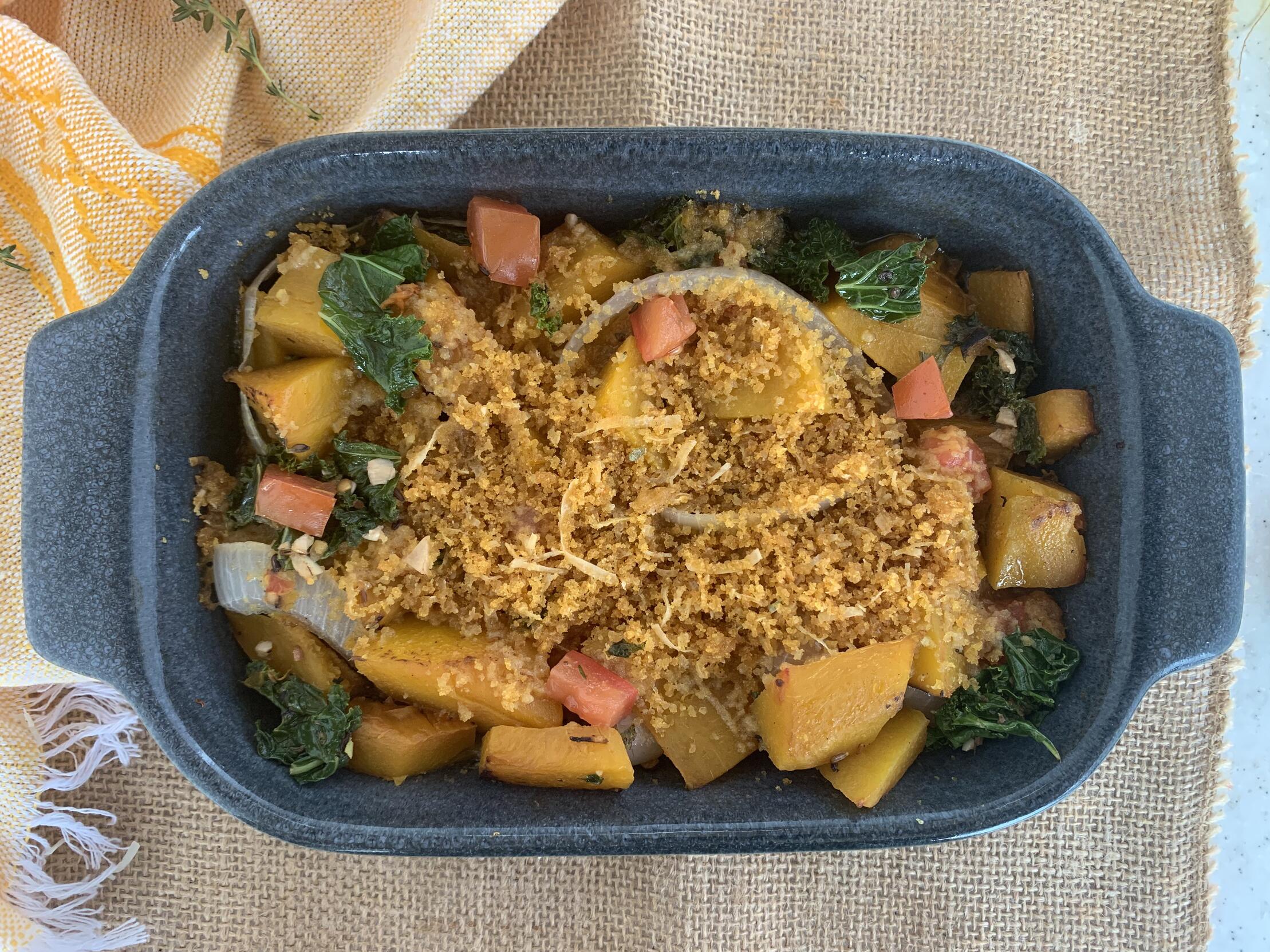 Ingredients
2

tbsp

olive oil

1

butternut squash

1

onion

2

garlic cloves

2

tsp

thyme

1

tsp

cumin seeds

1

tbsp

paprika

1

tsp

salt

¼

tsp

pepper

12

oz

kale

½

cup

red wine

1

can chopped tomatoes

1

cup

chicken broth

1

tbsp

sage

1

cup

panko

¼

tsp

nutmeg

½

cup

grated parmesan

2

tbsp

butter
Instructions
Assemble your ingredients.

Preheat the oven to 375F. Prepare a 9×13 inch baking dish by greasing it with butter or cooking spray.

Before cutting up the butternut squash, you have the option to peel it first. I usually don't because I am lazy and it doesn't make much difference to me, but if you prefer an even texture, peel it at this point.

Use a large, sharp knife to cut the butternut squash in half. Use a spoon to scoop out the seeds inside, much like you would a pumpkin. Once you have removed the seeds, cut up the squash into bite sized cubes about an inch big.

Slice the onion and mince the garlic and thyme. Destem the kale and chop. An easy way to do this is to layer all the leaves on top of each other before cutting.

In a large skillet or pot over medium-high heat, warm the oil.

Put the chopped squash into the skillet along with the thyme, cumin, paprika, ½ tsp of salt, and pepper. Cook for about 3 minutes or until the squash begins to brown. It will still be hard, so don't worry about that.

Now add the kale, onions, and garlic. Cook for another 4 minutes or until the onions get soft.

Add the red wine and chopped tomatoes. Stir before adding the chicken broth, then stir for about 1 minute.

Pour the contents of the skillet or pot into the previously prepared baking dish and pat everything into an even layer.

Use aluminum foil to cover the dish, then put it in the oven for 30-35 minutes. You will know when it is finished by how soft the squash will be. Stick a cube of squash with a knife to test. If it breaks easily, it should be done.

While you wait on the dish in the oven, mix up the bread crumble for the top. Finely chop the sage before combining in a bowl with the panko, nutmeg, parmesan, and ½ tsp of salt. Mix. Melt the butter before adding it to the bowl and mix again.

After the 30 minutes are up and the squash is soft, remove it from the oven. Throw away the foil on top and evenly cover the casserole with the panko mixture.

Turn the oven's heat down to 350F and put the baking dish back in. Cook for another 20 minutes or until the panko topping is golden and crunchy.

Serve warm and enjoy!
Video
Notes & Tips
This is one of those dishes you can prep the day before, yay! You can follow the directions all the way up till putting the baking dish in the oven. Instead, you can cover it and leave in the fridge until you are ready to cook. You can also mix the topping ingredients together (minus the butter) and set that aside well in advance.
If you have leftovers, this can be stored in the baking dish covered in foil and placed in the fridge for up to 5 days.
Vegan Options
This version of the recipe is not vegetarian or vegan friendly, but it only takes a couple tweaks to make it appropriate. Instead of chicken broth, use vegetable stock. They are such similar tastes that I doubt anyone would even notice the difference. I think a lot–if not most–of panko is already vegan friendly, but if it is something you are worried about, you can make your own version. This is also a great tip if you just don't have any panko!
If you're worried about panko being vegan-friendly or would rather do your own anyway, it's easy. Use your favorite vegan bread and just crumble it up. For maximum effectiveness, you can pulse in a food processor to make really fine crumbs. I also like to toast my bread crumbs a little so they don't squish back together into regular bread. Be careful if you do choose to toast them, because they will burn quickly.
Parmesan cheese is another vegan-unfriendly ingredient in this recipe, but there are a couple of ways to remedy that. The easiest option is to leave out the parmesan completely. It is not a vital component of the recipe and won't affect the texture or anything like that. Another option is to buy vegan parmesan. It is usually made out of things like coconut oil and cashews and will work just the same here. If vegan parmesan specifically is too hard to find, you could really use any cheese alternative.
As for the butter, if you are vegan, you probably already have vegan-safe plant butter in your fridge you can use. If not, just use olive oil, vegetable oil, or coconut oil.
Other Substitutions
Sometimes I run out of oil or butter and I remember I have a whole container of coconut oil in the pantry. This results in a lot of accidental but extra-delicious dishes. By pure chance, I have replaced the olive oil in this recipe with coconut oil and it was a pleasant surprise! Coconut oil really brought out the sweetness of the squash and the natural flavor of the veggies. It will also work for the butter in the bread crumble topping!
If you don't have red wine, don't fret. You can omit it without compromising the dish, it just adds a little depth. This can also be made with sweet potatoes instead of butternut squash. You can prepare it exactly the same way, but keep in mind that it will taste different. Either way, it will be yummy!
---
Recent Recipes