Best Baked Cranberry Rosemary Chicken
We all know cranberry sauce is a staple of the holiday season, but have you ever wondered what else you can do with cranberries? Cranberries have a great taste­–a little bit tart and a little bit sweet. That's why they go so well with both savory and sweet foods. However, I never see many cranberry recipes, even during holiday times. That is why my gift to you this holiday (or whenever you're reading this) is this cranberry rosemary chicken bake. It does take some prep, but you can easily marinade it in the fridge overnight so the bulk of your work is done the day before. When you're ready to cook, you can pull this out of the fridge, get it in the oven, and have time to make your side dishes or take a little break.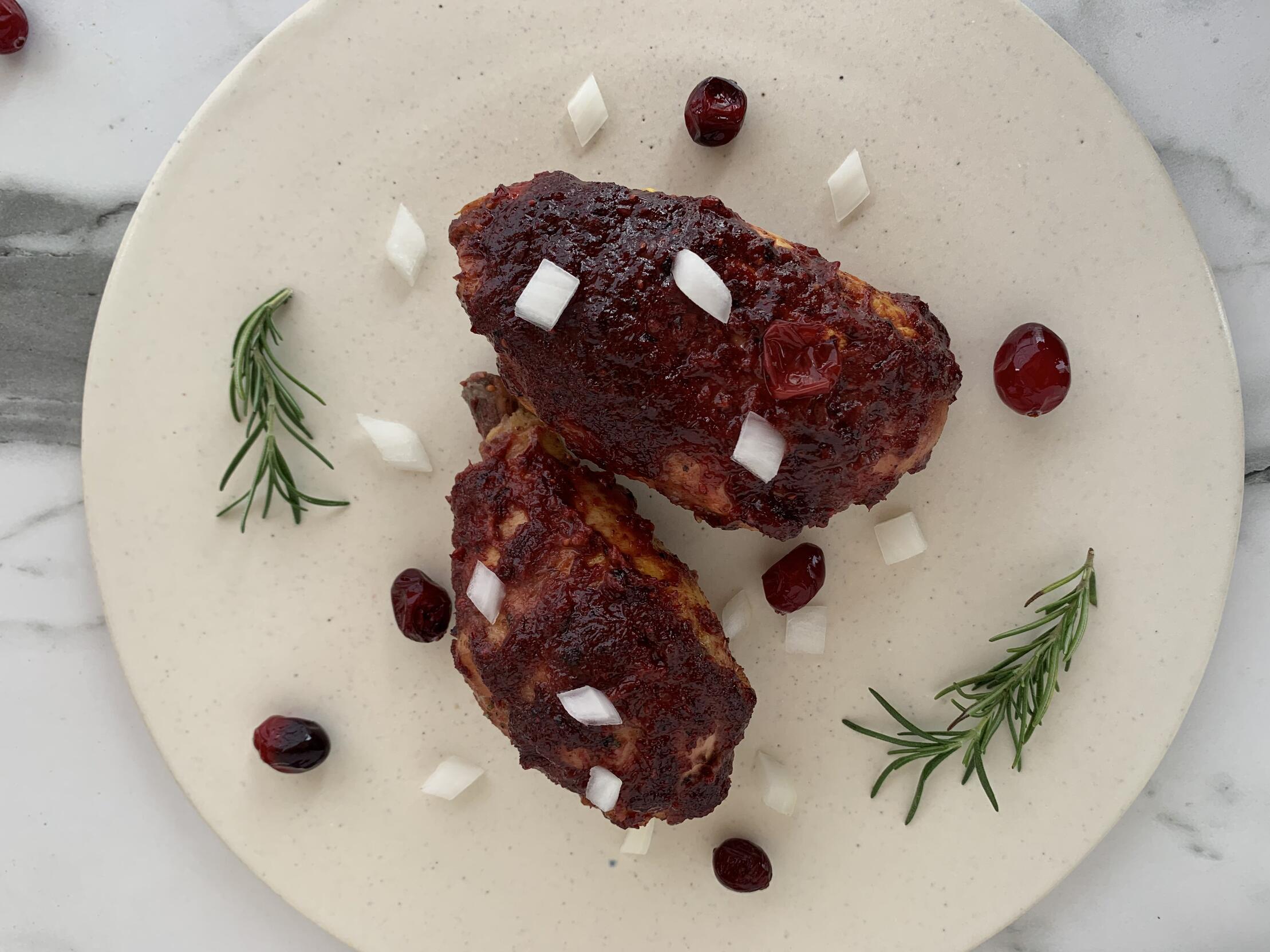 Ingredients
2

cups

fresh cranberries

⅓

cup

brown sugar

2

tbsp

soy sauce

½

cup

olive oil

8

garlic cloves

3

tbsp

white wine vinegar

1

lemon

6

pieces

bone-in

skin on chicken

1 ½

tbsp

fresh rosemary

plus more sprigs to garnish

1

tsp

sweet paprika

1

tsp

salt

½

tsp

ground black pepper

1

onion

½

cup

chicken broth
Instructions
In a high-powered blender, combine 1 cup of the cranberries, the brown sugar, soy sauce, 1/3 cup olive oil, garlic, and white wine vinegar. Juice the lemon (but do not discard the skin) and add the juice as well. Pulse until blended into small chunks. You can also do this using a handheld immersion device.

Use paper towels or cheesecloth to pat the chicken dry. Finely chop the rosemary and add to a small bowl with the paprika, salt, and pepper. Whisk to mix everything. Take the mixture and rub it on both sides of every chicken piece. Try to rub it under the skin as well and don't be afraid to really pack it on.

Peel and chop the onion before adding it to a deep dish or large bowl. Add the chicken, lemon halves, and pureed cranberry mixture. Use your hands to make sure the chicken is fully covered.

Cover the dish and marinade for 30 minutes. If you want to prep this ahead of time, you can leave the chicken to marinade in the fridge for up to 24 hours.

When you're ready to cook the chicken, preheat the oven to 425F.

Heat about a tablespoon of oil in a large skillet over medium-high heat. When the oil is hot, put each chicken piece in and let brown for about 5 minutes. Flip each piece and let it brown for another 5 minutes on the other side.

Place the chicken in a large baking dish, trying not to overlap pieces. Pour in the contents of the marinade and the chicken broth. Evenly cover with the remaining cranberries.

Put in the oven and bake for 35-40 minutes. You can check if the chicken is cooked through by inserting a food thermometer. If the temperature reads 165F or higher, it's done. You can also check by cutting open a piece at the thickest section. If the meat in the middle is still pink, it needs more time.

If you like extra crispy chicken, turn your oven broiler on high and let the chicken broil for 5-7 minutes. Be careful here not to let it burn! You just want the skin to get a little crunchy.

Remove from oven and allow to cool for 5 minutes before serving. When plating, spoon some of the sauce and cranberries over the top of the chicken and garnish with a sprig of rosemary. Enjoy!
Video
Substitutions
Because cooking is not as finicky as baking, it is okay to switch out some of these ingredients for ease or personal preference. Fresh cranberries can be difficult to find outside of the winter holiday season, so frozen cranberries are an acceptable substitute. If you choose to use frozen cranberries, I recommend using 2 ½ cups, because the berries will deflate as they thaw. Before you puree the berries with other ingredients, try to defrost them a little in the microwave or by leaving them out at room temperature. This way, the marinade will not be too icy and cold to handle. Frozen cranberries will also release a lot more liquid, so add less chicken broth to balance it out.
If you don't like brown sugar or have run out, you can substitute it for the same amount of maple syrup or even honey. You could use regular white sugar, but it will not have quite the same caramelized taste. If you don't have soy sauce on hand, it is okay to omit entirely. Olive oil can be switched for any other oil. If you want more pizazz, try using coconut oil instead.
White wine vinegar is ideal for this recipe, but you can actually use a sweet white wine instead. Feel free to use a chardonnay and drink the rest of the bottle with your meal.
The chicken can be breast or thigh. If you would rather use boneless chicken, that is okay, but you should reduce the cooking time by a few minutes, as boneless meat tends to cook a little faster. If you don't have any fresh rosemary on hand, you can swap it for dried without impacting the flavor too much.
Side Suggestions
Of course, you won't want to serve this chicken on its own (even though it would still be delicious). I personally really like cranberry chicken with creamy mashed potatoes. All you need for that is some potatoes, salt, pepper, butter, and heavy cream. For a complimentary veggie side, cook up some really simple, delicious green beans. If you feel like to need a starter or perhaps just something a little bit lighter, this Shopska salad is a really good choice.
If you're less interested in sides and would rather just have something to serve the chicken on, any cooked rice would be delicious.
Notes & Tips
If you have leftovers, you can keep them in an air-tight container in the fridge for several days. You can reheat the chicken by putting it in the microwave.
---
Recent Recipes