Best Creamy Asparagus Soup
When I was learning to cook as a young child, my mother had bought me a couple of cookbooks that were specifically for children. They had recipes like peanut butter and honey sandwiches, English muffin pizzas, and grilled cheese. I grew weary of those recipes and wanted to try something more grown-up that maybe my dad would even like.
I decided cream of asparagus soup would be a good place to start. I loved it right out of the can but figured I could make it from scratch. I will be totally honest that I had mostly eaten canned asparagus before farmer's markets started to pop up where we lived. Fresh asparagus was new to me and unbelievably green and crisp, unlike the pale and mushy stuff in the can. With Mom's help, we made soup with my new favorite spring vegetable.
I can't say enough about the benefits of fresh spring asparagus in terms of flavor, texture, and nutrition. And let's not forget about the vibrant color. I used to grow asparagus in my garden. The yield wasn't fabulous due to space limitations and the fact that I ate the sweet, raw stalks before I could make it from the garden to the kitchen.
Cream of asparagus soup is silky smooth and vibrant green. As an adult, I think I have perfected the recipe. But it isn't too far off from what I made as a kid. The ingredient list is short and available: fresh asparagus spears, aromatic vegetables, broth, cream, and seasoning. It really doesn't get much more basic than that with exceptional results.
One thing I do love about this recipe is that it can be served warm on a chilly spring evening or chilled for a summer brunch starter course. A dollop of sour cream is added for some acidic tang and extra richness. Top this soup with crunchy croutons for texture.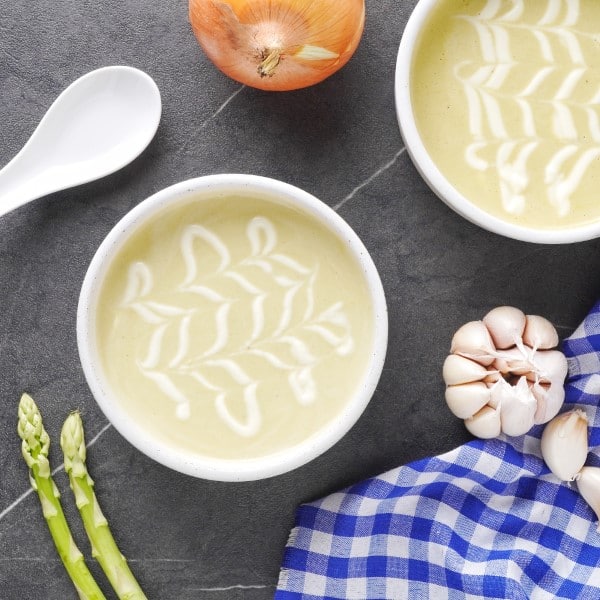 Ingredients
3

Tbsp

butter

⅓

cup

finely chopped white or yellow onion

2

garlic cloves

minced

4 ½

cups

of ½ inch pieces of washed and trimmed asparagus stalks

3 ½

cups

chicken stock

*vegetable stock for vegetarian

1

tsp

paprika

optional

1

tsp

sea salt

1

tsp

freshly ground pepper

1

cup

heavy cream

Sour cream for serving
Instructions
All ingredients ready? Let's begin!

In a soup pot or Dutch oven over medium heat, melt the butter. Add the onion and garlic and sauté until the onion has softened, but not browned, approximately 3 minutes.

Add the asparagus and continue to sauté for 5 more minutes. It should intensify in green color. Don't overcook it.

Increase the heat to high. Stir in the chicken broth, paprika, salt, and pepper. Once the broth comes to a boil, reduce the heat to a low simmer and continue to cook until the asparagus is soft, approximately 10 minutes.

Pour the soup into a blender. Pace the top on the blender without the center cap so the steam can escape. Hold a kitchen towel over the hole while you blend until the soup is smooth. You can do this in batches if needed.

Place the puréed soup back into the pot over low heat. Stir in the heavy cream and allow the soup to heat through and thicken a bit.

Serve the soup while hot with a spoonful of sour cream. Alternatively, chill the soup and serve it cold with sour cream.
Nutrition
Calories:
165
kcal
|
Carbohydrates:
9
g
|
Protein:
6
g
|
Fat:
13
g
|
Saturated Fat:
7
g
|
Polyunsaturated Fat:
1
g
|
Monounsaturated Fat:
3
g
|
Cholesterol:
38
mg
|
Sodium:
457
mg
|
Potassium:
318
mg
|
Fiber:
2
g
|
Sugar:
5
g
|
Vitamin A:
1050
IU
|
Vitamin C:
6
mg
|
Calcium:
53
mg
|
Iron:
2
mg
Notes & Tips
I am not quiet about my feelings for fresh spring asparagus. I can't bring myself to buy stalks that have been sitting in a bucket of ice water in winter. I inspect the stalk ends and they are woody, pale, and a little sickly looking. Make this soup when asparagus is in season in your area. Or, use a high-quality brand of frozen asparagus. Frozen asparagus is definitely better in winter than hothouse-grown or imported asparagus.
Snap or slice off the woody ends of the asparagus. They are too fibrous and won't break down in your soup. The texture is unpleasant and stringy.
Substitutions
You can make a vegan version of cream of asparagus soup by swapping out the chicken broth for vegetable broth and vegan butter for dairy butter. Use full-fat coconut milk in place of the.
I do love this creamy soup when asparagus is in season. Later in the season, I will make the soup with sorrel leaves. In fall, I will make cream of celery soup, another favorite of mine. This is a versatile recipe.
Toppings
I add a dollop of sour cream or Greek yogurt to the soup. It is gorgeous when swirled in with your spoon before eating. For a vegan version, use non-dairy sour cream or coconut yogurt.
My mother made a giant batch of oven-toasted croutons for my dad's fabulous Caesar salad. She probably made 10 times what we needed. The reason for that is because her croutons were so good that we would want to take a snack-size baggie to school for a treat or to have with lunch. I had friends who would barter for those croutons with bags of chips. Mom cut a loaf of Italian bread into 1-inch cubes. She coated the bread cubes in olive oil, Italian herb seasoning, garlic powder, and a little salt. Those were baked on a sheet pan at 350°F until crunchy, stirring a couple of times. These are excellent on top of cream soups.
You can also crisp up some bacon slices, chop them, and place them on top of your dollop of sour cream. Try this vegan rice paper bacon recipe. Or, just add some fresh herbs, such as dill or fennel fronds.
---
Recent Recipes