Plant-based milk has exploded in popularity among people of all dietary habits. Yet, among the plethora of options available, few have realized the potential of potatoes. Potato milk is sustainable, highly affordable, and far creamier than ever expected. Once you learn how to cook up your very own by following our creamy potato milk recipe, you'll soon see just how versatile this flavorful dairy substitute actually is.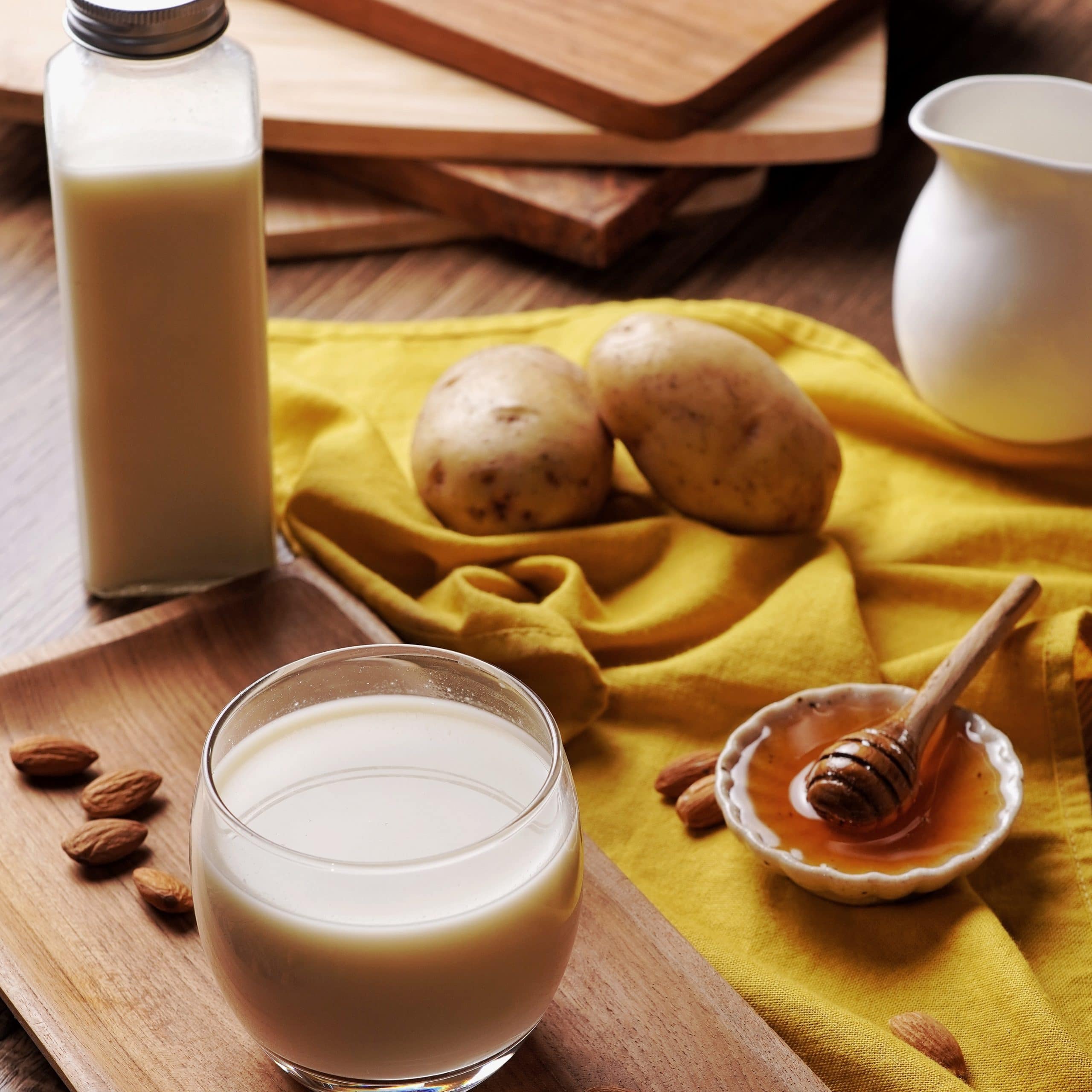 Equipment
Cheesecloth / Muslin Cloth or Nut Milk Bag
Ingredients
3

Medium Potatoes

4

Cups

Water

4-8

Tablespoons

Almonds

Soaked

4

Tablespoons

Agave Nectar

or Honey or Maple Syrup

¼

Teaspoon

Vanilla Extract

Optional

½

Teaspoon

Cream Of Tartar

Optional
Instructions
All ingredients ready? Let's begin!

Remove your almonds from the water they've been soaking in and process in a blender until smooth.

Peel the potatoes and then boil them whole in a small pot. Bring the unsalted water and potatoes to boiling point from cold to ensure even cooking.

Boil for 12 to 15 minutes or until the potatoes are fully cooked and tender but not yet cooked to the point where they fall apart.

Remove the potatoes while reserving the water.

Press each potato through a sieve or screen once whilst still warm, ensuring that you collect all the mash and pulp.

Combine the mash, potato pulp, reserved cooking water, cream of tartar, processed almonds, vanilla, and your sweetener and blend for 5 to 7 minutes or until smooth.

Carefully strain through cheesecloth/muslin cloth and collect your filtered, creamy potato milk. Keep refrigerated.

Enjoy your freshly made potato milk within 2-3 days.
Video
Notes
If you are looking for more spices or other ingredients to mix in, check out our sugar alternatives for coffee which is full of great ideas to mix in with this potato milk to bring out more flavor.
Nutrition
Calories:
247
kcal
|
Carbohydrates:
46
g
|
Protein:
5
g
|
Fat:
5
g
|
Saturated Fat:
1
g
|
Polyunsaturated Fat:
1
g
|
Monounsaturated Fat:
3
g
|
Trans Fat:
1
g
|
Sodium:
23
mg
|
Potassium:
806
mg
|
Fiber:
5
g
|
Sugar:
16
g
|
Vitamin A:
3
IU
|
Vitamin C:
31
mg
|
Calcium:
53
mg
|
Iron:
2
mg
What Is Potato Milk?
Potato milk is a plant-based dairy milk substitute made from boiled potatoes pureed and combined with the water they were cooked in and sweetened just a touch. Despite all-purpose versatility and neutral but sweet flavor, potato milk remains a tasty but vastly underutilized ingredient in most kitchens.
What Does Potato Milk Taste Like?
Potato milk has a neutral flavor with hints of sweetness and undertones relative to the sweetener used. Some compare the aftertaste to pancake batter. The mouthfeel of potato milk is comparable to 2% dairy but is slightly denser and more comparable to hemp in taste. Including a few drops of vanilla extract is highly recommended to balance the underlying tastes not to add additional flavor.
Potato Milk Nutritional Benefits
The nutritional content of your potato milk depends on the quality and variety of potatoes used, the number of almonds, and the manner of cooking. Those who add the maximum recommendation of eight tablespoons of almonds will have a calcium concentration that's a little under a third of that of full-fat dairy milk. A cup of cow's milk contains 305 mg of calcium, whereas half a cup of almonds, raw, has a calcium concentration of 123 mg.
Keep in mind, after cooking and processing, it'll be a little less, and the calcium spread across four cups of potato milk. However, you also get the additional fortification of fats, magnesium, and vitamin E that combine with the vitamin C, potassium, and B6-rich potato solution. Add to the almond added magnesium the approximate 10 grams of calcium that each of the two average small cooked potatoes adds, and you've got a total of around 35 mg of calcium per single ready-to-drink cup of potato milk.
How To Make Potato Milk
Essentially, making potato milk involves boiling potatoes in just enough water to cook them creamy while retaining ample nutrients. The fall-apart potatoes are then combined with soaked almonds valued for their calcium. The mixture is sweetened with, preferably, a natural sweetener. Our creamy potato milk recipe stays snow white and lasts longer than plain potato juiced in a blender, and if you follow all our instructions, the balance of flavor will make it neutral enough for just about anything.
How To Use Potato Milk
Use potato milk in any way that you'd use dairy or other plant-based milk. It works particularly well in smoothies, curries, and coffee. We're sure tea drinkers could grow accustomed to the plain dessert taste too. Potato milk ice cream is always a winner (and it comes in chocolate), while potato milk yogurt is just as good as any dairy or kefir and a key ingredient in our must-try potato milk korma.
Potato Milk Ratio To Milk
The preferable potato milk to milk ratio is typically one-to-one. Use exactly the same quantity of potato milk as you would any other plant-based or dairy milk. It's not as creamy as full cream milk so keep this in mind when cooking.
Potato Milk Tips
Our creamy potato milk recipe gives easy instructions that work with any type of almonds you have access to. From ground almond powder to almond slivers, feel free to include any that you may have on hand. For the best nutritional value and flavor, we recommend using whole almonds. Soak your almonds in water for at least eight hours. The longer you soak almonds, the silkier the milk will become.
If you have the time, prepare your almonds in advance and let them soak for a full 48-hours but no more. Ensure that you submerge them in as little water as possible, adding just enough to cover the almonds with a little clearance. Keep an eye over the next two days and top up with fresh water as is necessary.
Pressing the potatoes through a sieve or strainer once steadily ensures that they're as smooth as possible while guaranteeing that they're not too vigorously mashed before blending with water and nuts. A single pass through a potato ricer will work even better and take less time so keep this in mind if you have one in your kitchen.
Best Potatoes For Potato Milk
Creamy potato milk can be made with almost any variety of potatoes. Even sweet potatoes are possible, although most are opposed to the taste. The only type that should be avoided is excessively waxy potatoes like Red Bliss, New Potatoes, and baby potatoes, as they hold their form too well. The only exception is certain fingerling potatoes that have red skin but remain low in moisture. These are ideal. You're looking for something starchy but packed with nutrients that'll cook down to a creamy texture. White potatoes are generally the easiest to find and the second-most nutritious, followed by russet.
Potato Milk Substitutions
Although optional, the cream of tartar in our creamy potato milk recipe helps the milk retain a milky white color. As a stabilizing agent that prevents discoloration and off-odors, you'll also get a slightly longer shelf life by including it. Almonds are the nuts that are the highest in calcium while also carrying a balanced flavor and are therefore suggested as the primary inclusion. While it's technically possible to turn any nut into milk, the best substitute to blend into creamy potato milk is cashews or macadamia nuts. Always soak your nuts first, and feel free to experiment with other varieties for exciting new flavor combinations.
How Long Does Potato Milk Last?
The less contamination from bacteria and foreign substances, the longer your potato milk will last. Expect the average batch of carefully, cleanly prepared potato milk to last refrigerated for between two to three days, just like a cooked leftover potato.
Potato Milk Powder
Powdered potato milk is a milk powder replacement that offers convenience for those looking for tasty, sustainable plant-based milk. Although not readily available in all stores, potato milk powder is almost identical in taste to freshly made potato milk but is nonetheless slightly less nutritious. One mixes it on with water, and it's ready to use once cold.
---
Recent Recipes