Easy Crock Pot Peach Cobbler With Cake Mix
This easy crock pot peach cobbler with cake mix calls for only three ingredients! But to make this the best peach cobbler recipe, I've added some cinnamon and nutmeg for all those autumn feels.
Imagine you've been craving a warm and sweet dessert, but you don't want to spend hours in the kitchen baking it. Here's where the crockpot and three simple ingredients come together to create cobbler perfection.
Prep this easy crock pot peach cobbler with cake mix within 5 minutes and let the crockpot work its magic. Serve it warm with a scoop of vanilla ice cream and impress your family, housemates, or guests. They'll never guess it's so easy to make.
Why Do We Love This Crockpot Peach Cobbler Recipe?
It has a perfectly crisp cobbler topping thanks to the secret method in this recipe. Most crockpot peach cobbler recipes out there yield a mushy topping. But we prefer crispy goodness paired with the warm and aromatic peach filling.
This crockpot peach cobbler with cake mix and cinnamon is sweet, aromatic, fruity, and buttery all at the same time. We love pairing it with ice cream or whipped cream for a heavenly dessert.
It's quick and hassle-free. Use a crockpot liner and you'll only have to clean one bowl (or none if you don't mind a mushy cobbler topping). It's insane how easy this recipe is. And it's also budget-friendly.
This recipe is super versatile. You can switch it up and make cobbler with pretty much any canned or fresh pie filling. Just follow the recipe and adjust the liquid accordingly. Check out some ideas in the Variations and Substitutions section.
What Do I Need To Make A Crockpot Peach Cobbler With Cake Mix?
2 cans of peach pie filling (or 1 can of peaches in heavy syrup + 1 can of peaches in juice)
1 box white cake mix (or yellow cake mix, pecan cake mix, or any cake mix you think would go well with peaches)
1 stick of melted butter (1/2 cup)
Optional, but recommended: 1 tsp. cinnamon and ¼ tsp. nutmeg
How Do I Make Peach Cobbler With Cake Mix
Step 1: The peach pie filling
Open the cans and pour the peach pie filling into a 4 or 6-quart crockpot or another slow cooker. Smooth it out with a spatula.
If you're using canned peaches in syrup and juice, pour the contents of the can with all the syrup and half the juice.
Step 2: Make the cobbler topping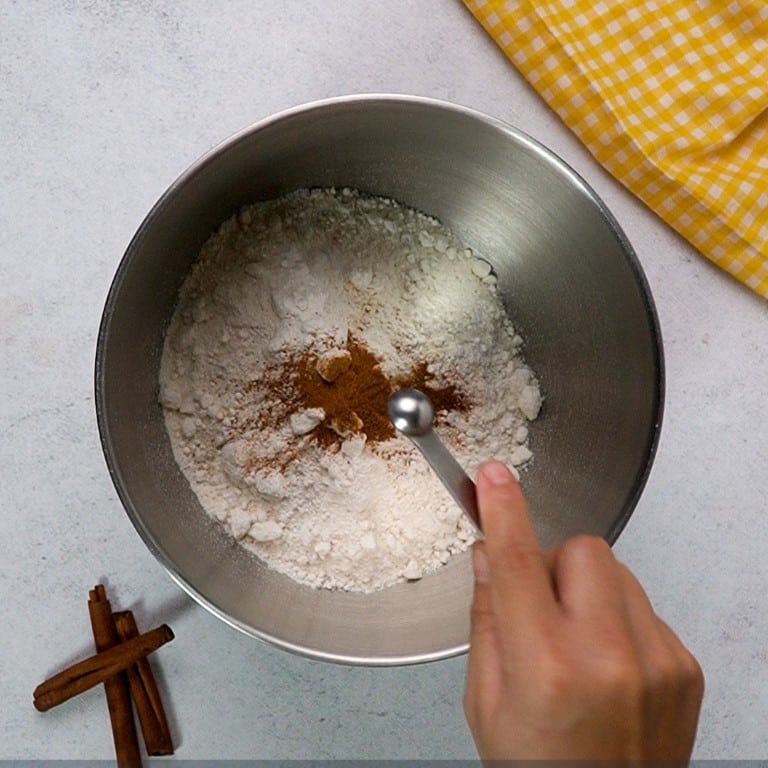 In a standard mixing bowl with a paddle attachment, combine the cake mix, cinnamon, and nutmeg on low speed.
Step 3: Incorporate the Melted Butter into the Batter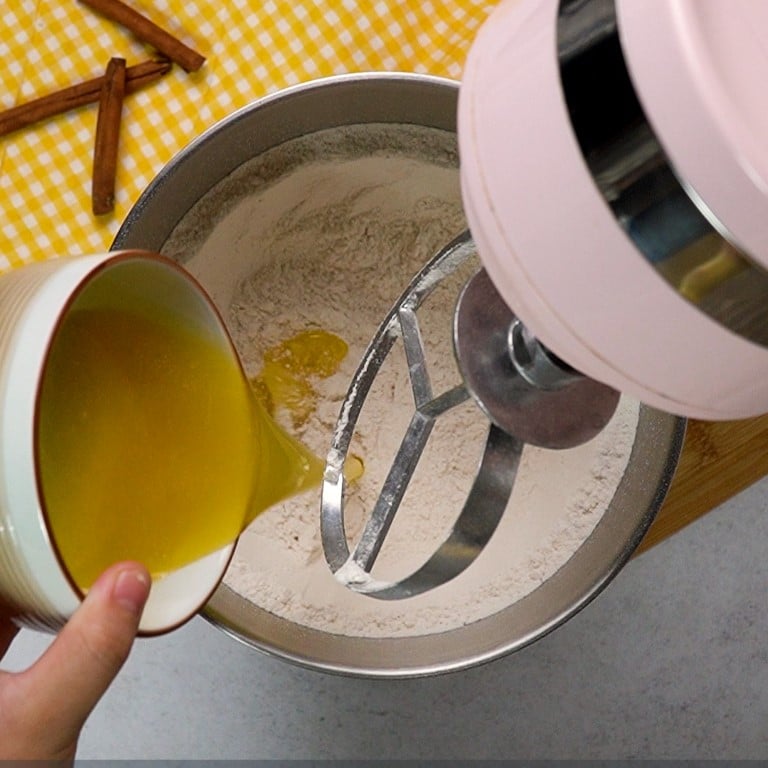 Slowly pour the melted butter in and let the batter mix well for about 1 minute. You can also skip this step and instead simply pour the cake mix evenly on top of the peaches, and cover with dollops of butter. In this case, you don't need to combine the cake mix and butter.
Step 4: Assemble the cobbler and cook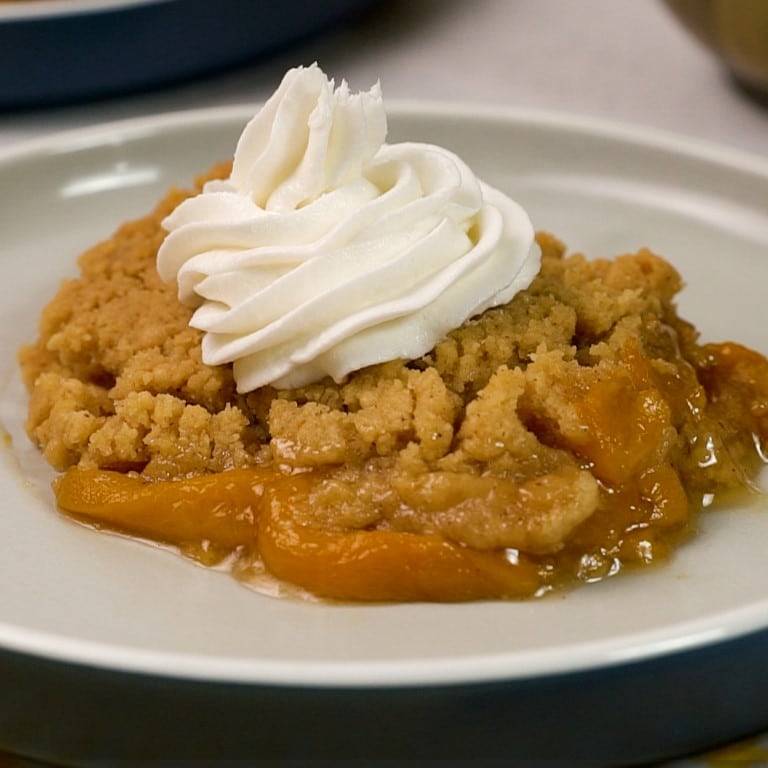 Crumble the cobbler batter over the peaches and then place a paper towel over the top of the crockpot. This will help absorb any excess moisture and make the cobbler topping nice and crisp.
Place the lid on, secure the paper towel, and cook on high for 2-3 hours or until the cake topping is done. Make sure to check after 2 hours.
Allow to cool for 30-45 minutes (I know it seems like a lot, but it'll let the cobbler settle and all the flavors come together). Serve with vanilla ice cream or even pecan maple syrup ice cream or whipped cream. Enjoy!
How Do You Keep Peach Cobbler From Getting Soggy?
Now, here's the secret you've been promised. To keep the peach cobbler from getting soggy, place a large paper towel over the crockpot and secure it with the lid before cooking.
The paper towel absorbs any excess moisture from the peaches and makes the cake topping crispy and delectable. This is a real game-changer.
Can You Overcook Peach Cobbler In A Crockpot?
It's pretty hard to overcook peach cobbler in a crockpot because it's a slow cooker and the moisture is being retained. Besides, who wants to wait more than 3 hours for dessert anyway?
I would, however, not recommend cooking the peach cobbler for over 4 hours. The peach pie filling can get gummy if overcooked. You want the peaches to have a syrupy texture that is allowed to thicken while cooling.
How Long Does Peach Cobbler Last In The Refrigerator?
Peach cobbler can be stored in the fridge for 3-4 days after it's cooled. This helps keep the topping from getting soggy and also protects it from bacteria. Make sure to cover before storing.
I wouldn't recommend freezing peach cobbler since it'll become all mushy and gummy when reheated. I doubt there'll be any leftovers within 3 days though.
What Is The Best Way To Reheat A Cobbler?
If you made this recipe for one or two people and you want to reheat it the next day, the oven is your best friend.
Place the cobbler in an oven-safe tray (you can store it like this in the fridge to save dishes). Bake covered with foil in a preheated oven at 350°F for 20 minutes or until warmed through. It'll taste just as good as freshly cooked.
Variations & Substitutions
This recipe can be turned into any slow cooker cobbler with cake mix. You can use different canned pie fillings like apple pie, cherry pie, blueberry pie, or even strawberry pie filling.
You can also use fresh peaches or other fruits to make a homemade pie filling. I suggest using the blueberry filling from this Blueberry Vegan Cobbler recipe. Just add 1 cup of water and mix the cornstarch in the water first.
I've used white cake mix in this recipe, but yellow cake, butter pecan, carrot cake, or Funfetti cake mixture would be great too. You can use any cake mix you think would go well with peaches.
This recipe can easily be made gluten-free by using a gluten-free cake mixture instead. You can even make it vegan if the cake mixture is vegan and you use vegan butter or vegetable oil.
Besides the cinnamon and nutmeg in the cake topping, I also like to add some chopped walnuts or pecans. They add a nice crunch and nutty flavor that pairs deliciously with the peaches and ice cream.
Recipe Notes
Use a crockpot liner for easy clean-up to make your life so much easier.
Place a large paper towel on the crockpot to capture moisture and get a crisp topping.
To avoid any clean-up at all, you can skip step 2. Instead, simply sprinkle the cake topping on the peaches and top with butter cubes spread out evenly.
Wait at least 30 minutes before serving, but remove the paper towel immediately.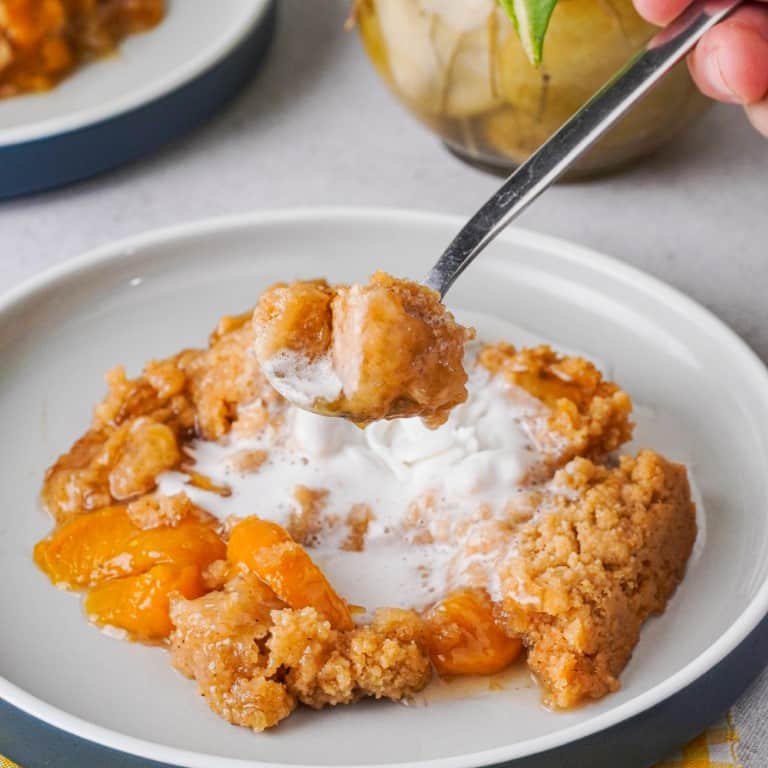 Ingredients
3

cups

cooked rice

3

cups

milk of choice

½

tsp.

salt

⅔

cup

white sugar

2

large eggs

beaten (optional)

1

Tbsp.

butter

1

tsp.

vanilla extract

Cinnamon and nutmeg to taste
Instructions
In a saucepan over medium-high heat, mix the rice, milk, and salt. Cook until it starts to thicken (for around 15-20 minutes) while stirring often to prevent the rice from burning. Add the sugar and stir until melted.

Take about ¼ cup of the hot rice mixture and rapidly mix it into the beaten eggs. Once tempered, add to the hot pudding and rapidly whisk them in. Cook for a few more minutes, stirring constantly until it thickens.

Remove the pudding from the heat and stir in the butter and vanilla extract. Season with cinnamon to taste.

Serve rice pudding warm or cold. Enjoy!
Nutrition
Calories:
289
kcal
|
Carbohydrates:
50
g
|
Protein:
8
g
|
Fat:
6
g
|
Saturated Fat:
3
g
|
Polyunsaturated Fat:
1
g
|
Monounsaturated Fat:
2
g
|
Trans Fat:
0.01
g
|
Cholesterol:
77
mg
|
Sodium:
233
mg
|
Potassium:
239
mg
|
Fiber:
0.3
g
|
Sugar:
28
g
|
Vitamin A:
292
IU
|
Vitamin C:
0.002
mg
|
Calcium:
171
mg
|
Iron:
0.5
mg
---
Recent Recipes