Delicious Dairy-Free Lasagna
Sometimes you want to eat a favorite meal like lasagna, but because you may be lactose intolerant or just simply choose to go dairy-free, means that you'll face challenges when it comes to preparing meals.
However, it can be fun getting creative with food and finding ways to substitute dairy products. So, here's a simple and delicious dairy-free lasagna recipe.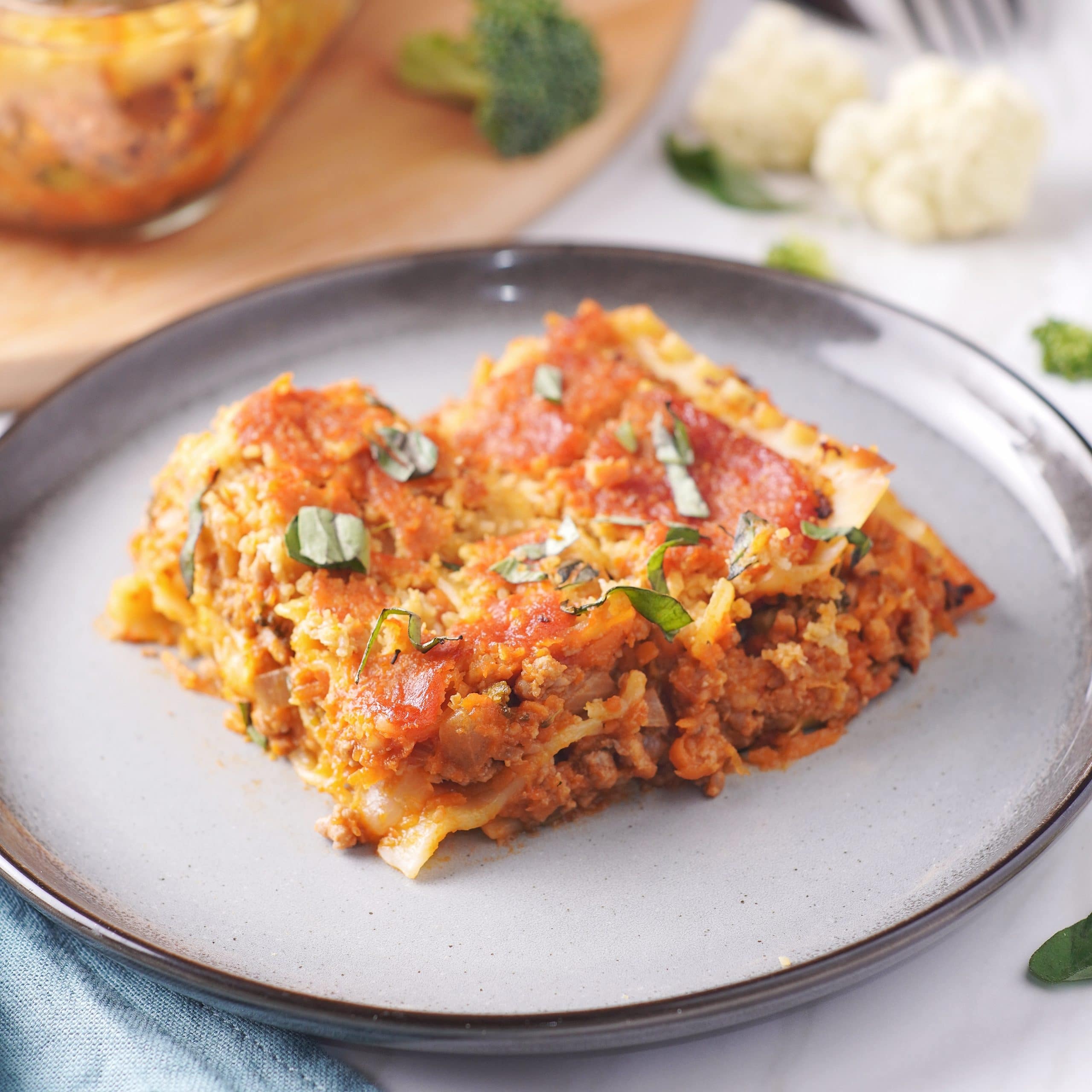 Ingredients
1

cup

cauliflower rice

3

Tbsp

nutritional yeast

¼

tsp

pink Himalayan salt

2

Tbsp

olive oil

½

cup

onion

chopped

3 to 4

garlic cloves

minced

1

lb.

ground beef

½

tsp

dried thyme

½

tsp

dried oregano

½

tsp

cayenne pepper

1 ½

cup

broccoli

chopped

1

cup

carrots

shredded

4

cups

marinara sauce

9

oz.

lasagna noodles

½

cup

freshly chopped basil
Instructions
All ingredients ready? Let's begin!

Preheat the oven to 375°F degrees.

In a medium-sized bowl, add the cauliflower rice.

Add the nutritional yeast flakes into the bowl and follow up with the pink Himalayan salt.

Add one tbsp olive oil and stir all the ingredients in the bowl. Set the mixture aside.

In a skillet over medium-high heat, add the remaining Tbsp olive oil and heat it for 1 minute.

To the heated oil, add in half a cup chopped onion and the minced garlic cloves. Sauté the onions and garlic together for a couple of minutes until they become fragrant and translucent.

Add the ground beef to the garlic and onion mixture and add the dried thyme, dried oregano, and cayenne pepper. Cook the ground beef until it is brown. Ensure that you occasionally stir the mixture to incorporate the spices.

Once the meat has cooked through, remove it from the heat.

Add 1 ½ cup chopped broccoli and 1 cup shredded carrots to the skillet with the meat, onion, garlic, and spices.

Pour two cups of your favorite marinara sauce and stir all the vegetables, meat, and sauce together.

In an 8 x 8-inch pan, add a little bit of the leftover marinara sauce and spread it around the pan.

Place a layer of the lasagna noodles.

Add a layer of the vegetable and meat mixture on top of the lasagna noodles. Ensure that it is half of the overall mixture.

Top the layer of meat and vegetables with ½ leftover marinara sauce.

Add another layer of the lasagna noodles on top of the marinara sauce.

Top the noodles with the leftover half of the vegetable and meat mixture.

Add in ½ marinara sauce over the meat and vegetable mixture.

Add another layer of the lasagna noodles.

Add the dairy-free ricotta cheese mixture of cauliflower and nutritional yeast on top of the layer of lasagna noodles.

Cover the top of the layers with the remaining marinara sauce.

Place the pan in the oven and bake at 375°F degrees for 45 to 50 minutes.

Once finished, leave the lasagna to cool for 5 to 10 minutes before serving.

Top with freshly chopped basil leaves and serve.
Video
Nutrition
Calories:
358
kcal
|
Carbohydrates:
37
g
|
Protein:
18
g
|
Fat:
16
g
|
Saturated Fat:
5
g
|
Polyunsaturated Fat:
1
g
|
Monounsaturated Fat:
8
g
|
Trans Fat:
1
g
|
Cholesterol:
40
mg
|
Sodium:
717
mg
|
Potassium:
837
mg
|
Fiber:
5
g
|
Sugar:
7
g
|
Vitamin A:
3446
IU
|
Vitamin C:
36
mg
|
Calcium:
62
mg
|
Iron:
3
mg
Tips & Notes To Keep In Mind
The cauliflower can either be the pre-made one you can buy at your grocery shops or make your own by buying fresh cauliflower heads, finely chopped and pulsed in the food processor.
Instead of using pink salt, you can choose to use sea salt instead.
If you want to sneak in some additional health benefits, you can add odorless, tasteless organic collagen powder.
If you are vegan or vegetarian, you can substitute the ground beef for roasted red bell peppers, mushrooms, tofu, etc. They taste just as amazing in this recipe.
You can add in your own favorite vegetables instead of broccoli and carrots.
Why Do My Oven Ready Noodles Come Out Dry And Cracked?
Although oven-ready noodles are an excellent invention as they save you time because they don't have to be cooked, they can still turn out a little dryer than what you would normally get with noodles that you cook according to the packet.
If you're using oven-ready noodles, boil them a little to prevent them from being too dry or leave some space between the layered noodles and add an extra ½ cup water to the marinara sauce because they need a little extra moisture when they are baking in the oven.
How Else Can I Make A Dairy-Free Cheese Sauce?
Although the cauliflower, nutritional yeast, salt, and olive oil are a clever play on the cheesy element of the dairy-free lasagna, you may not feel like it has enough of that cheesy yumminess and is feeling a little letdown, especially if you are not a fan of vegetables like cauliflower.
If that's the case, then you can use canned coconut milk, nutritional yeast, vegan just like cheddar shreds, and vegan just like feta. The best brand of just like cheddar shreds is Violife because it melts really well and, when paired with coconut milk, produces that ooey-gooey scrumptious cheesy flavor that every lasagna dish needs.
If you would like to avoid vegan cheese and cauliflower but still want that cheesy flavor, you can make an alternative dairy-free cheese sauce. All you will need is some cashew nuts, freshly squeezed lemon juice, white miso, water, and salt.
This will lead to you having a creamy parmesan-inspired sauce due to white miso adding a surprising parmesan cheese flavor, which will add a whole new dimension to the dairy-free lasagna.
Can I Use Homemade Sauce Instead Of Store Bought Marinara?
Yes, you can. Although the store-bought marinara sauce is simple and lessons the preparation and cooking time required, you may find it lacking. You can use your own sauce made from your choice of ingredients when assembling the lasagna. Just make sure that the flavor profile of the sauce matches the rest of the dish. Food should be fun to eat, so experiment as much as you want until you find what works for you. To see more yummy dishes, visit All About Lasagna.
---
Recent Recipes