Very Delicious & Very Vegan Dark Chocolate Coconut Bites
Several years ago, I was visiting a friend who was living a 100% macrobiotic lifestyle. She was a treasure-trove of information on vegan diets and natural remedies. I asked if she ever missed sweet treats like cookies. I got an earful explaining that there are hundreds of delicious sweets that are included in the macrobiotic diet. She then proceeded to make copies of recipes she had gathered over the years for me.
Many of the recipes were for raw, vegan preparations of bites, balls, and bars that were packed with ingredients like coconut, dates, nuts, seeds, oats, brown rice syrup, and chocolate. Yes, chocolate! To be clear, this was pure cacao or dark chocolate, not milk chocolate.
One of the recipes I was drawn to was chocolate coconut bites. The ingredient list was short and there was no baking involved. However, you did have to melt the chocolate. This seemed like a good place to start.
This is a variation of that recipe. I have swapped out the brown rice syrup for pure maple syrup and have added some almond flour to the coconut filling. The almond flour helps the coconut flakes to bind together and it gives the flavor of my favorite childhood candy – Almond Joy.
This is a perfect recipe to make on a rainy day when you are stuck at home, feeling a little blue, and want to pick yourself up with an easy and tasty sweet treat. These vegan and gluten-free dark chocolate and coconut bites will store well in the refrigerator for several days.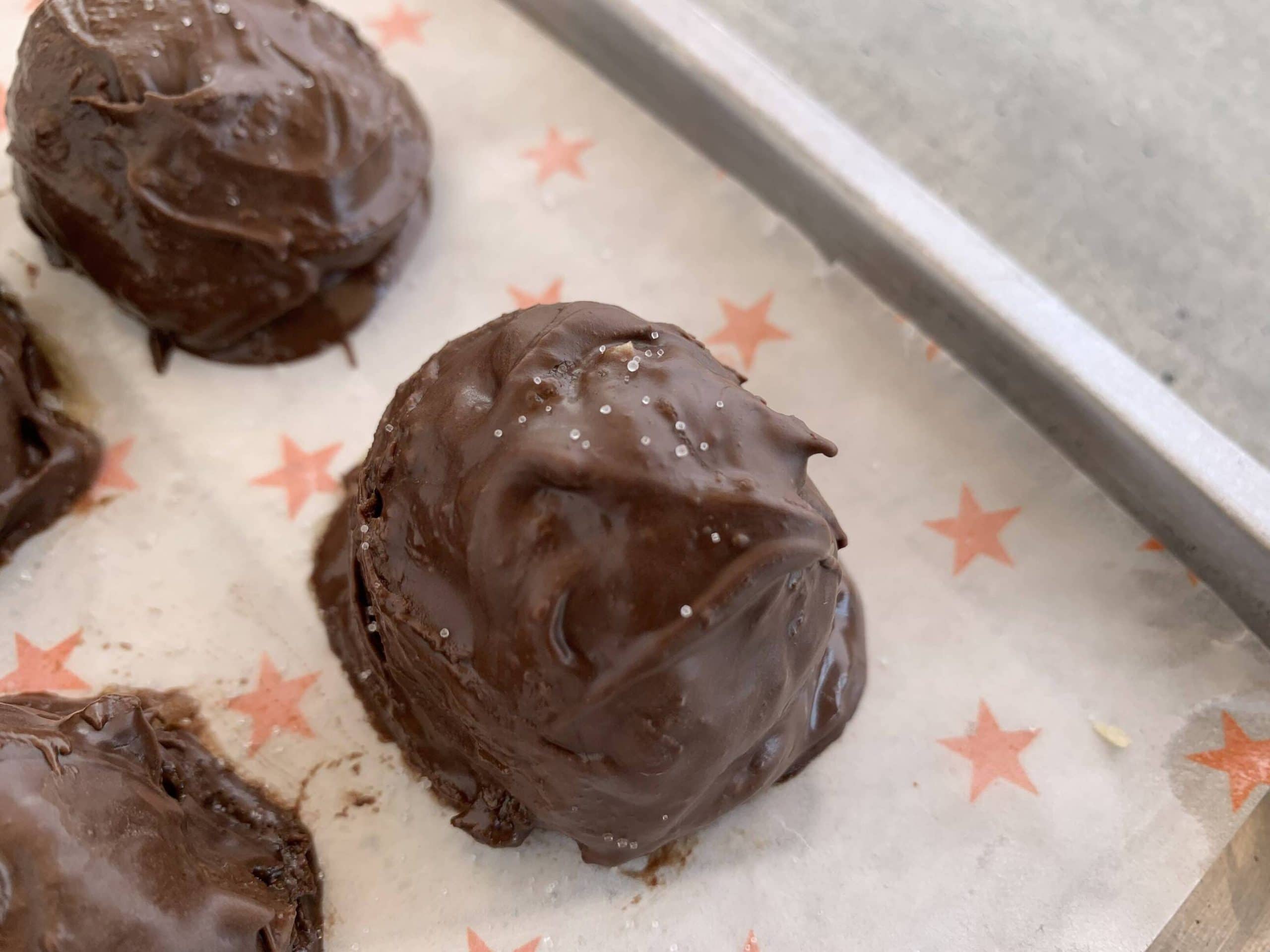 Ingredients
2

cups

unsweetened coconut flakes or desiccated coconut

6

TBS

almond flour

1/4

cup

pure maple syrup

3

TBS

extra virgin coconut oil

1

tsp

pure vanilla extract

1

cup

dark chocolate chips

Himalayan crystal salt or coarse sea salt for finishing
Instructions
Assemble all your ingredients before you begin.

Place the coconut flakes, almond flour, maple syrup, coconut oil, and vanilla in the bowl of a food processor and pulse until it forms into a sticky ball, scraping down the sides with a silicone spatula a couple of times.

Using a small tablespoon size cookie scoop, take some of the filling and roll it into a ball in the palms of your hand. Place the ball on a sheet pan lined with parchment paper. Continue until all the balls are completed. You can dampen your hands with water if needed to prevent the filling from sticking to your hands.

Place the sheet pan of bites in the refrigerator to chill for 30 minutes.

In a double boiler over medium heat, melt the chocolate chips until smooth, stirring often.

Spoon the chilled bites, one at a time, in the melted chocolate and move around until coated. Place the dipped bites back on the lined sheet pan and sprinkle with a small amount of salt while the chocolate is still warm.

Chill the bites in the refrigerator until the chocolate is solid.

Store the chocolate coconut bites in a sealed container in the refrigerator for several days.
Video
Nutrition
Calories:
183
kcal
|
Carbohydrates:
13
g
|
Protein:
2
g
|
Fat:
14
g
|
Saturated Fat:
12
g
|
Polyunsaturated Fat:
1
g
|
Monounsaturated Fat:
1
g
|
Cholesterol:
1
mg
|
Sodium:
19
mg
|
Potassium:
141
mg
|
Fiber:
2
g
|
Sugar:
8
g
|
Vitamin A:
1
IU
|
Vitamin C:
1
mg
|
Calcium:
48
mg
|
Iron:
1
mg
Notes & Tips
One of the recipe ingredients is coconut oil. This is important because coconut oil solidifies when exposed to cold temperatures. Don't be tempted to use vegetable oil because it will remain runny.
If you can't find dark chocolate chips, grab a dark chocolate bar with a high cacao content. Make sure you chop up a chocolate bar before melting it.
Chocolate can be a little temperamental when you are melting it. A double boiler is the best tool for melting chocolate. You can melt it in a microwave. However, there is a lot of room for error with this method and you risk burning the chocolate. This quick video shows how easy it is to melt chocolate in a double boiler.
Variations on the Recipe
You don't have to use the almond flour in the recipe, though I do like the flavor and texture it adds. What would be a nice addition is placing a toasted almond in the center of each bite. It is a bit time-consuming, but worth the element of surprise.
Brown rice syrup is a very popular sweetener in a strictly vegan diet. This sweetener is made by fermenting brown rice, breaking the starches down with certain enzymes, and then reducing the substance until it reaches a syrup-like consistency. Broken down, brown rice syrup is basically pure glucose. I think it has a bit of a nutty flavor.
The finishing salt is optional. I like it because a tiny pinch of salt actually enhances the sweetness in desserts and candies. The little crunch of coarse salt is unique. If you are avoiding salt and still want something to top the bites with, try finely chopped nuts or coconut flakes. They are both attractive and tasty.
Is Dark Chocolate Good for You?
I love this question. The answer is yes. This highly treasured food dates back to 2000 BC in the Mayan culture of Central America. The original cultivators and connoisseurs of chocolate made a beverage of this bean mixed with spices or wine.
The seeds are extracted from the pod and fermented, dried, and roasted into what we recognize as cocoa beans. The cocoa beans are ground into a powder that is used in baking, beverages, and to make bars.
Pure dark chocolate is bitter and does not contain milk. Sugar is added to cocoa to give it the sweetness we enjoy.
Dark chocolate is rich in plant chemicals known as flavanols. Flavanols have been shown to support the production of nitric oxide. Nitric oxide helps to relax the blood vessels and improve blood flow, thereby lowering blood pressure.
Dark chocolate is also a good source of the minerals iron, copper, magnesium, zinc, and phosphorous.
Dark chocolate is also good for your happiness and hopefully this recipe makes you happy.
---
Recent Recipes