Simple Dark Chocolate Lavender Truffles
Have you ever wondered what a fairy eats? Well, here's your answer. These dark chocolate lavender truffles would be at home at a magical forest banquet, but you can make them yourself (and you don't need pixie dust). If you are looking for other fairy type food to include in your own magic picnic, check out easy jericalla and these delicate Taiwanese mooncakes.
While the lush flavor of dark chocolate and lavender may be intimidating, these truffles are surprisingly easy to make, though they do need several hours to chill, so make sure to plan ahead. The recipe below says it serves 12, but it makes more truffles than that. I figured that nobody would want to limit themselves to just one truffle, so if this serves 12 each serving should include 2-3, depending on the size you make them.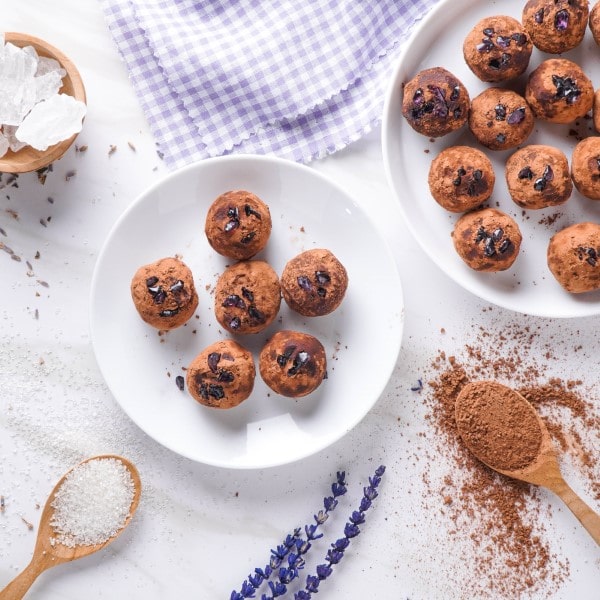 Ingredients
¾

cup

heavy whipping cream

2

tbsp

butter

1 ¼

tsp

dried lavender

¼

tsp

salt

2

tbsp

sugar

12

oz

dark chocolate

⅓

cup

cocoa powder

1

tbsp

crystal sugar

¼

tsp

purple food coloring powder
Instructions
All ingredients ready? Let's begin!

In a small pot, heat the heavy whipping cream and butter over high heat.

Bring the cream to a boil before turning the heat down to low in order to simmer lightly.

Add the dried lavender, salt, and sugar and stir to combine. Place a lid on the pot. Allow to simmer for about 10 minutes or until aromatic.

While the lavender cream simmers, double broil the chocolate. If you do not have a double broiler, you can make one by filling a large pot halfway with water and bring to a boil.

Once the water boils, turn down to medium high just so it stops bubbling. Place another, smaller pot inside the first. Make sure water doesn't get in it.

Add the dark chocolate to the small pot and stir until completely melted.

Strain the infused cream mixture into a new bowl so you remove the lavender pieces and any skin that may have formed.

Use a spatula to scrape the chocolate out of the pot and into the bowl where the cream mixture now is.

Stir until the melted chocolate mixes thoroughly and evenly with the cream. This is best done using a whisk. If the chocolate has hardened at all, you can place the mixture back over the makeshift double broiler.

Once the chocolate and cream have fully combined, cover with plastic wrap, pushing it down to rest just on top of the liquid in order to prevent a skin from forming.

Put the bowl in the fridge and let it sit and cool for a minimum of 3 hours. It should become a very thick ganache.

Put the cocoa powder in a bowl and make sure to break up the clumps. Line a baking tray with parchment paper and set aside.

Scoop out balls of the cooled chocolate ganache using a melon scooper or other small spoon. Use your hands to roll each scoop into a smooth ball.

Place each ball in the bowl of cocoa powder and roll it around to coat it in powder.

Place each cocoa-dusted ball and place on the tray lined with parchment paper.

In a small bowl, add the crystal sugar and a little bit of powdered food coloring. Depending on the type of dye you have, you may not need the full ¼ tsp amount, so start with less. Mix until the sugar has turned purple.

Sprinkle a bit of the purple sugar over each truffle and use your finger to gently press it in a little bit so it doesn't fall off.

Put the tray of truffles back in the fridge and let cool again for a minimum of 30 minutes.

Once the truffles have chilled through, remove and serve.
Video
Nutrition
Calories:
239
kcal
|
Carbohydrates:
18
g
|
Protein:
3
g
|
Fat:
18
g
|
Saturated Fat:
11
g
|
Polyunsaturated Fat:
1
g
|
Monounsaturated Fat:
5
g
|
Trans Fat:
0.01
g
|
Cholesterol:
18
mg
|
Sodium:
61
mg
|
Potassium:
257
mg
|
Fiber:
4
g
|
Sugar:
10
g
|
Vitamin A:
235
IU
|
Vitamin C:
0.2
mg
|
Calcium:
38
mg
|
Iron:
4
mg
Notes & Tips
Leftover truffles should be kept in the fridge for up to 5 days. You can transfer them to stack in a tupperware container, but if they get too warm they will melt and stick together.
If you want the truffles to be ready to serve faster, pop them in the freezer for a few minutes instead.
Substitutions
If you prefer your truffles with a little less sugar so you can focus on the dark chocolate and lavender flavor, forgo the crystal sugar on top. You can leave them plain, or press a couple of dried lavender flowers on top. You can also top with dried lavender in addition to the purple sugar–it's up to you.
Fresh lavender can be used for this recipe too, which is ideal if you have any in your garden. If using fresh lavender, I recommend using a bit more than 1 ¼ tsp. Another way you can get your lavender flavor is by using lavender essential oil. If using essential oil, make sure it is food grade and not just aromatic! Add it at the same time, but use only 1-2 drops. Essential oil can become incredibly overpowering very quickly, so be careful to not overdo it.
What Kind of Dark Chocolate to Use
Chocolate can be found everywhere, which is great if you're a fan but less great if you are searching for something specific. With so many options, it can be overwhelming to know what to use when baking. Despite the fact that you are using it for cooking, I usually avoid getting baking chocolate as it tends to be much more bitter and a lower quality. Instead, look in the chocolate & candy aisle so you know you're getting good quality chocolate.
For this recipe, the best dark chocolate is one that has a minimum of 70% darkness. Of course, you can go all the way to 95% dark cacao if you want. The important thing to remember is that the darker you go, the more bitter it will be. That is not necessarily a bad thing, however, it is important to note as it will affect the end taste of your truffles.
---
Recent Recipes