All The Denny's Vegan Menu Options
For many people, Denny's is synonymous with America. It's one of the oldest and most well-known American restaurants in the nation, and you can find one in practically every major metropolitan hub as well as scattered throughout the Midwest on backcountry roads.
With such a storied history, it's no surprise that Denny's offers some vegan options for diners who follow this diet (in fact, many of its competitors like Sonic could stand to follow its example). But what exactly are those options? This page will break down all the vegan food options at Denny's in detail so you know what to order. But before we go deep let's check out a quick overview!
| Menu Item | Dish Type | Notes |
| --- | --- | --- |
| Build Your Own Beyond Burger | Burger | Order without cheese, make sure toppings are vegan |
| Broccoli | Side | Make sure that no butter is added |
| Chips & Salsa | Side | – |
| Hash Browns | Side | Cross-contamination possible |
| House Salad | Salad | Order without cheese or croutons, add avocado for an additional cost |
| Regular English Muffin | Breakfast | Use jam or jelly instead of butter. The gluten-free english muffin has dairy, be sure to avoid. |
| Red-Skinned Potatoes | Side | Not the mashed potatoes version |
| Seasonal Fruit | Side | – |
| Seasoned Fries | Side | Cross-contamination possible |
| Side Salad | Salad | Order without cheese or croutons |
| Sweet Petite Corn | Side | Make sure that no butter is added |
| Wavy Cut French Fries | Side | Cross-contamination possible |
| Whole Grain Rice | Side | – |
Note: Cross-contamination can occur. Menu items as of 1/10/2023 as menu items may have changed.
Denny's Breakfast Options for Vegans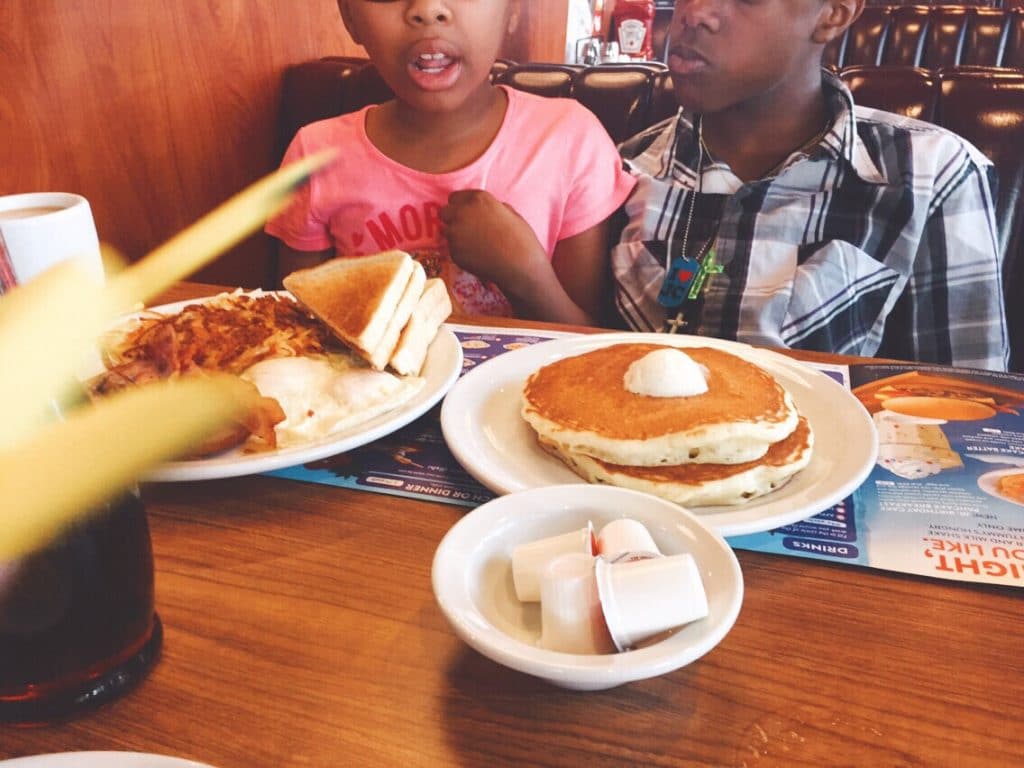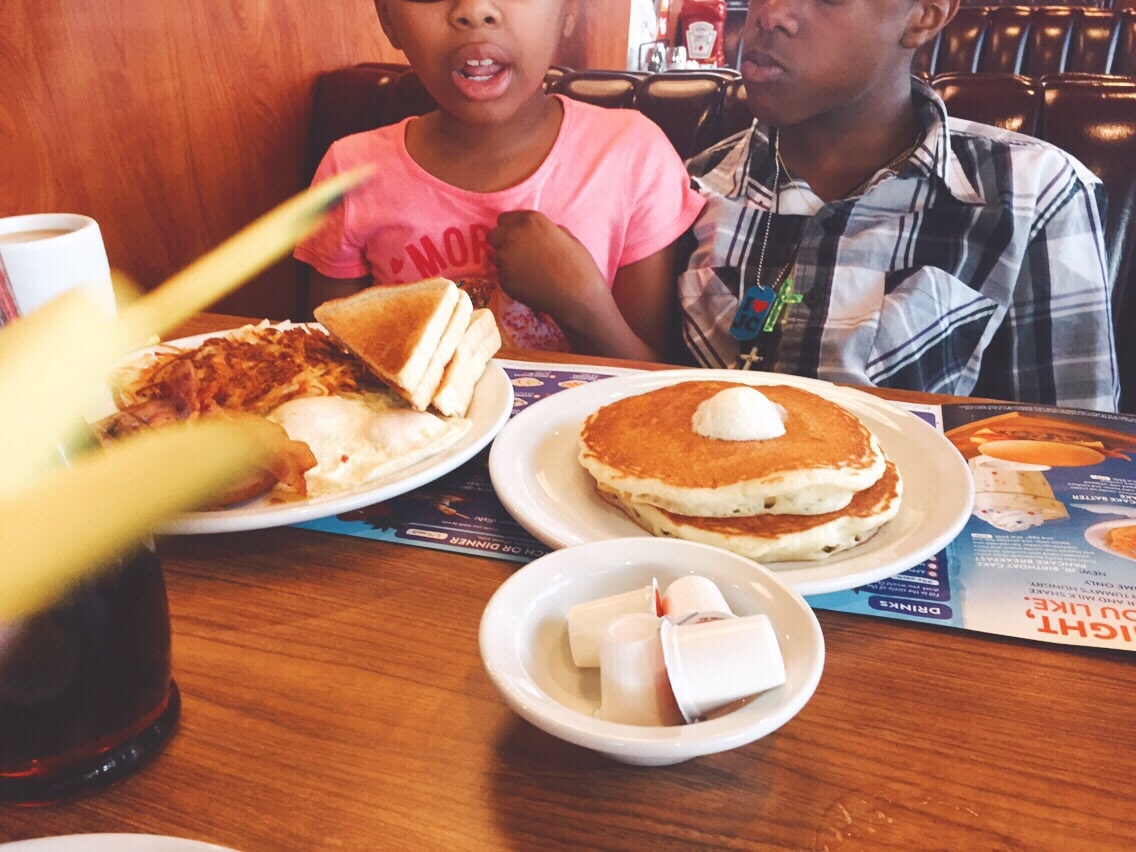 Many people come to Denny's specifically for breakfast – in fact, it's the restaurant's most popular meal overall. Luckily for vegans, you have plenty of choices and you don't have to just stick with plain toast. The vegan breakfast options at Denny's include:
Toast, though you must request it with no butter. The three vegan-friendly toast varieties are potato toast, seven-grain bread, and multigrain wheat. You can cover your toast with jam or jelly if you don't want to eat plain bread
Wheat English muffin, again with no butter
Hash browns
Oatmeal, though you'll need to ask that it be made with water instead of milk
Red-skinned potatoes
A mixed fruit cup, which is free from cross-contamination since it comes in a sealed package
A plain bagel. Note that not all Denny's offer bagels, but if they do, the plain bagel is always vegan
Grits. As with the oatmeal, request that this be made with water instead of milk
Even better, Denny's offers a variety of jellies and jams. Denny's Maple Syrup is also a great pick since it's 100% vegan. It's nice to know that there are lots of tasty breakfast options available at Denny's for vegan diners.
Vegan Lunches and Dinners at Denny's
Of course, Denny's doesn't just offer breakfast options. You can also eat vegan-friendly lunches and dinners at Denny's thanks to its plethora of main course options. These include:
The build your own burger option, which we detail below
The Fit Fare Veggie Skillet. This tasty dish just needs to be ordered without any egg for it to be 100% vegan
The Hearty Breakfast Skillet, which can still work for lunch or as dinner if you like eating breakfast for supper. Order this without any eggs, cheese, or sausage
The Santa Fe Skillet, which should be ordered without any eggs, cheese, or chorizo
The Supreme Skillet, which should also be ordered without eggs, cheese, or sausage
The skillets are great options if you are pretty hungry and want to make sure you give your body enough calories to push through the rest of your day. If you get a skillet, we recommend asking for a few tortillas to add some carbs to your plate. This costs a little more, but it's very much worthwhile.
Denny's Build Your Own Burger Option
As mentioned above, Denny's does offer a build your own burger option. Luckily, you can make a vegan-friendly burger with the ingredients and buns they offer. Your choices are:
A whole wheat or brioche bun, both of which are vegan at Denny's
A veggie patty. While it's not made of Impossible Meat, this burger patty is still fantastic through and through and has a nice grilled flavor. You can order a second patty for another $1.50
A variety of toppings, like jalapenos, mushrooms, avocado, lettuce, tomato, and more. You can also add any of Denny's sauces or spreads to go with your burger
As you can see, you can put together a pretty good vegan burger for yourself at Denny's without too much effort. The Beyond Burger patty they use is 100% plant-based.
However, should you choose to order the burger, be sure to order it without the all-American sauce or American cheese that it comes with by default. Neither of these is vegan.
Each burger also comes with wavy-cut fries, which are vegan since they are fried in plant-based oil. Note that the fries may be exposed to cross-contaminated cooking surfaces or tools, though.
Denny's Vegan Food FAQs
Is the bourbon sauce at Denny's vegan?
No, sadly. The bourbon sauce contains beef as one of its key ingredients, so it's not vegan-friendly at all. That said, Denny's barbecue, Five Pepper, and Mango Habanero Sauces are all vegan and can work as reasonable substitutes if you have a hankering for those flavors.
Are the tortillas at Denny's vegan?
Yep, and we recommend ordering them with a skillet. Not only does this add some carbs to your diet, but you can make the veggie skillet into a breakfast burrito with a little creativity if you desire.
Is Denny's a Good Spot to Eat for Vegans?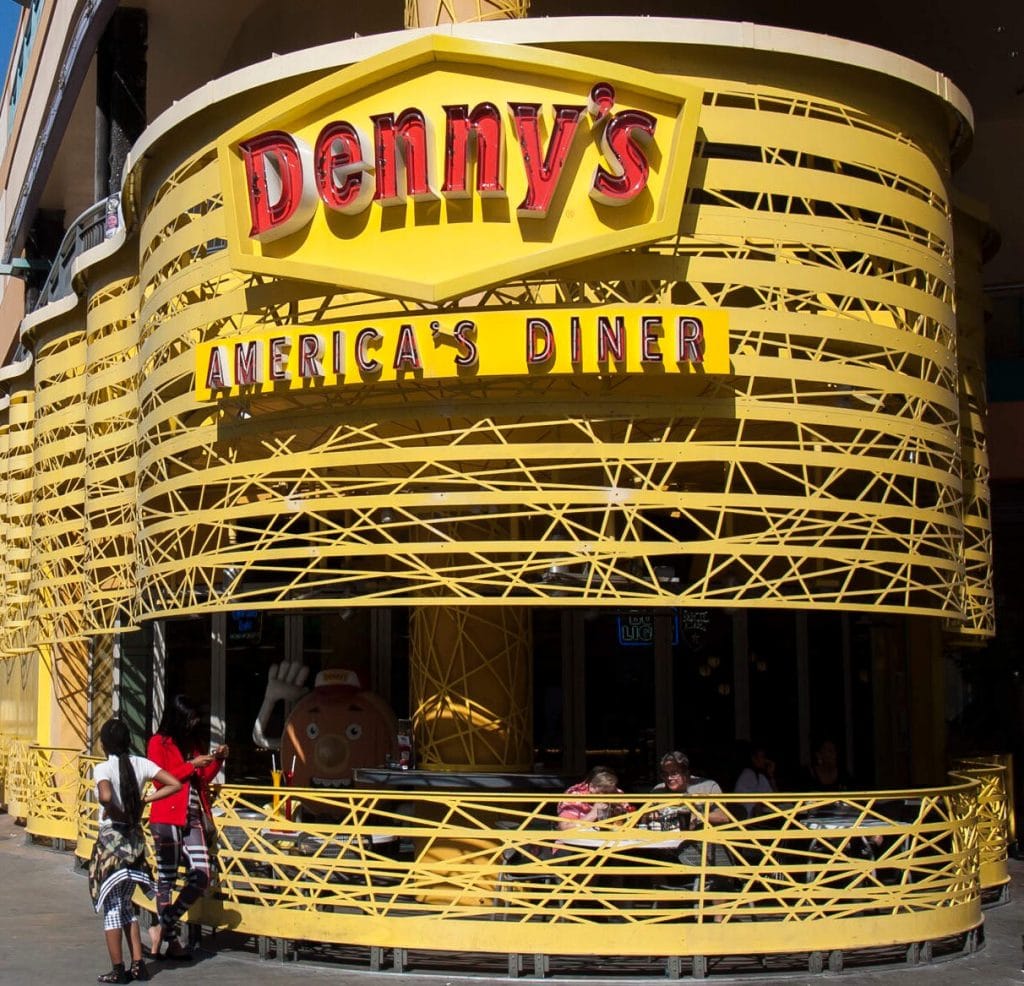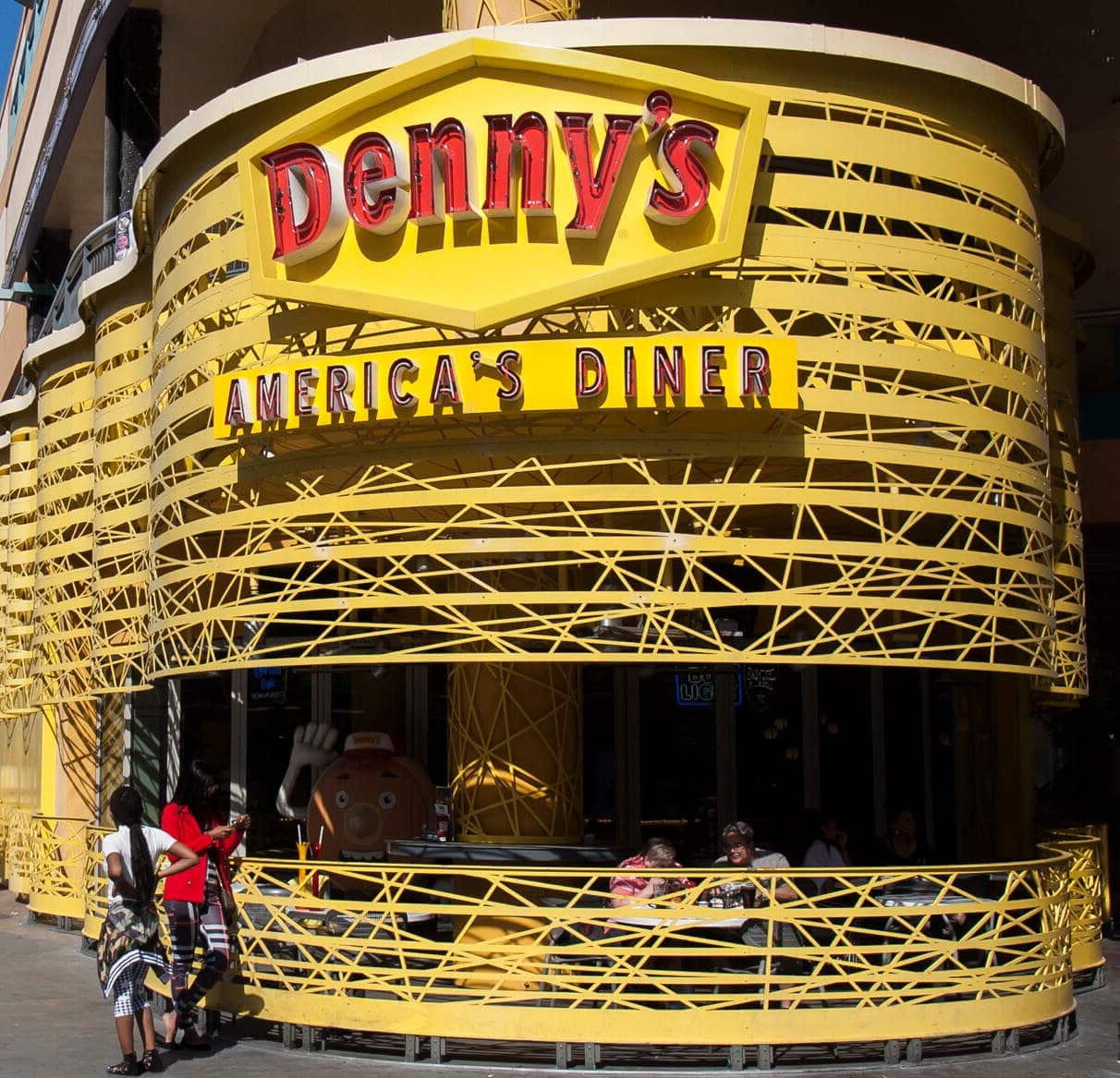 Absolutely. It's clear that Denny's is set on retaining its status as one of the most popular American eateries across the country. But we really love that Denny's is making great strides to appeal to the vegetarian and vegan crowd, as is aptly demonstrated by the inclusion of their vegetarian burger.
The burger is really a highlight of the entire menu, offering a delightful flavor without requiring any compromises for vegetarians or vegans. Add to that the spread of breakfast, lunch, and dinner options and it's clear that Denny's is one of the best places to stop by if you're a vegan traveler or just don't feel like cooking for yourself.
But Denny's isn't the only place where you can get a good vegan bite to eat. In fact, we've put together a collection of vegan restaurant guides and menus for you to check out. That way, you'll always know what you can order safely on the menu of your favorite restaurants. Check the guides out today!
---
Recent Recipes