Simple Din Tai Fung Cucumber Salad
This fresh and crunchy cucumber salad copycat recipe from Din Tai Fung is bursting with flavor. It's one of my favorite variations on the Asian cucumber salad. It's the perfect appetizer to tantalize your taste buds without ruining your appetite.
I used to love ordering this dish at Din Tai Fung, but when I found out it's so easy to make at home, I was dancing on the moon. And let me tell you, this cucumber salad copycat recipe tastes just like the original from Din Tai Fung. It's truly satisfying to the taste buds.
The ingredients in this recipe can be commonly found in your kitchen. But if you're missing something, don't fright, I've got a list of possible substitutions below. Make sure to check the Serving Suggestions and Substitutions for a flawless result.
This Din Tai Fung cucumber salad is low in calories and is packed with loads of garlic to boost your immune system. But the best thing about this dish is that it's so tasty. You can eat it as a snack, as an appetizer, or serve it as a side dish with rice, chicken, dumplings, or noodles, amongst other things. Let your imagination run wild.
Now, let me teach you how to make Din Tai Fung cucumber salad at home!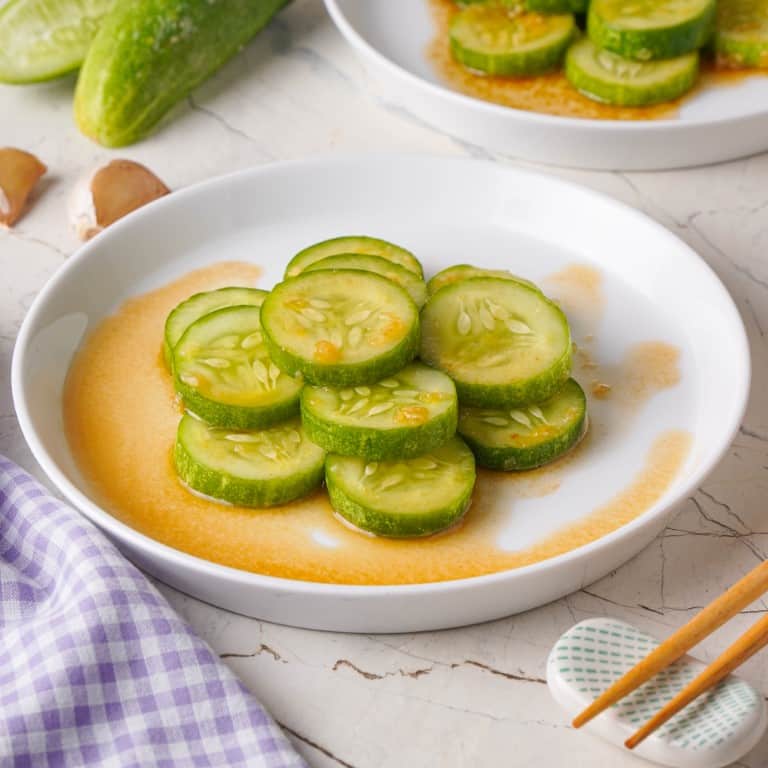 Ingredients
5

Persian cucumbers

preferably all the same size

1

tsp.

kosher salt

5

cloves

garlic

crushed and minced (best done with a garlic crusher)

1

Tbsp.

black vinegar

or white rice vinegar

1

Tbsp.

chili oil

1

Tbsp.

fine brown sugar

1

tsp.

sesame oil

½

tsp.

soy sauce
Instructions
Assemble all ingredients.

Wash cucumbers and pat them dry.

Cut off the ends, and cut cucumbers into about ½ inch thick slices.

Place cucumber slices in a large bowl and add salt. Mix thoroughly to coat each slice. Let sit for 15 minutes. Using salt helps extract the bitter juices of the cucumbers.

Drain the excess liquid by placing a large plate on top of the bowl and letting the juices pour out of the edge. Or use a strainer. Do not rinse the cucumbers.

Once the excess liquid is drained, add minced garlic, vinegar, chili oil, sugar, sesame oil, and soy sauce. Mix well to coat each cucumber slice.

Refrigerate for at least 20 minutes or overnight. The dish is best served cold.
Nutrition
Calories:
75
kcal
|
Carbohydrates:
7
g
|
Protein:
1
g
|
Fat:
5
g
|
Saturated Fat:
1
g
|
Polyunsaturated Fat:
1
g
|
Monounsaturated Fat:
3
g
|
Sodium:
515
mg
|
Potassium:
124
mg
|
Fiber:
0.4
g
|
Sugar:
5
g
|
Vitamin A:
74
IU
|
Vitamin C:
3
mg
|
Calcium:
22
mg
|
Iron:
0.3
mg
Serving Suggestions & Substitutions
This Asian cucumber salad is best served cold. I find that it makes it extra refreshing. You can let it chill in the refrigerator for 10-20 minutes, but it's best if you let it chill for at least an hour.
Let it sit in the fridge overnight and all the flavors of the dressing will soak into the cucumbers. This will make the salad even more delicious. You can store it covered in the fridge for 2-3 days.
As for the substitutions, you can use other types of cucumbers such as Turkish or English cucumbers. Or cucumbers from the garden, yum!
This is a copycat Din Tai Fung cucumber salad recipe, that's why I used Persian cucumbers. But any fresh cucumbers that are about the same size will do. If substituting, keep in mind that one Persian cucumber weighs about 4 oz.
If you want to make this recipe gluten-free, make sure the black vinegar you're using doesn't contain gluten. In some cases, black vinegar is made by fermenting wheat bran.
Try substituting rice vinegar or white wine vinegar instead. Another option is balsamic vinegar or malt vinegar. But if you can eat gluten and you can find Chinese black vinegar, use it. We even have a list of the best Chinese black vinegar brands on the market.
The flavor of black vinegar is rich and unique. It's usually fermented in clay pots for over 6 months and can be made with sticky rice, wheat bran, and other grains. Some variations even add vegetables such as carrots, onions, and mushrooms.
Black vinegar is black thanks to a chemical reaction called the Maillard reaction. This is a reaction between carbohydrates and amino acids that results in a malt-like base flavor. Black vinegar is used in many countries in Asia to add umami and a little sourness to dishes. It's a powerful condiment that deserves more recognition in the Western world.
Now, as for the chili oil, you can omit it if you're not the spicy type. But if you enjoy a little spice in your life, I recommend using authentic Chinese chili oil. If you can't find it at the store and don't have time to make it at home, you can try substituting a mix of Sichuan chili flakes, Sichuan peppercorns, and neutral vegetable oil.
I like to use fine brown sugar in this copycat Din Tai Fung cucumber salad recipe, but you can use regular sugar as well. You can even substitute maple syrup or agave for a more natural sweetener.
As for the sesame oil, I wouldn't recommend substituting it unless you have an allergy. If you're avoiding soy for any reason, there are plenty of soy sauce substitutes out there: fish sauce, coconut amino sauce, Worcestershire sauce, or tamari sauce. You can find out what is the difference between tamari and soy sauce here on our blog.
Why Is Din Tai Fung So Popular?
The reason this Taiwanese restaurant chain has become so popular is thanks to their reliable continuous high quality. Din Tai Fung has applied meticulous standardization to their xiaolongbao – a small Chinese steamed bun (baozi) traditionally prepared in a xiaolong, a small bamboo steaming basket.
The first Din Tai Fung restaurant was opened on Xinyi Road in Taipei in 1972. The restaurant grew in popularity thanks to its perfect steamed buns (xiaolongbao). But it was only in 1996 that they opened the first international restaurant in Tokyo. The first Din Tai Fung restaurant in the US opened in Arcadia, California in 2000. Now they have expanded to 119 branches in over 14 countries worldwide.
What Does Din Tai Fung Mean In Chinese?
The phrase Din Tai Fung doesn't have a specific meaning. It's simply a combination of the founder Yang Bingyi's previous employer's name "Heng Tai Fung" and his new supplier "Din Mei Oils".
But, if we separate each character, we can find meaning: din means an ancient cooking vessel with two loop handles and three or four legs, tai means peaceful, and fung means abundant.
That's a pretty cool name: peaceful and abundant cooking vessel.
Does Din Tai Fung Have a Michelin Star?
Yes, they do. The world-renowned Din Tai Fung restaurant has been awarded the Michelin star 5 times. They're known to be one of the best dim sum eateries in the world. In fact, every item on their menu is exquisite.
I have yet to create a copycat version of their famous xiaolongbao, but at least I've got their Asian cucumber salad down. It's a great addition to any meal and I'm sure you'll be making it often because it's so simple and addictive. Here's to discovering new flavors in the kitchen every day!
---
Recent Recipes