Lasagna rolls offer a light, exciting spin on an authentic Italian lasagna that's great for guests and ever-popular with kids. Our easy lasagna rolls recipe is versatile enough to be adapted to almost any favorite ingredients once you learn the basic formula. Within no time, you'll have a tray of attractive lasagna roll-ups that instantly intrigue the senses while keeping you coming back for more.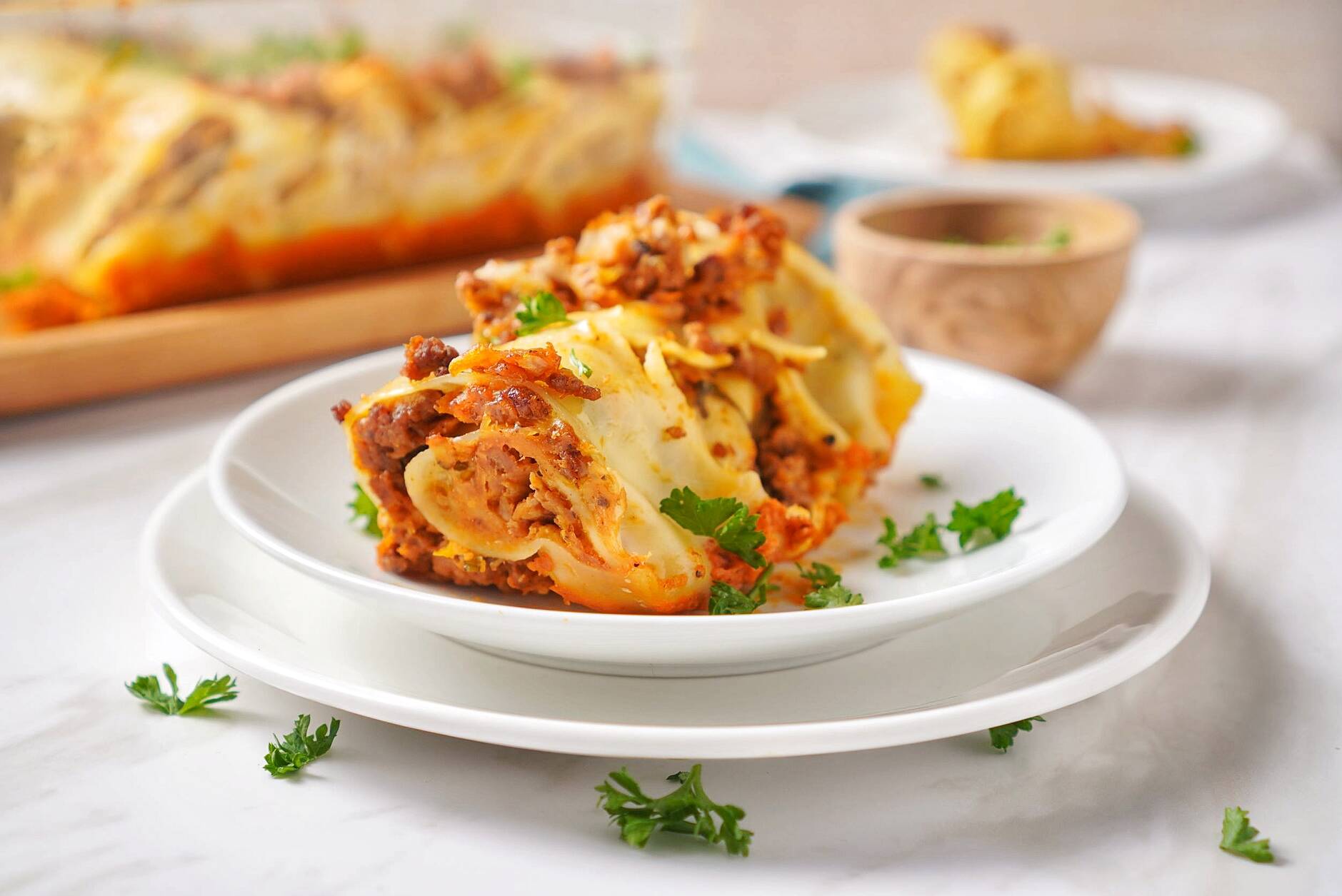 Ingredients
12

Uncooked Lasagna Sheets

2

Eggs

Beaten

2

Cups

Mozzarella Cheese

Grated

1

Cup

Cottage Cheese

1

Pinch

Ground Black Pepper

1

Pinch

Nutmeg Powder

1

Tablespoon

Fresh Parsley

Finely Chopped

1

Tablespoon

Fresh Basil

Finely Chopped

2

Large Brown/Yellow Onions

Finely Chopped

4

Cloves

Garlic

Pressed & Minced

1

Teaspoon

Dried Parsley

1

Teaspoon

Dried Oregano

1

Teaspoon

Dried Marjoram

½

Teaspoon

Red Pepper Flakes

1

Teaspoon

Salt

1

Teaspoon

Ground Black Pepper

1

Can Chopped Tomatoes

1

Can Tomato Puree

1

Can/Tube Tomato Paste

½

Cup

White Wine

¾

Pound

Lean Ground Beef

½

Pound

Italian Sausage

2

Tablespoons

Butter

4-6

Tablespoons

Fresh Basil

Finely Chopped
Instructions
Assemble the ingredients together.

Boil the lasagna noodles in a pot of salted water for five to six minutes or until just soft enough for rolling. Drain, reserving the pasta water, and set aside.

Mix together the eggs, cottage cheese, a teaspoon of ground black pepper, a pinch of nutmeg powder, and a tablespoon each of chopped fresh parsley and fresh basil. Chill in the refrigerator until later needed.

Heat a large skillet or saucepan containing two tablespoons of olive oil over medium heat and add one chopped onion.

Saute your onion until it shows signs of translucency, and then add two cloves of pressed garlic.

When the onions brown and the garlic releases a strong aroma, add the dried parsley, oregano, red pepper flakes, and marjoram.

Turn the heat to high and add the tinned chopped tomatoes, tinned tomato puree, tomato paste, and white wine.

Season with a teaspoon of salt and ground black pepper, then bring to a boil before covering and turning the heat to low.

Allow the marinara sauce to stew for twenty to forty minutes. Remove, cool, and process in a blender until smooth.

Heat a large clean skillet or saucepan with two tablespoons of olive oil over medium heat and add another chopped onion. Saute until translucent, add two cloves of pressed garlic and fry until aromatic.

Turn the heat to high and add the lean ground beef, uncased Italian sausage, and two tablespoons of butter. Stir well to help break it apart evenly without sticking.

Allow the meat to brown for five minutes before turning and browning the other side for a further five minutes, infrequently stirring throughout.

Set aside one cup of marinara sauce and pour the rest into your browned meat mixture.

Reduce the heat to low and simmer gently while frequently stirring for ten to fifteen minutes or until the sauce thickens and the ground beef cooks tenderly.

Preheat your oven to 375°F and ready a greased baking pan before pouring in the cup of marinara sauce you reserved earlier.

Begin preparing the lasagna roll-ups by spreading each sheet with a generous helping of the cottage cheese and egg mixture, followed by a coating of grated mozzarella cheese.

Scoop a helping of meaty marinara sauce over the cheese and spread evenly.

Scatter a pinch of finely chopped fresh basil on top and roll the lasagna sheets tightly lengthways to create neat roll-ups.

Place seam-side down into the sauce within your baking pan, positioning the lasagna rolls touching beside each other.

Pour the remaining meaty marinara sauce over the lasagna roll-ups, and scatter with a sprinkle of grated mozzarella.

Cover with foil and bake in your preheated oven at 375° for forty minutes covered before removing the foil and baking uncovered for a further ten to fifteen minutes or until browned.
Video
Notes
Video Note: Made with 6 servings instead of 12 mentioned in recipe.
Nutrition
Calories:
318
kcal
|
Carbohydrates:
26
g
|
Protein:
20
g
|
Fat:
14
g
|
Saturated Fat:
6
g
|
Polyunsaturated Fat:
1
g
|
Monounsaturated Fat:
5
g
|
Trans Fat:
1
g
|
Cholesterol:
77
mg
|
Sodium:
598
mg
|
Potassium:
366
mg
|
Fiber:
2
g
|
Sugar:
3
g
|
Vitamin A:
334
IU
|
Vitamin C:
6
mg
|
Calcium:
149
mg
|
Iron:
2
mg
Easy Lasagna Rolls Shortcuts
Busy cooks can save themselves a lot of time by using a store-bought bottle of marinara sauce instead of making it fresh. Reducing the sauce easily takes twenty minutes or more by itself. We suggest frying off onion and garlic before browning your meat and adding the ready-made marinara to freshen up the flavor.
Easy Lasagna Rolls Tips
If you've got the time and would like to make rolling up your lasagna roll-ups even easier, try soaking the lasagna sheets instead of parboiling them. Soak the sheets in a covered bowl of boiling hot water for twenty minutes instead of boiling on a stovetop. You'll find that they're much easier to work with without any risk of the pasta becoming too mushy or breaking.
Can You Freeze Easy Lasagna Rolls?
Lasagna rolls, like every good lasagna, can be prepared in advance and frozen. Bake the lasagna rolls until the top is golden. Allow to cool and then cover tightly with foil followed by a covering of plastic wrap. This ensures that your lasagna won't dry out while freezing. Easy lasagna rolls can be frozen and reheated for eating safely for up to three months, although we advise eating within two.
Is Lasagna Better With Ricotta Or Cottage Cheese?
The debate over whether ricotta, cottage cheese, or bechamel sauce is better with lasagna is a time-old argument. Ultimately, whether lasagna is better with ricotta or cottage cheese is largely a matter of preference while also hinging on the other ingredients and moisture present in your bake. For our easy lasagna rolls, we've opted for cottage cheese as it's light and easier to work with when layering an unconventional lasagna serving like this. Each roll remains rich and decadent but is not as heavy to eat as ricotta-made lasagna.
Do You Add Egg To Ricotta For Lasagna?
Adding egg to ricotta for lasagna helps the ricotta bind to the cheese, which lets it fuse into a solid layer instead of becoming runny and making the bake too moist. Eggs don't add flavor to lasagna, only firmness. If you're allergic to eggs, mix in either a few tablespoons of plain unsweetened yogurt or a blend of heavy cream and cornstarch blended until thick with your ricotta.
---
Recent Recipes