Falafel is a popular Mediterranean and Middle Eastern street food with roots in both Israeli and Arab cuisines. However, Egypt lays solid claim to having invented this incredible vegetarian snack made with legumes.
Falafels are balls or patties made with ground chickpeas or garbanzo beans, fresh herbs, and spices. The patties are deep-fried until the beans are cooked through and soft and the exterior is slightly crispy. Falafel are most often served in pita bread pockets with fresh fruits and vegetables, such as cucumbers, tomatoes, and lettuce, with tahini sauce drizzled over everything. This sandwich is wrapped in paper or a napkin so it can be eaten while walking around.
I will sometimes serve smaller falafel balls on an hors d'oeuvre platter along with stuffed grape leaves, cured olives, Persian cucumbers, grapes, figs, feta cheese, pita triangles, and hummus. The Greeks have a similar chickpea patty that is often included on their mezze platters.
The texture of falafel is unique in that the interior is soft and pillowy while the exterior has some crunch. The flavor is a little nutty, earthy, and very herbaceous. Most recipes use garbanzo beans. However, some recipes call for a combination of garbanzos and favas. The herbs and spices are a major component in falafel recipes. In my recipe, I incorporate fresh parsley, cilantro, and dill. I also use dried cumin, coriander, and cayenne. Onions and garlic are also ingredients.
I definitely use dried beans when I make falafels. I soak them overnight before processing them. I only once tried to make falafels using canned beans. That experiment didn't go well at all because the patties completely fell apart while cooking. Soaking dried beans softens and plumps them just enough so they are easy to work with.
I don't have a deep fryer, so I form the falafels into small patties and shallow fry them in my large cast-iron skillet in a neutral flavored oil, such as grapeseed. I make a very simple tahini and lemon sauce to go with my falafels. I serve fresh, crisp veggies with the patties. The entire dish is vegan. If you use GF wraps, the dish is also gluten-free.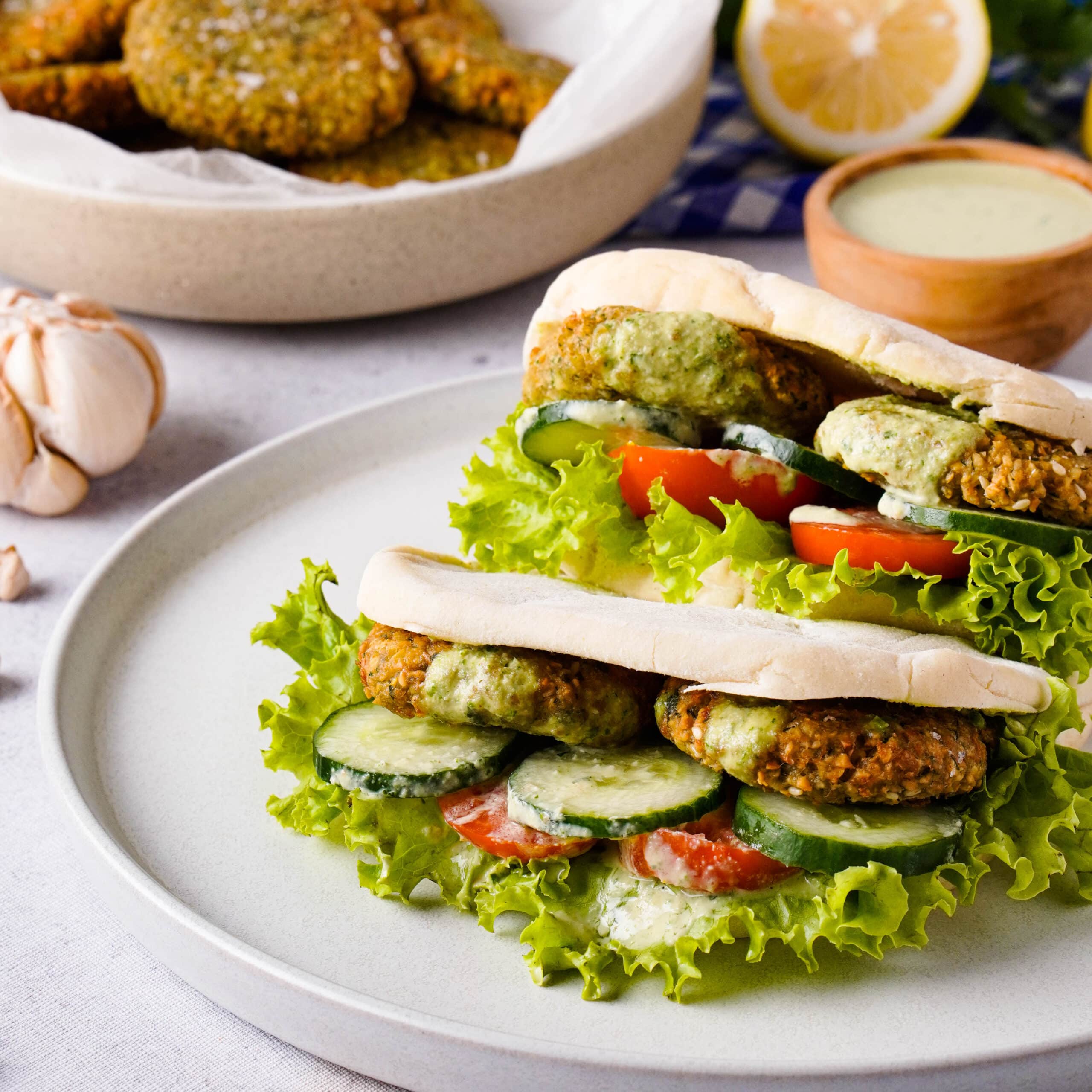 Ingredients
Tahini Sauce

1

garlic clove

peeled

½

tsp

sea salt

¾

cup

sesame tahini paste

½

cup

freshly squeezed lemon juice

¼

cup

cold water

more if needed

½

cup

chopped flat-leaf parsley leaves

Falafel

1 ½

cups

dried chickpeas

¼ to ½

tsp

baking soda

¾

cup

fresh flat-leaf parsley

½

cup

fresh cilantro leaves

⅓

cup

fresh dill leaves

¾

of a small onion

roughly chopped

5

garlic cloves

peeled

2

tsp

ground cumin

2

tsp

ground coriander

½

tsp

sea salt

or more to taste

½

tsp

freshly ground pepper

½

– ½ tsp cayenne pepper

optional

3/4

tsp

baking powder

1 ½

Tbsp

toasted sesame seeds

Neutral oil for frying

Sea salt for seasoning

Pita bread and fresh vegetables for serving
Instructions
All ingredients ready? Let's begin!
Tahini Sauce
Add the garlic and salt to the bowl of a food processor and pulse until the garlic is minced.

Place the tahini paste and citrus juice in the processor and blend again to combine. Pour the water in through the hole of the lid while the processor is running. Keep it going until you achieve the desired consistency of a runny sauce.

Add the parsley to the processor and pulse a couple of times just to combine everything. Transfer the tahini and lemon sauce to a jar with a lid and refrigerate until ready to serve with falafel.
Falafel
Soak the chickpeas overnight in enough water to cover the beans by 2-inches with the baking soda added to the water. Set aside for a minimum of 12 hours and up to 24 hours.

Drain the soaked beans and set them aside.

To the bowl of a food processor, add the drained chickpeas, parsley, cilantro, dill, onion, garlic, cumin, coriander, salt, pepper, and cayenne.

Pulse several times until the mixture resembles a coarse meal that you can pull together into a ball. If it is too dry or crumbly, add water a little bit at a time.

Place the mixture in a large bowl and cover it with plastic wrap. Place this in the refrigerator for at least 1 hour and up to 4 hours.

Remove the bowl of falafel mixture from the refrigerator. Add the baking powder and sesame seeds to the mixture and stir or knead well with clean hands to incorporate these additional ingredients.

Place 1-inch of oil in a frying pan that is over medium-high heat while you form the falafel patties.

Using a cookie dough scoop or a soup spoon, grab about 2 tablespoons of the mixture and gently form it into a ball, being mindful not to compress too much so that it isn't too dense. It helps to wet your fingers lightly so the dough doesn't stick to your hands. Flatten the ball slightly to form more of a patty than a ball. Place this on a parchment-lined baking sheet. Continue with the rest of the dough until you end up with about 16 to 18 patties. Don't worry if you have more or less.

Fry the patties in a single layer, without crowding the pan, for 3 minutes or until the bottoms are browned. Carefully flip the patties over and continue to cook until completely browned and cooked through, approximately 3 more minutes.

Transfer the cooked patties to a paper towel-lined platter to absorb any excess oil. Sprinkle with a little sea salt while still warm.

Serve falafel patties warm or at room temperature in pita pockets with tahini sauce, fresh tomatoes, lettuce, and cucumbers.
Nutrition
Calories:
555
kcal
|
Carbohydrates:
74
g
|
Protein:
21
g
|
Fat:
22
g
|
Saturated Fat:
3
g
|
Polyunsaturated Fat:
9
g
|
Monounsaturated Fat:
8
g
|
Trans Fat:
0.003
g
|
Sodium:
828
mg
|
Potassium:
819
mg
|
Fiber:
13
g
|
Sugar:
6
g
|
Vitamin A:
1479
IU
|
Vitamin C:
32
mg
|
Calcium:
237
mg
|
Iron:
7
mg
Notes & Tips
As mentioned, it is best to make falafel with dried beans that have been soaked for at least 12 hours. Canned beans seem to be a little too soft for these delicate patties.
Remember to add a tiny bit of water if the mixture is too crumbly so the patties will hold together while cooking.
If you have a deep fryer, you can cook your falafel patties or balls in that. For a healthier spin, you can cook the falafels in either an air fryer or in your oven. If using the air fryer, preheat it to 400°F, give the basket a light spray of oil, and cook the falafels for 5 minutes per side.
Recipe Variations
Vegetables: You can change the color and nutrient density of the falafel batter or dough by adding a small amount of colorful cooked vegetables that are rich in vitamins and minerals. Beets will give the falafel a deep red color and add iron. Butternut squash will turn the falafel orange and add fiber and beta-carotene. Spinach will lend an even greener hue and add calcium.
Other Beans: There are a lot of falafel recipes that include dried fava beans. While chickpeas are classic, you really can make falafels with other dried beans. My preference is to use 50% garbanzos with 50% of any other sturdy dried bean, such as black beans, kidney beans, or cranberry beans.
Herbs: My falafels are heavy on fresh herbs. You don't have to use the ones I have listed, except for maybe the parsley. You can add basil or oregano to that if you aren't fond of cilantro or dill. Remember, fresh is best.
Sauce: If you aren't vegan, I recommend making a yogurt sauce, similar to tzatziki. This is a Greek-inspired sauce or dip made with yogurt, grated cucumber, garlic, and dill. It is delicious with falafel.
---
Recent Recipes