Easy Fig & Prosciutto Quesataco
There are different definitions and interpretations of what a quesataco is. Both the quesadilla and the taco are dishes that hail from Mexico. The quesataco is a combination of the two.
A quesadilla is basically two tortillas that are filled with cheese, meat, vegetables, or all of the above. They are shallow fried in a little oil or oven-baked and sliced into wedges and eaten with your hands like mini pizza slices.
Tacos are corn or flour tortillas that are filled with anything you want. They are then folded into half-moons and eaten with your hands, just like a sandwich.
A quesataco, for me, is a filled tortilla that is folded into a half-moon and then pan-fried until the outer shell is golden and crisp. However, some recipes use pan-fried shredded cheese as the outer shell instead of a tortilla. I can't help but think this version is actually a "queso-taco", meaning that the taco shell is cheese (queso).
For this recipe, I am going with a filled tortilla that is folded like a taco and fried like a quesadilla. The filling is not classically Mexican. But it is off-the-charts good. It is savory, salty, acidic, sweet, and bitter. The tortillas can be flour or corn. The filling has onions steeped in a vinegar reduction, delicately sliced salty prosciutto, sweet fig jam, sharp cheese, and bitter greens.
You do need to set aside a little time to caramelize the onions. They take a while and for good reason. They are gently cooked over a medium flame to coax all the goodness out of the allium for optimal results. I was following a macrobiotic diet for a while and one thing I made often was caramelized onions and slow-braised greens that I would place on thin slices of homemade sourdough bread. The onions were so soft, warming, and just sweet enough to assist in digestion. You can cook the onions a day ahead of time.
I love fresh figs. When I buy them in August, I can't get through the entire container before they start to spoil. After day one, I will boil down the soft figs into a jam that I can store in the fridge for several days and enjoy on toast for breakfast. You can find fig jam in most markets these days, even Trader Joe's. So, just grab a jar for this quesataco recipe.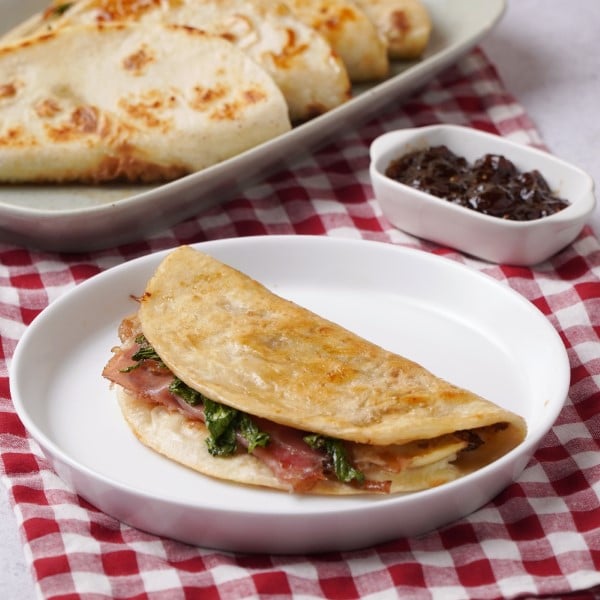 Ingredients
Caramelized Onions
1

Tbsp

extra virgin olive oil

2

large onions

peeled and thinly sliced

Pinch

of kosher salt

2

Tbsp

balsamic vinegar
Quesatacos
6

8 inch flour tortillas

Extra virgin olive oil
Caramelized onions
8

oz

grated gruyere cheese

4

oz

thinly sliced prosciutto

2

cups

baby arugula leaves

3

Tbsp

fig jam
Instructions
All ingredients ready? Let's begin!
Caramelized Onions
In a large sauté pan over medium heat, warm the olive oil. Add the onions and a pinch of salt. Cook, stirring often, until the onions are soft and golden brown, approximately 15 minutes.

Stir in the balsamic vinegar. Continue to cook until the liquid is reduced by half, approximately 5 minutes. The onions should be soft and deep brown.

Remove the onions to a bowl and set them aside.
Quesatacos
Generously brush one side of each flour tortilla with olive oil. Place the tortillas, oiled side down, on a clean work surface.

Fill one half of each tortilla with equal parts of onions, cheese, prosciutto, and arugula. Spread some jam on the other half of the tortilla. Fold the jam side of the tortillas over the filled halves. Secure with toothpicks if necessary.

Place 2 tacos in the skillet on medium heat and cook until golden brown, approximately 3 minutes. Flip over and cook until the other side is golden and crispy, approximately 3 more minutes until the cheese has melted. Continue until all the quesatacos are cooked.

Serve immediately with napkins.
Nutrition
Calories:
466
kcal
|
Carbohydrates:
34
g
|
Protein:
18
g
|
Fat:
28
g
|
Saturated Fat:
12
g
|
Polyunsaturated Fat:
3
g
|
Monounsaturated Fat:
11
g
|
Trans Fat:
0.02
g
|
Cholesterol:
54
mg
|
Sodium:
748
mg
|
Potassium:
236
mg
|
Fiber:
3
g
|
Sugar:
8
g
|
Vitamin A:
525
IU
|
Vitamin C:
5
mg
|
Calcium:
476
mg
|
Iron:
2
mg
Notes & Tips
These tacos are easy to pick up with your hands and eat like a sandwich. However, cooking them can be a little tricky when trying to keep them folded. You can hold the curved edge closed with a toothpick, or you can make these like quesadillas by using a bottom and top tortilla. This will yield 3 quesadillas that you can slice in half before serving.
Substitutions
I try to avoid consuming too much gluten. To make a gluten-free version of these quesatacos, use corn or cassava tortillas.
The cheese doesn't have to be gruyere. Gruyere is gooey and stretchy when heated up, which is really fun to eat. Its sharp and nutty flavor compliments the sweetness of the onions and fig jam. I think Monterey Jack or maybe smoked mozzarella would also work with this recipe.
The arugula adds a crisp freshness to the dish. It is also a peppery element that I enjoy. You can swap that out with dandelion greens, radicchio, or even thinly sliced fresh radishes or salad turnips. You will be pleasantly surprised by what the fresh produce brings to this recipe.
Accompaniments
I like to assemble a large cutting board or serving platter with finger noshes to serve with these quesatacos. You can lean the quesas up against one another on one end of the board. Then, layer some artisanal cheeses, cured meats, olives, avocado slices, and cooked shrimp with lemon.
This can be an appetizer or a casual main dish. Serve it with beer and dry white wine. Finish the meal with a platter of fresh mango slices, grapes, strawberries, and seasoned nuts, such as Marcona almonds and pistachios.
---
Recent Recipes