Flavorful Fish Fillet Piccata
I do eat a good amount of fish. I like both fatty or oily fish and flaky white fish. I also enjoy both saltwater and freshwater fish. Basically, I think my body craves the omega-3 fatty acids, vitamins, and minerals in fish.
One of my favorite ways to prepare flaky white fish fillets is to sauté them and then prepare a lemony piccata sauce to pour over the top of the fillets. Piccata is a sauce that is briny, buttery, and a little salty. It has aromatics, lemon, wine, broth, capers, butter, and parsley. Those are the basic ingredients I use. Sometimes I add chicken or vegetable broth. I alternate between shallots and garlic as the aromatic component. You can even omit the aromatic vegetables if you prefer.
Piccata can be made with a variety of proteins, such as chicken, veal, seafood, and even tofu. You can also make vegetables with a piccata sauce. I like to serve piccata dishes with pasta and greens, except for fish fillet piccata. For that, I prefer rice or a fluffy bed of quinoa, and sturdy green vegetables, such as steamed asparagus or green beans. The grain is a nice base to soak up some sauce and the veggies are a great textural contrast to the delicate fish and soft grains, or seeds in the case of quinoa.
Fish fillet piccata is not a complicated dish to prepare. Like most piccata dishes, you will want to cook the fish and sauce separately. Still, the dish will only take 15 to 20 minutes tops to prepare. You basically flour the fillets and sauté them in olive oil. Once finished, transfer the fillets to a plate. Use the same pan to cook the garlic. Then, deglaze the pan with white wine. Finish the sauce with the other ingredients already mentioned and simply serve the sauce over the fish fillets.
I use fillets of sole for my fish piccata. It is one of my favorite delicate fillets. Lemon sole is great for this recipe. Dover sole is quite a nice fish for this as well. It will cost you a little more, but if you have never had Dover sole, you might want to treat yourself. It is delicate and nicely flavored – not fishy tasting. I will discuss other fish fillets that work for this recipe in the Substitutions section of this post. Fresh fish is best, in my opinion. If you only have access to frozen fish, just defrost it overnight in the fridge and pat it very dry with paper towels before cooking.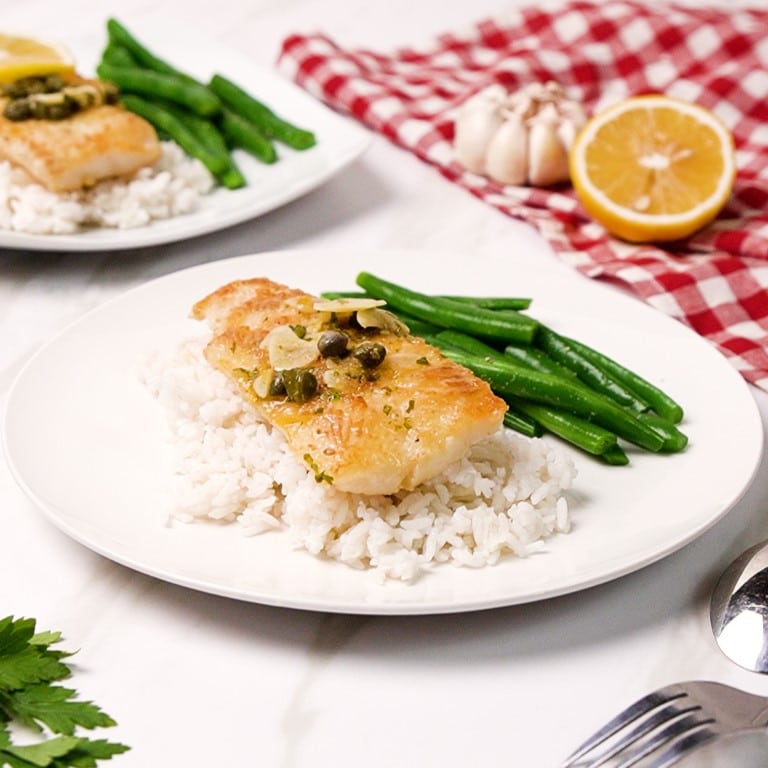 Ingredients
4

4-ounce sole fillets

3

Tbsp

all-purpose flour

¼

tsp

sea salt

¼

tsp

freshly ground pepper

2

Tbsp

olive oil

divided

2

small cloves of garlic

peeled and sliced very thinly

2

Tbsp

butter

⅓

cup

dry white wine

2

tsp

lemon zest

Juice of 1 whole lemon

2

Tbsp

brined capers

drained

2

Tbsp

minced fresh flat-leaf parsley

Salt and pepper to taste

4

thin slices of lemon for garnish

2

cups

cooked rice or quinoa for serving
Instructions
All ingredients ready? Let's begin!

In a shallow bowl combine the flour, salt, and pepper.

Pat the fish fillets dry with paper towels and place them in the flour mixture to lightly coat both sides.

In a large sauté pan or skillet over medium heat, warm 1-1/2 tablespoons of the oil. Shake the excess flour off of the fish. Add the fish to the pan and sauté for 2 minutes per side until just cooked through and golden brown. Transfer the fillets to a serving platter.

Add the remaining 1/2 tablespoon of oil to the pan. Turn the heat up to medium-high. Add the garlic to the pan and cook until it just starts to soften, approximately 30 seconds, being careful not to let it burn.

Deglaze the pan with the wine, whisking to incorporate any brown bits and flour. When the wine bubbles, add the lemon zest and lemon juice to the pan. Cook until the liquid has reduced by half, whisking often.

Turn the heat off and stir in the butter, capers, and parsley. Season with salt and pepper to taste.

Pour the warm sauce over the fish and serve immediately over a bed of rice or quinoa with lemon slices on top and green veggies on the side.
Nutrition
Calories:
517
kcal
|
Carbohydrates:
62
g
|
Protein:
33
g
|
Fat:
13
g
|
Saturated Fat:
2
g
|
Polyunsaturated Fat:
4
g
|
Monounsaturated Fat:
7
g
|
Cholesterol:
50
mg
|
Sodium:
343
mg
|
Potassium:
1007
mg
|
Fiber:
7
g
|
Sugar:
1
g
|
Vitamin A:
245
IU
|
Vitamin C:
9
mg
|
Calcium:
79
mg
|
Iron:
5
mg
Notes & Tips
You definitely want to use skinless, boneless fish fillets for this recipe. Fresh fillets are best. Remember to pat the fillets very dry before cooking them.
Only use a good white wine that you would actually drink in this recipe. It is a key ingredient and should be palatable.
Zest the lemon prior to juicing it. I can't tell you how many times I have sliced and juiced my citrus and then remembered I need the zest. It isn't very easy to zest a squished peel.
The liquid in this particular piccata recipe might not seem like enough. I tend to go lighter with liquid when using delicate fish. Otherwise, the fillets might fall apart in the sauce. If you don't mind that and want more sauce, add a little chicken broth or more lemon juice while heating it up.
Substitutions
Flour: You can definitely make this a gluten-free dish. I find that white or brown rice flours are good substitutes for all-purpose wheat flour for this particular recipe. It browns and crisps nicely.
Fish: I genuinely love fillet of sole for piccata. It is delicate but will hold together if handled gently. The flavor is so fresh. If sole is out of your budget, flounder or tilapia are excellent substitutions. If you want a thicker fillet of fish that is similar to sole, only bigger, try turbot or halibut. I have also made this with cod, mostly because it is always on sale at Whole Foods, is wild-caught, and is super flaky.
Aromatics: I don't always make piccata with garlic because the flavor can be overpowering, especially when using mildly flavored fish. If you want a subtler dish, skip the garlic or use one medium shallot sliced thinly. Sliced scallions also work well and add some color.
---
Recent Recipes