Simple Fried Scallops Rice
Making fried seafood means that you're ready to indulge. Crispy, buttery seafood deep fried to that perfect golden brown is tough to beat. No, it's not the healthiest choice, but we're all allowed to treat ourselves now and then.
I love pairing fried foods with rice. The contrast in textures is a perfect mix of crunchy and tender. It's even better when there is a bit of a kick to the dish.
In this recipe, we're going to use a light seafood batter to fry sea scallops. They will be served with flavorful and simple fried rice that has pineapple, green onions, and cabbage. Finally, a drizzle of spicy mayo will top it all off.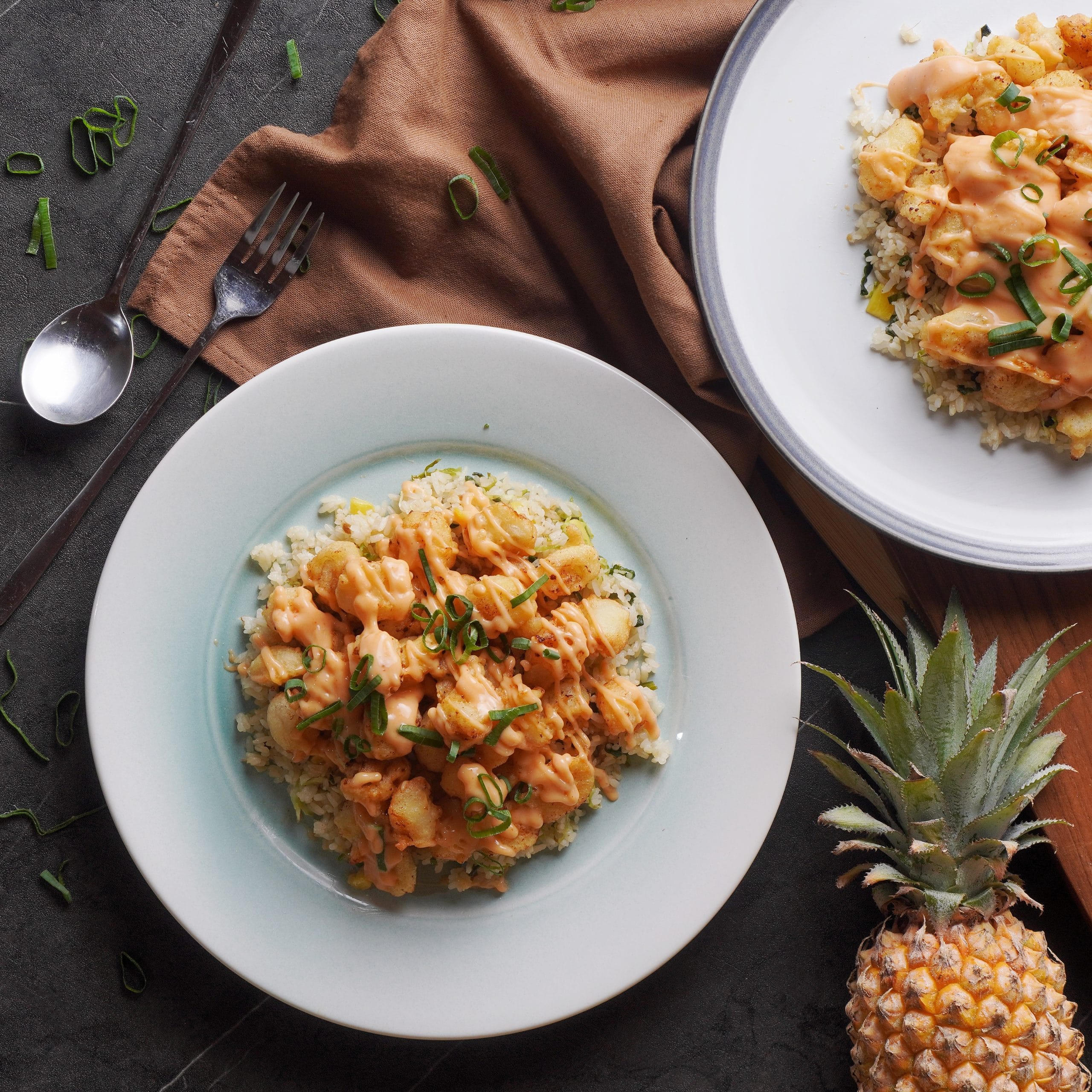 Ingredients
Spicy Mayo
½

cup

mayonnaise

1-2

tablespoons

sriracha

depending on desired heat level

1

teaspoon

soy sauce

1

teaspoon

sambal chili paste for more heat

optional

1

pound

sea scallops

cleaned and dried

Vegetable or canola oil for deep frying

Cornstarch

for dusting
Batter
1

egg

beaten

½

cup

whole milk

3

tablespoons

vegetable oil

1

cup

all purpose flour

1

teaspoon

sugar

½

teaspoon

salt
Fried Rice
1

teaspoon

vegetable oil

1

teaspoon

sesame oil

2

cloves

garlic

minced

2

teaspoons

ginger

minced

½

cup

green onions

sliced thin

½

cup

green cabbage

sliced thin

3

cups

cooked rice

2

tablespoons

soy sauce

¼

cup

pineapple

chopped (canned works fine, you can use the juice)

2

tablespoons

pineapple juice

Green onions or chives

for garnish
Instructions
All ingredients ready? Let's begin!

Make the spicy mayo by combining all the ingredients in a small bowl. You can store it in the refrigerator until you are ready to use it. I like to store spicy mayo in a squeeze bottle for easy drizzling.

Next, wash and dry the scallops. Pat the scallops dry with a paper towel. It's important that they are dried completely so that the batter sticks. To ensure the batter sticks well, toss the dry scallops in a very light dusting of cornstarch. Set aside for now.

Before frying the scallops, we'll make the fried rice. Heat both the oils in a large pan.

Add the garlic, ginger, and green onions. Cook for 1-2 minutes on medium heat.

Add the cabbage and cook until it's slightly tender.

Now add the cooked rice and let the rice sit in the hot pan for 1-2 minutes so the bottom later of the rice crisps up just a bit.

Add the soy sauce, pineapple, and pineapple juice. Stir everything together. Adjust the seasoning as needed. Turn the heat off while you fry the scallops.

Heat about 1 inch of oil in a skillet or dutch oven to 350F.

To make the batter, combine the oil, milk, and whisked egg in a large bowl.

Using a fine mesh strainer or sifter, add the flour, sugar, and salt to the liquids.

Whisk together so that the batter is very smooth and doesn't have any clumps.

Using chopsticks or a fork, gently dip the scallops into the batter to evenly coat.

Then, place the scallops one by one into the frying oil. Do not overcrowd the pan. You may need to work in batches.

Cook the scallops until they are golden brown on the outside (about 2-3 minutes). Flip the scallops about halfway through.

Remove the scallops from the oil and drain on paper towels while you fry the others.

Reheat the fried rice once all the scallops are cooked.

Portion the fried rice out and divide the scallops evenly onto the plates.

Drizzle with the spicy mayo and garnish with additional sliced green onions or chives.
Video
Nutrition
Calories:
609
kcal
|
Carbohydrates:
69
g
|
Protein:
24
g
|
Fat:
25
g
|
Saturated Fat:
5
g
|
Polyunsaturated Fat:
14
g
|
Monounsaturated Fat:
6
g
|
Trans Fat:
1
g
|
Cholesterol:
84
mg
|
Sodium:
1619
mg
|
Potassium:
486
mg
|
Fiber:
2
g
|
Sugar:
6
g
|
Vitamin A:
278
IU
|
Vitamin C:
14
mg
|
Calcium:
90
mg
|
Iron:
3
mg
Notes & Tips
You can use any mayonnaise that you'd like for the spicy mayo. Kewpie mayo (a Japanese mayonnaise) or avocado mayonnaise are good options to try. You can even try this vegan mayo.
Making fried rice is a great way to use up leftover rice. The flavor and texture is actually much better when the rice is a day old.
Substitutions & Add Ins
Fried rice is very versatile. You can add in other vegetables and herbs like chopped peppers, carrots, and/or basil.
You can use this batter with any kind of seafood. It works really well with shrimp and white fish.
You can use brown or white rice for this recipe. Whichever you prefer.
You can use bay scallops for this recipe, but they are trickier to dip into the batter. They are much smaller and will fry faster, too.
How To Make Fried Scallops Healthier?
Is it even possible to make fried scallops healthier? The short answer is no. A deep fried scallop will not be the healthiest thing that you eat today. However, we can make a few alterations to make this recipe healthier.
First, you can up the spice level. Seriously, eating spicy foods can make you healthier. Spicy foods have been known to help increase your metabolism. Also, replacing salt with spice for additional flavor will help keep your sodium levels down.
You also eat less when you're eating spicy foods. Which is beneficial if you're trying to lose weight.
You can also increase the amount of vegetables in the fried rice and decrease the amount of rice. Alternatively, you could use cauliflower rice to omit traditional rice all together.
Finally, you can ditch the deep frying and pan fry the scallops instead. If you decrease the amount of cooking oil and use a pan on high heat, you'll cook the scallops perfectly and not consume all of that extra oil.
It's not recommended to air fry the scallops after they've been dipped into the batter. You'll end up with quite the mess. But you can use an air fryer instead of deep frying for many other applications. You can read more about deep frying without oil here.
---
Recent Recipes