Homemade Fried Yuca Fries
Homemade yuca fries are a scrumptious snack or side dish that is healthier than potato French fries. And tastier, if you ask me. Making fried yuca is so easy and rewarding that you'll want to make it all the time.
Yuca, also called cassava or manioc, has a lower glycemic index than potatoes which makes them more suitable for diabetics. Or for anyone trying to avoid spikes in their blood sugar. They're also higher in vitamin C, manganese, fiber, and potassium than potatoes.
Now, there are many recipes out there, but what makes this the best yuca fries recipe is all the trials and errors that finally led to our success. These are the best yuca fries because they're full of flavor and perfectly soft on the inside and crispy on the outside.
We've also gone and reduced the prep time and cooking time with some yuca life hacks straight from my Brazilian friend's kitchen. Make sure to check the Notes & Tips for all the insights.
Does Yuca Taste Like Potatoes?
You may be wondering what yuca tastes like. Both yuca and white potatoes are starchy root vegetables that have a mild earthy flavor. The difference is that yuca is slightly sweet and somewhat nutty. But not as sweet as a sweet potato.
Fried yuca tastes a lot like potato French fries, just with a bit more flavor and a slightly different texture. Yuca has both starchy flesh that is grainy and meaty flesh that is a bit chewier. If you've never tried it before, this is your sign to make this yuca fries recipe now!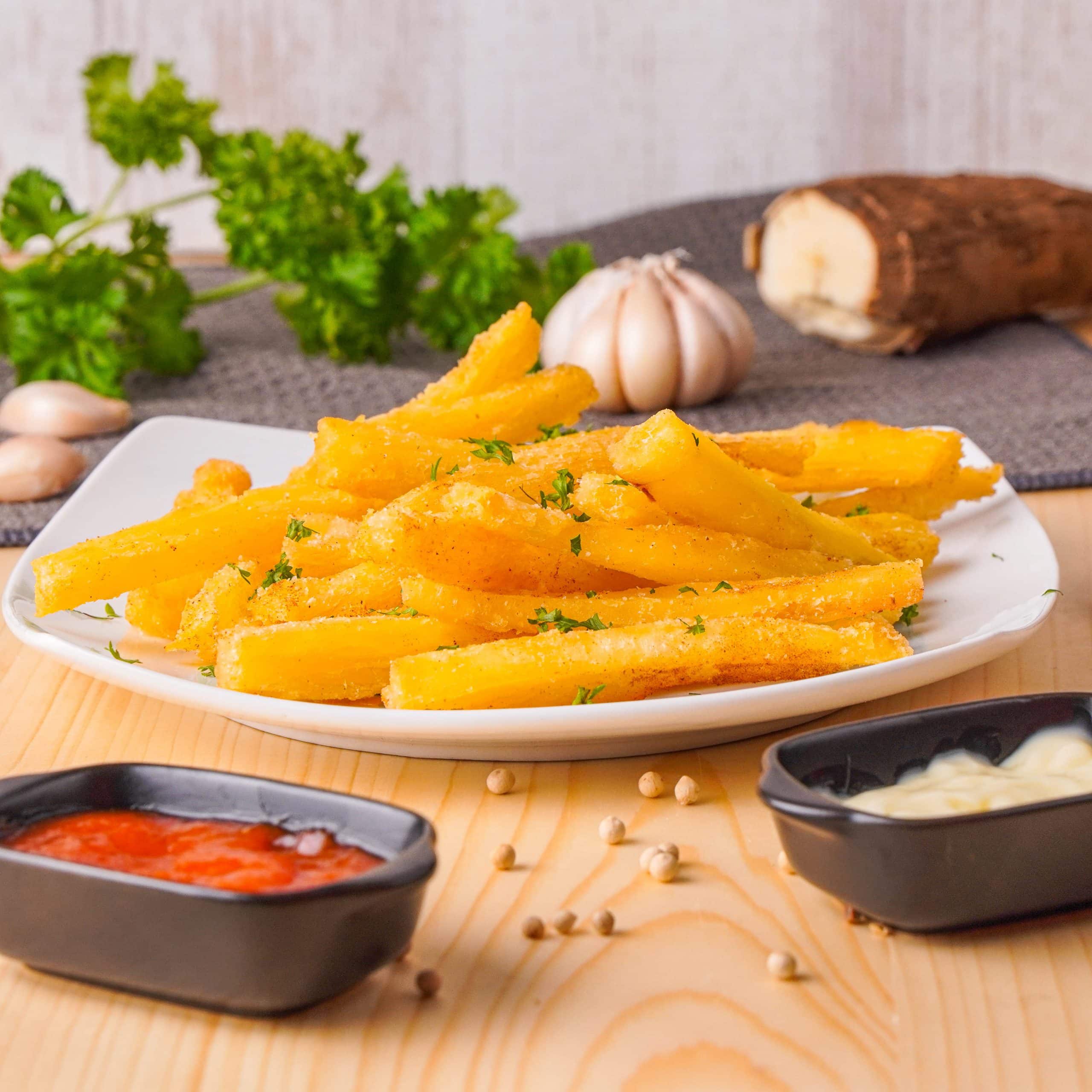 Ingredients
2

lbs.

yuca

Water for boiling

A pinch of baking soda

A pinch of salt
For frying:
Vegetable oil

peanut, canola, or rapeseed works well

Optional: 3-5 garlic cloves

peeled
To season:
Salt & Pepper to taste

Optional: chili powder or chipotle powder to season
Instructions
Cut the yuca into large slices, in about 3-4 parts, and peel them.

Boil yuca in water with salt and a pinch of baking soda until softened, but still firm (about 20-30 minutes). Alternatively, cut into French fry shapes and steam in a pressure cooker on high pressure for 12 minutes, using about 1 cup of water.

Drain the boiling water and let yuca steam until cooled down.

Cut pieces in half and remove the fibrous core, then cut into French fry shapes.

Heat oil in a deep fryer or deep pot up to 380°F, add optional garlic cloves, then fry yuca fries in small batches until golden brown and crispy – for about 5 minutes per batch. Turn around a couple of times to fry evenly.

Place on paper towels to drain excess oil then transfer to a bowl.

Toss with salt and pepper to taste, plus optional chipotle or chili powder. Serve hot with your favorite dipping sauce or as a side dish.
Nutrition
Calories:
371
kcal
|
Carbohydrates:
88
g
|
Protein:
3
g
|
Fat:
1
g
|
Saturated Fat:
0.2
g
|
Polyunsaturated Fat:
0.3
g
|
Monounsaturated Fat:
0.2
g
|
Trans Fat:
0.003
g
|
Sodium:
120
mg
|
Potassium:
630
mg
|
Fiber:
4
g
|
Sugar:
4
g
|
Vitamin A:
30
IU
|
Vitamin C:
48
mg
|
Calcium:
43
mg
|
Iron:
1
mg
Notes & Tips
Did you know that you can peel yuca super easily without a peeler? Simply make a cut longways on the piece of yuca with the point of a knife and then remove the peel with the same point of the knife. It should come off in one piece like peeling a mandarin.
I find that this method is better than using a peeler not only because it's faster, but also because you don't waste any of the yuca. Make sure to do this after you've cut the yuca into 3-4 parts.
If you want these to be the best yuca fries, add some cloves of garlic to the hot oil before frying. This will give the fries a delicious garlicky undertone that makes them so yummy.
It's easier to cut the yuca into pieces after boiling it. But if you want to reduce the boiling time, cut them into French fry shapes before boiling. Then they'll need only 10 minutes. But yuca is tougher than potatoes, so, it's not so easy to cut.
Don't overcrowd the oil while frying the yuca. Making fried yuca is just like any type of deep frying. The fries need space in between them to fry evenly and get that nice crispy texture.
Add about a teaspoon of baking soda to the water before boiling the yuca. This will make the yuca softer so you'll get a crispy exterior and a soft interior.
How To Make Yuca Fries In The Oven
To make a healthier version of yuca fries, you can bake them in the oven. In this case, follow the steps for boiling and cutting the fries into shapes (or use the pressure cooker method). Then coat with seasoning and a bit of olive oil, and place on a baking tray lined with parchment paper. Bake for 15 minutes or until golden brown and crisp. Don't overcrowd the yuca pieces.
How To Make Yuca Fries In An Air Fryer
Of course, another option for low-fat yuca fries is to make them in an air fryer. Follow the instructions for pre-boiling, cut the yuca into French fry shapes, and toss with s little oil and dry seasonings. Then, preheat the air fryer to 400F and fry for 15 minutes.
Make sure you place the yuca fries in a single layer in the air fryer basket or else they won't be crispy. Also, toss the fries every few minutes so that they'll be evenly golden brown.
What Country Did Yuca Originate From?
Yuca or cassava is a starchy, tuberous root native to South America, and most likely was first cultivated in Brazil. Nowadays, it's a major staple food in developing countries and is also gaining recognition worldwide. 
Growing cassava or yuca successfully requires a tropical climate with at least 8 months of warm weather. The largest producer of cassava today is Nigeria, while Thailand is the largest exporter of cassava starch.
Fried yuca or yuca frita is a typical dish from El Salvador, but whether they were the first to invent yuca fries is up for debate. It's an important part of the diet in many Latin American and Central American countries.
Can Yuca Be Poisonous?
Yes, cassava, if not cooked properly, can be extremely poisonous. You should never eat raw cassava because it contains naturally occurring cyanide that's dangerously toxic when consumed raw. But once cooked, yuca is entirely safe to eat.
Another thing to bear in mind is that there are two types of yuca – sweet yuca and bitter yuca. Typically, sweet yuca is what you'll find at any store, but you should always ask to confirm. This is because bitter yuca is higher in cyanide and requires hours of soaking and cooking before it can be consumed.
Is Yucca The Same As Yuca?
Although yucca is often used as another way of spelling yuca, the two are vastly different plants. Both plants are native to South America and the Caribbean but are from different families.
Yucca, pronounced "yucka", is a flowering plant with edible mildly sweet flowers, but its root is inedible. While yuca, pronounced "u-ka" is a root vegetable with a delicious edible root that is perfect for making homemade yuca fries.
---
Recent Recipes