Simple Flavorful Fruit Stuffing
Thanksgiving and Christmas are full of delicious, traditional dishes for the classic holiday feast. If you're like me though, your favorite part isn't the turkey or ham; it's the various side dishes that family and friends contribute! As long as you have a myriad of side dishes and the staples are provides, nobody gets too upset if you try something new (as long as it's super yummy). That's why I'm planning on introducing fruit stuffing this year.
I've never been a huge fan of stuffing because it seemed like bland baby food or a waste of space. That all changed when I realized how much pizazz it can have! This recipe includes cranberry, raisins, orange, and spices for a fun twist on the usual dish. This version of holiday stuffing is heartier and more flavorful than what you might be used to. It's so good that you won't feel bad about eating it all on it's own!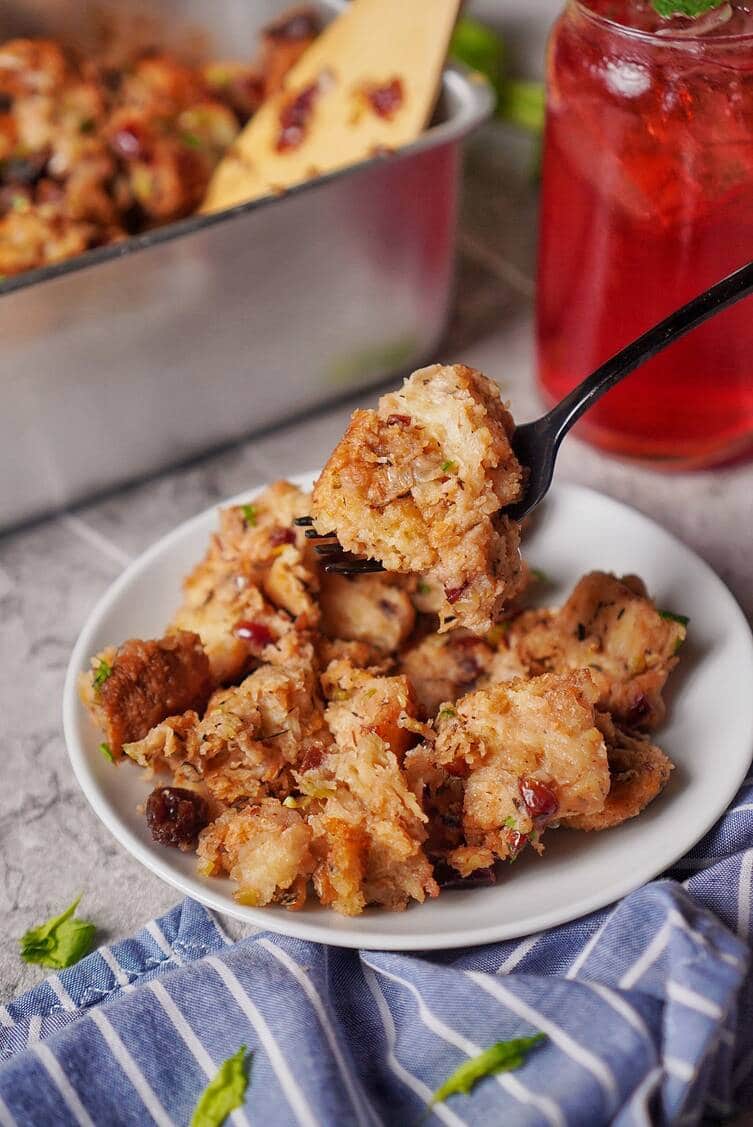 Ingredients
1

egg

1

can cranberry sauce with whole berries

1

cup

chicken broth

1/3

cup

raisins

1

tsp

orange zest

1

tsp

salt

½

tsp

ground pepper

6

tbsp

butter

1

onion

2

celery stalks

3

garlic clove

1

tsp

dried thyme

1

tsp

dried sage

1 20

inch

baguette
Instructions
Assemble your ingredients and check you have everything.

Preheat the oven to 375F and prep a 13 x 9 inch baking dish by greasing it with butter or non-stick spray.

In a medium bowl, add the egg and beat it before adding the cranberry sauce, broth, raisins, orange zest, salt, and pepper. Mix all ingredients together.

Finely chop the onion, celery, and mince the garlic. Finely chop the thyme and sage.

Heat a large pan on medium-high heat and add the butter. Once the butter has melted, add the onion and celery. Stir and cook for about 5 minutes, or until both onion and celery have become soft.

Add the garlic, thyme, and sage. Cook for another minute or so.

Pour the celery mixture into the bowl with the cranberry.

Tear or chop the bread into chunks roughly ¾ inch small (or whatever your personal preference is).

Add the bread into the cranberry bowl, then mix everything together until coated.

Dump the mixture into the prepared baking dish and cook for 30 minutes or until the top has begun to brown.

Remove from the oven and serve hot or cold.
Video
Notes
Video Note: This is made with 5 servings not 10 servings.
Nutrition
Calories:
49
kcal
|
Carbohydrates:
9
g
|
Protein:
2
g
|
Fat:
1
g
|
Saturated Fat:
1
g
|
Polyunsaturated Fat:
1
g
|
Monounsaturated Fat:
1
g
|
Trans Fat:
1
g
|
Cholesterol:
17
mg
|
Sodium:
370
mg
|
Potassium:
107
mg
|
Fiber:
1
g
|
Sugar:
1
g
|
Vitamin A:
49
IU
|
Vitamin C:
3
mg
|
Calcium:
27
mg
|
Iron:
1
mg
Substitutions
If you are vegan or vegetarian, this recipe can still be adjusted to your needs. Exchange the chicken broth for veggie broth. Use plant butter or oil instead of dairy butter. I like to use coconut oil here sometimes because it adds a little sweetness with the cranberry. For the bread, just use your favorite vegan bread. You'll need roughly 10 cups, so just keep tearing the bread up until you reach that amount.
Omit the egg entirely. Leaving out the egg means your stuffing won't hold together quite as well, but there are ways to get around that. If you don't mind a looser stuffing, don't worry about it!
If you still want to keep things together, you can use ground flax seed. Mix 1 tbsp of flax seed with 2 ½ tbsp of water. Allow it to sit for a few minutes, then stir once more before adding it. This method can be used instead of eggs for most recipes, so this is a good tip to keep on the back burner.
If you want to make this recipe gluten free, all you need to do is use a gluten-free bread instead of a traditional baguette. Like I mentioned before, you'll need about 10 cups of bread cubes, so keep tearing it up until you reach that amount.
Notes & Tips
This stuffing can be stored in the fridge for up to a week. It tastes good hot and cold, which means it's perfect for those next-day leftover brunches. You can also leave it in an air-tight container in the freezer for several months if you want to come back to fond holiday memories sometime in the future.
If you want to prepare this dish beforehand, there's a few ways you can do that. One is prepping everything in the baking dish and leaving it in the fridge overnight until you're ready to cook it the next day. If you do that, the bread will be able to soak up more liquid and it will have more of a bread pudding texture.
You could finish the recipe and store it in the fridge until you're ready, simply re-heating it in the oven. Because stuffing lasts so well, I guarantee nobody will be able to tell if it's a day old.
Serving Suggestions
If you're struggling to find a few other special sides (or mains) to serve with this fruit stuffing, fear not. Vegetarian shepherd's pie works really well as a side option during holiday feasts or a main dish for smaller occasions.
Another beautiful side to bring is mac and cheese! It melts in the mouth and goes with literally everything. Plus, kids love it. If that sounds like a good option, make it classy with a baked version like this New Orleans style mac and cheese.
If you're hosting a huge banquet for the holiday season this year, even if you've done it before, it's good to keep in mind the staples. Every good feast has bread rolls. Bread rolls are perfect for soaking up extra juices, turning into turkey sandwiches, lathering in butter, and holding the next day's leftovers. Plus, if you have picky kids at your gathering, bread is generally a necessity.
Don't forget the mandatory turkey or ham (or both), even if nobody cares about it as much as the stuffing. You'll also need some pies, cranberry sauce, beans, potatoes, and anything else you enjoy. Happy holidays!
---
Recent Recipes