Easy Funeral Sandwich Sliders (Ham & Cheese)
I had never heard of a funeral sandwich until I attended a memorial service for a friend's father who had passed. The gathering after was at the gentleman's favorite local pub. They served warm cheesy sandwiches and beer to celebrate this man's life.
Funeral sandwiches are basically hot ham and cheese sliders. And yes, they got their name because they were served after funerals. Despite the quirky name, these are great sliders to serve at a party or maybe a church gathering, as is popular in the southern United States.
What is unique about these sliders is how they are cooked. You start with soft square slider buns, such as King's Hawaiian or our homemade sweet buns. They are sliced open and filled with ham and cheese. Once the top buns go on, the sandwiches are placed side by side in a rectangular baking dish. The tops of the sandwiches are generously coated with a sauce made with butter, Worcestershire sauce, mustard, and honey. Then, you sprinkle poppy seeds over the sauce and bake until the cheese melts and the top buns are golden brown.
When your family and friends reach into the dish for a warm slider, they pull apart while the cheese stretches. It's a great experience. And the sandwiches are so darn tasty. These are perfect with a frosty beer for adults or a tall glass of chilled milk for kids. For lunch, I might serve funeral sandwich sliders with mugs of tomato soup for dunking them into.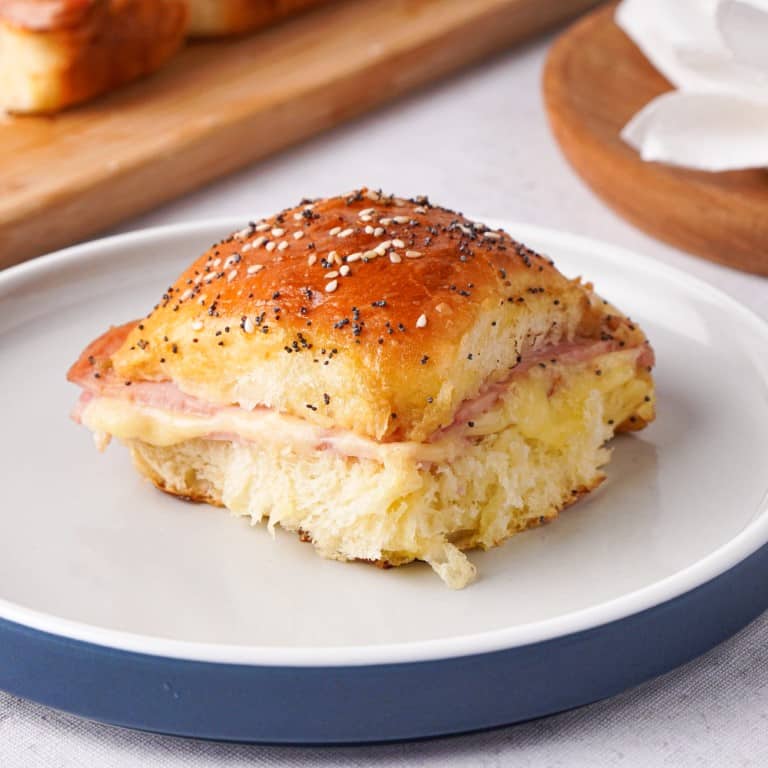 Ingredients
12

square slider buns

King's Hawaiian or similar

12

slices

deli ham

6

slices

Jarlsberg Swiss cheese

½

cup

butter

8 Tbsp

3

Tbsp

Worcestershire sauce

2

Tbsp

Dijon mustard

2

Tbsp

honey

1

Tbsp

poppy seeds
Instructions
All ingredients ready? Let's begin!

Grab a 9×13-inch baking dish.

Using a serrated knife, slice the buns in half horizontally through the center.

Fold a piece of ham to fit on top of each bun's bottom half.

Fold a slice of cheese and place that on top of the ham.

Then, fold another piece of ham to fit on top of the cheese.

Place the bun tops on each slider filling.

Place the sliders inside the baking dish lined up next to one another.

In a small saucepan over medium heat, melt the butter and honey.

Stir or whisk in the Worcestershire sauce and Dijon mustard.

Brush or spoon the sauce all over the sandwiches, allowing it to drip down the sides of the sliders.

Sprinkle the poppy seeds all over the tops of the buns.

Cover the baking dish with aluminum foil. It is believed that this dish is best if you place the sliders in the fridge for up to 4 hours to "marinate" before baking. This step is optional, in my opinion.

Preheat your oven to 350°F. Place the covered baking dish in the preheated oven. Bake for 10 minutes.

Remove the foil and continue to bake until the cheese has melted and the tops of the buns are golden and a little crisp. This will take approximately 5 to 10 minutes.

Serve the sliders while warm and gooey with plenty of napkins.
Nutrition
Calories:
429
kcal
|
Carbohydrates:
42
g
|
Protein:
23
g
|
Fat:
19
g
|
Saturated Fat:
7
g
|
Polyunsaturated Fat:
2
g
|
Monounsaturated Fat:
6
g
|
Cholesterol:
53
mg
|
Sodium:
883
mg
|
Potassium:
289
mg
|
Fiber:
3
g
|
Sugar:
13
g
|
Vitamin A:
184
IU
|
Vitamin C:
1
mg
|
Calcium:
261
mg
|
Iron:
3
mg
Notes & Tips
As mentioned in the recipe instructions, you can assemble these sandwiches ahead of time and allow them to rest in the fridge. So, if you are feeding a crowd, go ahead and make a few batches in the morning, wrap in foil, and bake them as needed later in the day.
When you place the sliders in the baking dish, make sure they touch one another so the cheese is gooey and stretchy as you pull them from the dish.
Substitutions & Variations
Deli Ham: I am partial to organic maple-cured deli ham slices for this sandwich. You can use black forest ham or any ham you like. I have also made this sandwich with turkey or turkey ham slices. And, as much as I am fearful of saying this, these sliders are actually great with mortadella or crispy bacon slices.
Jarlsberg Cheese: This sandwich is classically made with Swiss cheese. You can use Jarlsberg, Emmentaler, or Gruyere. Feel free to switch it up with mozzarella, provolone, or even American cheese slices.
Dijon Mustard: Dijon mustard is a little spicy, which I love. I also like brown mustard. If you are serving this to kids, maybe yellow mustard or honey mustard is a better choice.
Honey: The traditional funeral sandwich is actually prepared with brown sugar. I think honey works better because it melts so nicely. Maple syrup would also work.
Poppy Seeds: Not everyone keeps poppy seeds in their pantry. You can substitute sesame seeds or even shredded parmesan cheese.
Variations: You can elevate this sandwich by adding slices of roasted red peppers or very thin slices of jalapeño peppers for some heat. I am a big fan of peppery bitter greens in sandwiches, such as baby arugula. Some recipes call for granulated onion to be added to the sauce or sprinkled over the tops of the buns. I think that sounds good.
More Easy Slider Recipes
Sliders are such great party food because you can make a lot of them and they can be eaten with your hands. They aren't just tiny burgers on little buns. We have a few more slider recipes that you might enjoy.
---
Recent Recipes