Easy GAPS Friendly Greens & Bacon Frittata
If you enjoy bacon and eggs, you will love this fluffy frittata that is GAPS-friendly. It also has veggies. While following a Gut and Psychology Syndrome diet and lifestyle, you will be eating lots of high-quality protein, gut-healing fats, and fresh fruits and vegetables. Grains are not part of the protocol.
A frittata is basically a whisked egg casserole that is baked until the eggs rise and become quite airy, similar to a souffle. What distinguishes a frittata from a souffle is that the dish includes layers of other ingredients and the eggs fall or collapse shortly after the frittata emerges from the oven. This results in a dish that can be sliced into wedges for serving.
I was in Barcelona many years ago and frittatas were served at room temperature every morning. The traditional Spanish frittata has a layer of pan-seared potato slices that forms a bottom "crust". Whisked eggs are poured over the potatoes and sometimes cheese is sprinkled on top. This can be baked or pan-fried. The eggs fall quickly after being baked and the dish is a thin layered pie that is easy to pack for a picnic or to take to work or school. Slices can be eaten with your hands at room temperature. It is the perfect lunch.
I like to layer other vegetables on the bottom of my frittatas, depending on what is in season. I think this is a great way to get kids to eat more veggies. This particular recipe has bacon, onions, mushrooms, and leafy greens. The eggs are whisked with coconut milk. And the casserole is topped with cheese. It is baked at 375°F for about 20 minutes until it puffs up and is browned on top. The layers have different textures, which is an enjoyable eating experience.
One thing I like about a frittata is that I can make it on a Sunday morning while guests are sleeping because it is easy to make. It smells awesome when it comes out of the oven. I place it on the counter with a bowl of diced fresh fruit and a pot of coffee. It can sit out for a while, so everyone can eat at their own pace before heading back home.
This recipe is GAPS, SCD, keto, and gluten-free compliant.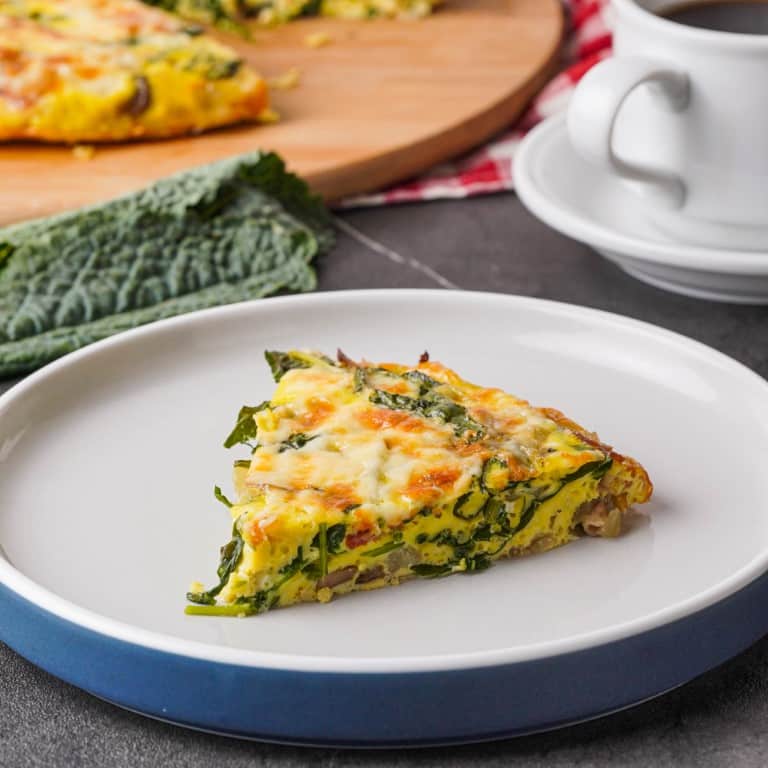 Ingredients
2

slices

natural bacon cured with honey

sliced into 1-inch pieces

1

small onion

peeled and diced

6

large button or cremini mushrooms

sliced

4

cups

loosely packed baby spinach and baby kale

12

whole organic eggs

at room temperature

¼

cup

full-fat coconut milk

mixed well

½

tsp

sea salt

¼

tsp

freshly ground pepper

⅛

tsp

ground turmeric

½

cup

shredded Monterey jack cheese
Instructions
All ingredients ready? Let's begin!

Preheat your oven to 375°F.

In a large skillet, preferably cast iron, over medium heat, sauté the bacon slices until the fat releases from the meat, approximately 5 minutes.

Add the diced onions and sliced mushrooms to the bacon. Continue to cook until the onions are translucent and the bacon has crisped up, about 3 minutes.

While the onions are cooking, prepare the eggs. In a large mixing bowl, whisk together the eggs, coconut milk, salt, pepper, and turmeric until frothy.

Place the greens in the pan and cook until they wilt, approximately 2 or 3 minutes.

Pour the eggs over the greens and bacon. Place the skillet in the preheated oven and bake until the eggs puff up, approximately 15 minutes.

Remove the frittata from the oven and quickly sprinkle the cheese over the top. Place the pan back in the oven and continue to bake until the top is browned and the eggs are cooked through, about 5 more minutes.

Remove the frittata from the oven and place it on your stovetop to cool slightly. Cut into pie-shaped wedges and serve warm or at room temperature.
Nutrition
Calories:
200
kcal
|
Carbohydrates:
4
g
|
Protein:
15
g
|
Fat:
14
g
|
Saturated Fat:
7
g
|
Polyunsaturated Fat:
2
g
|
Monounsaturated Fat:
4
g
|
Trans Fat:
0.03
g
|
Cholesterol:
337
mg
|
Sodium:
400
mg
|
Potassium:
370
mg
|
Fiber:
1
g
|
Sugar:
1
g
|
Vitamin A:
2446
IU
|
Vitamin C:
7
mg
|
Calcium:
144
mg
|
Iron:
3
mg
Notes and Tips
It is best to have the eggs at room temperature for just about every recipe. Cold eggs can stop the cooking of whatever you add them to and cool down the pan. This recipe is no exception. You want the pan to be hot when it goes into the oven. Many people don't know that organic and free-range egg producers often store their eggs at room temperature, not in a fridge.
Make sure you stir the top layer of coconut cream into the coconut water inside the can of coconut milk so it is a thick consistency.
Substitutions
Bacon: Bacon is a tricky GAPS ingredient. GAPS does not love processed, smoked, or sugar-cured meats. Bacon that is honey or maple syrup and salt-cured is available, but you have to read the labels. Try to avoid added nitrates and sugar. If you can't find an acceptable bacon, you can substitute salt-cured pancetta or guanciale. Or, you can omit the bacon and add some extra mushrooms. Just cook the veggies in coconut oil or ghee if not using bacon grease.
Mushrooms: Button and cremini mushrooms are pretty neutral in flavor. Don't be shy about using shitakes or morels for a more pronounced mushroom flavor.
Spinach and Kale: I much prefer baby greens in this recipe because they aren't as fibrous as mature greens, which tend to fight with the delicate nature of the eggs. I buy a package of triple-washed baby or spring greens that I add to many dishes. You can certainly use other greens, such as Swiss chard, arugula, escarole, beet greens, or dandelion greens. Dark leafy greens are your friends on the GAPS diet because they are packed with nutrition and fiber and are so low in calories.
Coconut Milk: I don't always add coconut milk to my frittatas, especially if the eggs have giant, creamy, yellow yolks that I find at the free-range farmer's market. Coconut milk adds some richness and fat. This type of fat helps to soothe the lining of the intestines for those who suffer from Gut dysbioses, such as bacterial overgrowth and IBS. You can substitute almond milk or leave it out altogether.
Monterey Jack Cheese: Cheese is not recommended for those who are lactose intolerant or simply have trouble digesting dairy in the initial stages of the diet. You can easily omit the cheese or add a couple of tablespoons of nutritional yeast to the egg mixture for a little cheesy flavor. As well, there are plenty of other GAPS-compliant cheeses, such as cheddar and parmesan.
---
Recent Recipes