GAPS-Friendly Shepherd's Pie With Cauliflower Mash
Shepherd's pie is one of those comfort foods that is hard to pass up when offered at the dinner table. It is meaty, creamy, and excellent when served piping hot. A classic shepherd's pie is less of a pie and more of a casserole. It generally has a base of well-seasoned minced or ground meat, usually lamb or beef, a layer of green vegetables, and a topping of mashed potatoes.
This dish is almost GAPS-approved just as it is. However, mashed white potatoes are not really allowed on a GAPS and Paleo diet because they are very starchy and generally have a lot of commercial dairy in them. I do love creamy mashed potatoes, but I have made shepherd's pie for guests without the potatoes and have not gotten any complaints.
Instead of potatoes, I usually make a topping with mashed or puréed cauliflower. I have also tried celery root purée and butternut squash mash. I add ghee or lactose-free cultured butter and almond milk for the creaminess. You could also add homemade yogurt. I actually prefer these vegetable mashes now to potatoes because they have so much more flavor all by themselves.
Vegetables are my weakness. I know that probably sounds crazy. Shouldn't my weakness be a bag of peanut M&Ms? Once my Mom and I started a garden while I was in high school, I learned what fresh veggies tasted like and was over the moon. When I grew up, we ate a lot of frozen and canned vegetables. So, having fresh garden produce all summer was nirvana to me.
I tend to add more veggies to my shepherd's pie than is traditional. This recipe is no exception. I add onions, garlic, carrots, and mushrooms to the ground meat layer. My green vegetable layer is simply green beans. Here's the thing, you can skip all the extra veggies and use more ground meat and that is totally fine. But, maybe give this a try and you might like it.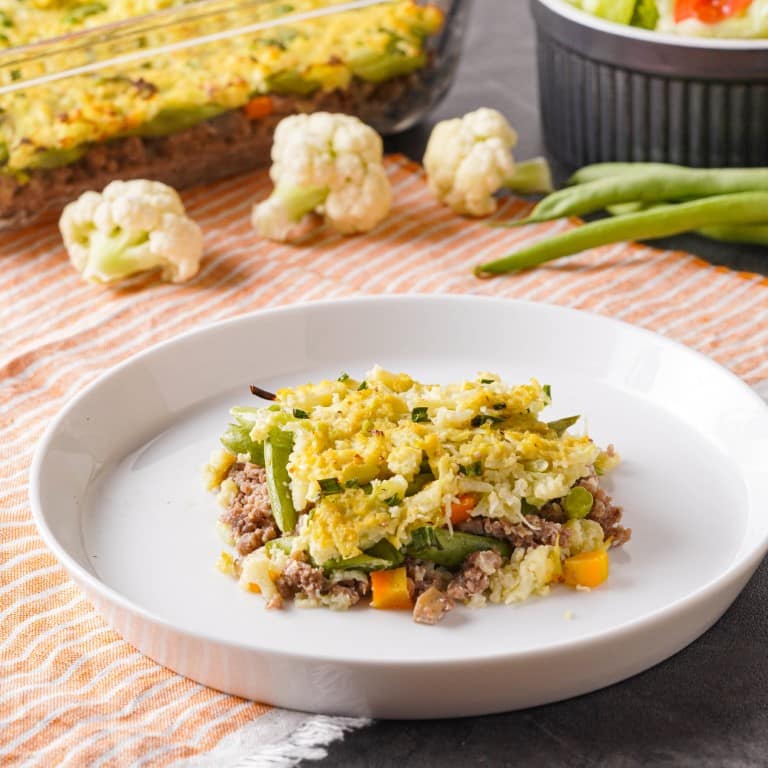 Ingredients
3

cups

cauliflower florets

about 1 ½ heads

4

Tbsp

ghee or lactose-free butter

cultured if available, divided

½

cup

chopped onions

½

cup

diced carrots

½

cup

diced button mushrooms

3

cloves

of garlic

minced

1

pound

ground beef

2

tsp

sea salt

divided

1

tsp

freshly ground pepper

divided

2

Tbsp

coconut aminos

4

cups

of green beans

trimmed and sliced into 1-inch pieces

2

whole eggs. beaten

2

Tbsp

unsweetened almond or coconut beverage

more if needed

1

Tbsp

chopped fresh chives
Instructions
All ingredients ready? Let's begin!

Set up a steamer pot over high heat with the water just below the steamer basket. Bring the water to a boil. Add the cauliflower florets, reduce the heat to medium-low, cover the pot, and steam until fork tender, approximately 20 minutes. If you don't have a steamer basket, you can cook the cauliflower in about an inch of simmering water.

While the cauliflower is cooking, add 2 tablespoons of ghee or butter to a skillet over medium heat.

When it melts, add the onion and carrots to the pan and cook for 2-1/2 minutes.

Stir in the mushrooms and garlic and continue to cook until the garlic is aromatic, about 1 minute.

Add the ground beef, 1 teaspoon of salt, and 1/2 teaspoon of pepper to the pan, breaking it up with a spoon. Sauté, stirring a few times, until the beef is fully cooked, approximately 5 minutes. Turn off the heat and drain the excess fat from the beef and vegetable mixture. Stir in the coconut aminos.

When the cauliflower is tender, remove it from the heat and drain it in a colander. Allow the cauliflower to cool off for at least 5 minutes. Save the pot for mashing the cauliflower.

Preheat your oven to 350°F.

In a 9 x 13-inch baking dish, place the beef in a single layer. Layer the green beans on top.

Meanwhile, turn the heat to low and place the pot that the cauliflower was steamed in on the burner. Add the remaining 2 tablespoons of fat to the pot. Once that melts, turn off the heat and add the cooked cauliflower, non-dairy milk, beaten eggs, and remaining salt and pepper. Mash the cauliflower until creamy or use an immersion blender to purée it until smooth. Add more milk if it is too thick. You can also puree the cauliflower in a food processor. Just don't over process or it will be gummy.

Spoon the cauliflower mash over the green beans and spread it out in an even layer with a silicon spatula. Sprinkle the chives over the cauliflower.

Place the baking dish in the oven and bake for 30 minutes until the pie is bubbling and hot.

Allow the pie to cool for 5 minutes, then serve with your favorite salad on the side.
Nutrition
Calories:
268
kcal
|
Carbohydrates:
9
g
|
Protein:
13
g
|
Fat:
20
g
|
Saturated Fat:
9
g
|
Polyunsaturated Fat:
1
g
|
Monounsaturated Fat:
8
g
|
Trans Fat:
1
g
|
Cholesterol:
100
mg
|
Sodium:
741
mg
|
Potassium:
465
mg
|
Fiber:
3
g
|
Sugar:
4
g
|
Vitamin A:
1793
IU
|
Vitamin C:
27
mg
|
Calcium:
55
mg
|
Iron:
2
mg
Notes & Tips
You can assemble the shepherd's pie ahead of time and simply bake it 30 minutes before serving. Once baked, the leftovers can be kept in the freezer.
If you aren't following a GAPS protocol, you can make this pie with mashed potatoes and milk.
Substitutions, Shortcuts & Additions
Cauliflower: This pie topping can be prepared with celery root (celeriac), winter squash, rutabaga, or Japanese white sweet potatoes.
Ghee or Butter: Some GAPS patients do not tolerate any dairy at first. If that is the case, you can use coconut oil or extra virgin olive oil. The GAPS diet allows for tallow and other animal fats.
Carrots and Mushrooms: You don't have to add the extra veggies in the beef layer, but I like the nutrition and fiber they bring to the dish and it is a way to get kids to eat their vegetables. I often use organic frozen carrots and peas that come in a bag. That is easy and saves time. You can also substitute diced red and green bell peppers or chopped celery.
Ground Beef: If my market has ground lamb, that is what I make shepherd's pie with. If I want to avoid the fat cintent in red meat, I use ground dark turkey meat. For a vegetarian shepherd's pie, I will make this with cooked lentils and mushrooms – it is delicious.
Green Beans: I have a fondness for peas, so I will often do a layer of peas instead of green beans. I use frozen organic peas. I also love a layer of leafy greens and will use frozen chopped spinach that I have thawed and squeezed the moisture out of.
Eggs: I will be totally up front and say that I don't always add eggs to my mash. It does make the top layer a bit fluffy, but we have some egg allergies at home. This dish is fine without eggs. However, I will sometimes add a bit of GAPS-compliant cheese to make the top layer creamier and more flavorful, such as cheddar or creamy brie.
Non-Dairy Milk: I am 100% onboard with using GAPS-compliant homemade yogurt instead of non-dairy milk in my mash. The tanginess and probiotic qualities are delicious and nutritious.
Chives: Chives are so delicate and yet so flavorful. This ingredient is optional. I just love the speckled green. You could simply garnish the pie with fresh chopped flat-leaf parsley before serving.
---
Recent Recipes