Easy Creamy Garlic Salmon Pasta
As much as I love simple creamy pasta, it can be quite a bland meal. So I decided I wanted to take the dish to a whole new level with my easy creamy garlic salmon pasta! It's a fancier version of a basic and popular noodle dish, so it's usually a big hit.
Not all of my family are big fish fans, so this garlic salmon pasta isn't always their meal of choice. To accommodate the fish-haters in your life, try this dreamy creamy chicken rasta pasta instead. It is just as creamy as this garlic salmon pasta, but made with a fun Jamaican influence. Or if you find yourself with some left-over salmon, don't let it go to waste! Use your leftover to make a simple but refreshing ahi poke bowl.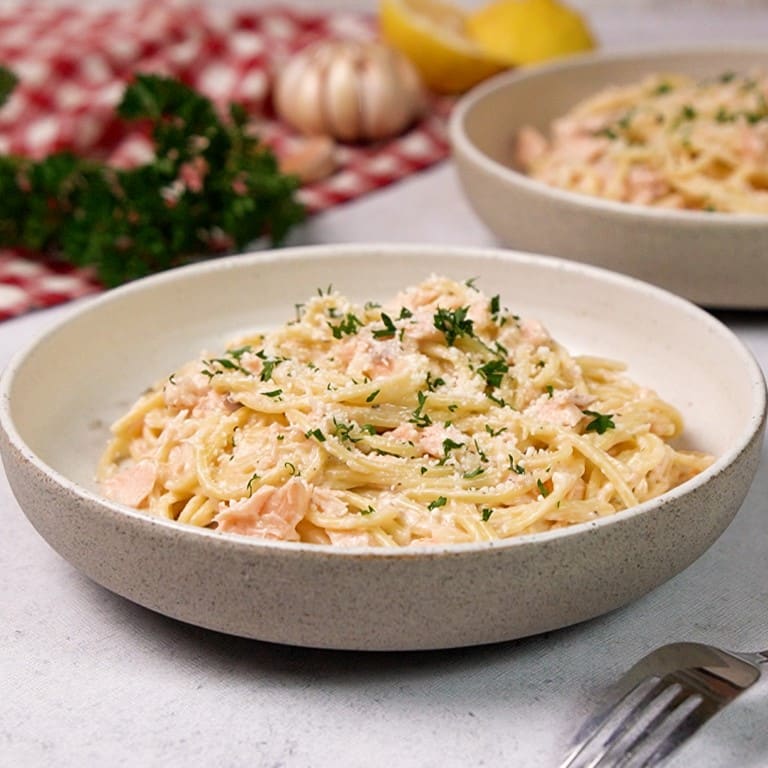 Ingredients
4

cups

of spaghetti

3

salmon fillets

1

tablespoon

salt

1

teaspoon

pepper

1

onion

5

garlic cloves

2

tablespoons

butter

1

tablespoon

olive oil

1 ½

tablespoon

flour

½

cup

chicken broth

1

cup

whipping cream

2

tablespoons

lemon juice

2

teaspoons

Italian seasoning

½

cup

freshly grated parmesan cheese

Sprigs of fresh parsley
Instructions
All ingredients ready? Let's begin!

Start off by filling a large pan with hot water and bringing it to a boil. Then sprinkle in a pinch of salt and add all of your pasta.

While your pasta is cooking, prep your salmon fillets. Lay your salmon fillets on your work top and pat them dry using some kitchen roll. This will ensure a crispier finish to the salmon.

Season the salmon fillets with a generous amount of salt and pepper. Do this on both sides of all of your salmon fillets.

Check on your pasta before you start cooking your salmon fillets. When it is al dente (still a little firm bust mostly cooked) remove the pasta pot from the heat.

Drain the pasta and toss with ½ tablespoon of olive oil. This will prevent the spaghetti from sticking together while you prep the rest of your meal. Set the pasta aside for now.

Prepare a large, non-stick frying pan by heating the butter and ½ tablespoon of olive oil together on a medium high heat.

When the oil is sizzling, take your salmon fillets and place them directly into the oil, skin side up if applicable. Be careful of any splashing oil.

Allow the fillets to sear for 5 minutes then flip the salmon over, searing the other side for a further 5 minutes or until fully cooked. You will be able to tell when the salmon is cooked by how flaky it is.

As soon as the salmon has reached peak flakiness, turn off the pan and move the salmon fillets to a clean plate or chopping board.

Grab 2 forks and shred the salmon, turning the fillets into perfect bite size pieces. Do this as soon as the salmon is out of the pan. Set aside.

Reheat the same pan that you used to cook the salmon, this time on a medium high heat again.

Peel and finely dice the onion and garlic, then add to the pan and saute for about 2 minutes or until they emit a deliciously fragrant smell.

Switch to a whisk and mix the flour into the pan, cooking for a further 1 minute to properly incorporate. Do not worry if the flour makes your pan too dry at this point, just keep mixing.

After 1 minute, slowly pour your broth into the pan, stirring all the while. Give the whole sauce a good mix until no floury lumps remain.

Like with the broth, slowly add your heavy cream to your sauce and continue to stir.

After your broth and cream are fully incorporated, you can add the Italian seasoning and parmesan cheese to the sauce. Add some salt and pepper for seasoning as well and mix everything other until fully combined.

Allow the sauce to reach a simmer and then quickly reduce the heat to medium low.

Stir the sauce consistently for 5 or so minutes while it reduces to stop it from burning at the bottom.

As soon as the sauce is at your desired thickness, turn off the heat and add the cooked and shredded salmon directly to the sauce. Stir with a wooden spoon to help evenly distribute the salmon the sauce.

Finally, add in your cooked pasta and gently toss everything together to properly combine.

When you are ready to serve, give each plate a quick drizzle of lemon juice and a pinch of chopped fresh parsley. Some grated parmesan cheese can also be served for that little extra flair.
Nutrition
Calories:
920
kcal
|
Carbohydrates:
124
g
|
Protein:
42
g
|
Fat:
27
g
|
Saturated Fat:
12
g
|
Polyunsaturated Fat:
4
g
|
Monounsaturated Fat:
8
g
|
Cholesterol:
98
mg
|
Sodium:
1433
mg
|
Potassium:
881
mg
|
Fiber:
6
g
|
Sugar:
7
g
|
Vitamin A:
705
IU
|
Vitamin C:
4
mg
|
Calcium:
197
mg
|
Iron:
3
mg
Notes & Tips
If you have any leftovers, you can store them in an airtight container in the fridge for up to three days. When you are ready to eat again, you can reheat it in the microwave. I recommend adding a little bit of water to the noodles before reheating if it seems like they might stick together too much.
Substitutions
To add a little zing to your pasta dish, try replacing the chicken broth with a white wine. The wine will still be light like the broth but will make the dish feel creamier. White wine is an easy way to elevate the taste of sea food, too, so it is ideal for a creamy salmon pasta. If you are worried about wine making the dish too boozy, rest assured that the alcohol in the wine should cook out and leave only the taste without any of the intoxicants.
Some may find parmesan cheese either too rich or just outside their budget. You can use a cheaper, milder cheese if you wish like young cheddar. However, the overall taste of your creamy sauce will be less impactful. You will also have to use a little more broth for the thicker cheese.
---
Recent Recipes