Easy Garlicky Shrimp Alfredo Bake
Pasta is a classic, easy, and affordable dish to make. It can be very filling and is a great option for feeding a large group of people or even just making your lunches for the upcoming week. That being said, sometimes we lapse into the pattern of making the same pasta dishes over and over again. When that happens, it's easy to get really bored of pasta. Luckily, this garlickly shrimp alfredo bake is just the thing to pull you out of a pasta slump!
There are a few unique aspects about this dish. One thing is the shrimp. I used to avoid using shrimp because I wasn't sure how to prep it, but it's surprisingly easy to do. You can even buy frozen shrimp peeled and devined so you don't have to do anything except cook it. My favorite unique feature of this recipe is that it's not just a regular alfredo pasta — it's a whole pasta bake. Something about the crunchy goodness of cooking pasta like a casserole makes it extra special.
None of the ingredients in this recipe are hard to find, so you may already have everything you need in your pantry. If you're saving your penne pasta for this yummy chicken rasta pasta recipe, I offer some pasta substitution ideas below. If you have shrimp that you need to use up, but you are not really feeling pasta right now, I highly recommend this simple harissa shrimp recipe instead. The harissa shrimp packs a bunch with a lot of spices and pepper, so make sure you can stand the heat!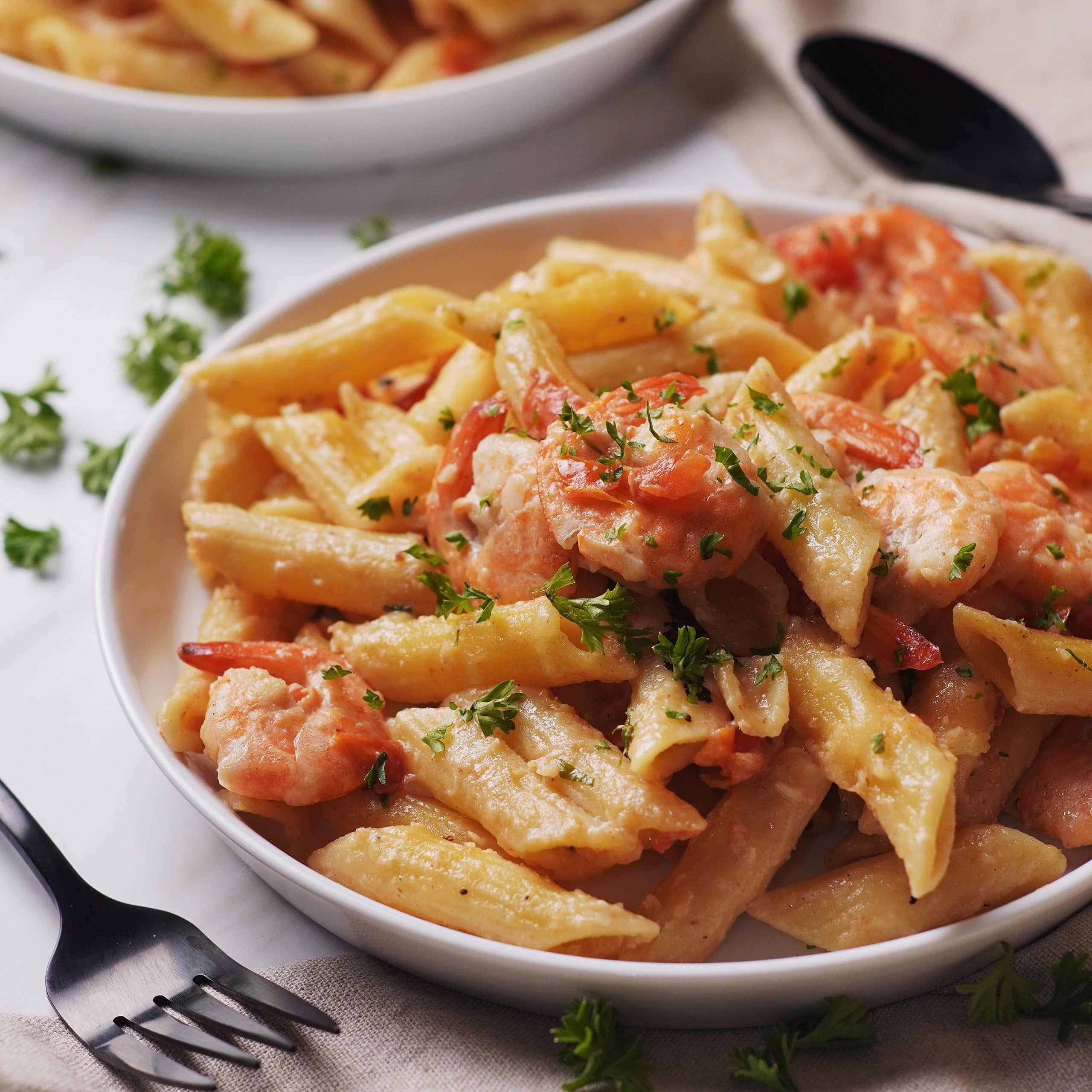 Ingredients
2

cups

raw medium shrimp

4

cloves

garlic

crushed

2

tbsp

fresh parsley

1

cup

chopped tomatoes

3 ½

cups

penne pasta

3

tbsp

butter

1 ½

tsp

salt

2

tbsp

flour

¾

cup

milk

¼

cup

low-sodium chicken stock

½

cup

shredded mozzarella

4

tbsp

freshly grated Parmesan

¼

tsp

black pepper
Instructions
Prepared all the ingredients? Let's begin!

Peel and devine the shrimp, or make sure to buy them peeled and devined. Crush and finely chop the garlic. Finely chop the parsley, but reserve a few springs for garnishing. Chop the tomatoes or use canned tomatoes.

Preheat the oven to 355F.

In a large pot, cook the pasta according to the instructions on the package. Sprinkle about 1 tsp of salt in the water. Before bringing to a boil. Cook slightly shorter than the instructions direct so the pasta is still a little bit firm.

In a large, cast-iron skillet or other oven-safe pan, heat 1 tbsp of butter over medium heat. Add in the shrimp, garlic, chopped parsley, and ¼ tsp of salt.

Cook the shrimp mixture for about 2 minutes on one side, then flip them and cook another 2 minutes. The shrimp should become pink and lose their translucency.

Once the shrimp is cooked, use tongs or a spatula to transfer it all to a plate. You want to leave the liquid in the skillet.

Put the skillet back on the stovetop and add 2 tbsp of butter and let it melt over medium heat.

Add the flour to the skillet and stir for about a minute. Add the milk and stock and continue to stir. Keep stirring until the contents begin to simmer.

Add in half the mozzarella and parmesan, along with ¼ tsp of salt and ¼ tsp of pepper. Stir the cheese into the milk until it melts and combines.

Once the cheese has melted, add the shrimp, tomatoes, and the pasta you cooked earlier. Toss everything together until the shrimp and pasta is heavily coated with the sauce. If the sauce seems too thick, you can add another splash of milk.

Pat the pasta and shrimp in an even layer across the skillet, then cover the top with the remaining mozzarella and parmesan cheese.

Put the skillet in the oven and cook for about 7 minutes, or until the cheese gets super melty. If you prefer a crispy crust on top, you can turn your oven broiler on for 3 minutes, but make sure to not burn anything.

Remove from the oven, plate up, and garnish with a dainty spring of parsley. Enjoy!
Video
Nutrition
Calories:
594
kcal
|
Carbohydrates:
83
g
|
Protein:
45
g
|
Fat:
9
g
|
Saturated Fat:
4
g
|
Polyunsaturated Fat:
1
g
|
Monounsaturated Fat:
2
g
|
Trans Fat:
1
g
|
Cholesterol:
211
mg
|
Sodium:
1310
mg
|
Potassium:
777
mg
|
Fiber:
4
g
|
Sugar:
7
g
|
Vitamin A:
466
IU
|
Vitamin C:
9
mg
|
Calcium:
320
mg
|
Iron:
3
mg
Notes & Tips
This dish can be stored in the fridge for 5 days. You can transfer the pasta bake into Tupperware, or cover the skillet with aluminum foil or a silicone lid and put the whole thing in the fridge. Just warm this up in the microwave when you're hungry again. If it gets too dry, you can add a little milk before reheating it.
Substitutions
If you don't have penne pasta, that's okay. Sometimes I use elbow pasta for this recipe because I like the shape better. You could also use shell pasta if you want. I don't recommend using any longer pasta like linguine because it will be more difficult to serve.
Serving Suggestions
I think steamed broccoli goes deliciously well with this dish and it's super simple and quick to make. Chop the broccoli florets from the stem and place the florets in a pot with an inch or so of water in it. Sprinkle some salt over and cover with a lid before putting on the stovetop over medium-high heat. 
Cook for 7-10 minutes, or until the broccoli darkens in color. You can test the softness of the broccoli with a fork. I prefer my steamed broccoli to have a softer texture, so if I can easily pierce the broccoli with a fork, I'm satisfied. If you prefer a harder broccoli, cook for less time.
If you've made this dish one too many times, but aren't ready to give up on it yet, consider making it with the simple harissa shrimp recipe I mentioned at the beginning of this recipe. It will make your alfredo bake spicy and give you a whole new outlook. After all, one of the joys of cooking is mixing things and ideas together to make the perfect meal for you.
---
Recent Recipes