Homemade Gluten-Free Donuts
During a recent family gathering, I watched as my niece fed her 4-year-old son bacon and eggs for breakfast while everyone else was enjoying pastries and donuts. To say he was not happy would be an understatement. She kept reminding him that he can't have gluten, which was completely lost on the little guy. But I understood because I try not to eat too much gluten either.
This little episode inspired me to work on another gluten-free donut recipe that would appeal to kids. I have made gluten-free donuts before and they were perfectly fine, though a little more for an adult palate. Both times they were baked in an air fryer. The first was classic yeast-risen donuts, which took some time and they were a little dense because of the lack of the gluten protein. I coated them in a classic sugar and milk glaze. The second batch was egg-risen but with a sophisticated autumnal spice blend that might be a little aggressive for kids.
This recipe for gluten-free donuts is a little more kid-friendly and they are baked in a conventional oven. They are made with eggs in the batter so they are more cakelike than yeasted donuts, which kids seem to enjoy as much as grownups. They are then coated in a cinnamon and sugar blend. What kid doesn't like cinnamon toast? These donuts remind me of my mom's toast that she slathered with butter and then sprinkled with sugar and cinnamon. This was my favorite breakfast when we had a snow day and school was canceled.
To bake classic donuts with a hole in the center, you do need a specific donut pan. These pans are similar to muffin tins, yet each cup has a raised center that you pour the batter around so you get that classic donut hole. The pans are either non-stick metal or silicon. Whichever you use, you still need to grease or spray the cups so the donuts will release easily.
The ingredients in these donuts are pretty simple and you likely already have them in your gluten-free pantry. They include:
Eggs
Milk
Oil
Vanilla
Sugar
Salt
Gluten-free flour blend
Baking powder
Cinnamon
I'll suggest substitutions after the recipe for those who want to change things up or who have special dietary requirements.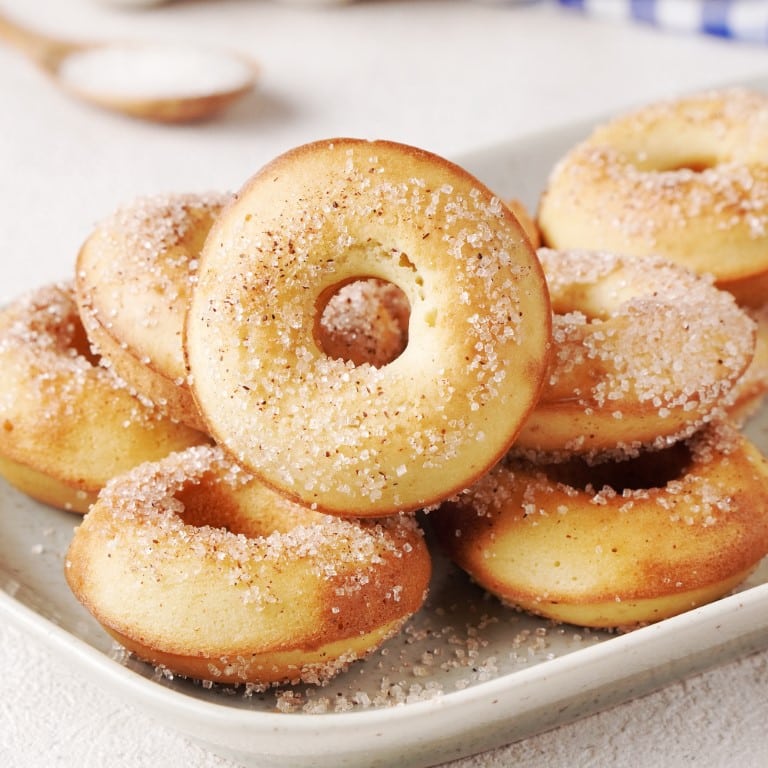 Ingredients
2

large eggs at room temperature

¾

cup

whole milk

½

cup

neutral oil

avocado, almond, or grapeseed

2

tsp

pure vanilla extract

⅔

cup

granulated sugar

1

tsp

sea salt

2

cups

gluten-free flour blend

½

tsp

aluminum and gluten-free baking powder

½

cup

granulated sugar

2

tsp

ground cinnamon
Instructions
All ingredients ready? Let's begin!

Preheat your oven to 425°F. Generously grease two 6-cup donut pans. Set these aside.

In a large mixing bowl, combine the eggs, milk, oil, vanilla, sugar, and salt. It is best to do this with an electric hand mixer so that everything is creamy. Or, use a whisk.

Add the flour and baking powder and mix again until you get a smooth batter.

Spoon the batter into each donut cup. Place the pans inside the oven and bake for 7 to 10 minutes until golden brown. Test the donuts by inserting a toothpick into the center of one. If it comes out clean, the donuts should be cooked through.

Remove the donut pans from the oven and place them on a wire rack to cool. Meanwhile, whisk together the remaining sugar and the cinnamon in a small, shallow bowl.

Once the donuts are just cool enough to handle but still a little warm, remove them from the pans, using a silicon spatula if necessary. Dip them in the cinnamon and sugar on all sides. Place them back on the wire rack to continue to cool.

Enjoy for breakfast, or place candles in them for a fun spin on a birthday cake.
Nutrition
Calories:
246
kcal
|
Carbohydrates:
35
g
|
Protein:
4
g
|
Fat:
11
g
|
Saturated Fat:
2
g
|
Polyunsaturated Fat:
2
g
|
Monounsaturated Fat:
7
g
|
Trans Fat:
0.003
g
|
Cholesterol:
33
mg
|
Sodium:
225
mg
|
Potassium:
37
mg
|
Fiber:
2
g
|
Sugar:
21
g
|
Vitamin A:
71
IU
|
Vitamin C:
0.01
mg
|
Calcium:
53
mg
|
Iron:
1
mg
Notes & Tips
If you are making donuts that you want to fill with jam, pastry cream, or chocolate, you can bake them in a muffin tin without the hole, though they will be mini donuts. But that is okay too. If you aren't ready to invest in a donut pan, experiment with your muffin tin first with this recipe. Just don't fill each cup more than halfway.
This recipe calls for cooking at fairly high heat. This technique ensures that the donut exteriors will get a little crisp, almost like they were fried. That is also another reason to grease the donut tins. If you prefer more of a soft texture, bake at 350°F for 18 to 20 minutes.
Substitutions & Variations
Eggs: An egg allergy is unfortunate when it comes to baking. I know from personal experience. Though, mine isn't life-threatening. I will sometimes use liquid vegan eggs, such as Just Egg. It works as a binder and helps a little with rising. I also increase the baking powder to 1 teaspoon and add 1 teaspoon of baking soda. The donuts aren't as cakey, but they are still good.
Whole Milk: Dairy is another ingredient that is iffy, especially for those with lactose intolerance. I am a big fan of almond and coconut milk for baking. I even use almond milk on my morning gluten-free cereal. Really, any non-dairy milk should work, especially those with a higher fat content like nut milk.
Granulated Sugar: I actually like to switch it up by using brown sugar in this recipe for more depth of flavor and warm tan color. You can also use a sugar substitute, though the only ones I like are coconut sugar and stevia. I think coconut or palm sugar would work much better than stevia.
Gluten-free Flour Blend: There are so many great GF blends available these days. You can also make your own. I always keep bags of almond, cassava, chickpea, buckwheat, rice, coconut, and teff flour in sealed bags in my fridge. I love experimenting with different GF flours and making my own blends. If you aren't GF, go ahead and use all-purpose flour or whole wheat pastry flour.
Cinnamon/Sugar: Some kids don't really love cinnamon, which surprised me recently when a niece revealed that she hates raisins and cinnamon – two of my favorite ingredients in baked goods. If your little ones aren't onboard, simply dip the donuts in either a glaze of melted powdered sugar and milk and then coat them with colorful sprinkles. You won't get any turned-up noses for that.
Chocolate: If you want to go the chocolate route, skip the vanilla and add 3 tablespoons of unsweetened cocoa powder or carob powder to the flour. Then, dip the donuts in a melted blend of dark (sweet) chocolate and milk or cream. It is decadent but really good.
---
Recent Recipes