The Ultimate Grandma's Best Lasagna Recipe
The key to every authentic Italian lasagna like grandma used to make it is a good ragu. We've used a combination of pancetta and short-rib stewed until soft to impart meatiness like few other bakes can compare to. All of the essential herbs and spices are there with a blend of three different types of cheese. Our grandma's best lasagna recipe comes out rich, solid and dripping with cheese. It's a recipe that takes a great deal of preparation but every last minute is worth it.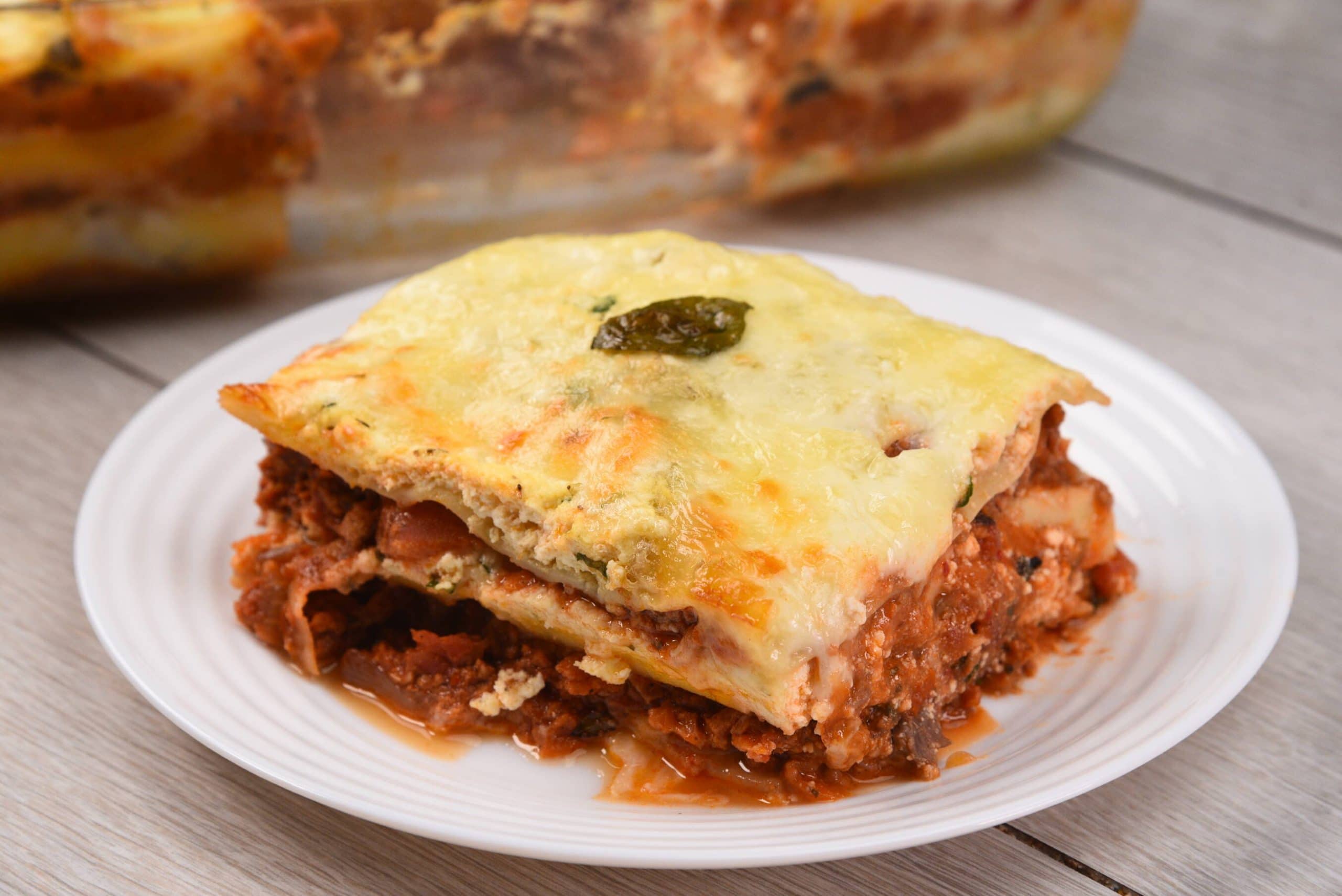 Ingredients
12

Uncooked Lasagna Noodles

2

Pounds

Beef Short-Rib

2

Large Brown/Yellow Onions

4

Cloves

Garlic

Pressed & Minced

1

Teaspoon

Dried Oregano

1

Teaspoon

Ground Black Pepper

1

Tablespoon

Salt

1

Sprig Fresh Rosemary

1

Cup

Red Wine

1

Cup

Dissolved Beef Bullion

¼

Pound

Pancetta

Diced

2

Carrots

Grated

2

Stalks Celery

Finely Sliced

½

Teaspoon

Red Pepper Flakes

½

Teaspoon

Ground Fennel

½

Teaspoon

Ground Coriander

½

Teaspoon

Ground Black Pepper

½

Teaspoon

Paprika

½

Teaspoon

Cayenne Pepper

½

Teaspoon

Dried Oregano

2

Tablespoons

Fresh Parsley

Finely Chopped

2

Pounds

Italian Sausage

1

Tin Chopped Tomatoes

1

Tin Tomato Puree

2

Tablespoons

Lemon Juice

1

Sprig Fresh Thyme

6

Ounces

1 Can Tomato Paste

¼

Cup

Parmesan Cheese

Grated

Flour For Dusting

1

Tub Ricotta Cheese

2

Eggs

Beaten

1

Tablespoon

Fresh Basil

Chopped

1

Tablespoon

Fresh Oregano

Chopped

1

Tablespoon

Fresh Parsley

Chopped

1

Tablespoon

Cornstarch

2

Cups

Pecorino Romano

Grated

2

Cups

Mozzarella Cheese

Grated

6-8

Tablespoons

Fresh Basil Leaves
Instructions
Pre-boil the lasagna sheets in salted water for five to six minutes. Drain, shock, and set aside.

Heat a large pot with a heavy base suited to sauces over high heat.

Season the short-ribs liberally with salt, pepper, and dried oregano.

Sear the short-ribs at a high heat for approximately three minutes a side or until evenly browned.

Remove the seared short-ribs, set aside and add one chopped onion to your pot or pan.

Fry until translucent, add two cloves of pressed garlic, a teaspoon of dried oregano, a teaspoon of ground black pepper, a tablespoon of salt, and a spring of fresh rosemary.

Stir in a cup of red wine and scrape the bottom of the pan to loosen all the roasted bits.

Stir in a cup of dissolved beef bullion, put the short-rib back in the pot, reduce the heat to low, cover and cook for three hours.

Reserve the stock, remove the short-ribs from the pot, and allow them to cool down.

Once cool enough, use a fork to break the meat apart for later inclusion in your lasagna.

Heat a large skillet or saucepan over medium heat and fry the diced pancetta until the fat renders. Remove the pancetta and set aside.

Use the same pan over medium heat to saute another large onion until the first signs of translucency.

Add the garlic and red pepper flakes and saute until the garlic begins to emit a strong aroma.

Mix in the celery and carrot, constantly stirring until the onions begin to brown.

Transfer the chopped tomatoes, a tablespoon of fresh parsley, a teaspoon of ground pepper, and all the dried herbs to the pan and saute for two minutes.

Add the uncased Italian sausage and the finely chopped pancetta and stir well.

When the meat begins to brown, stir in a quarter cup of red wine, a quarter cup of the short-rib stock you made earlier, the tinned tomatoes, tinned tomato puree, lemon juice, and a sprig of thyme.

Saute for five minutes and then blend in the tomato paste.

Turn the heat to low and simmer uncovered for fifteen minutes to twenty minutes or more, or until the ragu thickens.

Once thick, stir in ¼ cup of grated parmesan cheese and set aside.

Preheat your oven to 375°F and grease a 9 x 13 casserole dish or lasagna pan and then scatter it with a light layer of flour, discarding the excess.

Scoop a generous helping of sauce over the bottom of your pan and spread it to create a thin layer for your pasta.

Place down three lasagna sheets, filling the bottom of your pan.

Mix the beaten egg with the ricotta,and a tablespoon each of fresh chopped basil, fresh chopped oregano, fresh chopped parsley in a separate bowl.

Spread roughly a third of the ricotta mixture over the lasagna sheets.

In another bowl or container, mix the grated pecorino romano and grated mozzarella with a tablespoon of cornflour.

Scatter over a third of the grated pecorino romano and mozzarella mix.

Pour out another layer of meat sauce using roughly a third of what's left and repeat the process to create two more layers for a total of three. Feel free to continue adding layers as desired if you've prepared extra filling and your dish accommodates the depth.

On top of the lasagna, place the final layer of pasta sheets and then coat with ricotta and the last of the grated cheese.

Scatter a few fresh basil leaves and cover with foil. Bake at 375°F for one hour before removing the foil and baking for a further ten minutes uncovered or until the cheese has browned nicely.

Allow the baked lasagna to rest for fifteen to twenty minutes before serving.
Video
Grandma's Best Lasagna Tips
If you're using store bought ricotta that comes in a plastic container, it's likely to contain more liquid than you need for baking. To eliminate most of the liquid that would otherwise make your lasagna soggy, ripen it first. Heat the ricotta in a skillet over very low heat. Once you see that the ricotta has shed most of its excess liquid, pour the liquid out of your pan and transfer the ricotta to cheesecloth suspended over a bowl or deep dish. Squeeze out most of the moisture and let it drip dry to finish off. Once the ricotta stops dripping in half an hour to an hour, it's ready for baking.
If you're a fan of lasagna and eat it frequently, get yourself a deep lasagna pan. Most oversized lasagna pans give you an extra three inches of depth which lets you fit in five to six layers. When it comes to lasagna, the more layers, the better. Those who opt to construct six-layer lasagna and similar sized towers should consider using bechamel sauce instead of ricotta. It's not as rich, which lets you pile on more layers of marinara, cheese, and filling.
Grandma's Best Lasagna Substitutions
Short-rib cooked stringy, soft, and tender is one of the ultimate gourmet options for a lasagna you'll never forget but using a variety of other types of meat is possible. For most, ground beef comes to mind, which is a perfectly good substitute. For the best flavor, always combine your ground beef, turkey, or other mince with pork. All types of sausage work imparting the taste of whatever they're seasoned with. Italian sausage is seasoned to perfection for lasagna (we'd pick spicy over sweet), but regular ground pork works well too in a pinch.
What To Serve With Grandma's Best Lasagna?
Lasagna goes great with breadsticks, a fresh green salad, or even a light side dish like our tasty Greek chicken wings. For a truly Italian meal, serve up antipasto so that everyone works up an appetite while waiting for the freshly baked lasagna to rest.
---
Recent Recipes