Homemade Greek Chicken Wings
If you love chicken, you are most likely to be a fan of chicken wings. They are among the most popular fast foods around the world. And the varieties you find are truly astounding. Every country has its own take on chicken wings, bringing in unique flavors that we didn't know existed. In our quest to find such distinctive flavors, we came across Greek chicken wings, and this article is all about that.
What's So Interesting About Greek Chicken Wings?
Chicken wings are generally an interesting phenomenon. But most often, they are not considered healthy. This is where Greek chicken wings stand out from the crowd. The Greek twist makes the chicken wings healthy and filling. This is because, instead of frying, the chicken is based on some refreshing ingredients like olive oil, garlic, oregano, and lemon juice. Serve them with your favorite sauce, and you have the perfect snack.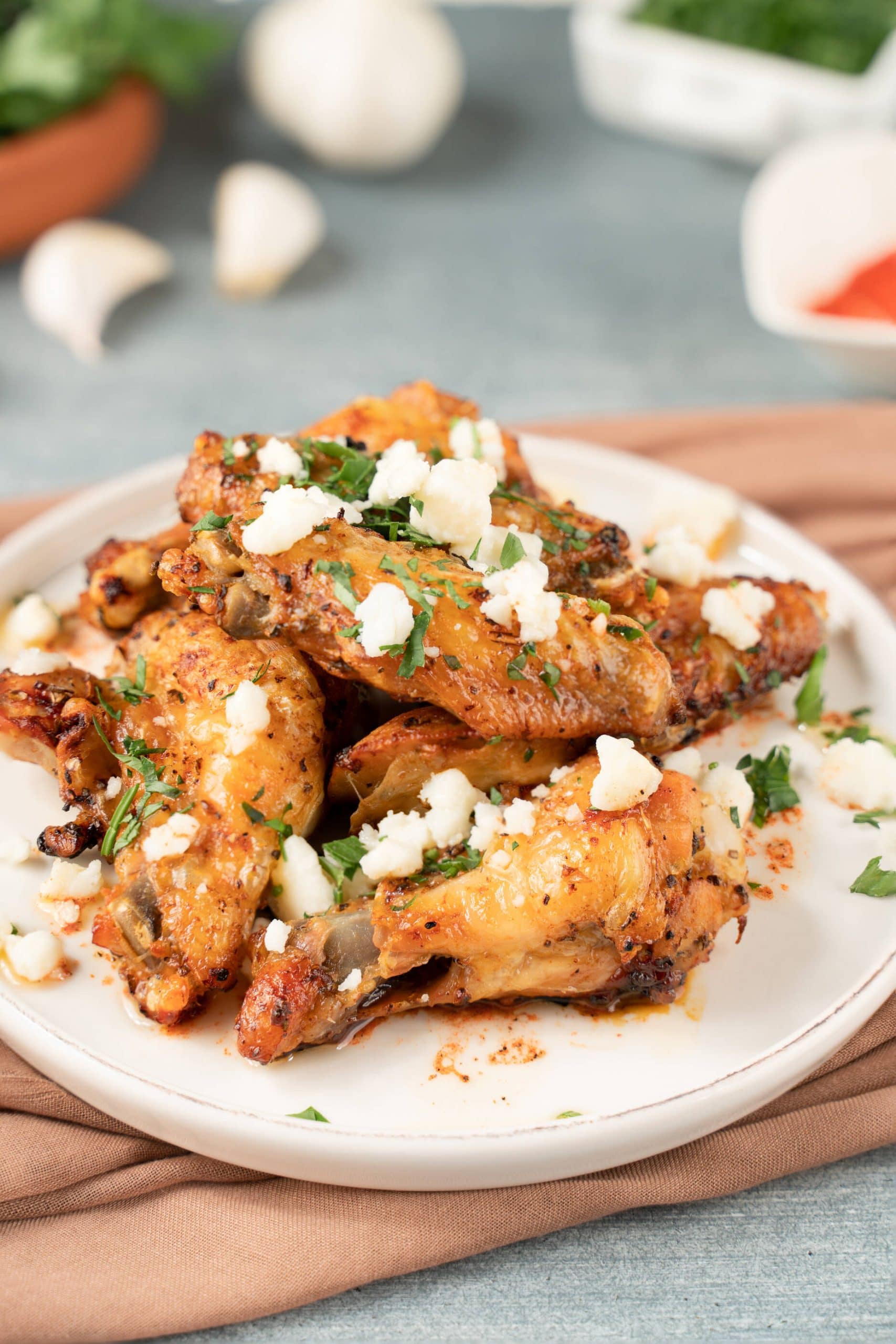 Ingredients
10

Chicken wings

Lemon juice

Lemon zest

½

extra-virgin olive oil

6

garlic cloves

crushed

1

teaspoon

crushed black pepper

1 ½

teaspoon

kosher salt

Two teaspoons dried oregano
Ingredients For Dressing
1/2

cup

extra virgin olive oil

1

finely grated garlic clove

3

tablespoons

of fresh lemon juice

½

teaspoon

crushed black pepper

½

teaspoon

cayenne pepper

3

oz

crumbled feta

¼

cup

finely chopped parsley
Instructions
In a large bowl, add garlic, lemon zest, black pepper, oregano, and salt. Properly whisk all the ingredients together, add chicken wings, and give it a nice toss. Ensure that the chicken is properly covered in the marinade. Allow it to chill in the refrigerator for a minimum of 2 hours.

Place the baking tray in the oven and preheat for 375 F degrees. Line the baking tray with foil and place your chicken wings on them. Bake your chicken wings until all the sides turn crispy and deep brown. The process should take you around one hour.

To make the dressing, mix lemon juice, cayenne, black pepper, garlic, and salt in a bowl.

Arrange your wings on a plate, drizzle the dressing to lightly coat the wings, and scatter feta on the top. Lastly, garnish the wings with some chopped parsley.
Video
Nutrition
Calories:
570
kcal
|
Carbohydrates:
3
g
|
Protein:
25
g
|
Fat:
51
g
|
Saturated Fat:
12
g
|
Polyunsaturated Fat:
7
g
|
Monounsaturated Fat:
28
g
|
Trans Fat:
1
g
|
Cholesterol:
111
mg
|
Sodium:
1198
mg
|
Potassium:
224
mg
|
Fiber:
1
g
|
Sugar:
1
g
|
Vitamin A:
371
IU
|
Vitamin C:
2
mg
|
Calcium:
129
mg
|
Iron:
2
mg
What To Serve With Greek Chicken Wings
No matter the chicken wings, there is a myriad of side dishes to try it with. Here are some of our top picks:
Greek Tzatziki: Greek chicken wings go perfect with Greek Tzatziki sauce. It is a strong, creamy sauce that only needs three main ingredients, Greek yogurt, garlic, and cucumber.
Coleslaw: To balance the rich flavor of chicken wings, you can prepare coleslaw. If the classic mayo dressing is a bit much, you can try a different dressing. Try a vinegar-based dressing, which will go well with the flavors of the chicken.
Garden Salad :Garden salad is the best choice when it comes to choosing a healthy side dish for your chicken wings. The salad is colorful, refreshing, and highly nutritious. It is perfect to balance the heaviness of your Greek chicken wings. Additionally, you can personalize the salad to suit your taste. You can add whatever veggies, fruits, greens, nuts, and protein you will. Make sure that you eat the salad fresh; instead of preparing them way ahead of time.
Potato Salad: It is a common side dish to serve with chicken wings. The potato salad is filling and extremely delicious. The flavors of cold potato salad and hot wings offer a satiating contrast. Go for red-skinned, white, or russet potatoes.
Stuffed Mini Peppers: The hot and cheesy mini pepper goes well with chicken wings. When baking the chicken wings, you can also add in your stuffed peppers. And, don't worry about it increasing the spice level of your overall meal. Cooked peppers are not that spicy. Moreover, when you stuff them with bacon and cheese, it will nicely balance out the heat.
Sweet Potatoes: Simple baked sweet potatoes go surprisingly well with chicken wings. Moreover, they are extremely easy to make. All you have to do is cut your sweet potatoes, dab them with butter, and put them in the oven to bake. You can add thyme or rosemary over the potatoes before they go into the oven for a boost of flavor.
Avocado Fries: These fries are crunchy yet soft and creamy. Moreover, avocados contain healthy fat, so you can devour them without any guilt. You can either air fry or bake them to keep them healthier.
Fried Rice: Chicken wings and fried rice is a staple combination of Asian cuisines. Create a fusion by combining Greek chicken wings and Asian fried rice. You can try this combination while serving a meal.
Some Important Tips To Make Perfect Chicken Wings
Greek chicken wings are mess-free and easy to make. But taking care of a few things will ensure that your dish comes out perfect.
If You Are Short On Time But Cut Wings: Generally, stores offer party wings that are already separated as wingettes. So if you don't have the time to cut the chicken, you can buy them and save time.
Marinate For At Least Two Hours: To get maximum flavor out of your chicken wings, you have to let the marinade infuse into the chicken for at least two hours. Letting it sit overnight would be even better.
Take The Wings Out 30 Minutes Before Baking: You should not cook ice-cold wings right out of the fridge. This will result in uneven cooking or overcooking. Let the chicken wings rest for 30 minutes at room temperature before baking.
Since Greek chicken wings are baked, you can have them guilt-free. And most of the side dishes that we have suggested are also on the healthier side.
---
Recent Recipes