Easy Greek Lemon Dill Grilled Chicken Salad
When you find a good salad recipe, you never want to let it go. You keep it handy and make the salad time after time. Whether it's just for you, or a crowd, you become pretty proud of yourself for putting together such a delicious salad.
I think you'll feel that way about this Greek lemon dill grilled chicken salad. Just the title alone makes me think of a hearty, flavorful, filling, yet still healthy, salad that can be enjoyed for lunch or dinner.
The key to this delicious salad is a tangy chicken marinade, creamy dill dressing, crunchy chickpeas, and the perfect proportion of ingredients. We're going to use distinct Greek flavors and ingredients that will make this salad restaurant quality, but still simple to put together.
Plus, we'll throw in some chef tips that will help you become a better home cook. We'll be improvising and working with the ingredients in a few different ways that will enhance the flavor of the salad.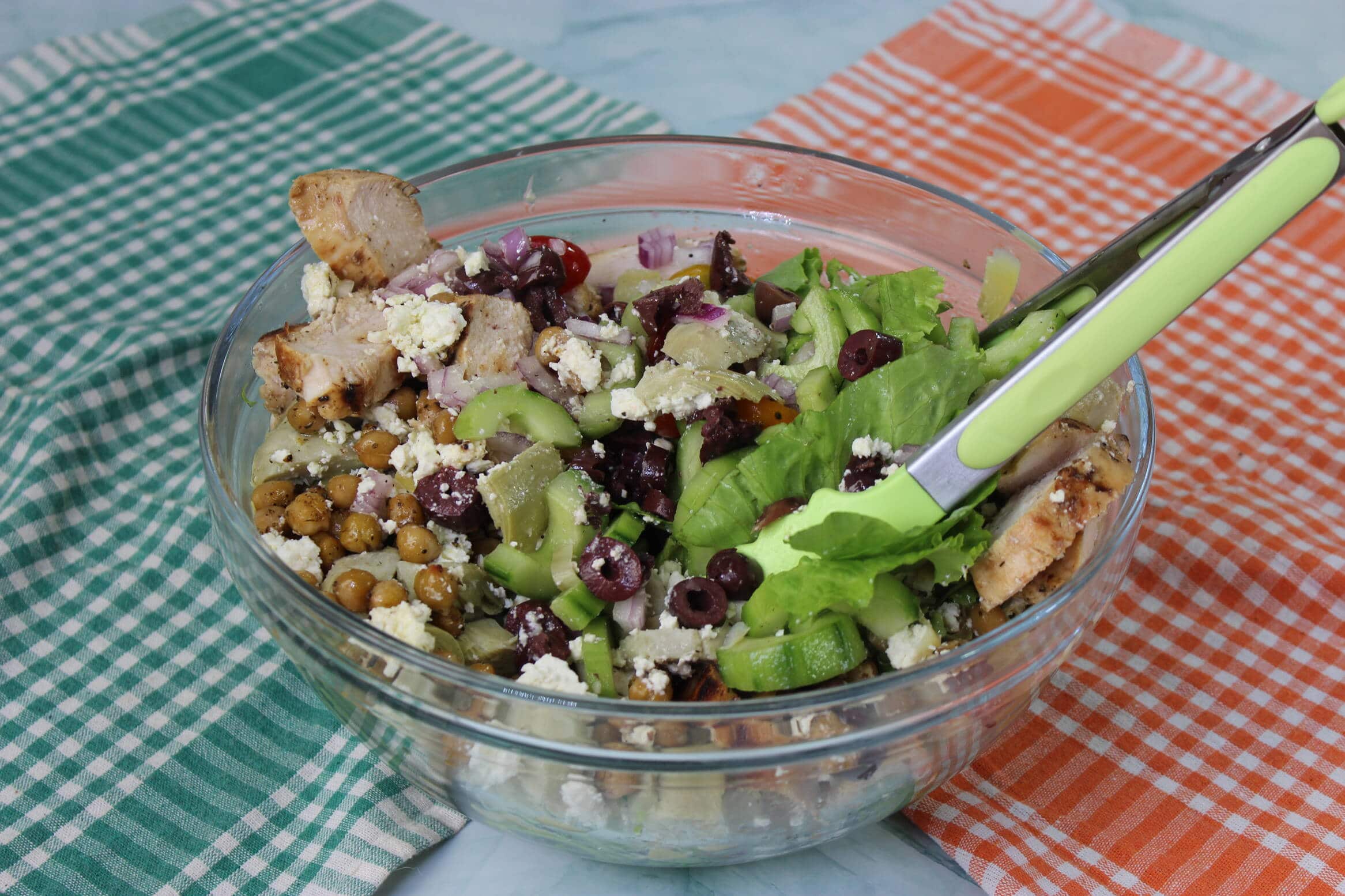 Ingredients
Marinade and dressing:
½

cup

extra virgin olive oil

1

lemon

juiced and zested

1

tablespoon

red wine vinegar

1

tablespoon

dried oregano

3

garlic cloves

minced

1

teaspoon

salt

½

teaspoon

black pepper
Creamy Dill Dressing:
3/4

cup

plain Greek yogurt

1

lemon

juiced and zested

1

clove

garlic

minced

2

tablespoons

fresh dill

minced

1

tablespoon

extra virgin olive oil

½

teaspoon

salt

Dill pickle juice

optional
Salad:
2

skinless

boneless chicken breasts (about one pound)

1

can chickpeas

drained

2

cups

chopped Romaine lettuce

1

can marinated artichoke hearts

drained and cut into 1" pieces

1

cucumber

cleaned and skin on, cut into 1" pieces

1

cup

Kalamata olives

drained

1

cup

grape tomatoes

halved

½

red onion

sliced thin

½

cup

feta cheese

1

tablespoon

fresh dill

chopped for garnish
Instructions
First, you're going to make the marinade. This marinade can be used a few different ways throughout the recipe. Combine all of the marinade ingredients in a bowl and whisk together.

Place the chicken breasts in a large ziplock bag. Pour about half of the marinade (enough to coat the chicken nicely) into the bag. Place it in the refrigerator and marinade for up to one hour.

Now, you're going to roast the chickpeas so that the salad has some crunch. (These can be made ahead of time, if you'd like). Heat the oven to 400F. Drain the chickpeas and pat dry.

Pour the chickpeas on to a sheet tray. Drizzle about 1 tablespoon of the marinade onto the chickpeas and gently mix them on the tray so they are evenly coated.

Roast the chickpeas for 20-30 minutes, or until they are crispy.

Remove from the oven and allow them to cool. If you are making them ahead of time, they can be stored at room temperature in an airtight container.

While the chickpeas are roasting, you can make the creamy dill dressing. Combine all of the ingredients in a small bowl and whisk together.

You want the dressing to be able to drizzle over the top of your salad. You can use a few things to thin it out. One being the marinade. Simply pour a small amount in and mix together until you have reached your desired drizzle-like consistency. Another option is you could use the liquids leftover from your drained items (chickpeas, artichoke hearts or olives). A third option is to use dill pickle juice (this is a great way to enhance the tangy dill flavor!). The less flavorful option would be to simply use water.

Next, grill the chicken. Preheat a grill to medium-high heat. Make sure that the grill is well seasoned. If it's not, simply brush some extra olive oil on the grill plates as it heats up.

Remove the chicken from the ziplock bag and let any excess marinade drain off. Throw away the bag and marinade.

Place the chicken breasts on the grill and cook on each side for about 6-8 minutes or until they are cooked through.

Remove the chicken from the grill and place on a cutting board. Let the chicken rest for a few minutes before slicing it.

While the chicken rests, you can put together the rest of the salad ingredients. In a large bowl, toss together the romaine lettuce, artichoke hearts, cucumbers, olives, tomato halves, and red onion.

Pour a small amount of the marinade over all of the ingredients and gently toss to coat.

Now, slice the chicken breasts, against the grain, into ½" strips. Divide into four equal portions.

Plate the salad greens on to four separate bowls or plates.

Shingle the chicken on top of the greens. Sprinkle the chickpeas, feta, and dill evenly on top of the salads.

Drizzle the creamy dill dressing over everything and serve immediately.
Video
Nutrition
Calories:
516
kcal
|
Carbohydrates:
15
g
|
Protein:
20
g
|
Fat:
43
g
|
Saturated Fat:
9
g
|
Polyunsaturated Fat:
4
g
|
Monounsaturated Fat:
28
g
|
Trans Fat:
1
g
|
Cholesterol:
73
mg
|
Sodium:
1686
mg
|
Potassium:
520
mg
|
Fiber:
4
g
|
Sugar:
7
g
|
Vitamin A:
832
IU
|
Vitamin C:
39
mg
|
Calcium:
211
mg
|
Iron:
2
mg
Notes and Tips
Don't let the chicken marinade overnight. If chicken sits in too much acid (lemon juice, vinegar) it will start to essentially cook and affect the flavor.
If you are unable to grill the chicken, you can also bake the chicken for 20-25 minutes at 350F. Sear the chicken with a saute pan or skillet first, to get that same "charred" taste.
To make the salad dairy free, use a dairy-free yogurt or full fat coconut milk. Also, eliminate the feta.
Substitutions
Chicken is a great affordable option for this salad. But, if you don't have any chicken and you want to try something else, there are a few options. You can substitute it with steak or shrimp. To make it vegetarian, you could use extra firm tofu or get really fancy and try fried feta cheese balls.
You can easily use black olives instead of kalamata olives. Alternatively, capers will also go great in this salad.
Romaine doesn't have to be used exclusively here. Iceberg, mixed greens, or even kale would be great alternatives, or you can mix and match.
What can you use instead of red wine vinegar? The important thing here is that vinegar brings acidity to the dish. There are other acidic options in this recipe that can easily be swapped out for each other. For example, red wine vinegar, lemon juice, drained olive juice, and dill pickle juice can be used interchangeably.
---
Recent Recipes