Greek cuisine revolves mainly around fresh the abundant produce. Fruits, vegetables, and herbs are plentiful in the fertile hillsides that rise above the coastlines of the Greek Islands. The microclimates provide ideal growing environments.
Citrus and herbs play prominently in the diet and recipes of Greek dishes. Lemons are everywhere and herbs can be foraged from the open pastures and slopes.
One of my favorite Greek dishes is potatoes roasted with fresh lemon juice, olive oil, garlic, and fragrant herbs. The first time I made this dish was when I borrowed a Moosewood Restaurant cookbook from a sibling. The page with that recipe was tagged and it sounded so good and super easy.
The recipe here for Greek Lemon Fries is based on the original Moosewood collective recipe. These aren't technically fries because the potatoes are roasted in a liquid base or sauce. How can that be a fry?
The potatoes are roasted at very high heat. As the liquid boils away, the potatoes remain moist on the interior and get crispy on the exterior, similar to fries. The results are perfect every time I make them. They remind me of delightfully flavored steak fries. The best part about Greek lemon fries is that they are so incredibly healthy compared to potatoes deep-fried in oil.
This version of Greek lemon fries is gluten-free and vegan.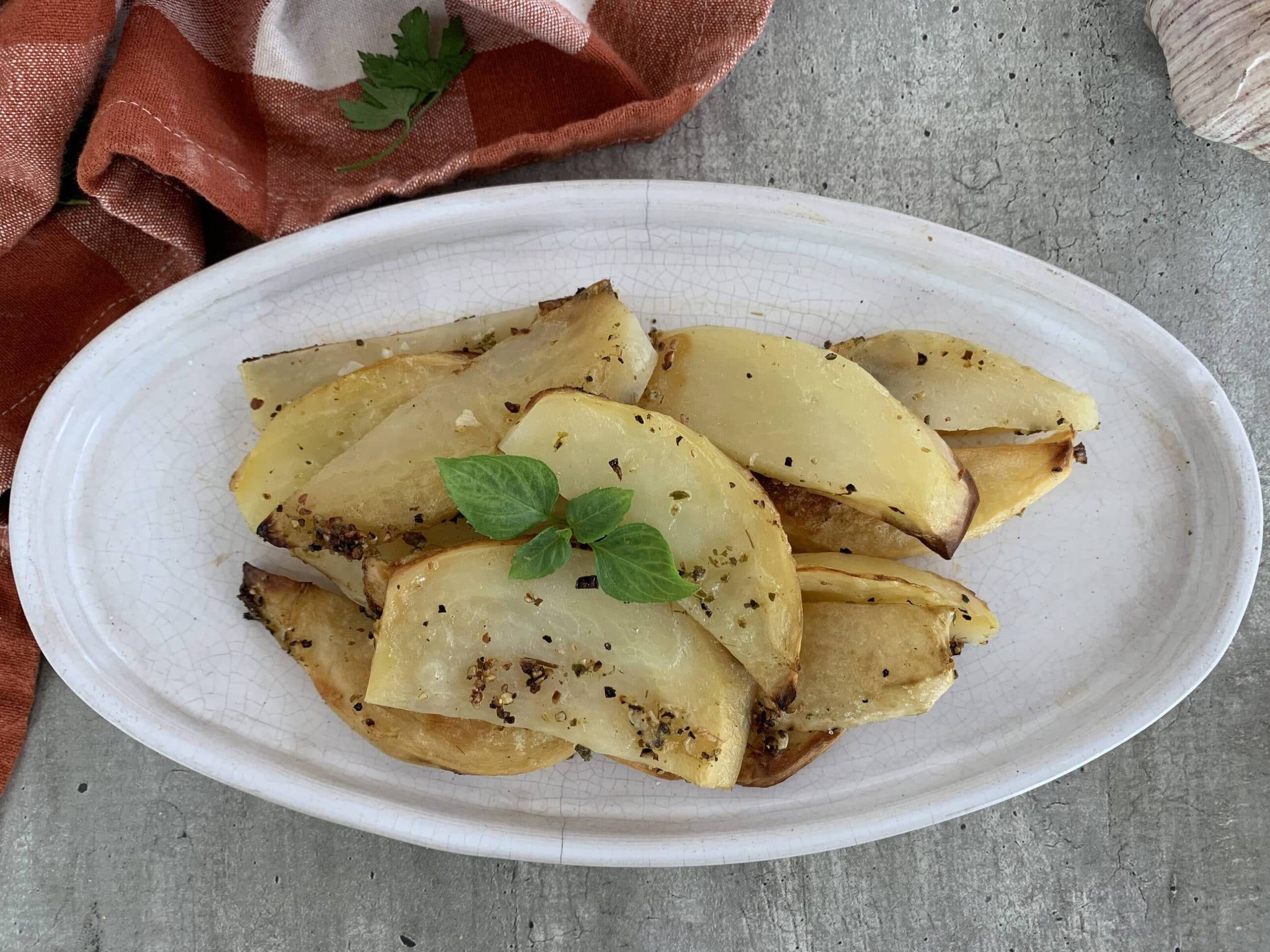 Ingredients
1/2

cup

freshly squeezed lemon juice

1/2

cup

extra virgin olive oil

2

garlic cloves

finely minced

2

tsps

coarse sea salt or kosher salt

2

tsps

dried oregano

1/2

tsp

freshly ground pepper

6

medium/large Yukon gold potatoes

washed well

1/2

cup

boiling water + more if needed

Salt to taste

Chopped fresh parsley leaves for garnish
Instructions
Preheat your oven to 450°F and make sure you have all your ingredients.

in a mixing bowl, whisk together the lemon juice, olive oil, garlic, salt, oregano, and pepper. Set aside.

Peel the potatoes, if desired. Cut them in half lengthwise through the center. Cut the potato halves in half again lengthwise. Cut the 4 potato sections in half through the center to create wedges.

Place the potato wedges in a large shallow baking dish. Pour the lemon and oil sauce over the potatoes and toss them to coat evenly. Pour the boiling water over the dressed potatoes.

Place the baking dish in the oven and bake for 60 to 90 minutes, stirring every 20 minutes. The potatoes are ready when all the liquid has been absorbed and the interior of the potatoes are cooked through when tested with a fork. The outside should be browned and a little crispy. If the liquid evaporates too quickly, add a little more water just a couple of tablespoons at a time.

Transfer the cooked potatoes to a serving platter. Season with salt to taste and garnish with fresh parsley leaves. Serve while hot.
Video
Nutrition
Calories:
296
kcal
|
Carbohydrates:
31
g
|
Protein:
4
g
|
Fat:
18
g
|
Saturated Fat:
3
g
|
Polyunsaturated Fat:
2
g
|
Monounsaturated Fat:
13
g
|
Sodium:
11
mg
|
Potassium:
741
mg
|
Fiber:
4
g
|
Sugar:
2
g
|
Vitamin A:
5
IU
|
Vitamin C:
42
mg
|
Calcium:
24
mg
|
Iron:
1
mg
Notes and Tips
There is a lot of liquid in the dish, so be sure to use a baking dish with sides to hold it all. However, don't use a dish that is too deep. You want the heat of the oven to be able to crisp up the potatoes once the liquid evaporates. If you only have a deep baking dish, start with that and transfer the potatoes to a rimmed sheet pan once the liquid is gone so they can get browned and crispy.
Peeling the potatoes is optional. I personally don't peel my potatoes because I only use organic. The skins on Yukon golds are thin and easy to eat. I like the way they crisp up. And, that is where some of the nutrition resides.
It is recommended that you keep an eye on the potatoes as they are roasting. That should be easy to do if you are stirring every 20 minutes. The reason this is important is because all ovens differ, especially when cooking at a high temperature. The oven I first cooked these in ran a little high and the liquid disappeared quickly and the potatoes cooked in 60 minutes or less.
Substitutions and Shortcuts
I think Yukon gold potatoes work well in this recipe because their flesh is firm and waxy. I have used Idaho in a pinch and they tasted fine, though more of the texture of a baked potato. I think a better substitute would be new (baby) potatoes or fingerlings. You don't need to peel or slice these small potatoes so that will save a step.
Many Greek lemon potato recipes call for vegetable oil, not olive oil, for a milder flavor. I am pretty traditional when it comes to using ingredients that are regional. Good olive oil is amazing and a staple in the Greek diet. It is also good for you, offering heart-healthy omega-3 fatty acids.
Oregano grows all over Greece and most of the Mediterranean. It also is cultivated in the United States. It is a readily available herb. If you don't have oregano or want a bigger punch of herb flavor, try using thyme and/or rosemary. Rosemary and potatoes are a natural pairing.
When I serve this recipe, I like to crumble some Greek feta cheese over the top right before placing the platter on the table. It is no longer vegan, but still a good vegetarian option and gluten-free dish.
What to Serve with Greek Lemon Fries?
Lamb and fish are likely the most common animal proteins served in Greece. That is what I experienced when I traveled the islands. I think these potatoes are a nice accompaniment to roasted leg of lamb or grilled sardines.
If you are keeping the meal vegetarian, the potatoes can be served alongside a classic Greek salad that is piled high with tomatoes, cucumber, dolmades (stuffed grape leaves), kalamata olives, and goats milk cheese.
---
Recent Recipes