Easy Greek Lemon Meatball Soup
Meatballs and rice are the basis of Greek lemon meatball soup, which is also known as youvarlakia. A tasty egg and lemon sauce known as 'avgolemono' is what makes this soup so good. It thickens it up perfectly and produces a silky texture. This is a comforting and warming soup which is great for any occasion.
Although the following recipe calls for beef, ground chicken or turkey would also work. It's up to you how big you make the meatballs. The only difference will be the cooking time. Cut a meatball in half after 20 minutes simmering time. If it's piping hot in the center, it's done and you can proceed with the recipe.
Tips For The Egg-Lemon Sauce
Although the egg-lemon mixture, or avgolemono, sounds simple, it's worth knowing a few tips before you make it because you don't want it to get lumpy or curdle.
First, ensure you are using room temperature eggs. Cold ones will likely curdle when you add the hot liquid. The egg mixture is supposed to be the same temperature as the soup you're making, so don't add boiling hot soup to the egg-lemon mixture. Instead, let it cool for a couple of minutes first.
Don't worry if the egg whites seem to curdle a bit because these thicken up quicker than the yolks. The key is to keep whisking vigorously while adding the broth slowly. Follow these tips and the egg-lemon mixture for your Greek lemon meatball soup will be a success, and so will the soup!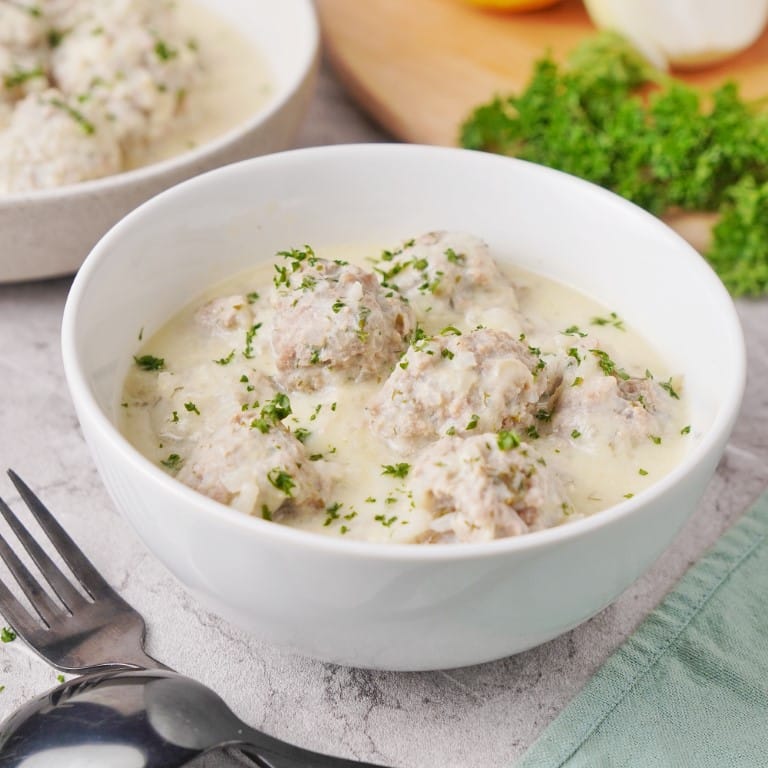 Ingredients
¼

cup

uncooked long grain rice

18

ounces

lean ground beef

1

minced yellow onion

½

cup

minced parsley

2

tablespoons

olive oil

1

teaspoon

salt

3

tablespoons

minced fresh dill weed

3

eggs

Juice of 2 lemons

Ground coriander

to taste

black pepper
Instructions
All ingredients ready? Let's begin!

Put everything except the lemon juice and 2 of the eggs in a bowl and mix using your hands.

Refrigerate the mixture for 15 minutes then shape it into meatballs.

Bring 2½ cups of water to a boil in a pan.

Add the meatballs, cover and simmer for 20 minutes or until done.

Meanwhile whisk the eggs in a bowl then whisk in the lemon juice.

Add a spoonful of soup into this egg mixture and keep whisking.

Repeat and whisk some more.

Now stir the egg mixture into the soup.

Simmer gently for a couple of minutes.

Serve hot with some parsley sprinkled on top.
Nutrition
Calories:
342
kcal
|
Carbohydrates:
13
g
|
Protein:
33
g
|
Fat:
17
g
|
Saturated Fat:
5
g
|
Polyunsaturated Fat:
2
g
|
Monounsaturated Fat:
9
g
|
Trans Fat:
0.4
g
|
Cholesterol:
202
mg
|
Sodium:
719
mg
|
Potassium:
595
mg
|
Fiber:
1
g
|
Sugar:
1
g
|
Vitamin A:
834
IU
|
Vitamin C:
14
mg
|
Calcium:
55
mg
|
Iron:
4
mg
Handy Notes
Don't cook the rice before making the meatballs. It will cook perfectly in the meatballs in the soup.
If you are going to refrigerate leftovers, make sure they're cool first, else the egg-lemon mixture in the soup will curdle.
Greek lemon meatball soup doesn't freeze well because of the eggs in there.
Add half a grated carrot to the meatball mixture if you like.
Greek lemon meatball soup is a delicious, warming idea for a chilly day. The lemon flavor is so good and it's an easy soup recipe to prepare.
---
Recent Recipes