Easy Green Matcha Cupcakes
There is a lot of buzz about matcha these days. So, what is matcha, and is it good for us? Matcha is a powder that is made from grinding dried green tea leaves. The powder is pleasantly green in color. It has a grassy aroma with a robust tea-like flavor of tannins. The Japanese are credited with perfecting the technique of growing and making matcha from green tea leaves which is a popular beverage and an ingredient in baking.
Matcha has many health benefits. It is rich in antioxidants and amino acids, notably L-Theanine. This amino acid is reported to help reduce blood pressure and promote a sense of calm. It offsets some of the effects of the caffeine naturally found in green tea. Antioxidants are known cancer and premature aging fighters because they are necessary to combat those pesky free radicals that cause so much inflammation in our bodies.
While matcha is most commonly served as a hot or iced beverage with dairy or non-dairy milk, it is also a fabulous ingredient in baked goods and iced desserts. The beauty of baking and making ice cream or sorbet with green tea is not only the health benefits it adds but also the inviting green color it imparts. I don't exactly know why, but the hue of green tea is extremely soothing and lively at the same time. Things infused with green tea evoke a feeling of being in nature for me.
This recipe is for making cupcakes with matcha. Who doesn't like cupcakes? We aren't stopping with matcha in the batter. The frosting is also infused with matcha. The color is awesome and the benefits almost make cupcakes a healthy food choice. Well, they are at least a healthier dessert option.
Before I decided to bake with matcha, I went to the market to see what my options were. My chain grocery store didn't have anything labeled matcha in the tea and coffee aisle. I ended up at a small, upscale market that had an entire shelf devoted to matcha. That was great but overwhelming. I decided on the one labeled organic, as I do for most of my food purchases, especially tea. I will admit that it was more expensive, but I was confident I had made the right decision and it was an easy one for me. When I opened the can, the powder was vibrant green and smelled of the forest. This was going to work.
I had and still have grand plans for making a yeast-risen bread with matcha that I think would be great for breakfast with that little hit of green tea caffeine. I also want to add it to some soup stocks. But today, we are making easy matcha cupcakes with matcha buttercream frosting. I recommend making the buttercream first so it can chill in the fridge while you make the cupcakes.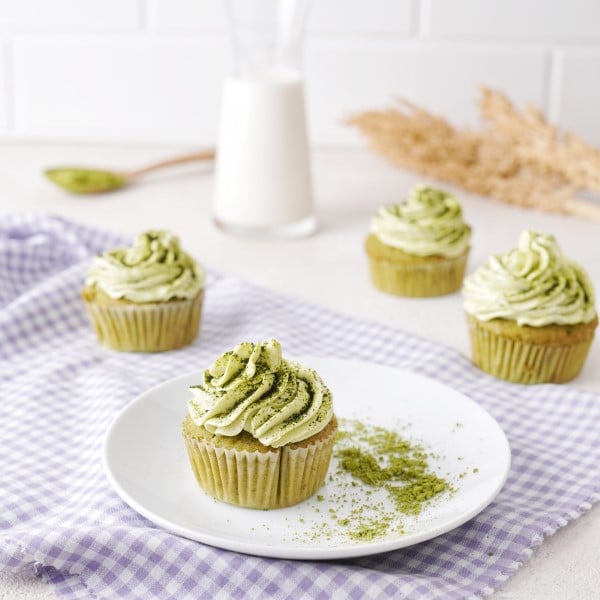 Ingredients
Buttercream
1

cup

granulated sugar

½

cup

water

Ice for cooling

2

sticks

1 cup butter at room temperature

1

tsp

green tea matcha powder + more for dusting
Cupcakes
1

cup

all-purpose flour

sifted

5

tsp

green tea matcha powder

½

tsp

baking powder

¼

tsp

baking soda

¼

tsp

sea salt

¾

cup

granulated sugar

1

large egg

½

cup

whole milk at room temperature

½

tsp

pure vanilla extract
Instructions
All ingredients ready? Let's begin!
Buttercream
Fill a large bowl halfway with ice and set aside.

In a small saucepot over medium-high heat, combine the sugar and water. Cook while stirring occasionally until the sugar is dissolved, approximately 4 minutes. Transfer the syrup to a small bowl and set the bowl in the ice bath to cool down. You can stir it every few minutes.

In a stand mixer or a bowl with an electric hand mixer, cream the butter on medium speed until fluffy, about 4 minutes.

Slowly add the syrup until well combined. Turn the speed to low and add the matcha powder until the frosting has a uniform light green hue.

Place the buttercream in the refrigerator while you make the cupcakes.
Cupcakes
Preheat the oven to 350°F. Line a 12-cup muffin tin or two 6-cup tins with parchment paper muffin cups.

In a mixing bowl, sift together the flour, baking powder, baking soda, salt, and matcha powder.

Using your stand mixer with a paddle attachment or a mixing bowl and an electric hand mixer, cream together the butter and sugar on medium-high speed, approximately 4 minutes. Add the egg and continue to mix until well combined.

Turn the speed to low and add the flour mixture, milk, and vanilla. Mix until just well combined and smooth.

Fill the muffin cups with equal amounts of batter. Place the tins in the oven and bake until a toothpick inserted into the center comes out clean and the tops of the muffins spring back when touched, approximately 15 to 17 minutes. You can rotate the tins at 8 minutes for more even baking.

Remove the buttercream from the fridge. Remove the cupcakes from the oven and allow them to cool for about 5 minutes. Transfer the cupcakes from the tins to a wire rack so they can cool completely. Once cool, frost each cupcake with the buttercream using a pastry piping bag or an offset cake spatula.

Sift or sprinkle a dusting of matcha powder over the frosting and enjoy.

Enjoy your green matcha cupcakes!
Nutrition
Calories:
304
kcal
|
Carbohydrates:
38
g
|
Protein:
3
g
|
Fat:
16
g
|
Saturated Fat:
10
g
|
Polyunsaturated Fat:
1
g
|
Monounsaturated Fat:
4
g
|
Trans Fat:
1
g
|
Cholesterol:
57
mg
|
Sodium:
221
mg
|
Potassium:
38
mg
|
Fiber:
0.3
g
|
Sugar:
30
g
|
Vitamin A:
612
IU
|
Calcium:
31
mg
|
Iron:
1
mg
Notes & Tips
Matcha has a good amount of caffeine, so use less if you are concerned that little kids might get bouncier than they already are. In fact, limit them to one cupcake to see how it affects them. I consider this more of an adult treat.
Make sure the cupcakes are completely cooled down before you frost them or the buttercream will just slide off the tops.
Substitutions & Shortcuts
This can be a gluten-free recipe by replacing the all-purpose flour with a good gluten-free baking flour blend.
I enjoy the earthy green color that matcha gives the light cupcake batter. But, don't let that discourage you from making this with a chocolate cake mixture. I personally like the flavor combination of green tea and bittersweet chocolate.
If you are short on time, you can easily make the syrup for the frosting a day or two in advance and store it in a sealed container in the fridge. You can also make the buttercream in advance. If really in a rush, store-bought frosting or whipped cream can be used. Just dust a little matcha powder over the top for that distinctive green hue.
I don't fashion myself a perfect pastry chef and will sometimes use a good boxed cake mix for a birthday gathering when I am pressed for time. No shame in doing that. Just add the matcha powder to the dry mix.
---
Recent Recipes