Buttery Grilled Avocado Salad
There is nothing new about adding avocados to a salad. Avocados provide a buttery texture, a mild (but delicious) flavor, and many health benefits. So, it's a great idea to find new ways to incorporate avocados into your salads. But have you ever tried grilling an avocado?
Grilling adds another level of flavor that pairs exceptionally with other vegetables. It's a great way to elevate your salad game. This grilled avocado salad is the perfect vegetarian meal. It's packed with healthy fats from avocado and vegetarian protein from quinoa. Not to mention some other delicious goodies we have added in there.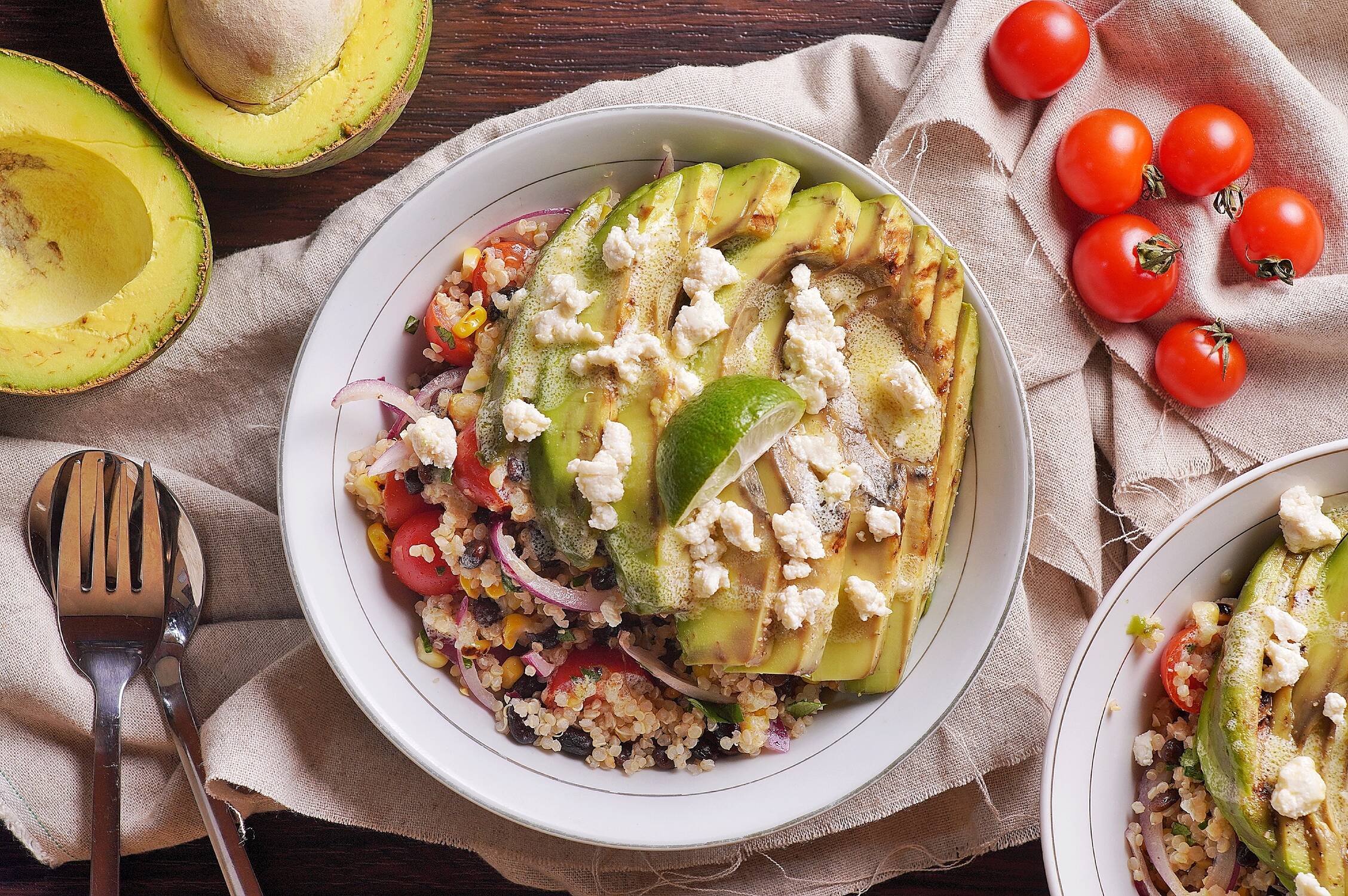 Ingredients
2

avocados

pitted, halved, and peeled

1

teaspoon

extra-virgin olive oil

Salt and pepper

2

ears of corn

husks removed

2

cups

cooked quinoa

¼

cup

red onion

sliced thin

¼

cup

fresh cilantro leaves

chopped

1

cup

cherry tomatoes

haved

1

cup

black beans

drained and rinsed (from a can which are pre-cooked)

Lime wedges

optional garnish

Cotija cheese

optional garnish
Dressing:
¼

cup

extra-virgin olive oil

1

lime

juiced

1

teaspoon

fresh garlic

minced

1

teaspoon

dijon mustard

1

tablespoon

rice wine vinegar

1

tablespoon

honey

3

tablespoons

plain greek yogurt

Salt and pepper
Instructions
Assemble the ingredients together.

To make the dressing, combine all of the ingredients in a small bowl and whisk ingredients together. The dressing can be made ahead of time and stored for 3-5 days.

To grill the avocados, heat a grill pan or outdoor grill on high heat. Brush the olive oil on the flat side of the avocado halves.

Place the avocado halves, flat side down, on the grill. Grill for about 1-2 minutes or until grill marks are visible.

While the avocado is grilling, also place the ears of corn on the grill. Rotate so that each side gets slightly browned and cooked.

Carefully remove the avocado from the grill and season with salt and pepper. Slice the avocado into thin pieces with the grill marks visible. Set them aside on the cutting board for now.

Remove the corn from the grill and let it cool for a few minutes. Once the corn is cool enough to handle, use a knife to remove the kernels from the corn cob.

To make the salad, combine the quinoa, onion, cilantro, tomatoes, black beans and grilled corn kernels.

Pour a small amount of the dressing into the bowl. Gently toss so that all of the ingredients are coated with the dressing.

Divide the quinoa mixture onto four separate bowls or plates. Place one halved and sliced avocado on top of each serving.

Drizzle more dressing over the entire salad and serve immediately.

Garnish with lime wedges and cotija cheese, if desired.
Video
Nutrition
Calories:
537
kcal
|
Carbohydrates:
56
g
|
Protein:
13
g
|
Fat:
32
g
|
Saturated Fat:
5
g
|
Polyunsaturated Fat:
5
g
|
Monounsaturated Fat:
21
g
|
Trans Fat:
1
g
|
Cholesterol:
1
mg
|
Sodium:
45
mg
|
Potassium:
1043
mg
|
Fiber:
15
g
|
Sugar:
11
g
|
Vitamin A:
504
IU
|
Vitamin C:
28
mg
|
Calcium:
67
mg
|
Iron:
4
mg
Notes & Tips
This recipe is incredibly delicious as-is, but you can easily adapt it to your personal preference. You could also make it according to this ingredient list the first time around and then mix it up next time. Do you need some ingredient inspiration? Try some of the ingredients listed below:
Grill the tomatoes in addition to the avocado and corn
To make the salad even more filling and bountiful, add in chopped romaine lettuce
Add in sliced jicama for a crunchy texture
Instead of quinoa, try farro or brown rice
What proteins pair well with grilled avocado salad?
This salad does not always need to be vegetarian. There are some great protein options that you can serve alongside this salad.
For example, grilled chicken or grilled steak would pair really well. Additionally, salmon or shrimp would also be delicious.
Looking to add more protein and still have the recipe be vegetarian? Try adding these simple crispy chickpea tenders.
Is grilled avocado salad gluten-free?
Not only is this grilled avocado salad gluten-free, it's also soy-free. You could easily make the recipe dairy-free and vegan by eliminating the cheese and greek yogurt and in the dressing.
You could substitute with plain dairy-free yogurt or full-fat coconut milk. Or using vegan feta (Violife highly recommended) to replace the cotija cheese.
Can you make grilled avocado salad ahead of time?
When it comes to meal prep, avocados are a little tricky. It seems like avocados are one of those foods that goes bad almost immediately after buying it. It's true that an avocado will start to go bad shortly after you cut into it.
Avocados start to oxidize once they are cut open, making it hard to add this fruit to meals that you make ahead of time.
There are a few options if you want to make this meal ahead of time. The quinoa mixture stores great in the refrigerator. You can even put the dressing on before storing it in the refrigerator. So, for that reason, you could make a big batch of the quinoa mixture and then simply grill the avocados right before you eat the salad.
If you want to make this salad to take with you, it's recommended to add fresh avocado and skip the grilling for now.
What can you do with grilled avocados?
Did you love the grilled avocado flavor? Great! Now you can use that technique for a lot of different recipes. You'll add a flavorful twist to traditional recipes.
For example, you could make guacamole with grilled avocados. To do this, you will grill the avocados in the same way as in the salad recipe. Then you will chop and mash up the avocados and use them in your favorite guacamole recipe.
Another great application for grilled avocados is serving them as a topping on your favorite Mexican dishes like tacos and burritos.
It would also be a great idea to add a grilled avocado to any proteins you might be throwing on the grill. For example, sliced grilled avocado would be delicious on top of a simple flank steak.
---
Recent Recipes