Best Grilled Boneless Chicken Thighs
As soon as the weather turns warm, everyone's grills are fired up for BBQs and picnics and outdoor brunches and on top of the list of things getting grilled is chicken. It is the most popular BBQ food, finger food, fried or grilled food. And who doesn't love a juicy, tender piece of chicken, still warm from the grill?
This Easy Grilled Boneless Chicken Thighs is perfect for any day and all seasons. You don't need to wait for picnic season to make this. There a million chicken recipes out there and this is one more to that delicious long list. But I have kept mine simple, quick and delicious. You can grill it up for a delicious brunch, pair with some warm rice, dips and grilled veggies for a filling lunch or have it with some flat bread and salad for a light meal.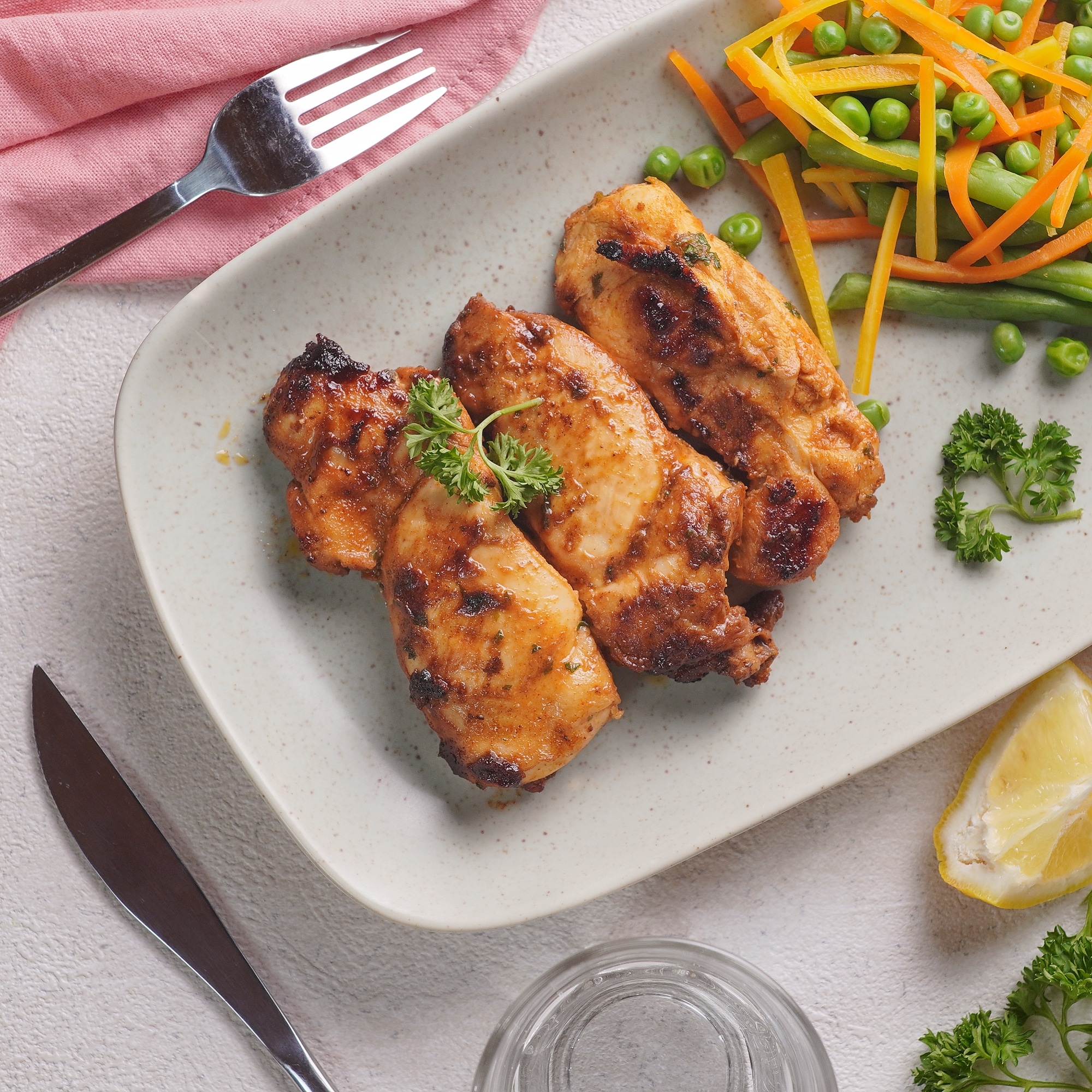 Ingredients
8

pieces

of boneless

skinless chicken thighs

1

tablespoon

lemon juice

1

tablespoon

of garlic powder

1/2

tablespoon

of smoked paprika

2

tablespoons

of chopped parsley

Salt and pepper

Olive oil
Instructions
Do you have all your ingredients ready? Great! Let's begin.

Wash the chicken pieces and pat dry.

In a large bowl or Ziplock bag mix together 1/3 cup of olive oil, lemon juice, garlic powder, paprika, salt, pepper and parsley.

Now add the skinless, boneless chicken thighs to this.

Mix well till the chicken is completely covered in the spice mix.

Cover and let it marinate in the fridge for a minimum of 30 minutes.

Preheat the grill to 350 degrees F.

Once the chicken is well marinated, place it on the grill, cover the grill and cook for about 5-6 minutes. Flip the chicken pieces using a tong, and cook for another 5-6 minutes.
Video
Nutrition
Calories:
15
kcal
|
Carbohydrates:
2
g
|
Protein:
1
g
|
Fat:
1
g
|
Saturated Fat:
1
g
|
Polyunsaturated Fat:
1
g
|
Monounsaturated Fat:
1
g
|
Trans Fat:
1
g
|
Cholesterol:
2
mg
|
Sodium:
4
mg
|
Potassium:
63
mg
|
Fiber:
1
g
|
Sugar:
1
g
|
Vitamin A:
601
IU
|
Vitamin C:
4
mg
|
Calcium:
7
mg
|
Iron:
1
mg
Tips & Tricks
The longer you marinate the chicken the more flavorful and juicy it will be. You can marinate it for up to 12 hours in the fridge.
The internal temperature of the cooked chicken should be 165 degrees F.
You don't have to marinate the chicken with the lemon, you can give a generous squeeze of fresh lemon after the chicken has been grilled.
Remove any excess juice from the chicken before placing it on the grill. You want the spice and flavors, but you don't want it to be dripping with the marinade
Don't overcrowd the grill, the chicken will cook unevenly.
Storage
The Easy Grilled Boneless Chicken Thighs can be stored by first tightly wrapping it in a foil and then keeping it in an airtight container in the fridge for about 2 to 3 days. We wrap it in foil to keep it from drying out. Before reheating it, let it sit out for 20-30 mins. You can heat it in the oven, microwave or stove top.
To heat it in the microwave, place the chicken in a microwave safe bowl, put the bigger pieces in the middle. Sprinkle a little bit of water over the chicken as well as a little bit of olive oil. Then wrap it in a microwave safe plastic wrap and heat for 30-60 seconds. If it is not hot enough, keep heating it in 30 second intervals.
To heat your chicken in the oven, preheat oven to 350 degrees F, place the chicken in a baking dish, add a little bit of water to the tray, so the chicken pieces are sitting in water. Drizzle a little bit of olive oil to the top. Cover with baking foil, this will ensure that moisture is retained. Heat till the chicken reaches an internal temperature of 165 degrees F. If you want the chicken to have some crispness, stick it in the broiler after for 5 minutes.
You can also heat the chicken over the stove. Place it in a large pan, add some oil and spray some water on top. Cook on medium low and keep flipping it over to ensure that it warms all over.
A bonus of this Easy Grilled Boneless Chicken Thighs is that it can be heated in the air fryer as well. This is the easiest way. Preheat the air fryer to 350 degrees F. Spray the basket and add a little bit of olive oil to the chicken pieces and fry for 5 minutes. Shake the basket halfway through.
FAQs
Are there other ways to grill the Easy Grilled Boneless Chicken Thighs?
Of course. Chicken is the most versatile dish, which lends itself to multiple ways of cooking. You can grill it over the stovetop, using a grilling pan. Follow steps 1-3. Heat oil in the grilling pan, add the chicken pieces and cook on medium low heat. Cook for 4-5 minutes and then flip. You have to keep flipping the chicken pieces over to ensure that it is getting evenly cooked and to make sure it is not getting burnt. If the chicken is sticking to the base of the pan, allow it to cook a little longer. You cannot cook all the chicken pieces at once. If you overcrowd the pan, the chicken will be get steamed instead of grilled. Cook it in batches. 
Substitutions
Skinless, chicken thighs: I have used skinless chicken thighs, but many people prefer it with skin, which is fine, the skin often helps retain the juiciness. Make sure the skin isn't get burned while grilling.
Lemon juice: You can add the lemon juice after grilling the chicken instead of to the marinade. You can also use lemon wedges.
Oil: You can use any oil.
Spices: I have used a very basic spice mixture; you can use any spice or herb you like on your chicken. You can increase the level of paprika to make it more spicy. You can use smoked or sweet paprika.
Parsley: Parsley goes great in the Easy Grilled Boneless Chicken Thighs. You can use cilantro instead.
Accompaniments
Where do I start? This Easy Grilled Boneless Chicken Thighs goes well with practically everything. Rice and flat bread are fantastic, filling accompaniments to this dish. A Mediterranean salad pairs nicely with this chicken. You can also have some grilled Brussel Sprouts and carrots, mashed potatoes and other leafy greens as accompaniments.
For more juicy chicken recipes, be sure to try out this delicious Mediterranean Chicken Wings and this Double Fried Chicken Wings.
---
Recent Recipes