Best Grilled Chicken Fajitas
A friend gave me a fajita kit as a housewarming gift once and I had no clue what was inside the package. I expected a jar of spices and a package of tortillas. It was actually an oblong-shaped flat cast-iron skillet with a trivet and a basket with a cloth napkin. What the heck?
I had eaten fajitas at my favorite Mexican-American restaurant and had to think back on how they were served. The meat and vegetables were grilled on a very hot cast-iron griddle or pan, The pan was brought directly to the table and placed on a trivet. It was sizzling hot. There was a basket with steaming hot flour tortillas wrapped in a cloth to keep them warm and soft. There were also condiments, such as pico de gallo, guacamole, and sour cream. You assembled your own fajitas, which was fun.
"Fajita" translates to small sash or belt. This refers to the nature of the filling that you place inside the tortillas. The steak or chicken is sliced against the grain into strips. This makes them easier to chew. The vegetables (or fruits), mostly bell peppers and onions are also sliced into strips so that everything is similar in shape and size. The soft flour or corn tortilla is filled and folded over so you can pick the fajita up and eat it with your hands. Unlike a taco that eats like a sandwich, you generally fold the tortilla over in thirds to form more of a tube or roll-up that holds the filling in place.
Fajitas are most commonly served with skirt steak strips, red and green bell peppers, and onions. You can also make fajitas with pork, shrimp, chicken, or just vegetables. In some vegan restaurants, you may find fajitas served with tempeh or seitan strips. Seitan is made from vital wheat gluten and resembles meat in its texture.
This fajita recipe is a personal favorite because it is grilled and uses marinated chicken as the main protein. I love the smokiness and char that you get from grilling the chicken and vegetables. You can grill over charcoal, gas, or on an electric contact grill. You can also use a stovetop grill pan or simply a hot cast-iron skillet. You don't have to bring the hot pan to the table. A serving platter works just fine.
Since I am a huge fan of vegetables and fruits, I like to pile on the onions and peppers. I also serve some fresh condiments on the side. These often include shredded romaine lettuce, halved cherry tomatoes, and avocado slices. I also put out bowls of shredded cheese, sour cream or yogurt, and green or red salsa.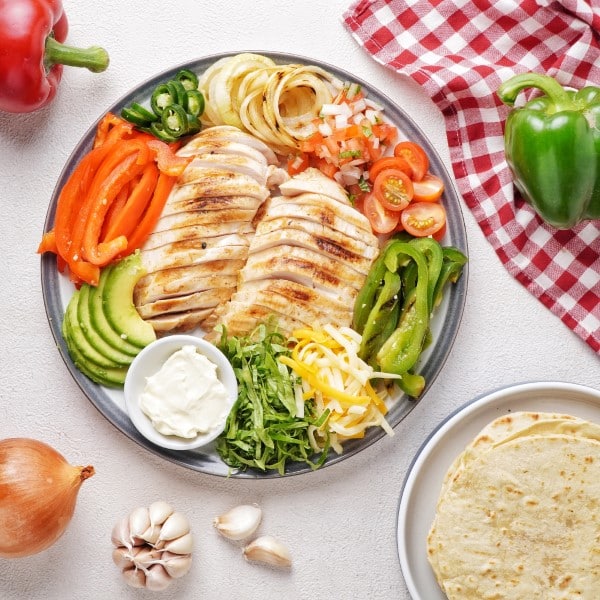 Ingredients
⅓

cup

extra virgin olive oil

⅓

cup

freshly squeezed lemon or lime juice

4

cloves

garlic

minced

1 ½

tsp

chili powder

1 ½

tsp

sea salt

1

tsp

freshly ground pepper

4

boneless

skinless chicken breasts (4 to 6 ounces each)

2

medium yellow onions

peeled and sliced into 1/4-thick rounds

2

red bell peppers

cut in half and seeded

1

green bell pepper

cut in half and seeded

12

flour tortillas
Instructions
All ingredients ready? Let's begin!

In a small mixing bowl, whisk together the olive oil, lime juice, garlic, chili powder, salt, and pepper. Place the chicken breasts in a glass baking dish or 1-gallon plastic baggie. Pour 1/2 of the marinade over the chicken and turn to coat evenly. Reserve the rest for the vegetables. Seal the dish or baggie and refrigerate for 1-1/2 hours and up to 4 hours.

Remove the chicken from the refrigerator 30 minutes prior to grilling and set it aside to come to room temperature.

Lay out your onions and peppers on a sheet pan. Pour the remaining marinade over the onions and peppers, trying not to separate the onion slices into rings. Turn over to coat evenly.

Start your charcoal grill, preheat your gas grill to medium-high, or heat up your stovetop grill pan to medium-high.

Remove the chicken breasts from the marinade, allowing the excess to drip off. Grill the chicken until the internal temperature reaches 165°F when checked with a meat thermometer, approximately 7 minutes on each side. Transfer to a clean cutting board and tent loosely with foil.

While the chicken rests, grill the onions and peppers until tender and slightly charred, approximately 6 minutes per side. The onions might take longer than the peppers. Transfer the onions and peppers to the cutting board.

Separate the rings of the onion slices and place them on a large serving platter. Slice the pepper halves lengthwise into thin strips and place those on the platter. Slice the chicken crosswise into thin strips and place those on the platter.

Quickly warm the tortillas on the grill, a few seconds per side. Place them in a clean kitchen towel to keep warm.

Serve immediately with your preferred toppings
Nutrition
Calories:
560
kcal
|
Carbohydrates:
55
g
|
Protein:
33
g
|
Fat:
23
g
|
Saturated Fat:
5
g
|
Polyunsaturated Fat:
4
g
|
Monounsaturated Fat:
11
g
|
Trans Fat:
0.01
g
|
Cholesterol:
73
mg
|
Sodium:
1417
mg
|
Potassium:
747
mg
|
Fiber:
5
g
|
Sugar:
7
g
|
Vitamin A:
1507
IU
|
Vitamin C:
75
mg
|
Calcium:
165
mg
|
Iron:
4
mg
Notes & Tips
When slicing the onions, try to keep them intact for easy grilling. You will pull the rings apart after grilling.
I do love to serve the chicken and veggies piping hot, but it is really best to rest the chicken before slicing it so it doesn't dry out. I often keep everything warm on a sheet pan in a 200°F oven. Sometimes, I will just flash grill the cooked ingredients for a few seconds right before plating.
Substitutions & Shortcuts
One of my favorite shortcuts that I recently discovered is buying pre-sliced vegetables. This works especially well when using a grill pan. They aren't as easy to work with on grill grates. You can also find chicken tenderloin strips in some markets. The veggies will be in the produce section and the chicken tenderloin strips are generally in the meat display where there are items pre-packaged specifically for summer barbeques. If it is the dead of winter, go ahead and buy a bag of frozen pepper strips and frozen precooked chicken strips. Just heat both up briefly.
Chicken is not the only protein for fajitas. Try skirt or flank steak, shrimp, swordfish, fresh tuna, or pork tenderloin. I like to serve options for a crowd. I will grill shrimp, chicken, and portobello mushroom strips to please everyone. I also really like to grill whole spring onions and broccolini for vegetarians.
While I prefer the suppleness of flour tortillas to wrap around the chicken and veg, corn tortillas are perfectly acceptable, as are gluten-free cassava and almond flour tortillas.
---
Recent Recipes