Delectable Halloween Bundt Cake
What are your favorite Halloween traditions? Do you go trick or treating? Attend a costume party? Watch scary movies all night? Whatever your habits are, this Halloween bundt cake will be sure to get all your friends screaming…in delight! Perfect for any Halloween event, this cake is terrifying…ly simply to make. Is that too many Halloween jokes?
Anyway, this cake is easy and combines vanilla and chocolate cake as well as swirls of spooky colors. The only part of this cake you'll need to go out of your way for is the colors. If you don't already have assorted food dyes somewhere in the back of your pantry, you'll need to swing by the shop before you get started. If you want to make a slightly more elevated bundt cake, try this Haitian cake recipe. Or try this candy corn cake for a bit of a challenge.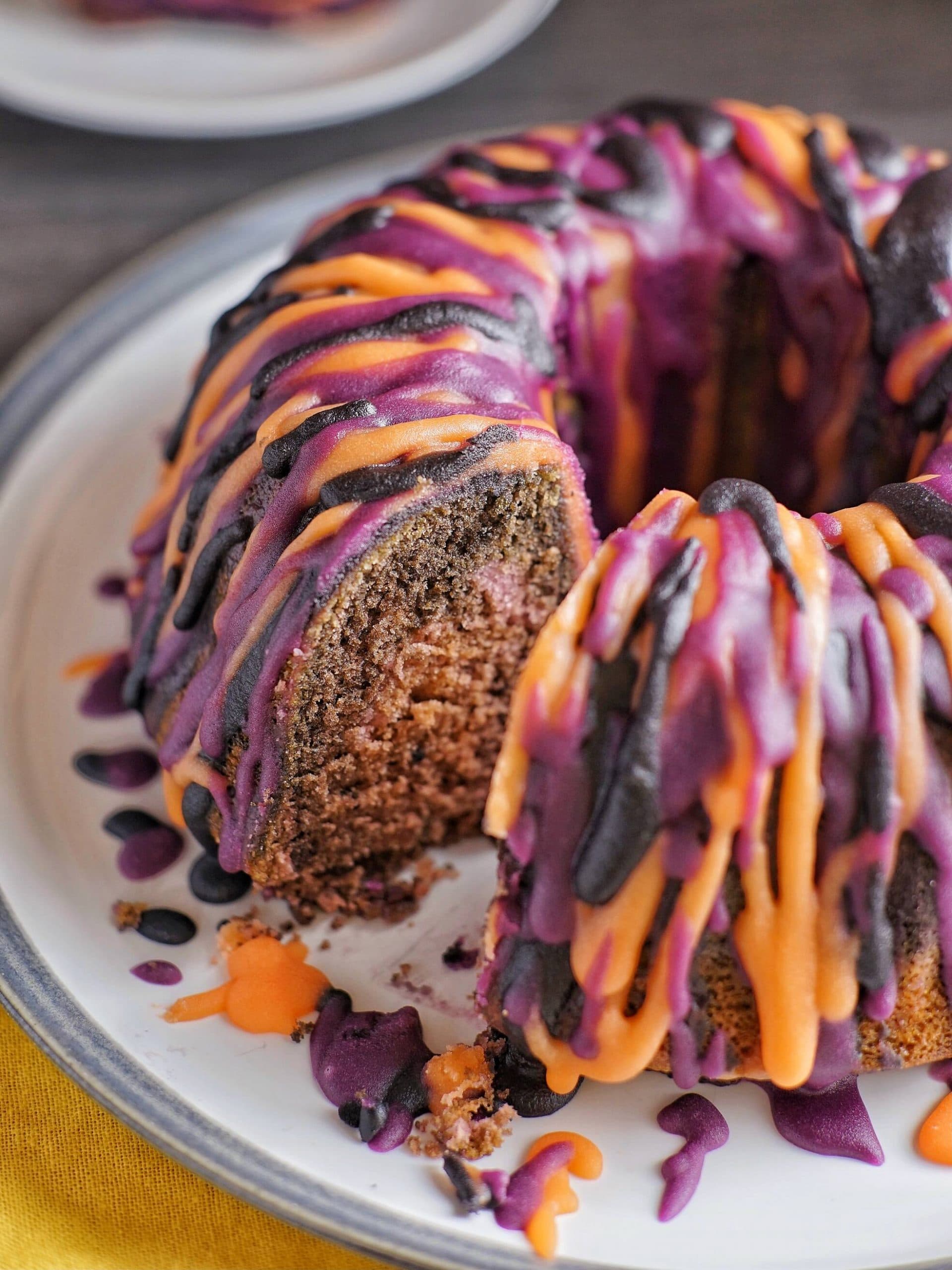 Ingredients
1 ¾

cups

sugar

2 ½

tsp

vanilla extract

1

tsp

salt

3

eggs

½

cup

vegetable oil

2 ¼

cups

flour

1

tbsp

baking powder

1 ½

cup

milk

orange food coloring

purple food coloring

black food coloring

2

tbsp

cocoa powder

4

cups

powdered sugar
Instructions
Preheat the oven to 350F. Grease a bunt cake pan using butter or non-stick cooking spray and set aside.

In the bowl of a stand mixer (or in a regular bowl using a hand mixer), add the sugar, 2 tsp vanilla, salt, and eggs. Use the paddle attachment to beat until pale and mixed.

Add the oil and continue to beat until mixed.

In a separate, clean and dry bowl, add the flour and baking powder. Whisk together.

Add half the flour mix to the egg mix and beat for a moment until just mixed. Add ½ cup of milk and do the same.

Add the last half of the flour mix, beat again, then add another ½ cup of milk and beat until it is all mixed well.

Split the batter evenly into three separate bowls.

In the first bowl, add orange food coloring. The amount needed will vary depending on the type of dye you use, so start with a little bit, mix, and then decide if you need more.

In the second bowl, add the purple food coloring. In the third bowl, add the black food coloring and the cocoa powder. Make sure all the dye is thoroughly mixed into the batter.

Pour the batter in the previously prepared cake pan, alternating each color to make the colors swirl in the pan.

If you want, you can drag a knife through in a zig-zag pattern after you've poured all the batter in. The motion will help create a stronger swirl, but be careful not to overdo it because if the colors mix together too much it will become murky.

Put the cake in the oven and bake for 40 minutes or until you can insert a fork and it comes out clean.

Let the cake cool in the pan for 15 minutes before carefully turning it upside down onto a cooling rack. You may need to slide a knife around the edges of the cake to separate it from the pan, but the cake should come out easily. Let it sit for another hour or until it is completely cool.

While you wait for the cake to cool, you can prepare the glaze. Combine the powdered sugar, ½ cup of milk, and ½ tsp vanilla in a bowl and whisk until smooth and thick. If you think it is too runny, add more powdered sugar. If it's too thick, add more milk. You should end up with a pourable but opaque glaze.

Divide the glaze evenly into three bowls. Tint each bowl with orange, purple, and black food coloring, respectively. Drizzle each color atop the cake in turn or in any fun pattern you might want.

Slice and enjoy!
Video
Nutrition
Calories:
471
kcal
|
Carbohydrates:
89
g
|
Protein:
5
g
|
Fat:
11
g
|
Saturated Fat:
8
g
|
Polyunsaturated Fat:
1
g
|
Monounsaturated Fat:
2
g
|
Trans Fat:
1
g
|
Cholesterol:
44
mg
|
Sodium:
330
mg
|
Potassium:
96
mg
|
Fiber:
1
g
|
Sugar:
70
g
|
Vitamin A:
109
IU
|
Calcium:
105
mg
|
Iron:
2
mg
Notes & Tips
This cake can be kept for 5-7 days if covered at room temperature or in the fridge. Make sure that it is carefully covered, otherwise it will dry out a lot faster.
If you want to add a little more color to the cake, use green food dye instead of black and omit the cocoa powder or add it to the purple batter. I usually adjust the color based on who I'm serving it to. If it's a kid's Halloween party, I use green. The brighter the better! If it's an adult party, I usually use black. It somehow feels more classy (because adult Halloween parties are sooo classy, right?).
As thematically fun as this cake is, it is also really versatile. If you wanted a vanilla only cake, you can omit the cocoa powder. If you wanted to get experimental, you can replace the vanilla extract with another flavor extract. Orange extract would be yummy for Halloween and it would go well with the cocoa too.
Not only can this cake be messed around with flavor-wise, you can also change the aesthetics to any occasion or party. All you have to do is divide the batter and glaze and use whatever colors you want. That combined with other flavor options means you can use this cake for absolutely any occasion. I'm already thinking about dying half the batter red and using peppermint extract instead of vanilla for Christmas. Get creative!
If you are having an adult party, also consider these Jello Shot Syringes to include with your cake.
Alterations
As with most anything, if you have dietary restrictions, you can alter this recipe. I have not tried making this vegan, but you could try using ground flaxseeds in water in lieu of eggs. I have tried the flaxseed substitution in other recipes and I have had varying results, so maybe test it in advance. For the milk, just use any plain, unsweetened, non-dairy milk (I prefer soy).
If you have gluten allergies, there is a variety of gluten-free flours you can try. A lot of them are things like rice flour or potato flour, but sometimes you can find flour that is simply called "gluten-free." Happy baking!
---
Recent Recipes