Easy Gooey Goodness Ham & Cheese Sliders
These ooey gooey cheesy goodness ham and cheese sliders are the best party food ever. So, how did I come up with this delicious and easy slider recipe? Well, I was trying to stay on a vegan diet, but then I made the big mistake of traveling to Spain. My friend ordered this popular grilled ham and cheese sandwich from Barcelona called a bikini, and let me tell you, it was hard to resist stealing a bite. But I don't regret it (and I don't regret the other bikini sandwiches I devoured during my stay). Imagine the finest Swiss cheese melted in between freshly cut York ham and hugged by two pieces of bread generously coated in butter inside and out. It's heavenly good.
I wanted to recreate this gooey ham and cheese goodness, but make it party friendly, so, of course, sliders came to mind. And, oh wow, the sweet and fluffy Brioche dinner rolls take this classic recipe to the next level. I also added Spanish paprika, and some jalapeño peppers in half of them for a little kick. If you like a little spiciness in your life, I highly recommend adding them. You won't believe that something this tasty only takes 5 minutes to prep! Now, let's make the absolute best sliders that your guests will be talking about for months after.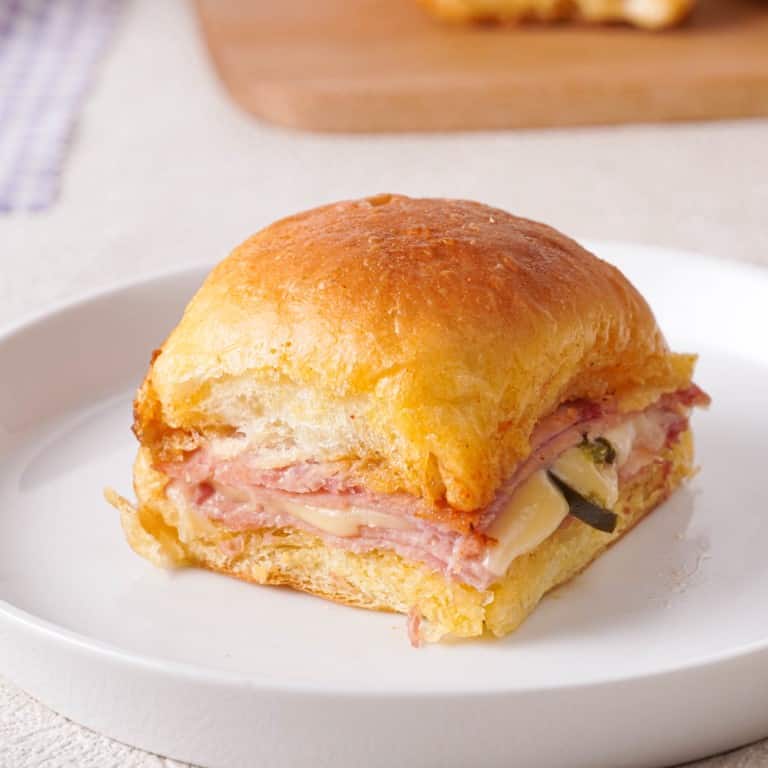 Ingredients
12

white dinner rolls

Brioche dinner rolls are recommended

¾

pound

York ham

thinly sliced

¾

pound

Emmental cheese

thinly sliced

½

cup

and 2 Tbsp. unsalted butter

Salt & pepper to taste

1

teaspoon

Spanish paprika

optional

Optional: 1/3 cup thinly sliced pickled jalapeño peppers
Instructions
All ingredients ready? Let's begin!

Preheat oven to 350F. Spray a 9×9-inch or 9×13-inch pan with cooking oil, or coat it with melted butter.

Use a large serrated knife to slice the rolls in half so that you have one layer of tops and one layer of bottoms. Don't pull the rolls apart, you want to keep them connected.

Place the bottom layer of rolls on the prepared pan.

Melt the butter in a small pot on low heat or in the microwave for about 1 minute. Mix salt, pepper, and Spanish paprika into the butter, and spread about half of the mixture on the bottoms of the rolls. Use a brush.

Evenly layer half of the ham on the rolls.

Evenly layer rolls with cheese. Add the jalapeño peppers if using. Then layer with the remaining ham.

Add the top layer of rolls and set them aside.

Evenly pour the rest of the butter mixture over the rolls. Use a spatula or brush to spread mixture over the tops. It's normal for some of the mixture to drip at the base of the rolls.

Cover rolls with aluminum foil and let sit at room temperature for 5-10 minutes.

Bake covered for about 20 minutes or until cheese has melted. Uncover and bake for another 3-5 minutes or until the desired result.

Slice into individual sliders and serve immediately. These sliders taste best warm and fresh out of the oven.
Nutrition
Calories:
342
kcal
|
Carbohydrates:
13
g
|
Protein:
16
g
|
Fat:
25
g
|
Saturated Fat:
13
g
|
Polyunsaturated Fat:
2
g
|
Monounsaturated Fat:
8
g
|
Trans Fat:
0.4
g
|
Cholesterol:
69
mg
|
Sodium:
537
mg
|
Potassium:
140
mg
|
Fiber:
1
g
|
Sugar:
0.5
g
|
Vitamin A:
613
IU
|
Vitamin C:
0.002
mg
|
Calcium:
307
mg
|
Iron:
1
mg
Notes & Tips
York ham or classic deli ham is what typically goes into a bikini Sandwich from Barcelona. But you can use any good quality ham for these sliders – honey ham, smoked ham, or even turkey ham if you're not a fan of pork. The only rule here is that the slices of ham have to be very thin. It's better to layer more slices on top of each other than to have just one fat slice. This way the melted cheese can spread through the layers of ham and add gooey goodness to the whole slider.
Don't skip the butter. The salted, spiced butter is what makes this the absolute best ham and cheese sliders recipe. The secret is to brush butter on the bottom layers of the rolls as well as on top. This way each bite is enhanced with buttery decadence.
As for the baking, don't forget to cover the rolls with aluminum foil for the first 20 minutes. Then you can uncover them for about another 5 minutes. Each oven is different, so you should set an alarm 5 minutes before to check on the sliders. You don't want to burn the buns.
Can I Make Ham & Cheese Sliders In Advance?
Yes, you can make ham and cheese sliders the night before or even 2 days before. Just make sure to skip the butter mixture and add it right before baking. In this case, you don't need to brush any butter on the bottom layer of rolls, just pour it evenly on top. To store in the fridge, cover the rolls and let them sit in the fridge for 1-2 days before baking. Remember to remove them from the fridge 15 minutes before baking.
You can also store ham and cheese sliders in the freezer. In this case, you can add the butter mixture or other condiments. But don't add any vegetables since they'll lose their qualities after being frozen. Sandwiches can last up to 6 months in the freezer.
But, since this recipe is so easy and fast to prepare, I recommend doing it the day you plan to serve them. Fresh is always best.
What Is The Best Cheese For Ham and Cheese Sliders?
I like using Emmental because it's classical, but you can use another Swiss cheese such as gruyere or Appenzeller. Gouda is also good. The important thing here is to choose a good quality cheese that melts well and that's freshly sliced. Don't buy those pre-made orange cheese slices that are anything but real cheese. They may seem to melt well, but in these easy gooey goodness ham and cheese sliders, they wouldn't provide any gooey goodness.
If you don't like Swiss cheese or gouda, try provolone, jack cheese, mozzarella, or cheddar. We have a whole article reviewing over 20 types of cheddar that you can check out! I find that a sharp cheddar pairs perfectly with the salty ham and sweet Brioche rolls.
Can I Make These Ham and Cheese Sliders Vegan?
The answer is yes. Where there is a will, there is a way. First, find the best vegan cheese for melting. Then, use your favorite vegan ham (it should also be thinly cut). It's amazing how, nowadays, some vegan meat products can taste so similar to the original. Next, replace the regular butter with vegan butter. And last, but not least, make sure your dinner rolls are vegan (Brioche rolls usually contain eggs and butter).
If you're using vegan dinner rolls, you might have to find another way to add a little sweetness to your ham and cheese sliders. I suggest mixing a tablespoon of maple syrup into the melted vegan butter. This way your sliders will still have that perfect balance of sweet and savory.
Will the vegan version taste as good as the original? That depends on the quality of the ingredients and each individual's taste. For me, nothing beats classic dairy cheese, but some companies make pretty convincing vegan alternatives.
---
Recent Recipes