Harissa paste is red hot but filled with a must-have-more flavor thanks to two different types of very specific peppers. The way herbs and spices come together in this paste from northern Africa is truly one of a kind. If you haven't tried harissa before and have a taste for spicy food, you're doing yourself an injustice. Follow our recipe, and you'll have harissa paste better than anything store-bought that you can use as a sauce, relish, or flavor enhancer in other meals.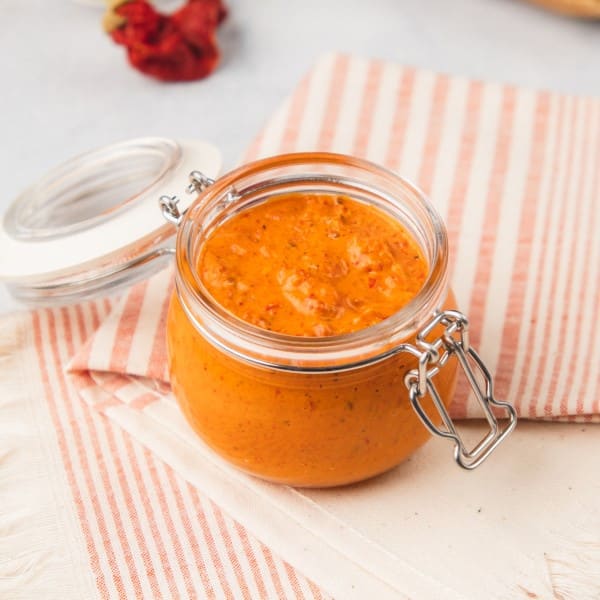 Ingredients
8

Dried Arbol Peppers

Stemmed (+- 4 Ounces)

8

Dried Guajillo Peppers

Stemmed (+- 4 Ounces)

1

Teaspoon

Cumin Seeds

1

Teaspoon

Coriander Seeds

1

Teaspoon

Caraway Seeds

1

Lemon

Zested & Squeezed

2 ½

Teaspoons

Sea Salt

8

Cloves

Garlic

Pressed & Chopped

½

Cup

Olive Oil

¼

Cup

Canola Oil
Instructions
Soak the dried arbol and guajillo peppers in a cup of boiling water.

Cover/lid the jug or container to ensure that it steams and allow the dried peppers to rehydrate.

While waiting for the peppers to rehydrate, heat a saucepan or skillet over medium heat and dry fry the cumin, coriander, and caraway seeds for approximately 4 minutes while stirring to ensure even toasting until they begin popping. Set aside for grinding with a mortar and pestle or blender.

Grate the zest of one whole lemon.

Combine the lemon zest with a teaspoon of sea salt in a mortar and crush together until fragrant and completely broken down.

Remove the dried peppers that have been soaking from the water, shake off any excess moisture and transfer to a blender. Pulse until smooth.

Combine the dried peppers, lemon salt with the toasted spices, garlic, olive oil, canola oil, and freshly squeezed lemon juice in a blender.

Process until smooth while infrequently stopping to scrape the sides and ensure the paste is being well combined as it's blended.

Use immediately or transfer to an airtight container and top off with additional olive oil to create a half-inch layer before storage.
Nutrition
Calories:
90
kcal
|
Carbohydrates:
2
g
|
Protein:
0.4
g
|
Fat:
9
g
|
Saturated Fat:
1
g
|
Polyunsaturated Fat:
2
g
|
Monounsaturated Fat:
6
g
|
Trans Fat:
0.01
g
|
Sodium:
325
mg
|
Potassium:
48
mg
|
Fiber:
1
g
|
Sugar:
1
g
|
Vitamin A:
474
IU
|
Vitamin C:
3
mg
|
Calcium:
7
mg
|
Iron:
0.3
mg
Harissa Paste Substitutions
Fresh peppers can be substituted for dried peppers and will result in a slightly sweeter flavor profile. Those using fresh peppers instead of dried peppers should roast the outer skin before use. Lightly oil the skins of your peppers and place them on a greased baking tray. Roast in an oven preheated to 450°F while infrequently turning for twenty minutes or until the skins begin to blacken. Remove from the oven, peel the skins, and process for the harissa paste.
If you can't get hold of dried arbol or guajillo peppers, feel free to use any dried red peppers available. Alternatively, find a variety that you like and dry your own. Even bell peppers will work but keep in mind that these carry no heat, so you'll need to add a few dried or freshly roasted chilis to the mix in order to give your paste a burn.
What Is Harissa Paste?
Harissa paste is a fiery thick North African sauce that relies on dried chili and an assortment of herbs for its lingering yet flavorful burn. With heat comparable to Sriracha, Harissa paste is a hot but not lethal condiment. It's favored as a rub, marinade, and sauce while imparting heat and flavor to any meal it's included in.
Where Does Harissa Paste Originate?
Harissa paste was first created in Tunisia in Northern Africa. It's a commonly used ingredient in Algerian and Moroccan cuisine. The first known commercially produced harissa sauce/paste arose in 1948 when the first canning factory opened in the Cape Bon peninsula in northeastern Tunisia.
What Does Harissa Sauce Taste Like?
Harissa has an intense roasted chili flavor with a lingering pepperiness that's offset by the slight but persistent taste of garlic. Toasted spices fuse into layers of spiciness with a slight sweetness and a hint of citrus that makes the heat pop.
Are Harissa And Sriracha Similar?
Mexican Chile de Arbol ranges in heat between 15,000 to 30,000 units on the Scoville scale. Mild guajillo chilis are included for their fruity flavor and measure only 2,500 to 5,000 units each. To put this into perspective, Sriracha chilis are even milder than guajillo and carry between 1,000 to 2,500 Scoville heat units each. Both harissa and sriracha have a similar type of sweetness, but harissa is hotter, smokier, and more complex in flavor.
Harissa Paste Substitutions
One can make a paste that's similar to harissa by using just about any type of pepper. The key to harissa's flavor is using two different peppers. One to grant heat and another to impart sweetness.Aji Amarillo, Aji Rojo, Tabasco chilis and Guntur Sannam from India are all similar in heat to Chile de Arbol. Milder, sweeter chilis with heat comparable to guajillo chilis include anaheim chilis, cherry peppers, New Mexico green chilis, ancho chiles, cascabel, and pasilla peppers.
How To Make Rose Harissa
Rose harissa is a popular variation of the classic Tunisian paste that includes tomatoes and rose petals. To make rose harissa, follow our harissa paste recipe but combine the petals of eight edible dried rosebuds into your paste with a mortar and pestle. At the blending step, mix in three chopped fresh tomatoes, four extra tablespoons of lemon juice, and two tablespoons of tomato paste. Process until smooth, and you've got rose harissa ready to use.
How To Make Creamy Harissa Sauce?
There are endless uses for harissa. Turn harissa paste into a creamy harissa sauce by combining it with yogurt or coconut cream. Yogurt and harissa together with a touch of extra lemon juice and perhaps a little extra salt and pepper is a wonderful salad dressing that works equally as well on top of meat. Harissa and coconut cream combined into sauce are ideal together for pasta. Simply customize the sauce with your choice of fresh ingredients. Bell peppers, cherry tomatoes, and fresh chopped chilis are just a few tasty suggestions for a fresh harissa pasta.
How Long Does Harissa Last?
Harissa paste can be safely refrigerated for up to three weeks as long as you keep the jar or container topped up with a thin half-inch layer of olive or vegetable oil. It will remain safe to use for an extended period at times exceeding three weeks as long as the container is not contaminated by external bacteria. Only scoop from the paste using a clean spoon, knife, or another utensil.
Harissa Paste From Powder
Store-bought harissa powder contains almost all the same ingredients as harissa paste. Mix a tablespoon of harissa powder with a tablespoon of vegetable or olive oil and half a tablespoon of boiling water. Stir well to create a paste. After allowing the paste to rest for an hour, the consistency will be smooth and pasty but somewhat gritty. It's a suitable substitute for homemade harissa paste but will not have as pungent, prominent bold flavor due to the aging of the spice and the lack of freshly processed ingredients.
What To Serve Harissa Paste With?
Harissa paste is versatile enough to be served with just about anything. In North Africa, you'll find harissa served aside stews (particularly lamb), couscous, and on bread as a tasty relish. Give it a try on homemade pizza to spice things up. Otherwise, slather it atop our homemade vegetarian shepherd's pie with black beans, instant pot stuffed pork chops, or even our simple Mexican quiche with chorizo. Anywhere that you need heat, harissa will help while imparting delicious extra flavor of its own.
---
Recent Recipes