Harissa is a North African spice and chili pepper blend. It packs a punch of heat and flavor and it is super easy to use because the spices are already mixed. No more measuring out coriander by the teaspoon or chopping five different kinds of peppers! Whether you use harissa paste or powder, your work is halved, leaving you more time to prepare dessert or have a glass of wine while you wait for dinner.
Shrimp is a common ingredient and very easy to find in stores, but how many of us really utilise its full potential? I know I spent a lot of time thinking all shrimp was good for was popcorn shrimp or those fancy shrimp cocktails you see in movies. Sidenote: as a kid, shrimp cocktails were so confusing. Why would you drink shrimp? Did it get you drunk? But I digress. Gone are the days of childhood, shrimp-related questions. Now you can unlock the ultimate shrimp with the help of a nifty pepper paste.
If you have a difficult time with spicy foods or you are feeding picky children, don't worry. Harissa paste comes in a variety of heat levels, so you are sure to make this dish fit your style.
If harissa isn't really your thing, but you still have shrimp lying around that needs using up, try these great shrimp empanadas.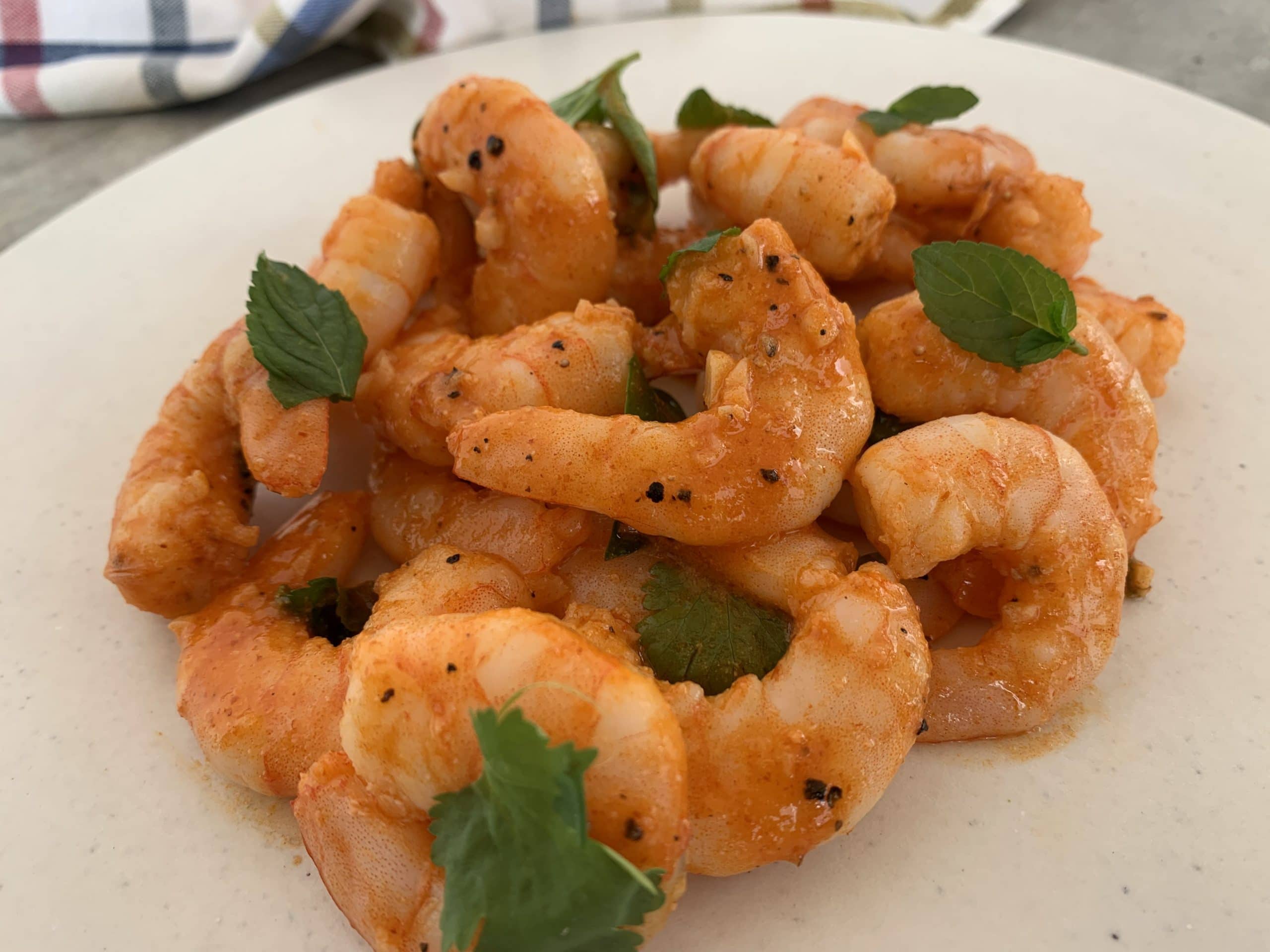 Ingredients
2

tbsp.

olive oil

2

garlic cloves

1 ½

lbs

shrimp

peeled and deveined

3

tbsp.

harissa paste

Pinch

of pepper

¼

tsp.

salt

1 ½

cup

fresh basil leaves

½

cup

fresh cilantro leaves

4

tbsp.

fresh mint

3

tbsp.

lemon juice
Instructions
Over medium high heat, warm the oil in a large skillet or pot. Make sure the pot you use is large enough to accommodate your shrimp later.

Dice the garlic and add it to the skillet when the oil is heated through. You can check by flicking a drop of water into the oil. If it sizzles, it's ready. Cook and stir until the garlic starts to brown. This should take about 5 minutes.

While the garlic is cooking, combine in a large bowl the shrimp, harissa, pepper, and salt. Toss to coat. If you want to prep this meal beforehand, you can prepare up to this step, then cover the shrimp in the bowl and leave it in the fridge before cooking.

When you're ready, add the shrimp and marinade to the skillet and stir. Cover the skillet and let the shrimp cook for about 5 minutes. You'll know they are cooked through when they change color and become opaque.

Remove from heat and transfer the shrimp and its accompanying harissa sauce mix to a clean bowl. Roughly chop the basil, cilantro, and mint before adding it to the bowl. Pour the lemon juice on top and toss to coat.

Plate up and garnish with a sprig of mint before enjoying.
Video
Nutrition
Calories:
239
kcal
|
Carbohydrates:
6
g
|
Protein:
35
g
|
Fat:
9
g
|
Saturated Fat:
1
g
|
Polyunsaturated Fat:
1
g
|
Monounsaturated Fat:
6
g
|
Trans Fat:
1
g
|
Cholesterol:
274
mg
|
Sodium:
476
mg
|
Potassium:
629
mg
|
Fiber:
2
g
|
Sugar:
2
g
|
Vitamin A:
1314
IU
|
Vitamin C:
13
mg
|
Calcium:
168
mg
|
Iron:
2
mg
Serving Suggestions
There are a lot of ways you can snazz up this simple harissa shrimp dish. You can cook some chickpeas alongside the shrimp and put it on top of rice. You can toast a bread roll, add some crispy iceberg lettuce, and have a specialised shrimp po boy sandwich. You can thinly slice a few radishes and toss it in with the shrimp for a crunch with an edge. Or, you could just eat it plain! It's so yummy that you can't go wrong.
Side Suggestions
Since this recipe is relatively simple, you will definitely want some side dishes to round out your meal. One great suggestion is this Banh Trang Tron Salad. It is a delicious, hearty salad that is very popular in Vietnam and would pair really well with shrimp. If that is too much extra effort for you, keep it super easy with some steamed broccoli. All you need to do is add a little water to a pot and bring it to a boil before adding broccoli florets and a sprinkle of salt. When done, the broccoli will be dark green and soft.
Notes & Tips
If you cannot find all the herbs fresh, don't give up! You can substitute dried herbs. The shrimp will still taste good, but the flavor will be a little less vibrant.
If you have any leftovers, you can store them in an air-tight container in the fridge for up to three days. Shrimp is surprisingly good cold, so you won't even need to reheat it before eating if you don't want to. You could also chop up leftover shrimp and add it to eggs for a fancy omelette the next morning.
I wouldn't recommend freezing and dethawing this dish. If you wanted to meal prep though, you could prepare the marinade, coat the shrimp in it, and then put it in an air tight container to freeze. When you want to cook it, simply remove it from the freezer and continue the directions from there.
More about Harissa
If you have never tried harissa before, you might want to know what you are getting into. Harissa is a blend of several different kinds of chili peppers and often includes caraway, coriander, garlic, cumin, and mint. It comes in a paste and a powder, but they are essentially the same thing. Harissa originated in North Africa, where it is still commonly used. It is also quite popular in Middle Eastern food.
As you might expect, harissa is a spicy chili sauce and has all the accompanying zing. However, you can buy it in a range of heat, from mild to super spicy. It is easy to make at home too, so you could always customise it to your palate. A good harissa paste (or powder) has a hot, smoky flavor with an underlying taste of sweet garlic. If you have never had it before, it is something worth trying. You might find you love it! If you ever run out of harissa dish ideas, you can always come back to this yummy shrimp recipe.
---
Recent Recipes