Egyptian hawawshi is, in short, a pita sandwich stuffed with spiced beef. While that might sound boring to some, the reality is very different. These sandwiches are lush and absolutely bursting with flavor. The spice mix used in this recipe is roughly 10 different spices! This is a common street food and it is reportedly from Cairo, though the concept of meat-stuffed bread can be found all over the world (even empanadas fit this criteria). Hawawshi could also be described as a meat-calzone or meaty samosa. Because this dish has spread in popularity, it also has a lot of different versions. If this recipe isn't quite right for you, don't give up on this yummy sandwich! Below the recipe you will find several suggestions for modification. Lots of people make the bread to use for hawawshi, but I have chosen a slightly easier route, opting for pre-made pita bread. If you want a more authentic experience with this dish or simply want to make use of your culinary skills, you can make your own pita bread before starting on the rest of the sandwich.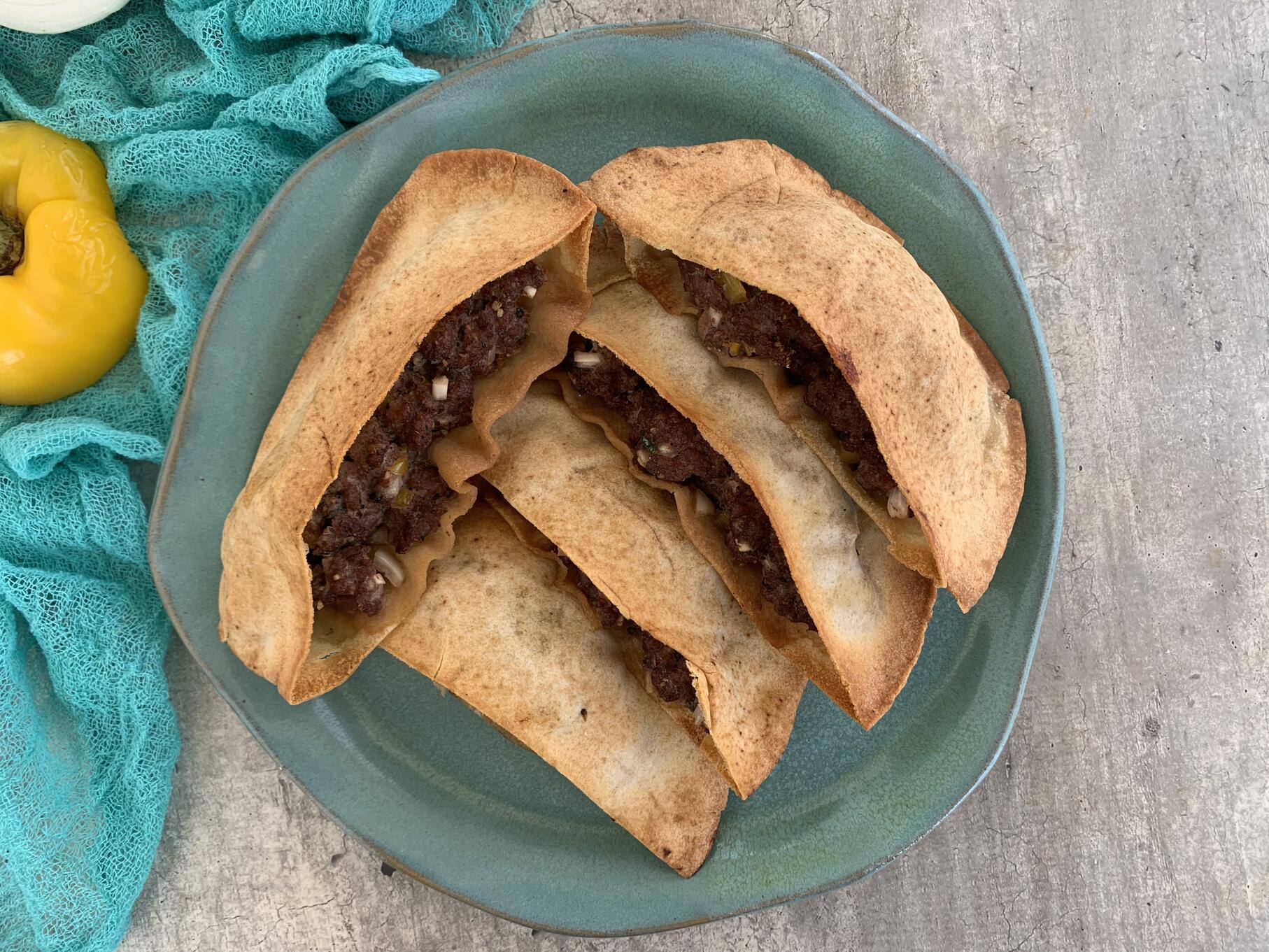 Ingredients
1

onion

4

cloves

garlic

1

bell pepper

½

cup

fresh parsley

2

tsp

salt

1

tsp

garlic powder

1

tsp

coriander powder

¾

tsp

allspice

½

tsp

ground black pepper

½

tsp

sweet paprika

½

tsp

cumin powder

½

tsp

ground cayenne pepper

¼

tsp

ground cloves

¼

tsp

ground cinnamon

2

lbs

ground beef

¼

cup

olive oil

8

pita breads
Instructions
Assemble your ingredients.

Before anything else, preheat your oven to 400F. Line a cooking pan with parchment paper and place a heat-proof baking rack on top (or use a grill pan).

Finely dice the onion and garlic. Chop the bell pepper and parsley, then add all four ingredients to a large bowl.

Use a small bowl and combine all the spices. Use a whisk or fork to blend all the spices together.

Add the ground beef and the spice blend to the bowl with the onion mixture. Use a wooden spoon or spatula to mix thoroughly, ensuring that the spices and vegetables are thoroughly incorporated into the beef.

Cut each pita in half and pull the sides open to make pockets. If you heat them for a few seconds in a microwave, they might open a little bit easier.

Spoon roughly ¼ cup of beef mixture into each pita half. Brush each side of pita with oil before arranging on the prepared baking tray and inserting into the oven.

Cook for about 15 minutes, but make sure to flip the pitas over halfway through. You want each side to get crispy.

After the beef is cooked through, remove from the oven and serve hot. If you're feeling fancy, garnish each with a spring of parsley on top.
Video
Nutrition
Calories:
416
kcal
|
Carbohydrates:
28
g
|
Protein:
20
g
|
Fat:
24
g
|
Saturated Fat:
8
g
|
Polyunsaturated Fat:
1
g
|
Monounsaturated Fat:
12
g
|
Trans Fat:
1
g
|
Cholesterol:
64
mg
|
Sodium:
770
mg
|
Potassium:
377
mg
|
Fiber:
2
g
|
Sugar:
1
g
|
Vitamin A:
719
IU
|
Vitamin C:
21
mg
|
Calcium:
70
mg
|
Iron:
3
mg
Notes & Tips
If you have leftovers, you can put them in an airtight container or plastic bag and refrigerate them for up to 5 days. When you're ready to eat them, you can heat them up in the microwave. However, a microwave will make the hawawshi a little bit soggier than the first time, so I recommend something a little different. If you really want to breath life back into your hawawshi, you should fry them. Add a little bit of oil to a pan over medium-high heat. Once the oil is hot, carefully place the hawawshi in it. Let it cook for a few minutes on either side, or until the meat is heated through to the center. This method ensures a warm, crispy Egyptian hawawshi. Happy eating!
Serving Ideas
Because hawawshi is jam-packed with spices, it can be nice to serve it alongside a cooler side dish. I have found that dipping hawawshi in a yogurt-based sauce can relieve some of the heat and add an extra dimension to you eating experience. If you want more of a side than a sauce, try this Cucumber Yogurt Soup. It's simple, refreshing, and the perfect thing to compliment such a meat and spice heavy sandwich.
Substitutions
Just because the ingredient list for this recipe is long doesn't mean it is hard. Most of those ingredients are the spices, so if you forget about those for a minute, you can see that the basics are not too complicated. Because of that, it is quite simple to make any necessary substitutions. Beef is the meat used here because it is traditional and usually easy and cheap to find. However, you can swap ground beef with any other ground meat, or even use a mixture of meats. Ground turkey meat would be a healthier alternative. Personally, I am not really a fan of beef in general, so I like to use pork instead of beef as much as I can. There is also a nearly identical version of this dish in Lebanon called arayes that uses lamb instead of beef. Use whatever you have on hand!
Another key aspect of hawawshi is the bread. As I mentioned earlier, a lot of people make their own Mediterranean-style bread for this. Some people make their own pitas and cook just as in this recipe, but some people make bread dough, wrap the meat in the dough, and then cook it. If you wanted to try it this way, you can make a simple bread with ingredients that you probably already have at home.
The spices are really what make this dish special, but there are a lot in there! Sometimes the flavor can be overwhelming or you might have an aversion to a particular spice. If this is the case, feel free to adjust the amount of each spice. If you use more allspice and cinnamon, your meat mix will taste a little sweeter. If you use more cumin and pepper, it will be spicier. A lot of people enjoy adding extra chili to this dish, so if heat is something you like, go ahead and add some ground chili powder.
---
Recent Recipes