There is a Japanese hibachi restaurant in my town where we often celebrated kids' birthdays at. Family's gathered around a giant flattop while a skilled grill chef seared shrimp, chicken, steak, and vegetables very quickly over high heat. Of course, there was quite a show to go along with this meal prep that mesmerized and excited the kids while the adults relaxed and got caught up. My nieces and nephews would even arrive from another state for this Saturday evening celebration.
This meal was incredibly fun and crazy expensive. While I can't flip a cooked shrimp into a chef's hat with a spatula, I can definitely make hibachi-style meals at home that are tasty and affordable. I use my well-seasoned cast-iron skillet or my carbon steel wok for this recipe.
I always make a steaming pot of short grain brown rice or some cellophane noodles to serve with hibachi shrimp. I also sauté vegetables. My go-to hibachi vegetables are onions, broccoli florets, shitake mushrooms, and baby corn (omit corn for paleo and keto compliance). I may add water chestnuts or mung bean sprouts for some fresh crunch. Sometimes, I will change it up with bok choy, snow peas, carrots, green beans, red bell peppers, and celery. There is no hard and fast rule about which vegetables to use.
We'll keep this recipe fairly simple with good quality raw shrimp and a few vegetables. The shrimp is seared first in oil, garlic, and ginger because they take longer than the shrimp to cook. The shrimp is added for just a couple of minutes. Everything is then finished with a soy sauce or tamari, mirin, and sesame oil mixture and topped with sliced scallions, and sesame seeds.
Hibachi shrimp is often served with yum yum sauce. This is a mayonnaise and sriracha-based finishing sauce that you will often find in squeeze bottles in Japanese restaurants. You can buy this prepared and bottled in many supermarkets or Asian specialty markets. Or, you can make your own. This hibachi shrimp recipe includes ingredients and instructions for making your own yum yum sauce that can be made ahead of time and stored in the refrigerator until ready to use. Making your own yum yum sauce is optional.
If serving this with rice, start your rice at least 20 minutes prior to making the hibachi shrimp so that it is ready when you are about to serve. Brown rice takes about 35 minutes. White rice takes 18 minutes. Just follow the package directions for perfect results. You can serve this with cauliflower rice for a keto-friendly and paleo-style meal.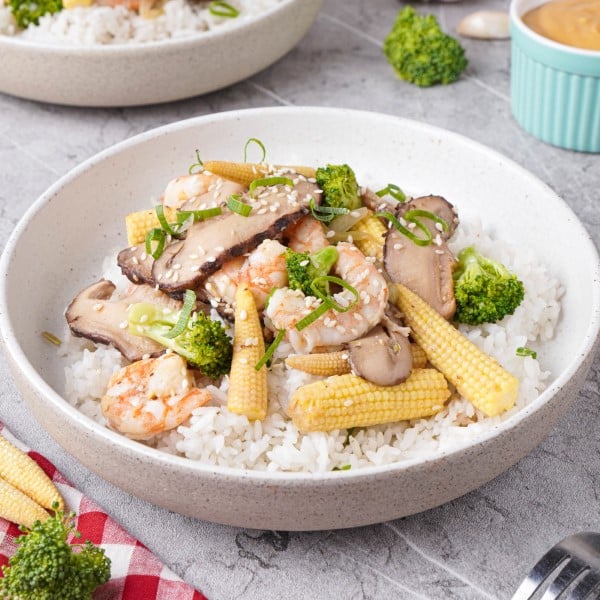 Ingredients
Yum Yum Sauce
1

cup

of good mayonnaise

1

Tbsp

ketchup

2

tsp

sriracha sauce

1

tsp

mirin

sweet rice wine vinegar

½

tsp

toasted sesame oil

2

small cloves of garlic

pressed or finely minced

½ – 1

tsp

grated fresh ginger

Water or milk for thinning

only if necessary
Shrimp and Vegetables
2

cups

cooked rice

1

Tbsp

soy sauce or tamari

2

tsp

mirin

1

tsp

toasted sesame oil

1 ½

Tbsp

light vegetable oil

more if needed

½

medium onion

sliced thinly

1

garlic clove

minced

½

tsp

grated fresh ginger

2

cups

bite-size broccoli florets

1 ½

cups

sliced shitake mushrooms

stems removed and discarded

1

can baby corn cobs

drained and sliced in half (optional)

1

pound

large raw shrimp

peeled and deveined

Sesame seeds and sliced scallions for serving
Instructions
All ingredients ready? Let's begin!
Yum Yum Sauce
In a medium mixing bowl, whisk together the mayonnaise, ketchup, sriracha, mirin, sesame oil, garlic, and ginger. If too thick, whisk in a very small amount of water or milk.

Cover and refrigerate until ready to serve.
Shrimp & Vegetables
Cook your rice before starting the vegetables. Set aside.

In a small mixing bowl, whisk together the soy sauce, mirin, and sesame oil. Set aside.

In a wok or large heavy-bottomed skillet over medium-high heat, warm the vegetable oil. Once hot, add the onion slices, garlic, and ginger. Sauté the aromatics until they just start to soften, 1 to 2 minutes.

Add the broccoli and mushrooms. Cook, stirring often, for about 2 minutes until the vegetables start to wilt.

Add the corn and shrimp and sauté for 2 minutes, stirring often, or until the shrimp just start to turn pink.

Turn the heat to high and add the soy sauce mixture. Toss quickly to coat. As soon as the wet ingredients start to boil, turn off the heat.

Place the rice in individual serving bowls. Spoon the shrimp and vegetables over the rice. Garnish with sesame seeds and scallions.

Serve immediately with the yum yum sauce on the side.
Nutrition
Calories:
698
kcal
|
Carbohydrates:
38
g
|
Protein:
22
g
|
Fat:
51
g
|
Saturated Fat:
8
g
|
Polyunsaturated Fat:
29
g
|
Monounsaturated Fat:
12
g
|
Trans Fat:
0.2
g
|
Cholesterol:
166
mg
|
Sodium:
1387
mg
|
Potassium:
552
mg
|
Fiber:
3
g
|
Sugar:
6
g
|
Vitamin A:
589
IU
|
Vitamin C:
46
mg
|
Calcium:
125
mg
|
Iron:
2
mg
Notes & Tips
To really embrace the flavor and flair of hibachi-style Japanese cooking, it is imperative that the wok, skillet, or flattop be very hot. This dish cooks quickly and you are looking for a hard sear on the vegetables and shrimp with the finishing sauce sticking to everything.
Substitutions
Fresh, raw shrimp is ideal for the success of this recipe. If you only have access to raw frozen shrimp, that is okay. I use frozen shrimp a lot because I keep a bag of it in my freezer for quick meals. The key is to defrost it in the fridge overnight and then pat it dry with paper towels to remove any moisture that will cause the shrimp to steam. You can also make this dish with cubes of swordfish, thinly sliced ribeye or filet mignon, or diced extra-firm tofu.
When it comes to the vegetables, you have a world of options. My local hibachi restaurant makes this dish with onions, celery, button mushrooms, and mung bean sprouts. Kids love this combination. You can make it more colorful and sweeter with carrots and red bell peppers. Basically, use whatever fresh veggies you have in your crisper drawer that will cook nicely over medium-high heat (not potatoes). You want the vegetables to be crisp and brightly hued, not mushy and gray.
I call for soy sauce, mirin, and toasted sesame oil for finishing the cooking. To be perfectly transparent, I generally just reach for coconut aminos for the finishing sauce. Coconut aminos are salty and sweet with just the right amount of earthy umami. It is both convenient and delicious. Coconut aminos are also naturally gluten-free, as is tamari. The aminos are also keto and paleo compliant.
---
Recent Recipes