Homemade Brie Mac & Cheese
Do you ever get in one of those moods where you want to eat something comforting and nostalgic but you've outgrown a lot of your old childhood tastes? If you know that feeling, I've got the perfect recipe for you. If you can't relate, I still have the perfect recipe for you.
Macaroni and cheese is a common childhood staple, but the brand-name box mixes start tasting a little overwhelming when you grow up. That's why this version featuring brie cheese is an amazing way to pay homage to your childhood while enjoying the freedom of adulthood. Also, it's a great dish to bring to parties!
This dish uses mild cheese flavors, but includes a few spices to make sure there's still enough going on. If you prefer your mac and cheese with a bit more bite, here's a recipe for Haitian style mac and cheese that utilizes some stronger, more savory cheeses like gouda.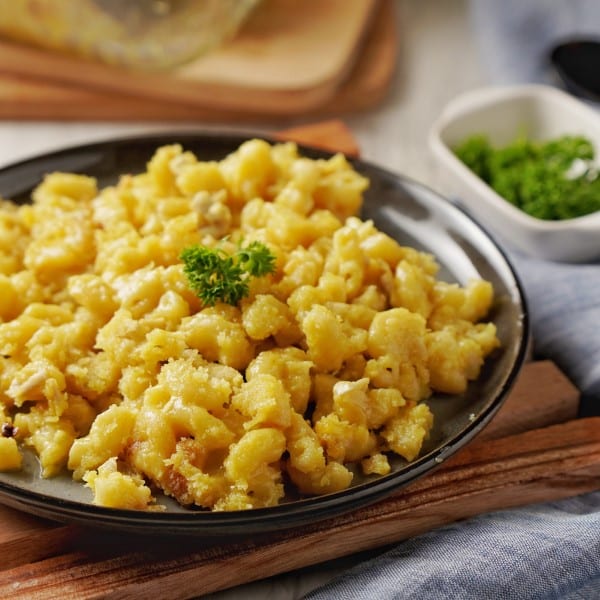 Ingredients
3

tbsp

butter

3

tbsp

flour

4

cups

milk

3

cloves

garlic

½

tsp

onion powder

½

tsp

turmeric

1

tsp

salt

½

tsp

pepper

½

tsp

red pepper flakes

1

kg

brie cheese

1

cup

shredded mozzarella

4

cups

elbow pasta

½

cup

panko

¼

cup

parmesan

Fresh parsley
Instructions
All ingredients ready? Let's begin!

Preheat your oven to 390F.

Peel and finely chop the garlic.

In a saucepot, melt the butter. Add the garlic and cook for 2 minutes or until the garlic is fragrant.

Add the flour and stir with a whisk until it thickens into a paste.

Slowly add the milk to the pot and whisk continuously to prevent clumping. Keep whisking until the milk also thickens.

Add the onion powder, turmeric, salt, pepper, and red pepper flakes. Stir to combine.

Next add the brie cheese and mozzarella. Stir until the brie is at mostly melted and everything forms a thick, goopy sauce.

While the cheese is melting, fill a large pot with water and a pinch of salt before bringing it to a boil.

Add the pasta and cook for 5 minutes or so. The pasta should be just soft enough to pinch but not fully cooked.

Drain the pasta and combine it with the cheese before transferring it to a large baking dish.

Mix together the parmesan and panko, then sprinkle it on top of the pasta, trying to evenly coat the surface.

Place in the oven and cook for around 24 minutes or until the panko looks golden and crisp.

Remove from the oven and allow it to cool for 10 minutes.

Use a large serving spoon to scoop the mac and cheese and serve it with a sprig of parsley on top as garnish.

Revel in your classy mac and cheese and enjoy!
Nutrition
Calories:
1115
kcal
|
Carbohydrates:
86
g
|
Protein:
59
g
|
Fat:
59
g
|
Saturated Fat:
36
g
|
Polyunsaturated Fat:
2
g
|
Monounsaturated Fat:
16
g
|
Cholesterol:
205
mg
|
Sodium:
1735
mg
|
Potassium:
766
mg
|
Fiber:
4
g
|
Sugar:
12
g
|
Vitamin A:
1486
IU
|
Vitamin C:
1
mg
|
Calcium:
694
mg
|
Iron:
3
mg
Notes & Tips
The brie mac and cheese can be covered or transferred to another container with a lid and kept in the fridge for five days. Reheat in the microwave before serving again.
If your leftover mac and cheese has gone a little runny, you don't need to throw it out yet! Check out these tips to thicken mac and cheese so you can enjoy it as long as it lasts. If you want to use your leftovers but want to add a twist, you could check out some of the additions below and add them fully cooked to your leftovers.
Substitutions
If you don't have panko, it is easy to make it yourself. Panko is basically dry bread crumbs, but it's ready to use. To make it on your own, crumble a few slices of bread until you get more the amount of panko you need (it can shrink as it dries). You can crumble the bread using your hands or use a food processor to speed up the process.
Spread the bread crumbs on a baking tray and drizzle the tiniest bit of oil across. Sprinkle a pinch of salt and pepper then give it a little shake to mix. Arrange the crumbs in an even layer and bake in the oven at 350F for 5-10 minutes. You want the crumbs to be hard and dry but not burned.
If you have a toaster oven, you can also toast the crumbs for a few minutes to achieve the same results.
Elbow pasta can be substituted with shell pasta or spirali pasta.
Additions
If you want to jazz up your brie mac and cheese even more, there are some super yummy ways to do that. When I was younger, my mom would try to sneak some healthier bits inside my mac and cheese and I didn't hate it. Here are a few ideas for you to consider:
Broccoli. Something about broccoli and cheese is a surprisingly good pairing. To add broccoli to your mac and cheese, cut the florets off the stem and chop into smaller pieces. Boil some water with a pinch of salt and drop the broccoli florets in to cook for a few minutes. Like the pasta, you don't want them to get too soft yet.
Add them to the pasta and cheese mix before it going in the baking dish and continue as usual. If you decide to add broccoli after the mac and cheese is cooked, boil the broccoli longer until it is soft.
Bacon. The crispy, fatty flavor of bacon adds excitement to any mac and cheese. Cook the bacon on a baking sheet in the oven at 350F for 8 minutes or until it becomes extra crisp. Remove from the oven and let cool on some paper towels to soak up the excess liquid.
Once the bacon is cool enough to handle, chop into small pieces. Add to the pasta and cheese just before going into the baking dish and continuing as before.
The bacon can also be adjusted by using prosciutto. Cook it about the same as the bacon, but for less time because prosciutto is much thinner. Finely dice the same way and add to the rest of the ingredients before cooking.
---
Recent Recipes