Futomaki rolls are a kind of sushi roll. They are generally larger than the average sushi roll, which is indicated by their name. The name "futomaki" essentially means "fat sushi roll." That being said, it can often be called different things in Western countries because most Westerners don't understand Japanese or the specific words used for things. Futomaki is sometimes simply called "maki" which is basically just "sushi roll." If you see futomaki on a menu though, just know it means the circumference of the sushi roll is larger than you might be expecting. If you would rather have a smaller roll, try this avocado sushi roll instead.
Sushi is an absolutely delicious Japanese dish usually composed of rice, fish, vegetables, and seaweed, though there are several variations. Not only is sushi so yummy, it also has a surprising amount of health benefits!
I recommend getting a bamboo sushi mat to assist you with shaping the sushi rolls. You can get them in a variety of styles, but they all serve to help tightly wrap the roll so it does not fall apart when cut. You can find bamboo sushi mats online, in Asian shops, and often in regular supermarkets. In lieu of a sushi roller, you can do it with your hands but it will be more difficult. The shaping of the roll usually takes the longest amount of time, which is included in the prep time below.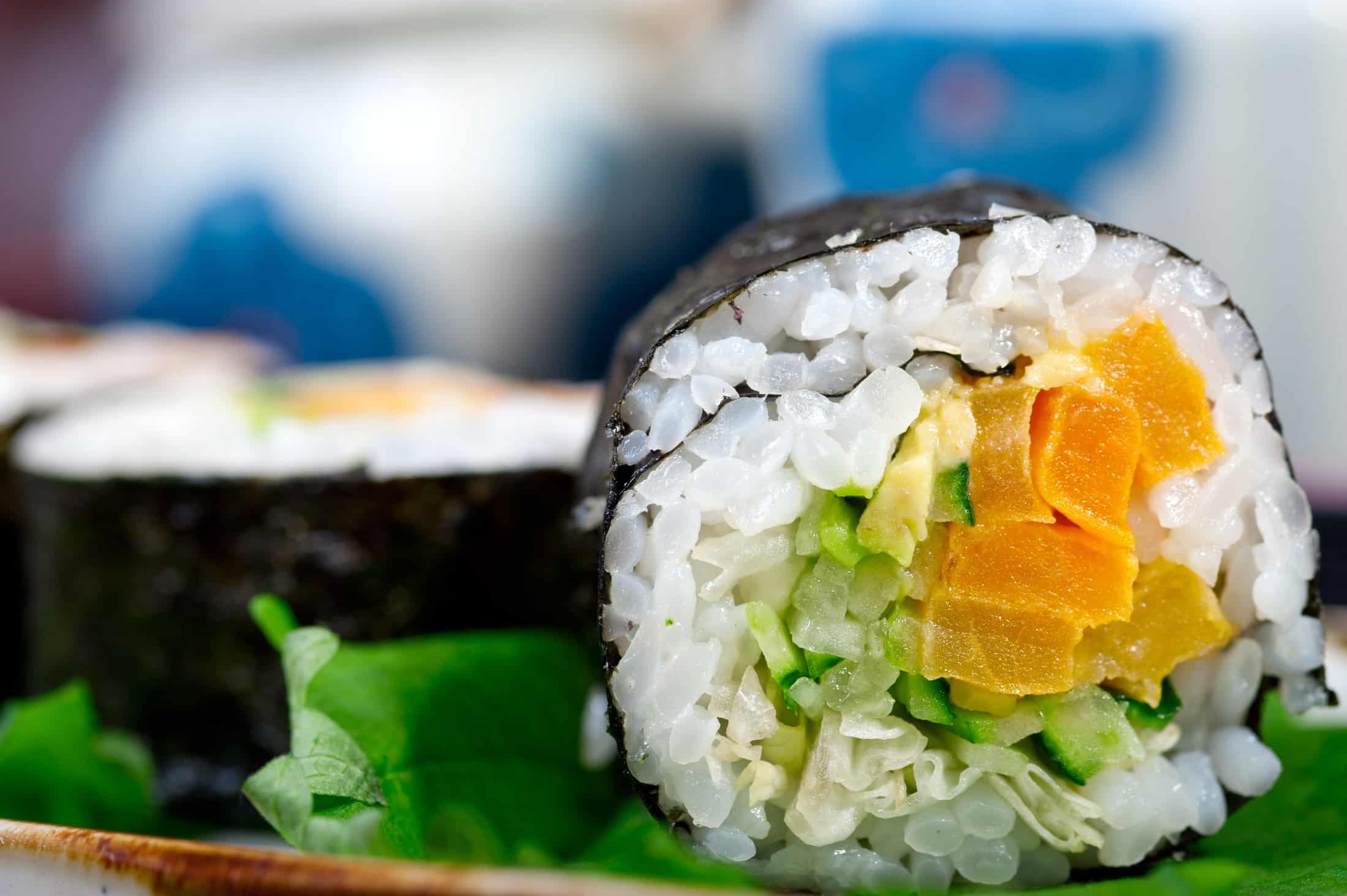 Ingredients
3

cups

uncooked sushi rice

1

cup

kanpyo

Pack of seaweed sheets

1

carrot

1

cucumber

3

eggs

3

tbsp

sugar

½

tsp

salt

1

tbsp

vegetable oil

2

tbsp

rice vinegar

3

tbsp

soy sauce
Instructions
Cook the sushi rice according to the instructions on the packet then set aside to cool.

Fill a large bowl with 1 cup of water and place the kanpyo in it to soak. Leave while you prepare other ingredients.

Use a potato peel or similar to peel the skin off the carrot and the cucumber. Cut the carrot and cucumber into long, thin slices with a knife.

In a mixing bowl, add the eggs and 1 tbsp sugar, salt, and 2 tbsp of water. Gently mix with a fork, but try not to overmix to avoid creating many bubbles.

Cover the base of a large frying pan with a thin layer of oil and heat over medium heat.

Pour half of the eggs into the pan and wait for it to solidify. Once it becomes fairly cooked (about 5 minutes) but still light in color, fold it in half against one side of the pan.

Add a little bit more oil to the exposed base of the pan, then pour the rest of the egg into the empty space.

Lift the already cooked portion of the egg so the runny egg fills the whole pan, then put it back down. Let cook for about another 5 minutes or until solid.

Once solid, fold the egg in half again, then transfer to a sushi mat or something similar so you can roll it up.

Set aside and let cool before cutting it into long slices.

Remove the kanpyo from the water and wrap it in a kitchen towel so you can squeeze extra water out. Cut into long, thin slices.

In a small pan, add 2 tbsp sugar, 2 tbsp of water, the rice vinegar, and the soy sauce. Place over high heat and bring to a boil.

Reduce heat to low and add the kanpyo and carrots. Let it simmer for about 15 minutes or until most of the liquid is gone and you can pierce the carrots easily with a fork.

Remove from heat and set aside to cool.

On your sushi mat, place a sheet of seaweed. On top, add about 1 ½ cup of the cooked sushi rice and press down to form an even layer on the seaweed, but leave about an inch of seaweed clear down one side.

Place some of the carrot in a stripe down the center and repeat with cucumber, kanpyo, and egg roll. Avoid piling them on top and instead arrange them nestled together.

Use your fingers to dab some water on the clear piece of seaweed. Begin rolling the other side of the seaweed. Try to press everything tightly together as you roll.

Use a very sharp knife to cut the sushi roll into roughly inch slices.

Repeat the rolling process until you have used up all your ingredients.

Serve and enjoy!
Nutrition
Calories:
104
kcal
|
Carbohydrates:
13
g
|
Protein:
6
g
|
Fat:
3
g
|
Saturated Fat:
1
g
|
Polyunsaturated Fat:
1
g
|
Monounsaturated Fat:
1
g
|
Trans Fat:
0.01
g
|
Cholesterol:
123
mg
|
Sodium:
1103
mg
|
Potassium:
192
mg
|
Fiber:
1
g
|
Sugar:
11
g
|
Vitamin A:
2762
IU
|
Vitamin C:
3
mg
|
Calcium:
34
mg
|
Iron:
1
mg
Notes & Tips
Leftover sushi can be stored covered or in an airtight container in the fridge for 5 days. They can be eaten cold or left to warm to room temperature.
Rolling sushi is difficult, even with a sushi mat! I still have my sushi rolls fall apart sometimes, so don't stress if yours don't look perfect. It takes practice and every roll is an improvement.
You can serve this futomaki alongside some soy sauce and wasabi paste, if you want, but they taste delicious all on their own too.
Substitutions and Alterations 
Sushi rice tends to be a little bit more expensive than other rices, so sometimes I use different rice (don't tell anyone). I use jasmine rice or fragrant Thai rice instead because they can get very sticky. If you want to use one of those for sushi, cook them with a bit more than the recommended amount of water.
While futomaki seems like a specific name for a specific dish, it does not actually reveal what the contents of the sushi roll must be. There are no set ingredients for futomaki (besides the obvious like rice and seaweed), so feel free to use your imagination. This recipe lays out one way to make sushi with the egg roll (also known as tamagoyaki), but some other ingredients to consider are: fish, fried chicken, bean sprouts, cooked asparagus, or other vegetables. Just try to make sure the flavors will work together and you should be good to go!
---
Recent Recipes